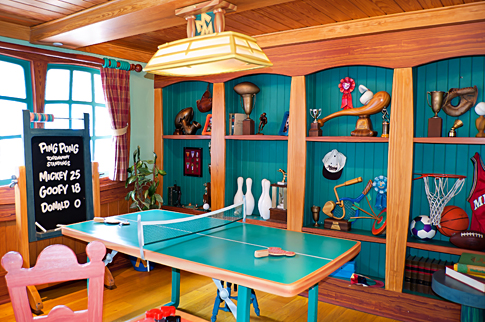 Copyright © 2006 Barrie Brewer, Nikon D50, 18-200mm VR, 1/4s shutter, f3.5, ISO 200
I'm really going to miss Mickey's Toontown Fair at the Magic Kingdom. I thought it was such a fun, creative area. I loved visiting Mickey and Minnie's houses. I mean seriously, weren't they just the coolest thing? Just look at the room above. Can't you just see Mickey and Goofy playing ping pong with Donald crabbing on the side about the game being rigged? And check out that trophy wall. Mickey is quite the athlete!
Hey, want to join in on the fun and share your Toontown pictures too? We'd love to see them. Head on over to Google+ and post your photo(s), adding the hashtag of #disneypics-toontown. Then share it publicly so we can all see it. Search for #disneypics-toontown in Google+ to see everyone's pictures.