Wednesday – At Sea
Not a very pretty day for our At Sea day, unfortunately. The skies are overcast and it is VERY windy – the sustained speed has been at least 24 mph all day, with gusts regularly 30-35, and I've seen it as high as 47 mph when I've been watching the "Bridge Report" channel. There's also lots of whitecaps and swells of 4-8′. Remarkably the ship is very stable and doesn't seem to move as much as I would have expected. But the AquaDuck has been closed all day, and they stopped letting people go all the way forward on deck 13 this afternoon.
Lee and I took a walk around deck 4 this morning after breakfast – the weather was very different on the starboard side of the ship as opposed to the port side! On the port side it was sunny. dry, and quite balmy, but on the starboard side the wind was howling, it was shaded, and it was wet from all the sea spray.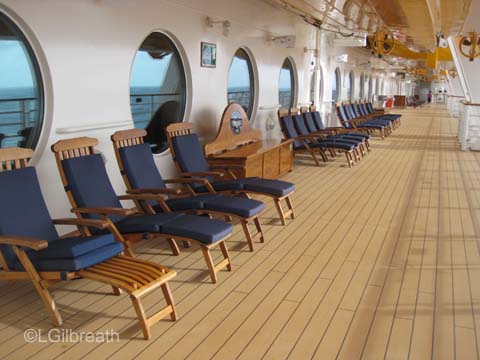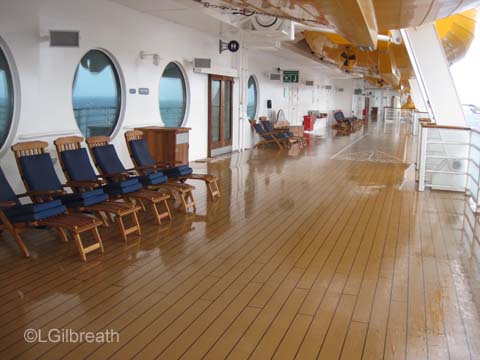 On the sunny side we did something we'd never done before, and played shuffleboard. Neither of us was very good at it, but we had fun – even if Lee did knock my 8 pointer out of the box (no matter, I won anyway. 🙂 )
We stopped at Shutters to look at photos – we had quite a few taken during Pirate Night last night. They have changed how they do the photos, and I think it's a much better system. Instead of placing the photos somewhat randomly on racks, now they are organized into folders – each party/stateroom has their own folder. You use your Key to the World card to find out which folder has been assigned to you. You can also still view your photos on the photo kiosks, like you can on the other ships.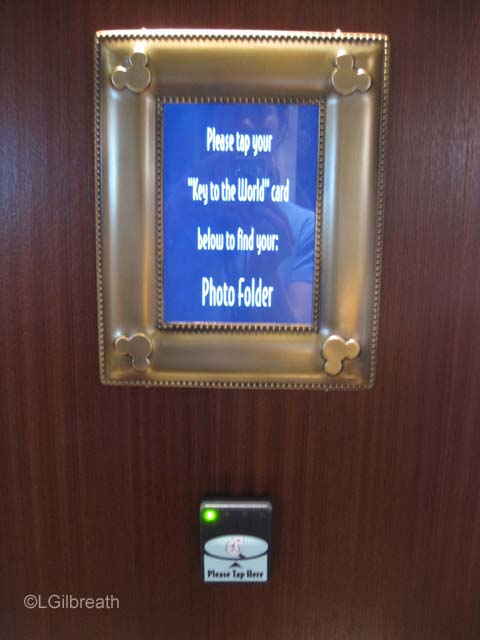 Just before lunch we didn't something else we hadn't done before – went to Goofy's Sports Deck on deck 13 aft and played mini golf. There were a fair number of people up there but we didn't really have to wait. It was a fun little course. (Technically I won, but there was a weird lip around the next-to-last hole that Lee's golf ball jumped over three times without going in, so we called it a tie.)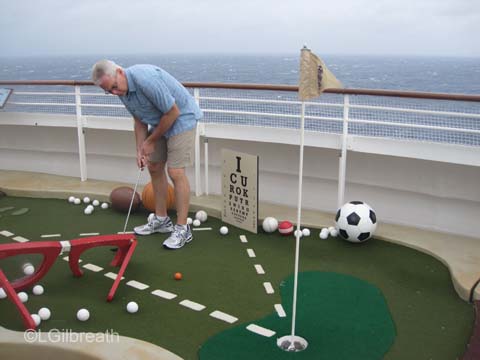 We had lunch at Royal Palace – it had a much different lunch menu than I've seen before – it was more like a dinner menu (Lee called it a "bonus dinner"). And for a change we had excellent service – generally we've been less than impressed by the service we've gotten in the table service restaurants other than from our dining team, but all the servers we had for lunch were great, and the food was also really good – we would have been happy having any of those items on a dinner menu. Royal Palace has a couple of private rooms – I had a chance to go into the "Tiana" room and take photos.
And we did something else we'd never done – we saw a movie in the Buena Vista Theater! Cars 2 in 3D. I think it was more crowded than usual because the weather wasn't very nice outside – it had started raining in addition to being windy. We hadn't really heard a lot of good reviews about the movie but we really enjoyed it – except for the family behind us. The parents spent most of the movie explaining it to their kids who didn't speak English, and the kids were on their laps and kept kicking the backs of both of our seats. Very annoying and inconsiderate. The 3D aspects worked nicely – added to the depth of the movie, but without any "cheap 3D tricks", as Kermit the Frog puts it. 🙂
After the movie we checked out conditions on deck – it had stopped raining, but it was still very windy. Up on deck 12, we found this little water show that one of the drains was putting on. 🙂 No idea where the pressure was coming from to make it splash like that, but it was one happy, cheerful little drain.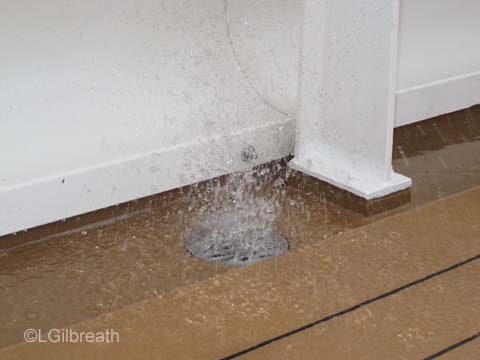 My mystery enchanted art on deck 8 forward had yet different artwork this evening (It had been the usual Nassau and Castaway Cay art all morning and afternoon). Two different romantic experience while cruising, featuring Mickey and Minnie, and Donald and Daisy.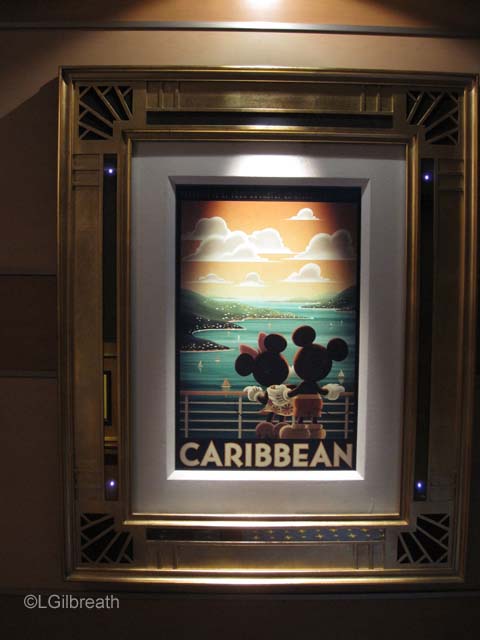 We saw the show – Disney's Believe. I'd seen it back in January and enjoyed it, but this was Lee's first time. He thought it started off a little slowly but overall he liked it. I really liked seeing scenes from Mary Poppins, Pocahontas, and The Princess and the Frog.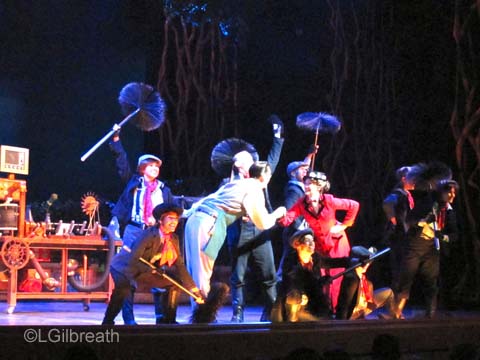 On our final night we HAD to go back to Pink, of course. We tried two different champagne cocktails – I had the Blue Angel and Lee had the Pomegranate Passion.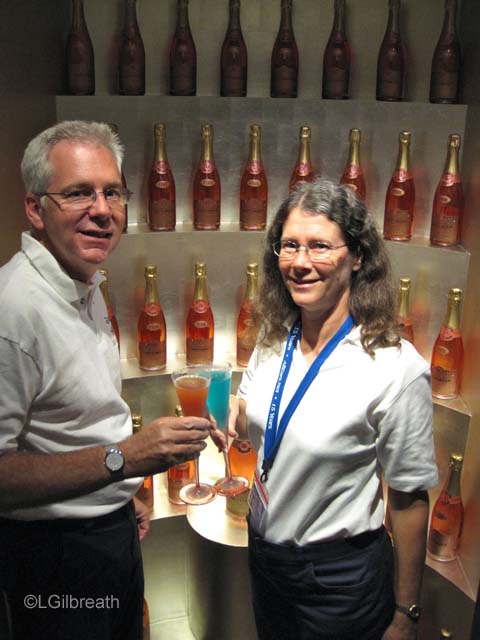 Bartender Steven and server Abie both took good care of us on our three visits to Pink. We were surprised that it was never very busy – but that was nice for us.
Abie pointed out the "hidden Dumbos" in the pink bubbles on the walls – very cute. And he also showed us an interesting effect that you can apparently only see on the display screen of a digital camera – but even with a digital camera it doesn't photograph. There are little bubbles projected on the walls and on the bar and they rise like the would in a champagne glass! It was really neat.
Our final night dinner was the "show" dinner at Animator's Palate. We had a good table, right against the wall with one of the big display screens. Since we didn't have kids at our table Crush didn't spend much time with us, though. 🙁 He did come over and pose for a picture – this is his "camera" pose.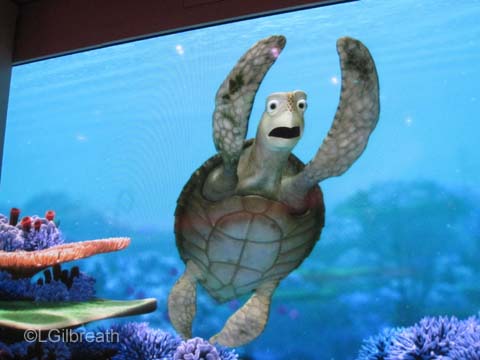 At the end of dinner the displays become static – we ended up with Bruce the shark above our table – scary!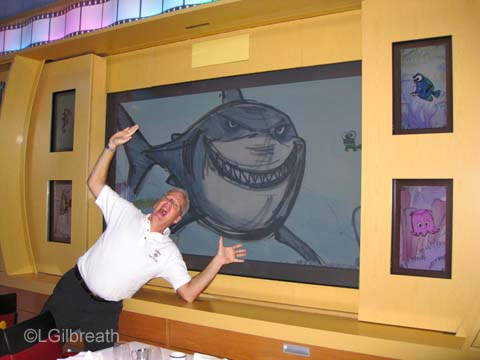 One final night in our stateroom – we had a hip towel swan this time. 🙂 Since we had carry-on luggage we didn't have to worry about packing and getting our luggage out into the hallway by 10:30, so that was nice. We did get most of our packing done, though.
The cruise has gone very quickly, though four nights was a decent length of time to be on board – three nights would have been way too short. And we had most of three days onboard the ship since we didn't go into Nassau and didn't spend a lot of time on Castaway Cay. So I feel like I really was able to see and experience the ship a lot more on this trip.
It was also very nice for us to have the opportunity to relax and enjoy what the ship has to offer a lot more on this cruise – like going to Pink and Skyline (Lee also spent some time in Evolution). Plus seeing a movie and playing shuffleboard and mini golf. And don't forget the AquaDuck! But neither of us made it to the gym at all, though Lee ran on deck once.
The ship was almost full – they said there were about 3800 passengers on board. With the poor weather yesterday I was concerned that it might seem really crowded since most people were inside instead of being at the pool, but it really wasn't bad at all.