Day 3 – This is our lazy day on Castaway Cay. We both slept in – and I have to admit that I stayed in bed after Lee got up to get breakfast – it was really nice. He was doing the Castaway Cay 5K run, so he left the ship not long after they announced passengers could go ashore.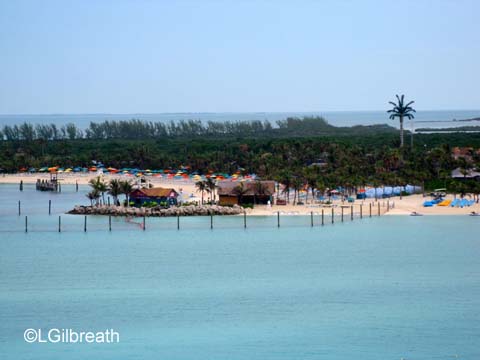 I decided to try Enchanted Garden for breakfast – it's a buffet in the mornings. Pretty standard breakfast fare, but I was really only interested in yogurt, granola and fruit – too much rich food lately. The lighting is different in Enchanted Garden in the morning – the flower lights are blue and not pink.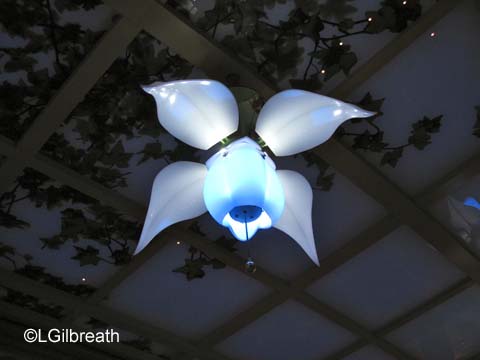 As I wandered through the Atrium I was able to get this photo of Cinderella in between guests.
Up on Deck 12 I saw a completely empty Mickey Pool – and not because it was closed!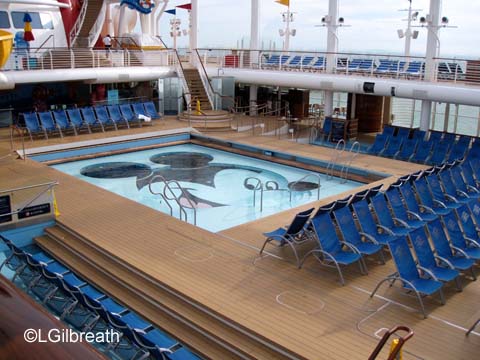 Lee wasn't back (but he told me he was probably going to stay on the island after the run), so I grabbed my Castaway Club bag and book,camera, sunscreen, and water and headed onto the island. It was another mostly overcast day – I was hoping for some blue sky for some nicer photo opportunities. The clouds started to break up a little bit, but then it clouded over again. And the breeze really started coming up around 10:30, which was good because it made the temperature a lot more comfortable, but it meant that some of the excursions (e.g. parasailing) were canceled.
I walked instead of taking the tram and found a lounge chair under an umbrella at the first family beach – left my stuff there and went a ways further taking photos – I even got this one of Captain Jack as he went to his next scheduled Meet-and-Greet.
There's lots of bright colors and interesting things to look at. Alyson told us yesterday that the island was very heavily damaged by Hurricane Irene in August, but you'd never know it – it looks wonderful. She said they had to dredge 10′ of sand out of the channel after the hurricane so that it would be deep enough for the ships (particularly the Dream) to get in and out.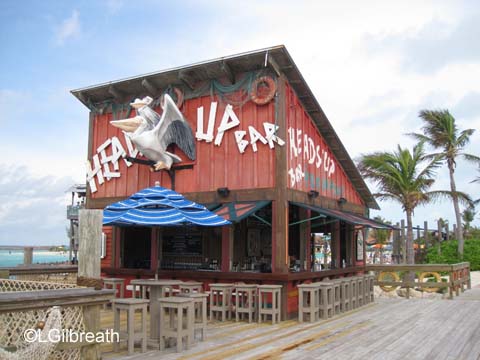 After a while I went back to my lounge chair and read my book for while, and got lunch at Cookie's BBQ, but by 12:45 I started making my way back to the ship. I know that a lot of people really love Castaway Cay, and it's their favorite thing about a Disney cruise, but I'm not really a beach and water person, so it doesn't do that much for me. I went back to the ship and rode the AquaDuck a couple of times, since the line was very short – 5-10 minutes.
Our stateroom host Omar is even better than a message system. 🙂 When I came back to the room he saw me and said that Lee was looking for me a little earlier, and had gone up to the AquaDuck (I'd told Omar earlier that's where I was going). He went to the AquaDuck but didn't see me (took a quick ride because the line was short, though), and then he came down a different stairwell than the one I went up, so Omar told him he'd just seen me, and Lee found me on Deck 11. 🙂 He had a good 5K run – they even gave them Castaway Cay 5K bib numbers, even though it wasn't a "race". He also went snorkeling a couple of times.
BTW, Lee is pretty claustrophobic, but he didn't have any problems riding the AquaDuck.
I did another case with the Midship Detective Agency – it takes less time when you have some idea of where the enchanted art is located. 🙂 I looked for the stolen dalmatian puppies this time – I didn't find 101 of them, but I found enough to crack the case. (And no, the guilty party wasn't Cruella de Vil.)
One thing I noticed today – there are two pieces of enchanted art in the forward elevator lobby on deck 8 – and today I found that they are different depending on the time of DAY. They depict Disney Cruise line destinations. I'm used to seeing them in the morning when they are Nassau and Castaway Cay, but in the afternoon they were Mexican Riviera and Alaska, and in the evening, Russia and romance aboard the ship.
Tonight is Pirate Night, and we brought our pirate costumes. so we dressed up. Arrrr.
We were sophisticated pirates, though, so instead of rum and grog, before dinner we went back to Pink to have champagne cocktails. 🙂 The red one is the Elderbubble, which has elderflower liqueur (and raspberry puree – and vodka), and the orange one is the Tropicale, with mango puree. They were both very good.
Our dinner was in Animator's Palate, and I was really happy to see that they were using the displays around the room to show concept art from lots of Disney pirate things – the Pirates of the Caribbean attraction and movies, and Peter Pan. It's a great restaurant to be in on Pirate Night – probably the best of the three in terms of the theming.
About 10:15 we went up to Deck 12 to see the fireworks, which started at 10:30. Lee got us into what was really a great spot – just in front of the forward funnel on the starboard side.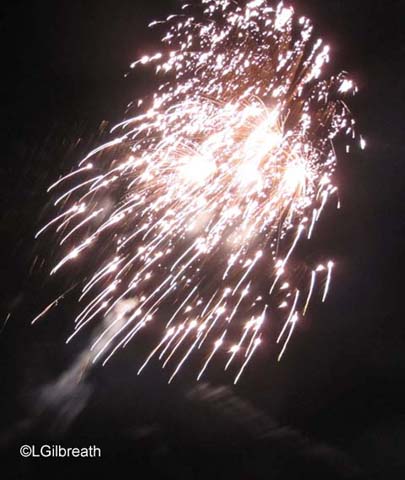 It was also a really good spot because they had the deck between the funnel and the area above the pool blocked off, so after the fireworks when they opened the area we had a chance to get right on the rail above the stage on deck 12 and see the Club Pirate show with Jack Sparrow.
After the show I went to check out the Pirate Buffet in Cabanas. The food lines near the entrance were long, but if you bypassed those and went to the far end where the desserts and crepes were (they were making fresh crepes – yum) then those lines weren't bad at all. The crepes were good but I was disappointed in the selection they had for fillings – the chocolate was just Hershey's syrup, and instead of fresh strawberries they had a syrupy strawberry compote.
Tonight's towel animal ain't nothing but a hound dog. 🙂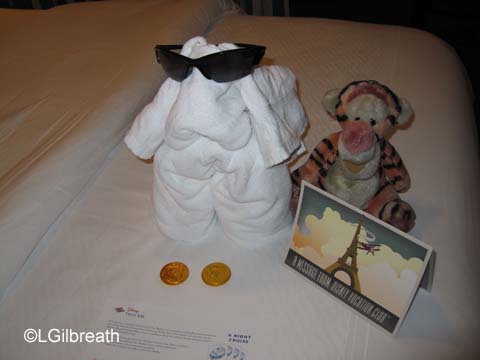 At Sea day tomorrow.