Our last moments aboard the Disney Dream this morning…the final morning of a cruise I always find to be a let-down – everyone is in such a rush to get us off the ship by 9:00.
It was a beautiful morning in Port Canaveral – but chilly!!! Only 57, and it was only supposed to get up to 71-72 today…that was NOT the forecast when I left home (they were saying low 80s). I'm glad I brought a light jacket!
At about 7:30 we were in our cabin finishing our packing when suddenly the voice of the duty officer came on overhead – like right OVER Lee's head. I think he jumped a foot off the ground, and I was very startled, too. I don't think they intended that, because she just got a couple of sentences into the spiel about the Disney Dream being cleared by customs, and then it stopped. But if we weren't awake before, we were awake then. Yikes.
On our other cruises breakfast on the last morning has been pretty quiet, with a LOT of empty tables, but the dining room was pretty busy at 8:00 this morning. Only four of us at our 8-person table, though. Even our servers seemed a little subdued. They were great, and we will miss them.
We're used to just walking right off the ship after breakfast, but this time the Atrium was packed and people were lined up and waiting to get out. We twice heard the "everybody has to get off the ship" announcement before we were finally able to get off. It was not very pleasant, especially compared to our other experiences. But I guess that made it a relief to get off?
It didn't take too long to clear Customs and get out of the terminal and onto a bus headed back to WDW. We were the third stop, and the only passengers to get off at the Boardwalk. It was about 11:30 by then, and our room was actually ready!!! That was a very nice surprise.
I don't remember if we've been in a Studio since they changed the decor – I don't care much for the yellow and pink color scheme it has now.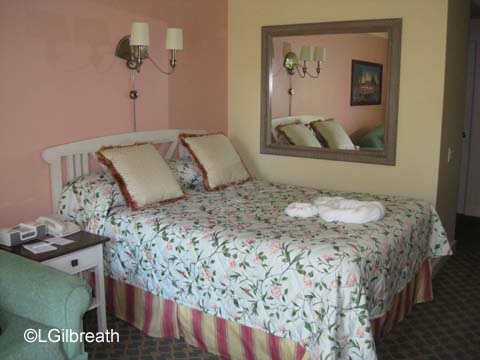 Our room has one of the malevolent swans glaring down into it…though we are somewhat hidden by a big bush.
BTW, we have free wireless internet service here, too, just like we did at Saratoga Springs. It's really very nice! I understand that for now this is a trial service – I sure hope they keep it. It works very well and has been very responsive, too.
We love staying at the Boardwalk – it's a pretty short walk to Epcot – the operative term being that you CAN walk – no need to hassle with waiting for a bus (or driving and parking). And since it was Food and Wine Festival time and we were ready for lunch…off to Epcot we went.
Lee's pass didn't work at the turnstile – it's a Premier pass that he renewed at Disneyland in May, and we'd both forgotten that he hadn't been to WDW since then, so they needed to activate it at Guest Relations. Fortunately that didn't take too long – though we wondered why he even had to do that. (The answer, apparently, is that they are two different ticketing systems. The Premier card stock comes from Disneyland, so it is pre-activated for Disneyland if you buy it at WDW, but if you buy it at Disneyland you have to have it activated at WDW before you can enter a park for the first time here. Though I don't remember having that problem with my Disneyland-purchased Premier pass last year.) So the Premier Pass thing continues to be somewhat frustrating – it's a great concept, but in practice it doesn't all work nearly as well as I think it should.
But we finally got into Epcot. It was really a beautiful day – totally clear skies. But a little bit cool (not even 70 at noon) and breezy – if I got into the shade I was chilly, even with a jacket. Not what I expect at this time of year – but it beats 95 degrees and 95% humidity!
The park was a little more crowded than I expected for a Thursday afternoon in late October, and there were short lines at most of the food booths, but not bad – and they got shorter as the afternoon went on. I'm going to have to do a separate blog on everything we tried, otherwise I won't get this one done in time to post tomorrow.
A shout-out to AllEars readers Katie and Dan from Seattle, who recognized us and came over to say hello and tell us how much they enjoy the web site and the newsletter. Thank you!
Today's standouts: Shrimp Cake from Singapore (Laura), and Beef with Smashed Sweet Potatoes from South Africa (Lee). Biggest surprise – Poland, where both the pork stuffed cabbage roll and the kielbasa and potato pierogi were very good. Best dessert: the Pastel from Portugal (a flaky pastry cup filled with egg custard). We would never have tried it but the ladies at the New Zealand booth told us how wonderful it was. (The Shrimp Cake is pictured below.)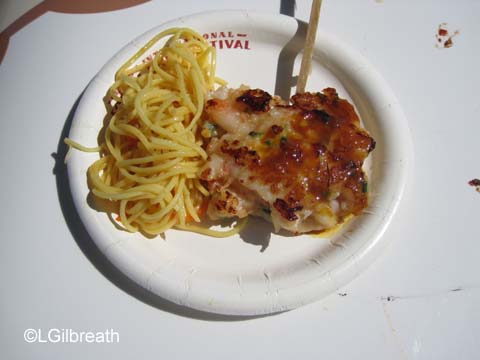 After one circle around World Showcase lagoon we took a break and went back to our room for a nap. We ARE on vacation, after all! And went back to the park around 5:30.
At the Desserts and Champagne booth I had a glass of the Moet and Chandon Nectar Imperial. It wasn't quite like having Steven serve me a champagne cocktail in Pink, but it was very good.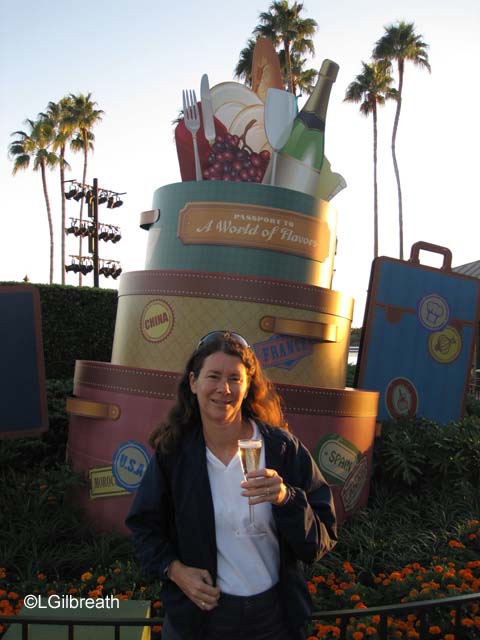 We saw the cranberry bog they have set up in the area between Future World and World Showcase (what is that area called, anyway?). Talked to the guy in the bog about cranberries and how they are harvested. We didn't realize that Craisins were actually developed to make use of what remained of the cranberry after the juice was extracted. And that cranberries are grown from seed – it takes 3-5 years after a bog is planted until it can be harvested…but after that, they keep producing – there are some cranberry bogs that are 130 years old!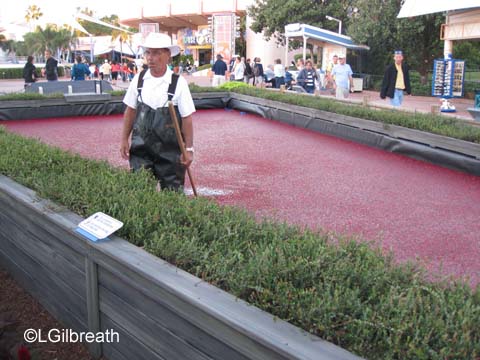 We wandered down to the Festival Center (former Wonders of Life pavilion), but there wasn't anything going on that late (it was almost 7:00). Continuing our tour of Epcot (have to work off all of those calories somehow!) we went to the front of the park – pretty at night.
Since we had dined with Crush the night before, it seemed only fitting that we visit the Nemo and Friends pavilion.
We saw one of the tanks that had a number of seahorses in it. (Seahorse means starboard! 😉 )
It was around 8:00 by the time we went back to World Showcase, and there were hardly any lines at the food booths. The park was fairly empty since the evening was a little bit chilly. We tried a few more food items, and then watched Illuminations before heading back to our room for the night. We started the day on the Disney Dream, and finished the day at Epcot – not too bad!