Friday, October 21 – another beautiful but chilly morning in Orlando! We decided to take a trip to Animal Kingdom – our second favorite WDW park (after Epcot). We had just missed a bus, but caught one less than 20 minutes later, and there were only 5 of us on it! Too early for the Blizzard Beach stop, so we went straight to Animal Kingdom.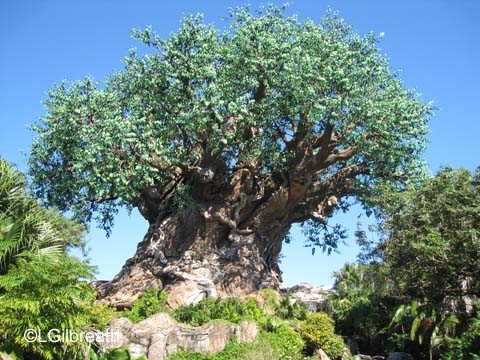 It was still Extra Magic Hour, so we needed to show our room key to get into the park. There were a fair number of resort guests there! We did our usual drill – get Fastpass for the Safari, and then have breakfast. We miss getting breakfast at Tusker House now that they have turned it into a character meal (grumble, grumble). Pizzafari is the only counter service breakfast option, and I was very happy to see that they have expanded the breakfast menu since I was last here.
Lee got the Bounty Platter, which included scrambled eggs, bacon, sausage, biscuit, potatoes and two sticks of French toast. He said it was very good, but it was on the expensive side – $8.29.
I had what I think is one of the best bargains at Disney – the oatmeal with apples, raisins and brown sugar, for $2.79. At that price I was expecting a pretty small cup, but it was a large cup, and covered with chunks of fresh apple, golden raisins, and Craisins. They didn't overdo the brown sugar, either. It was really yummy, and very filling – I'd ordered a fruit cup along with it, but I really didn't need that.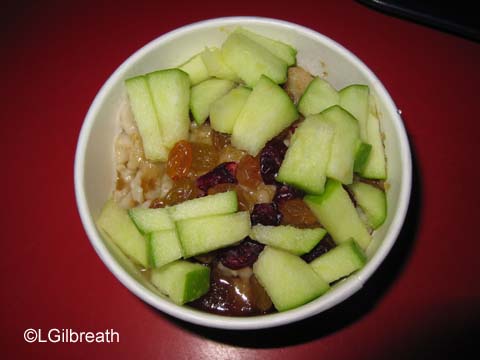 We stopped to have a look at the otters before going back to our safari – there were two of them chirping and running around and playing in the water. Otters are SO cute – if they don't put a smile on your face there's something wrong with you! They were moving too fast for me to get a good photo, though.
It was still a cool morning, so we didn't see as many animals on our safari as we sometimes do, but some of the views that we did get were outstanding. Our driver actually stopped the vehicle several times which allowed us to get much better photos. We saw more giraffes than I have ever seen before – there were six, of two different species.
And we saw an entire family of mandrills, including mama carrying a baby. (On the bottom on the far left – there was another young one, too, that you see in the center.)
Another baby that we saw was a baby elephant and his mother – our driver said he is about a year old.
There were three cheetahs – one of them was up and moving, but the other two were sitting in the center of their enclosure with their heads raised so that we could see them! That was the best view I think I've ever had of them.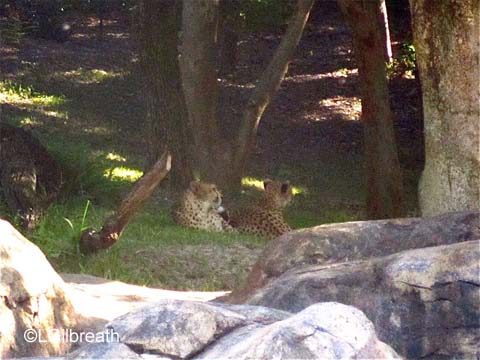 At the Flights of Wonder show we saw a different "Guano Joe" than we have seen before – he was very good. We have to laugh at how they talk about "exotic birds" and then have chickens running around on stage. 🙂 But they do have a lot of interesting birds, though we didn't see my favorite, Sluggo the lizard-smashing sureiama, this time. Poe the raven came out twice – first he stole Joe's flag, and then he returned and took the stick, too! 😉
The Maharajah Jungle Trek was disappointing – despite the promise of the sign we didn't see the "dragon" (too cold) or the bats (too cold), and only two of the tigers (probably not too cold for them – they were just lazy that morning).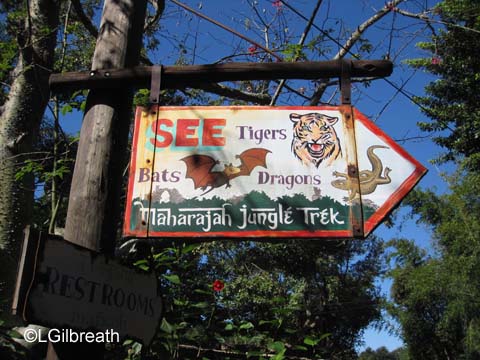 We just missed a bus back to the Epcot Resorts (literally – we watched it pull away) and then had to wait 15-20 minutes for another one. I'm still not sure why they have only one bus stop for all five Epcot resorts, but whatever. This was one time that I missed not having a car – we almost always drive to Animal Kingdom.
We'd hoped to meet up with some of our friends from the RADP (rec.arts.disney.parks) newsgroup at Epcot, but only a couple of them were able to make it – but we had fun wandering around with them and trying some more foods.
I don't think I mentioned this before – something new that they are doing this year is a Food and Wine "passport" (since this year's theme is "Passport to a World of Flavor") – it's a small pamphlet and inside is the menu for each food booth and a space for the custom stamp from each booth. And it's FREE! No purchase necessary at the booths, either – they were happy to stamp them at the registers, and I saw a fair number of kids who were just collecting the stamps. They had them available at most of the food booths, so you could start anywhere. I was having fun getting them – by the end of the day on Friday we had visited (and purchased from) 24 of the 29 food booths. (We won't talk about how much money we put onto the F&W gift card to do that…)
We took a short late afternoon break back at our room to get off our feet and change clothes before the 3D Dessert Discovery event that night. Back in Epcot we met a couple of friends for "The Orchestra" concert – featuring "former members of the Electric Light Orchestra". Really, that's how they introduced them! We found that very funny. It was an ok concert, but I was surprised at how short it was – it started right at 5:15 and ended promptly at 5:45.
It was Friday night and the crowds had really picked up at Epcot – lots of locals coming in for the evening, I guess. It was a very nice evening – not as chilly as the previous night. Before eating a bunch of dessert we wanted some food, so we revisited a couple of our favorites – the lamb slider from New Zealand and the chipotle chicken sausage with polenta from Canada.
The 3D Dessert Discovery event was held in the World Showplace (which will always be Mil Vil, aka the Millennium Village, to us), and ran from 7:00 until 8:30, though it also included a reserved viewing area for Illuminations afterward. It was $55/person. I'll have a full review on the AllEars web site later, but in brief, it featured a number of stations with different desserts, as well as cheese, fruit, bread, and even some "savory" items like a ham and prosciutto platter, cranberry polenta, and a chocolate chile muffin. There was quite a selection of dessert beverages like port, late harvest wines, sweet sparkling wines, and liqueurs available as well.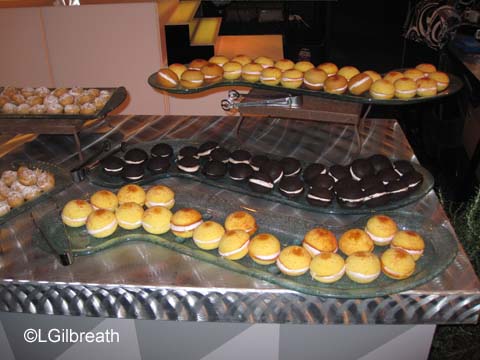 It wasn't overly crowded, and we found several empty "standing" tables, and there were unused places at some of the regular tables, too.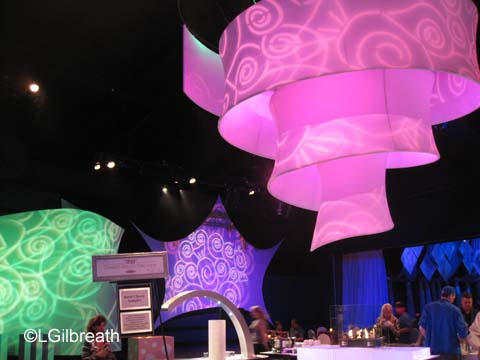 At 8:30 they started walking us over to our viewing location for Illuminations, which was World Showcase Plaza between the two gift shops. We think that's the best viewing location for the show, since you can see all of the country pavilions from there and you're fairly close to the flame barge and the globe.
They had given us cardboard 3D type glasses when we walked into the dessert event – but they were really "Mickey" glasses, which turn a light source into Mickey heads. People were wearing them for the fireworks and really giggling and cheering about it – it really did look pretty cool. I took a photo through the glasses, so you get some idea of what it looked like.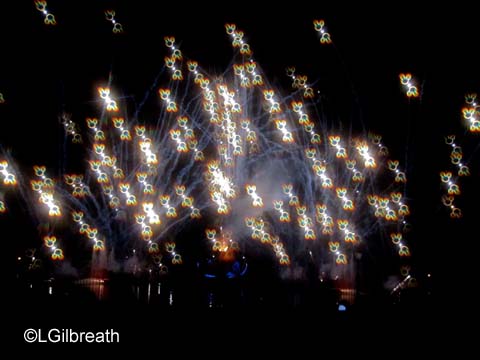 It was a very nice evening and we had a good time. I was disappointed that there wasn't more chocolate, but we enjoyed the desserts and the wines.
Saturday, October 22
It figures, just as we've adjusted to this time zone, it's time to go home. Another beautiful day in Orlando, but still only 53 at 8:00 in the morning! It wasn't as windy today, though, and it warmed up a lot faster.
We got everything packed, left our bags with Bell Services, and went over to the Dolphin, where we met Deb Koma and her husband and Jack Marshall and his daughter for breakfast at Fresh. They don't seem to have quite the food selection that they did the last time I ate here several years ago, but it was still good – the roasted potatoes were especially tasty. The line for made-to-order omelets was rather long, but most of us did that anyway. Lee enjoyed the Mickey pancakes, too.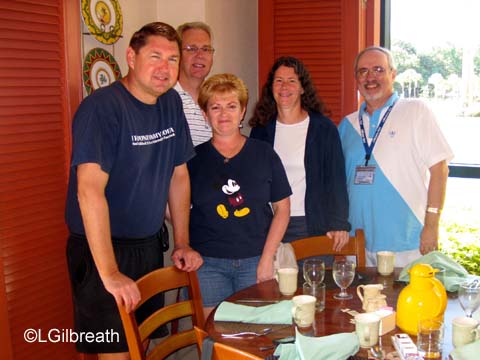 We said goodbye to everyone (though we'll see them again in December at the December to Remember events), and went into Epcot, even though we knew it was going to be very busy. I still had six more stamps to get in my passport! Since we were at the back of the park moving forward the lines were still short/non-existent at the places I needed, China, which was the last one, and closest to the front, had the longest line. Of the last six stamps we only got food/beverage at three of them, but we had just come from breakfast so we weren't that hungry. (Note what the cast member is doing behind Lee. 🙂 )
We hadn't been to the Food and Wine Festival in a couple of years, and there were some things we noticed this year that seemed to be helping to improve the flow of people.
A lot of the booths that expected long lines had queues set up to try to keep people a little more organized.
A few of the very popular booths, like Australia, Canada, and Craft Beers actually had lines on two sides. We found that the line on the end closest to Future World was the most crowded, and if you went to the other side it was a lot shorter.
Today, when it was so busy, they had a cast member at the front of many of the lines that directed guests to the next available register.
Something that I understand is new this year are these utensil kiosks – press a lever and it dispenses a fork, spoon, or knife. I think they hold a lot more utensils, and certainly seem to be a lot more efficient than the bins of utensils they have had in the past.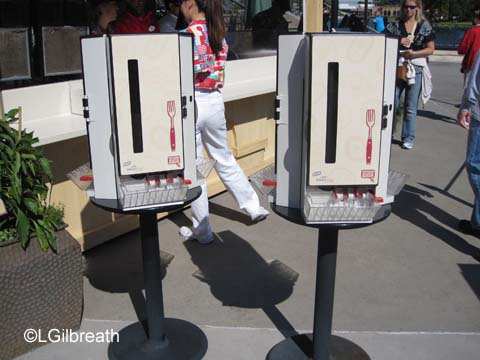 We went back to the Festival Welcome Center where I got the final "completion" stamp in my passport. There was nothing extra, though.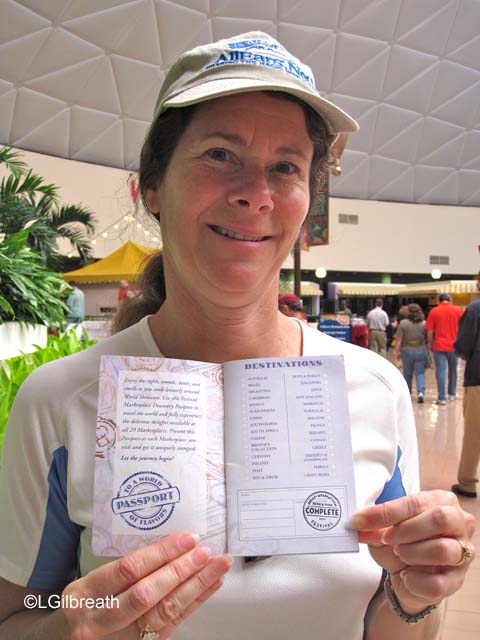 I needed to renew my Premier passport, and the only place that you can do that is at Guest Relations at one of the theme parks (or Downtown Disney in Florida). There was a long line at Guest Relations, but fortunately they had people working the lines and directing people who could go to a regular ticket booth, or to Guest Relations inside the park (which had more people working) and that helped…but still, we were in line for 20 minutes. It took a while, but I finally got a new Premier passport, with an expiration date a year from when my old one was going to expire, instead of a year from today. The Premier passports are a great concept, but even after almost two years they still have some problems – I still don't understand why we can't renew them by mail or on-line like we can with the other annual passes. And I have commented many times on how they don't scan at the registers for their discounts. It will be interesting to see if mine works at Disneyland the next time I visit – and whether or not they still have a photo on file for me, or if I will have to get a new one taken.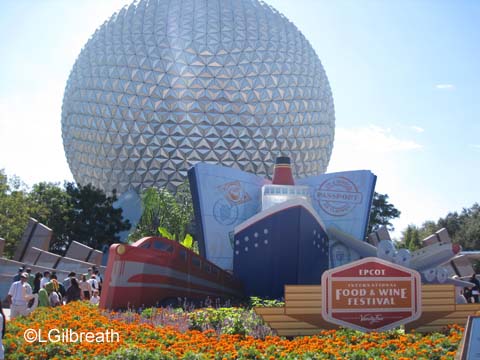 When we went back into the park Epcot was still very busy. We wandered through Innoventions east and west, and saw the Fountain of Nations shooting water high into the air.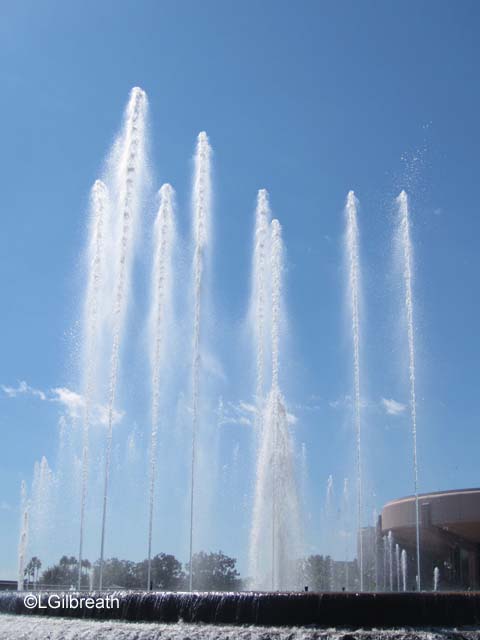 It was getting to be time to head back to the Boardwalk for our pickup by Magical Express, so we left. World Showcase was VERY crowded, and lines at the food booths were very long. Lee said that for a change it was actually a relief to be leaving Epcot! We had time to stop along the Boardwalk for chocolate milkshakes and a slice of pizza.
The bus, or MOTORCOACH, as the driver informed us, picked us up promptly – actually a little bit early. We were the last stop, so went straight to the airport. We had a very entertaining motorcoach driver, so that made the trip go quickly. Once we arrived at the airport it wasn't very crowded, and getting through Security didn't take long at all.
We had a really good trip – it would have been nice to have another day at Walt Disney World, but we had time to do just about everything we wanted at the Food and Wine Festival.
Thanks for following along – I'll have a couple of food blogs coming – one on the Dream, and one on the Food and Wine Festival.