AllEars.Net's Mike Scopa and Jack Spence were at today's "What's New? What's Next?" presentation held at Disney's Wide World of Sports. Here they share some exciting new things we can expect to see over the next few months at the Most Magical Place on Earth!
What's New… What's Next!
That was the name given to the press conference held on Wednesday evening at the Disney's World of Sports Complex.
Walt Disney World President Meg Crofton, World Wide Operations President Al Weiss, and Senior Vice President, Disney Sports Enterprises, Ken Potrock, made some announcements that will surely bring smiles to Walt Disney World fans around the globe.
Crofton addressed the audience by saying how Walt Disney World is always working to give guests, -¦new reasons to visit Walt Disney World!" and also new ideas such as the "Give a Day Get a Disney Day" celebration and how WDW in 2010 wants to inspire 1 million volunteers to give a day of service to one of the thousands of community organizations that are registered with the Hands on Network.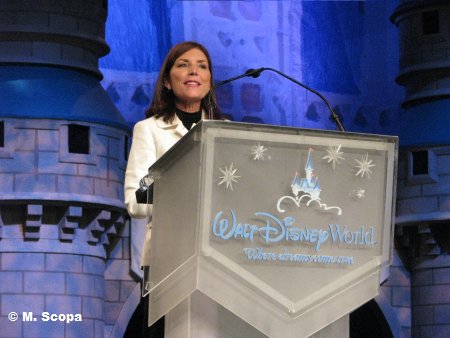 Once these volunteers have contributed their day of service Disney wants to celebrate that volunteer spirit with a day of fun in the parks.
Crofton then discussed the success of the American Idol Experience at Disney's Hollywood Studios. She went on to say that the AI experience helps WDW cast members to get to know guests better. They have found it to be quite inspirational to learn more and more about the guests.
She also discussed how guests have well received the newly refurbished Hall of Presidents in the Magic Kingdom.
Crofton then talked about the many more options given to DVC members with Kidani Village, Bay Lake Towers, and the Treehouse Villas at Saratoga Springs Resort.
She also mentioned the well-received new dining experiences of Kidani Village's Sanaa and Kouzzina by Cat Cora on the Boardwalk.
That's What's New"¦ then she told the audience What's Next!
"¢ The term "Summer Nightastic" was introduced to describe the 2010 Summer nights at Walt Disney World.
"¢ Crofton announced to a very happy audience that the Main Street Electrical Parade was coming back to The Magic Kingdom in early June 2010. This time the ELP will have Tinker Bell leading the way. Also, Snow White and Pinocchio will also be joining the parade.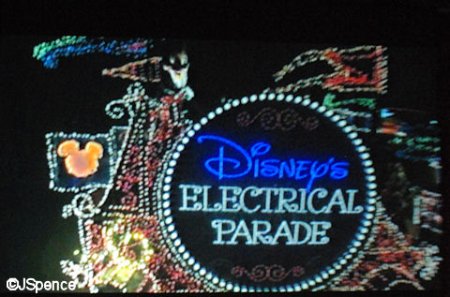 "¢ Also this summer The Magic Kingdom will have a new fireworks spectacular at The Magic Kingdom.
"¢ At Disney's Hollywood Studios the Twilight Zone Tower of Terror will welcome "drop-ins" with new surprises, new lighting effects, and a new drop sequence.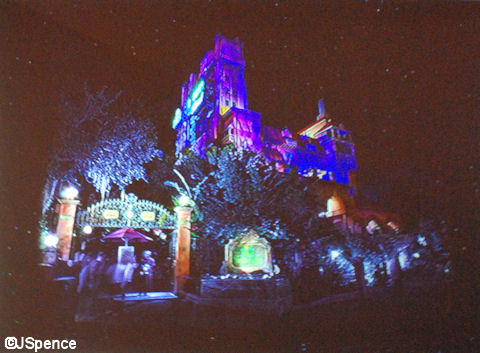 "¢ The Sounds Like Summer concert series returns to Epcot and there are plans to expand Disney's Animal Kingdom evening hours.
Al Weiss, president of Worldwide Operations, took the podium and talked about things on the horizon.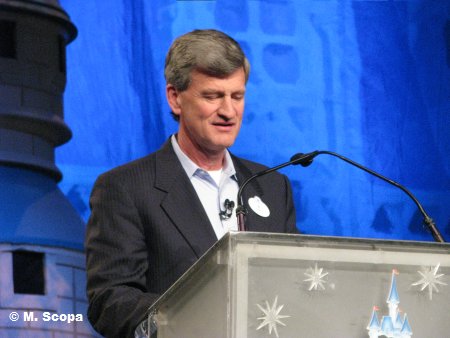 "¢ Fantasyland Expansion (groundbreaking 2010) – This three-year construction project will result in the largest expansion in Magic Kingdom history. For the first time, guests will be able to step into their favorite Disney fairy tales to have more magical and immersive encounters with Disney princesses. Each princess will have her own themed village within Fantasyland Forest. At Dreams Come True with Cinderella, guests can meet Cinderella face to face in her country chateau, share a dance or train to be one of her Royal Knights. At A Birthday Surprise for Sleeping Beauty, it is party time inside the Briar Rose Cottage, nestled in a lush, forest setting. The three good fairies give Aurora the Sweet 16 party she never received, and everyone's invited to join in the surprise celebration. And an enchanted mirror will transport guests from Belle's father's cottage to Beast's castle for an enchanting storytelling performance during Enchanted Tales with Belle.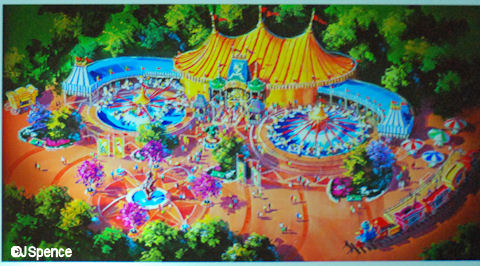 "¢ The new district will invite parkgoers to the Be Our Guest Restaurant, one of three enchanted dining rooms inside Beast's castle. And just outside the castle in Belle's Village will be Gaston's Tavern, another themed eatery. Meanwhile, in the new Under the Sea: Journey of the Little Mermaid attraction, Ariel and all her friends will entertain in a ride-through adventure featuring favorite songs from the popular animated feature.
"¢ The big top comes to Dumbo's Flying Circus with a magical flight high above brand-new circus grounds, twice the size of the classic attraction. Inside a stylized tent, guests enjoy midway games and other fun-filled experiences.
"¢ Perfecting Paradise – A Magical Makeover for Castaway Cay (2010) – Castaway Cay, Disney's private island paradise in the tropical waters of the Bahamas, is getting an extra dose of pixie dust. Enhancements include an expanded family beach, a floating water platform featuring two twisting water slides, two fresh-water play areas for guests to cool off, a new teen retreat and 20 new private rental cabanas offering the ultimate in beachside luxury. The additional island amenities are scheduled to be complete by summer 2010.
"¢ New Sailings for Disney Magic and Disney Wonder (2010, 2011) – In 2010, the Disney Magic will sail to Europe for an unprecedented five-month season of Northern European and Mediterranean cruises. Book-ending the summer season of 12-night Northern European Capitals cruises, the Disney Magic will once again return to the Mediterranean for 10- and 11-night cruises, with three new ports of call – Tunis in northern Africa, the island nation of Malta, and Ajaccio, Corsica. In the summer of 2010, the Disney Wonder will sail four- and five-night cruises to Nassau, Key West and Disney's private island, Castaway Cay. In the summer of 2011, the Disney Wonder will sail for the first time to Alaska, with seven-night cruises calling on Tracy Arm, Skagway, Juneau and Ketchikan.
"¢ Disney Cruise Line Expanding Its Fleet (2011, 2012) – The Walt Disney Company is expanding its successful cruise vacation business by adding two new ships, Disney Dream and Disney Fantasy, to set sail in 2011 and 2012, respectively. Two decks taller than the existing Disney Magic and Disney Wonder, the new 1,250-stateroom liners will more than double the passenger capacity for Disney Cruise Line. Now under construction, the Disney Dream will offer magical innovations, engaging children's spaces, family entertainment and immersive experiences for which Disney Cruise Line is renowned.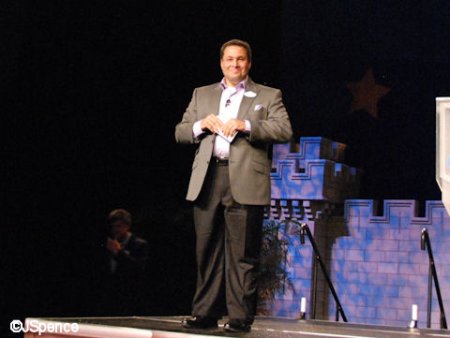 "¢ ESPN Wide World of Sports Complex Relaunch (February 2010) – A re-imagining project involving ESPN and the Disney sports complex, the leading multi-sport venue in the nation, aims to create immersive and entertaining sports experiences for athletes, coaches and fans by incorporating signature elements of ESPN in ways that will connect athletes and coaches with their favorite ESPN programs, personalities and elements. Guests will discover a new welcome center, a digital center where video captured by 56 high-definition robotic and handheld cameras across the 220-acre sports campus is edited for display on 40 video screens and two "jumbotrons" throughout the complex as part of a veritable Wide World of SportsCenter, and the new ESPN Wide World of Sports Grill. Meanwhile, behind the scenes, technical staff will continue work in the Innovation Lab to develop ground-breaking ESPN on-air products – using the action throughout the complex as a real-world testing environment.
"¢ That's not all. Exciting coming attractions for Disney include new dining, retail – and even extend to a "galaxy far, far away." An all-new 3-D version of the popular Star Tours attraction launches in 2011 at Disney's Hollywood Studios, featuring immersive new elements that will take guests to many familiar places in the "Star Wars" galaxy.