CELEBRATION, Fla. – Catering to the vacation needs of every member of the family, the Disney Dream provides ultra-cool plush pads exclusively for teens and tweens. These trendy and tranquil areas offer an elite getaway for teens and tweens to set their own vacation agenda – whether socializing with new friends, playing the latest video games, experiencing cutting-edge technology or just chilling out.
Teen Club – Vibe
Teens rule in their own exclusive club aboard the Disney Dream with Vibe, an extensive indoor/outdoor space on Deck 5 forward created especially for guests ages 14 to 17. A "teen-only" swipe card provides access to the nearly 9,000-square-foot teen club.
The interior space is trendy, casual and inviting. Sleek forms, vibrant colors and avant-garde designs combine to create the ideal teen crash pad. Modular, movable furniture and cushy chairs are plentiful and invite teens to kick back in style.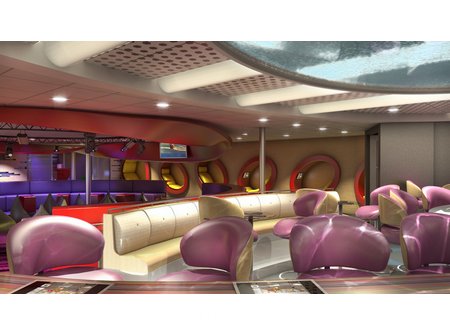 A fountain bar will offer tasty refreshments such as soda, juice, smoothies and coffee drinks.
A media room serves as the central gathering space with video gaming and movie watching on a 103-inch LCD screen with digital surround sound. Around the perimeter of the room, teens can sit in built-in, oval wall "pods" designed as individual nooks for reclining and watching personal video screens or playing video games.
Teens will have at their fingertips the technology to create and edit videos using the latest computer software. They can play games and access the onboard social media application at one of several computer stations in the lounge or via their own WiFi-enabled laptop. Via the social media application, teens can post photos and videos and leave messages and comments for each other during the cruise.
In the dance club area, aspiring DJs can try their hand at spinning and mixing tracks. A lighted, multi-color dance floor and video wall set the stage for dance parties. On a separate stage, teens can take the spotlight during talent shows, karaoke contests and dance competitions.
Outside, teens have their own private deck area – a modern space that gives them an opportunity to enjoy some fun in the sun without ever leaving the teen club. There are plenty of mod chairs and chaise lounges for sunbathing, two wading pools, fountains, pop jets and misters for cooling off. For recreation, teens can play deck games such as ping-pong, foosball and other favorites.
Tween Club – Edge
Located inside the forward funnel is Edge, the lounge just for tweens (ages 11 to 13). This tween pad is a loft-style space with a multitude of hi-tech entertainment. The décor is retro with bright colors and funky finishes.
Notebook computers integrated into the design create individual computing stations for tweens to play games and access the onboard social media application exclusively for them. On this "blog spot," tweens can communicate with each other during the cruise by leaving messages, comments and posting photos and videos.
Along one wall of the club is a massive video wall that can be used for gaming, movies or television viewing. Stretching more than 18 feet long and nearly five feet tall, the state-of-the-art video wall can be utilized as one giant screen or separated into smaller individual screens.
A lighted dance floor – and multi-colored ceiling lights above that mirror the floor – make the perfect stage for a dance party or some individual free-styling. Nearby, a nearly-10-foot cinema screen descends from the ceiling, providing videos and lighting effects.
Another hi-tech highlight that's sure to thrill tweens is the ability to create and star in their own photo postcards and video karaoke using green-screen technology.
Being in the funnel, this tween haven offers impressive views of the pool decks below"�but with a catch: tweens can see out, but guests on the decks can not see in.
As an added "wow," the ship's water coaster, AquaDuck, winds through the forward funnel of the ship. Three portholes in the tween club provide silhouetted views of AquaDuck riders as they zoom through the tunnel.