Lee decided he was going to stick around the room for a while this
morning and do work stuff – he had a bunch of email that had come in
over the last couple of days that he was working through. And since he
*is* working this week, unlike some of us…
I showed him where the Riverside Mill & Market (aka the
food court) was located, and asked him to pick up a cinnamon roll
for me – they have really yummy cinnamon rolls here! Flaky and
cinnamony and not too much frosting. I went out and walked/ran
for 45 minutes. It was a little warmer and much more humid this
morning than yesterday. Whew.
I called Lisa Berton about 9:30 to find out where she was, and left
a message. Lee was still working when I left. I decided to let Fate
decide where I would go, and took the first bus that showed up, which
happened to be to Blizzard Beach and Animal Kingdom. (I had
no wait for the bus, and in fact had to hustle a bit to catch it!).
Expedition Everest was my first stop, since I have a friend who
is working there now. Unfortunately he had just gone on his break, so I
rode Everest using the Singles line. That was quick, and in fact the
Standby line was only 20 minutes at that point. It's still a great
ride…and I still feel like I'm going upside-down during the backwards,
in-the-dark part. Very disorienting, but not unpleasant. I wandered
over towards Theater in the Wild – it was 10:30, but people were
already lined up for the 11:30 Nemo show! That's a bit extreme, I
think…the park wasn't *that* busy.
Lisa called me and I arranged to met her over at the Magic Kingdom,
and then I went and found my Cast Member friend. He was working, of
course, so it was a short chat, but it was nice to see him! Lee and I
will probably get over there on Friday (Lee reallly likes Animal
Kingdom) and we'll see him again then.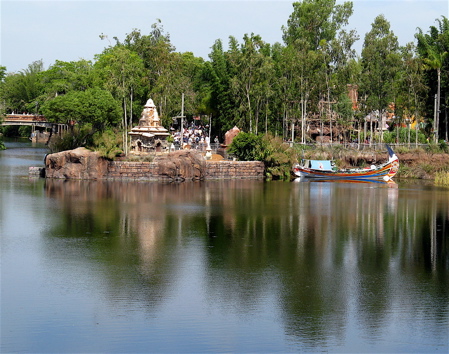 I sort of let Fate decide my next step, too…since I was going to the
Magic Kingdom I actually had three bus choices: Grand
Floridian/Wilderness Lodge, Transportation and Ticket Center, and
Polynesian/Contemporary. The latter arrived first, so I took it. I was
the only one on the bus until we stopped at Blizzard Beach and picked up
two other people. The first resort stop was the Contemporary, so I
walked to Magic Kingdom from there. And took this picture of the
under-construction-tower-which-everyone-knows-is-a-new-
DVC-resort-but-Disney-won't-confirm-it.
Met Lisa outside the Exposition Hall, she'd been taking photos for
AllEars and her photo blog. She wanted to take some more in
Fantasyland, and she needed a model, so I got drafted. 🙂 We went to
Dumbo – and this was yet another "first time" experience for me on this
trip – I'd never ridden Dumbo at the Magic Kingdom before. The line was
about 25 minutes, but we were chatting and the time went quickly. I got
the same color Dumbo that I had at Disneyland on Sunday – the bright
blue one.
And there were these two Wild Animals in a cage near the
ride…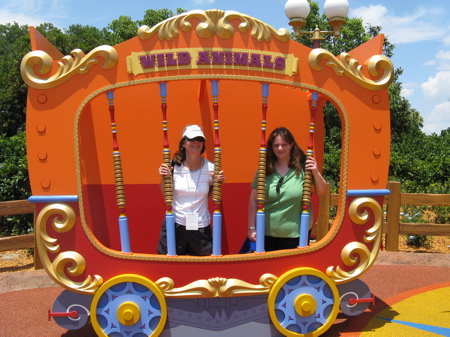 We got Fastpasses for Pooh (even it had just at 30 minute
Standby) and had lunch at Cosmic Ray's. I had a veggie burger and made
good use of the toppings bar…the sauteed onions were especially
good.
It was not quite time for our Pooh Fastpasses, and I'd told Lisa that
I liked the Buzz Lightyear ride, so she suggested that. It had less than
a 5 minute wait. As we got to the last turn in the queue we
noticed Dream Team members with a stack of what looked like lanyards…but they
weren't handing them out yet. Darn. Once we got off the ride we went
around again, and they were handing them out, so Lisa and I got
Dreamed!
We won a pass for an event tonight called Magic Kingdom Special Park
Dream Time Event. On the back it says:
Congratulations!

Have you ever dreamed of staying in a Disney park after closing time
to experience the magic just a little bit longer?

Well, that dream is about to come true during tonight's Special
Park Dream Time Event – created just for you as part of the 2008
Disney Dreams Giveaway.

Join us in Tomorrowland at MAGIC KINGDOM® Park just after
the Park closes for the Special Park Dream Time Event
kick-off.
(There's a whole bunch of conditions and disclaimers, but I'm not
going to type those.)
To be honest, I was expecting it to be a Dream Fastpass, so I didn't
ask if I could have one for Lee. When we got off the ride I saw a Cast
Member at the Photo counter who had several in his hand, and I asked if
he knew where I might be able to get one for my husband, who wasn't with
me. So he just handed one to me. I think I probably could have gone to
Guest Relations, but it was nice to not have to do that!
So now the question was: What exactly had we won? It's not very
specific. Lisa asked a Cast Member at a Photo kiosk – he didn't know,
but he called someone. That person didn't know either, so he called
someone else, and was told that it was Tomorrowland only, and
only for an hour after park closing. I guess we'll find out more
tonight. Lee and I had talked about going to MK tonight anyways, to see
the Wishes fireworks, which I really enjoy. And *they* don't get
canceled frequently like certain fireworks shows in California which
shall remain nameless.
I left after that – Lisa was going to go photograph "it's a small
world" – which is something I've never done at Magic Kingdom, because I
refuse to do it. 🙂 Besides, I'd promised myself some pool time today!!!
I was surprised to see that Port Orleans – French Quarter and
Port Orleans – Riverside had separate bus stops. The French
Quarter bus was already there, and since there was *no one* in line for
the Riverside bus I figured I'd just missed it. Besides, it's a nice
walk between the two along the Sassagoula River. (Nicer when it's not
close to 90 outside, though.)
Our room is in Acadian House, and only 50 yards or so from one of the
quiet pools. There weren't very many people there, but I discovered
there are no towels there, either – you had to go to the main pool on Ol'
Man Island to get them. That's a bit inconvenient! I was headed
that direction anyway since I was going to use my refillable mug (refill
#4 for those keeping track – Lee used it for coffee this morning) to get
some iced tea.
I had some nice sun and reading time, and went in the pool to get
wet, but the pool was so warm that it wasn't very refreshing – I cooled
off more from evaporation when I got out of the pool than I did when I
was in it!
This will probably be it for my blog entry today, since with the MK
event tonight I'll be getting back a little too late to blog tonight,
especially since Commando Lisa wants me to meet her bright and early
at Epcot tomorrow. Of course she's going to this thing tonight, too…
🙂
Let's see…I did 3.6 miles this morning, and an additional 6.3 miles up until now.
Not quite up to the 12 I did yesterday, but there's still tonight!