Lee got up bright and early at 7:00 (which is VERY early when you just
came from the west coast!) and kissed me goodbye when he left for
his conference. I'm trying not to gloat too much about this whole
"you're working and I'm not" thing… 🙂
I actually got up not too long after he left and went out for a walk
around the resort area – it was a very *bright* morning, but really
comfortable for walking. I brought my runner's GPS with me on this
trip, and I know that I walked 3.5 miles (you can walk a lot of miles on
all of those serpentine paths in the Alligator Bayou area.
It was really a very nice walk – I saw a fair number of joggers on
the main paths, and lots of bunnies and ducks. And I enjoyed the
reflections in the Sassagoula River.
I walked down to Port Orleans French Quarter, also – I'd never
noticed King Neptune riding the sea serpent at the pool before. Of
course, that may be because he was hidden by palm fronds…he may be
King of the Ocean, but apparently he has no lordship over trees!
I did something this morning that I have never done before – I bought
a refillable mug! We're usually at the Boardwalk where it just isn't
convenient to use one. We'll see if I get my $12.50 (plus tax) out of
this one. So far I've gotten two drinks.
And then I did something else I hardly ever do…took a bus to Epcot!
That just seemed so wrong somehow. 🙂 I waited maybe 10 minutes.
Though it was weird that the first three buses that came by were all
going to Blizzard Beach and Animal Kingdom. Not too many people riding
any of the buses at that time of morning (about 11:30). The Port
Orleans bus stop at Epcot is one of the closest ones to Epcot's entrance.
The Flower and Garden Festival has a surf theme this year, and
the topiaries inside the front entrance reflect that. And I loved the
background music – it's all Beach Boys songs! I couldn't help
singing long as I walked through there – and I wasn't the only one.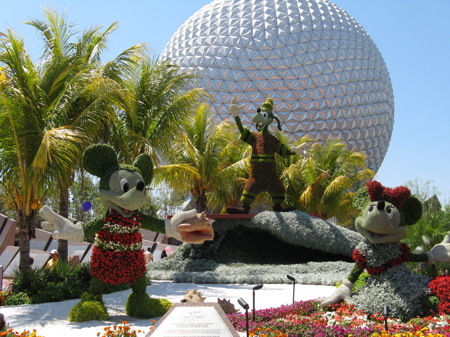 At Epcot I did something else I've never done – got a Fastpass for
Mission:Space – I'd never ridden it before. I had about 50 minutes to
kill so I rode Test Track using the Singles line – I walked right into
the briefing room (briefing was almost over) and then had just two other
Singles in front of me, so that certainly didn't take long. I was
watching the speed indicator on my GPS, which was kind of freaking out
during the speed loop. 🙂 It thinks that my fastest pace today was a
51 second/mile pace – so that's pretty consistent with the 64 mph
maximum speed you supposedly get on the ride.
I visited Minnie's Butterfly Garden, which is always one of my
Festival favorites. Not too many really colorful/unusual
butterflies were out at this time, though.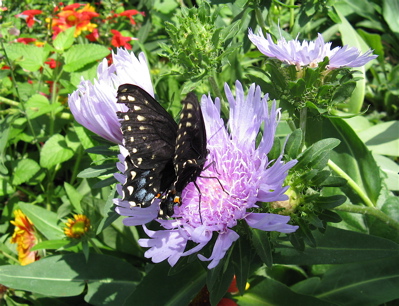 After I rode Journey into your Imagination it was time to use
my Mission:Space fastpass. Interestingly enough, it was the
first time for all four of us inside my pod – two other ladies were a
bit nervous about it, but we all worked together and it was a successful
mission. I was the Navigator. I really enjoyed the ride – even
without the spinning the motion simulator sensations were
interesting.
I always enjoy playing the Space Race game in the post-ride
area, and a game was just starting when I got off the ride. I uploaded
19 fixes, which I think is a new record for me – I came within about a
second of getting to 20. My team, Orion, won the race. 🙂
I had about 20 minutes to get from there to the American Adventure
pavilion, where I wanted to see Voices of Liberty at 2:00. Which
reminds me…The
weather was really great today – it was supposed to be 90, but I don't
think it got higher than 85, and it wasn't very humid. I made it with 5
minutes to spare – even stopped to take a few pictures on the way.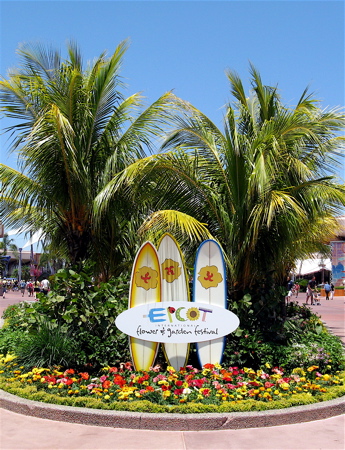 And the crowds were fairly minimal, too – 20 minute standby lines for Test Track and Mission:Space, though of course Soarin' had a 60 minute wait, and Spaceship Earth, since it was still morning, was 35 minutes.
The Voices of Liberty performed America the Beautiful, Yankee
Doodle, Oh Susanna, and, one that I'd never heard from them before, Old
Man River. Oh my…that was awesome, and gave me chills. About half
the singers were new to me, including the bass who sang the solo on Old
Man River. Incredible voice.
I did something else I'd never done – ate at the Liberty Inn. I had
the Vegetable Wrap with apple slices – and I threw on some more
tomato slices and lettuce from the topping bar. It was pretty tasty –
it was lettuce, chopped tomatoes and cucumbers, shredded carrots, a big
slice of zucchini, and mild roasted red peppers wrapped in a whole wheat
tortilla. It needed some dressing, though…I put some mustard in
mine.
The Spirit of America Fife & Drum Corps was just starting
their set as I was finishing eating. In addition to some other
patriotic tunes they played a medley of all four of the military service
anthems – The Caissons Go Rolling Along (Army), From the halls of Montezuma (Marine Corps), Anchors Aweigh (Navy), and Wild Blue Yonder (Air Force).
By then it was 2:40, and I had planned to see the Block Party
Bash parade over at the Studios at 3:00. Not even I can make it
from the American Adventure to the Studios (over 1.5 miles) in 20
minutes – but I did it in about 25.
Unlike any of the other Studios parades that I remember, this one
starts from the end of Hollywood Blvd near Sid Cahuenga's, rather than
from Star Tours. So it effectively blocks the entrance for people trying to
come into the park. They were routing people over to Sunset Boulevard
via the super-secret gate by Oscar's Gas Station (normally used by
people who have the Fantasmic! dinner package).
People were lined up at least 2-3 deep all around the parade route –
I never saw it that crowded at DCA (which is where it came from), even
when it was new. Nice to see people in Florida enjoying it. I think it
was pretty much the same as the version in California, though it seemed
a little shorter, but I couldn't tell you why.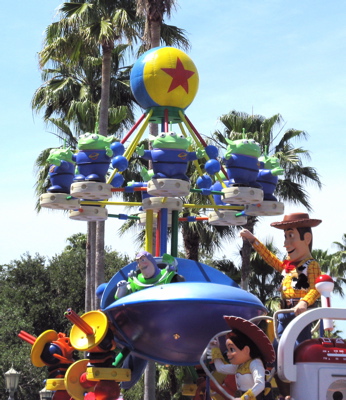 One cool thing I noticed before the parade – Cast Members had
different activities set up along the parade route before it started
to entertain the kids – I
saw hopscotch, a limbo contest, and bubble blowing, among other things.
Lisa Berton called me as I was on my way to the bus stop – she'd also
seen the Block Party Bash, so I just missed her at the Studios. We're
going to try to meet up tomorrow, and for sure plan to get together on
Thursday.
I took a short break back in the room – downloaded photos and worked on this blog entry mostly. Lee's conference had a private party at Animal Kingdom tonight, but he came back to the room to change clothes and drop stuff off. On the way to Animal Kingdom he dropped me at the Boardwalk and I walked back to Epcot from there. It's almost exactly 1/3 of a mile from the Boardwalk lobby to the International Gateway.
I arrived at the America Gardens theater about 10 minutes before The Tokens took the stage – there were still PLENTY of seats left. And who are The Tokens, you might ask? I wondered that, too. They are best known for "The Lion Sleeps Tonight", a song they recorded about 40 years ago! They really put on a good show, though most of the songs they performed were hits they produced for *other* artists, like The Chiffons (He's so Fine and One Fine Day) and Tony Orlando and Dawn (Candida). They did a really fun version of Wipeout (pictured) where they all put on surfer shirts. The show was 30 minutes long, but didn't seem that long at all – I wish they could have played longer.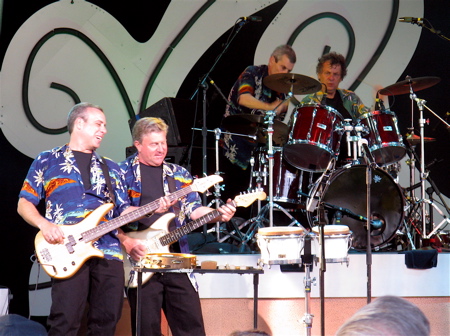 While I was walking up towards Future World I took this sunset photo…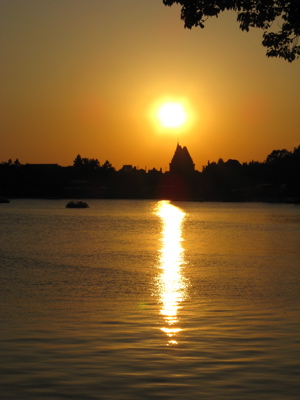 Dinner was from Sunshine Seasons – I had the rotisserie chicken dinner, and picked up some chocolate mousse cake and a chocolate brownie that Lee and I can share later.
According to my GPS I walked about 11 miles…It was One Fine Day!