I'm blogging live from WDW – and a couple of months ago I certainly
didn't expect to be here right now!
Lee is attending a conference for work at Coronado Springs, and back in
January asked me if I wanted to come with him. But I had work
commitments – at that point in time we had the roll-out of a new
system scheduled for the beginning of May, so I knew I wouldn't be
able to go. But in March we found out that it had been delayed, so
yippee, I could come along, too!
So I get to be a conference spouse and play in the parks while Lee
works all day. It's a tough life. 🙂 The Flower and Garden
Festival is going on at Epcot, which is one of my favorite events.
If you've seen any of my trip reports you know that I love flowers. And
the topiaries and bonsai and other garden displays around Epcot at this
time of year are very nice.
We're staying at Port Orleans Riverside – the only other time
I stayed here was December of 1997 when it was still called Dixie
Landings. We're so used to staying in DVC resorts that this is
going to be a little different, though the main thing that's going to be
so shocking to me is that I can't walk to a theme park. We usually stay
at Boardwalk Villas, and I'm very spoiled by being within walking
distance to Epcot and the Studios.
As this trip approached I found myself looking forward to it and
getting more excited about it than my "usual" WDW trips – I think
that's because it was an unexpected bonus. It's also very unscripted
– apart from getting together with Lisa Berton I have NO
plans at all, so I'm free to indulge whatever whim takes my fancy
– I can wander around and amuse myself or maybe even relax a ittle
bit. Relaxing on vacation…what a concept. 🙂
So…we've arrived and checked in – we're in the Acadian House in the
Magnolia Bend area. Very few cars in the parking lot – we're not sure
if that's because the resort is empty (hard to believe) or if there's
just not as many people renting cars these days, and instead are
relying on Disney transportation to get them from/to the airport
and the parks.
It's our first night, so of course we had to go to Epcot! We didn't
get there until almost 7:00, and first thing we had to do was get a new
Annual Pass for me, since mine expired in November. It's very nice
having the DVC member discount on that – saved us about $100!
Our first stop was Spaceship Earth, since we haven't seen the
new version of it. I've seen a lot of less than favorable reviews of it
but I thought that it's not that bad, and actually some of the
narration made us chuckle – like the reference to the first "backups"
provided by the Jewish and Middle Eastern scholars. We thought the
whole interactive section at the end was kind of fun, though I can see
that it would get old quickly. We ended up vacationing in spaceships in
the future, as you can see below. Though the coolest thing was when we
went to email the postcard to ourselves, and the face recognition stuff
actually picked out our correct photo all by itself!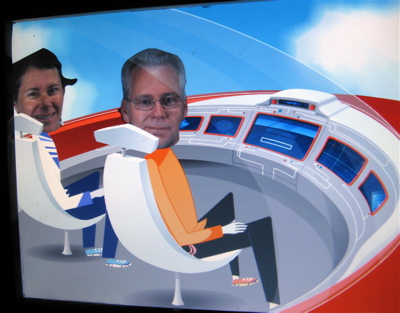 The games down underneath looked fun – we played the "shuffleboard"
energy game, and Lee tried the game that tested his reaction time,
memory, and hand-eye coordination. It's a lot harder than it looks!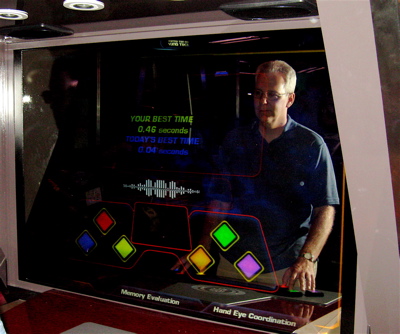 And Lee wants me to point out that we were riding attractions at Disneyland yesterday and at WDW today.
On the way into World Showcase we passed the Stitch topiary –
the first of many that I will photograph this week. 🙂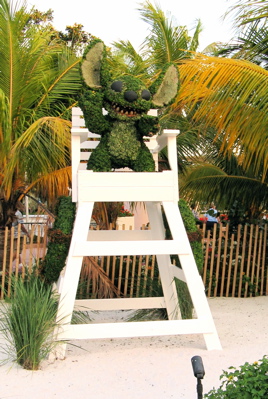 Since today was Cinco de Mayo we HAD to stop and get frozen
margaritas at the stand in Mexico. It was really a very nice evening to
be outside in shorts and t-shirt – while I wouldn't want to be doing
vigorous exercise, it was quite comfortable for walking – even walking
at our (fast) pace.
We had dinner at our traditional first night spot – Tangierine
Cafe. They no longer have the Shawarma sandwiches, but I think the
wraps are just as good. I had a chicken wrap and Lee had the lamb
platter. We sat outside where we could hear Mo'rockin's last
performance of the evening – could even see a bit of them.
And of course it's not a first night at Epcot if we don't watch
Illuminations! There weren't too many people in the park, and we got a
pretty good spot in Norway about 5 minutes before the show started. We
love that show.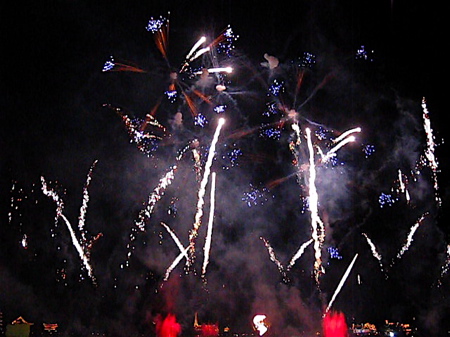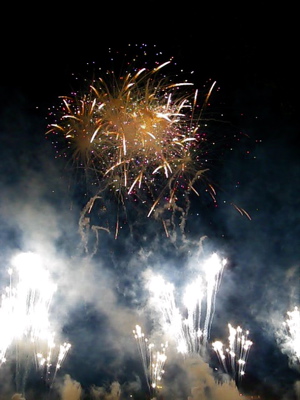 Afterwards it was very strange to be walking out to the *front* of
the park…normally we're walking out the International Gateway!
There's a lot more people who go out the front! 🙂 And we saw a
number of Cast Members wearing Mickey gloves who were saying good night
and waving goodbye to people as we left.
So tomorrow…who knows what I'll be doing tomorrow? There's a good
chance Disney buses and theme parks will be involved, though. 🙂