As I mentioned in yesterday's blog entry, Lisa and I received lanyards
entitling us to admission to some kind of after-hours event at the Magic
Kingdom last night, but we didn't actually know what it was going to
be.
Lee didn't get back to the room until after 7:00…we decided to eat
here at Riverside instead of at the Magic Kingdom (we wanted to get to
the MK in time to see the fireworks at 9:00).
We both decided to have the roast turkey dinner – it was *real*
turkey breast, carved right before our eyes, and served with corn bread,
and choice of two sides: mashed potatoes, corn, or mixed vegetables. It
was actually really quite good – we both had the potatoes and the
veggies. The corn bread was just a little sweet and had pieces of corn
in it. And the price was quite reasonable, too – $8.99.
It was almost 8:00 by the time we got out to the bus stop, and found
a bunch of other folks waiting for the MK bus, also. Apparently they
had been waiting for a while, since the bus got quite a cheer when it
arrived. Fortunately we all fit on the bus, though it was standing room
only.
We staked out a spot about half way between the hub and the ice
cream shop for Wishes – we could have gotten closer but we know
from past experience that it's possible to be *too* close. This
turned out to be a really good place.
What can I say…Wishes is a wonderful fireworks show. So
many different kinds of fireworks, and the beautiful light show that
goes on on the castle iself is great. I think Disneyland's
Remember…Dreams Come True is a little bit better, in terms of
the integration of the castle lighting projections, music, and
fireworks, but Wishes is a whole lot more reliable – barring something
like a hurricane I don't think it gets canceled.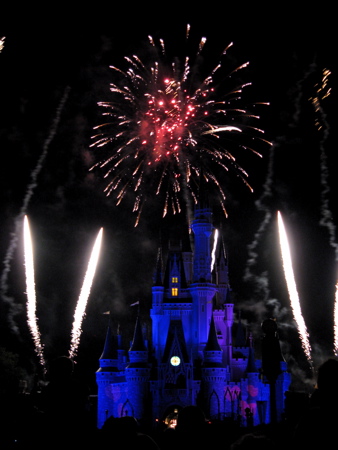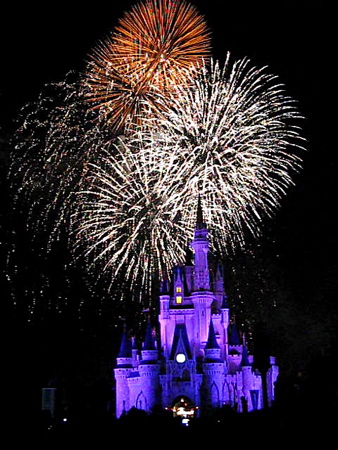 We waited for the traffic to subside before going to
Tomorrowland, which was where we were supposed to be for the
start of the Dream event. We arrived just as they were counting
down to the start of it (it started at 9:30), and people starting
streaming out of the fenced-in area.
Apparently if you arrived at 9:00 like they told you to (but we
wanted to see the fireworks) they put you in a fenced-in area once you
showed your lanyard. There was a stage and a DJ playing music, and
Mickey and Minnie were there, too. I assume they told people
about what was going to happen, and what would be open, but we missed
that part. Fortunately, Cast Members were handing out a special
event Entertainment Schedule (just like the usual ones you pick
up in all of the parks) which had information on the event – including
important details on how long it was (9:30-10:30) and what attractions
were open.
Lisa and I were told earlier in the day that only Tomorrowland was
open, but that wasn't the case – there were attractions open all over
the park! That's a lot of ground to cover in just an hour. Lisa had
called Mike Scopa earlier who did some Googling and found that they only
give out 9600 lanyards the day of the event, and of course not all of
those people attend, so the park seemed pretty empty.
Our first ride was Buzz Lightyear, since Lee hadn't yet done it this
trip…and it actually had a line, and we had to wait for at least a
minute to get on. 🙂 We *really* miss the removable laser cannons
that they have in California.
Remember that I said the park seemed pretty empty? That made things
even spookier over at the Haunted Mansion. One nice thing about it was
that we could hear all the sounds coming from the mansion, which you
normally can't hear over all the noise from the people. Wolves howling
and stuff like that.
We split up after that – Lee and I rode Thunder Mountain, which
seemed especially fast and more of a thrill than the one in California
(which we just rode on Sunday). Or maybe it was because we aren't used
to the ups and downs and turns here like we are there. It was fun.
Lisa went to Pirates of the Caribbean, and after we finished on Thunder
Mountain Lee and I went there too – that was our last ride of the
evening since it was just after 10:30 by the time we got off.
Sigh…the hour went much too fast! And hour and a half, or even two
hours, would have been much better!
On our way back to Main Street we saw this: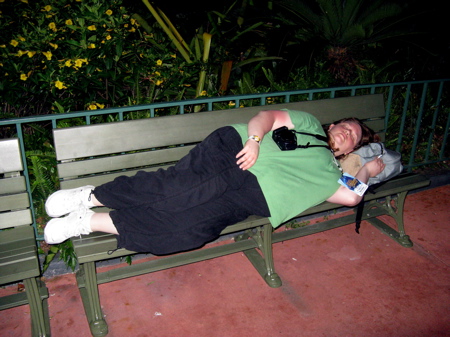 Who knew that they let homeless people sleep inside the Magic
Kingdom? 🙂
On our way out of the park, Mickey and Minnie were waving goodbye
from the train station, and some management type was talking and
thanking us for coming, etc. It really was a nice event – just too
short!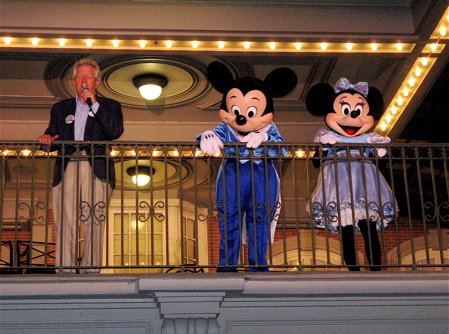 We said goodbye to Lisa and went to our respective bus stops. Lee
and I stopped at the Food Court on the way back to our room to pick up some dessert
– I had ice cream and he had a brownie. They aren't as good as the
brownies from the Boardwalk Bakery, though.
So that finally brings us to today. After breakfast Lee dropped me
off at the Boardwalk and I walked into Epcot via the International
Gateway. I called Lisa, who was still finishing up with her packing
(since she was going home this evening), but she said she'd call me when
she arrived at the park.
So I wandered around the park enjoying the flowers and the topiaries,
and taking some pictures. Over in Norway I noticed something I'd never
noticed before…look closely at the upper window in the right hand
side.
There were trolls in this window, and in many of the other windows
around the Norway pavilion. I didn't realize that this was a troll
couple until I unloaded the pictures off my camera! There was also a
troll couple perched on the Stave Church.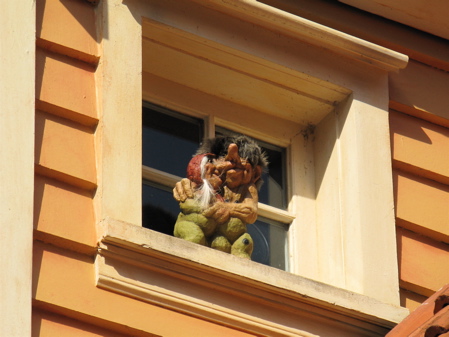 I did another (successful) training mission at Mission:Space (green,
non-spinning side, of course!), and Lisa called me after that. We
sampled some beverages in Club Cool, and as we were walking back towards
World Showcase we noticed they were setting up for some kind of a shoot.
Lots of people and cameras and lights. It was a promo for the High
School Musical – Get in the Picture thing that is touring the
country – we saw the setup they had at DCA last weekend. Lisa pointed
out Nick Lachey – good thing she knew who he was, since I never would
have known. 🙂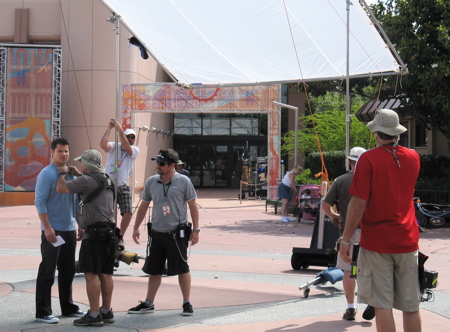 We wandered back towards the UK pavilion, taking pictures of flowers
and topiaries. We went into one of the shops in the UK and noticed a
quiz posted next to the cash register, with questions like: "Name 5
Disney movies set in the UK", and "Where does the P.M. live?" The Cast
Member there gave us a "Certifiable Magical Moment" certificate for
participating in the UK Quiz, and told us there were additional quizzes
in the other UK shops.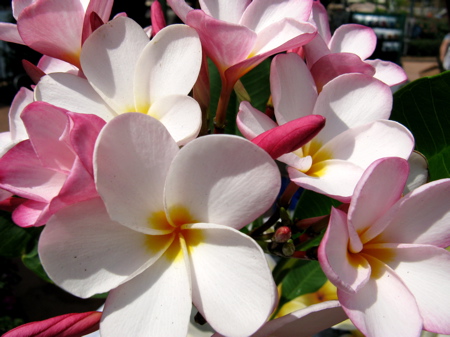 We checked in at Rose & Crown where we had a lunch reservation. Lisa
had the Fish & Chips – the chef came out before her meal to discuss her
dietary restrictions, and then he personally delivered her meal to the
table! He was pretty cute, too. 🙂 I had the Vegetable Curry, and
that was pretty tasty.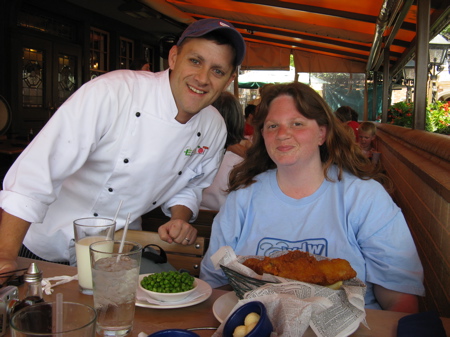 After lunch we visited the other UK shops and found two more quizzes
– one of them had a list of American words, and we were supposed to come
up with the UK equivalent. Like "elevator" is "lift", and "vacation" is
"holiday". Some of themn we had no clue about, like "pacifier",
"eggplant" (eggplant???), and "bun". Unfortunately the CM in that shop
wasn't into it at all – she just told us what the answers were, and
didn't offer to give us a certificate.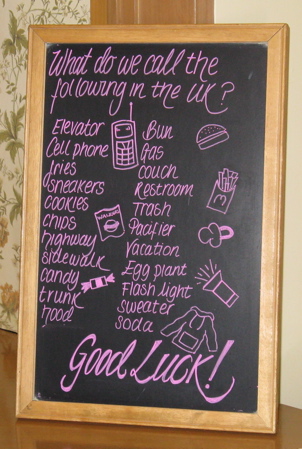 I said goodbye to Lisa then, and went back to Riverside for some
relaxation time. It seemed hotter today than yesterday, and I was
getting a little too warm.
It was nice to have several relaxing hours to nap and read! Lee came
back and picked me up and then we both went back to Coronado Springs
where one of his co-workers was having an impromptu pizza and beer party
on the beach behind the cabana he was staying in. I really like
Coronado Springs, even though I've never stayed there. I was hoping
we'd get in there this time, but it was sold out of conference rooms by
the time we booked.
Lee doesn't have any conference events on his schedule tomorrow, so
we'll spend the day doing whatever he wants to do since it's his only
day to play…AK and Epcot for sure, maybe the Studios.