You can blame commando Lee for the fact that there was no blog
entry yesterday. Since it was his only day to play in the parks he made
the most of it – we got a short afternoon break back in the room, but
that was it.
We started our day with a three mile walk around the resort area – it
was warm and muggy already. After breakfast (and after he did some work
stuff) we drove to Animal
Kingdom. It was a lot more crowded than when I was there on
Wednesday – the standby lines were double what I experienced.
After we got Fastpasses for the Safari we visited the Maharajah
Jungle Trek. Where we learned the first of several new things that
I learned that day: Never get into a staring contest with a Komodo
Dragon. They only close their eyes to sleep or to protect them
from the sun.
The tigers were doing what tigers do best – sleeping. Though at
least they were sacked out right up against the windows of
the viewing area so people could see them.
Over at Expedtion Everest we asked for our CM friend – and
of course he was on his break. A nice CM went and found him,
though, and we had a brief chat before he had to go back to work. Lee
and I went to see the Flights of Wonder show. Which we've seen
many times, but we still enjoy it. There was a new (and much younger)
actress playing Guano Jane this time. And even a few new jokes
and puns. We also saw some different birds – instead of the crow who
usually does the dollar bill schtick, it was a parrot. And this
particular parrot was fairly new, and hadn't mastered the part about
returning the money – he kept putting it back into the trainer's
pocket. 🙂 Eventually Guano Jane had to take it back, doing her best
flapping her arms bird imitation. Which was pretty scary, actually.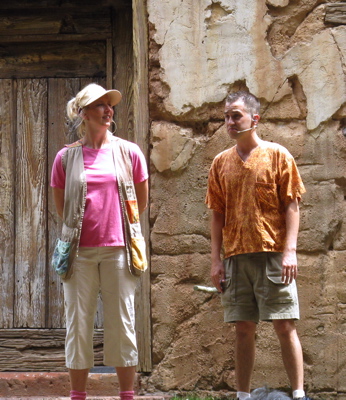 And here we learned a second new thing…there was a grackel who had
taken offense at some of the birds in the show and was dive-bombing
the owl and the
Harris hawk when they were out – even though they were much larger than
he was! The trainer said this behavior is called "mobbing", and the
birds do it in defense of their nesting areas. It didn't seem to bother
the larger birds very much, though.
The standby line for the Safari was approching an hour – we're used
to zooming right on with Fastpasses, but even the Fastpass line was
backed up quite a ways. Once we got to the point where the Fastpass and
Standby lines merged it stopped completely, since there were no jeeps
showing up! After about 10 minutes they finally announced that there
was a "wildebeest migration on the savanna" that had delayed the jeeps.
One finally showed up…and then there were no more for another 10
minutes. It was definitely the longest I've ever waited for a safari
when I had a Fastpass!.
The safari itself was just ok – not as many animals as we sometimes
see, though quite a few on the savanna. Where we learned something else
that was new – the male sable antelope are darker, almost black, while
the females are the lighter brown color.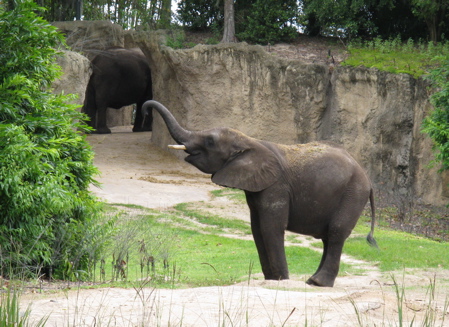 In Pangani Forest the four gorillas in the bachelor troop were
all out and moving around – that was quite a treat to see all of them!
One of them picked up a branch and carried it around before sitting
down to strip the bark off and eat it.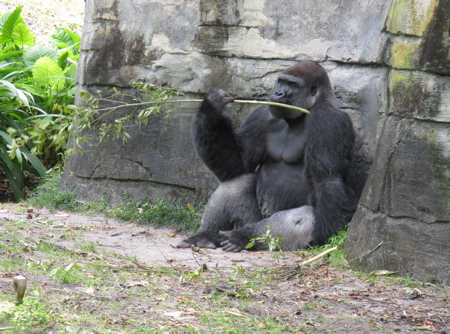 Before we left the park we rode Everest (where our friend collected
our Fastpasses!), and then had ice cream from the colorful truck there.
It was melting pretty fast on such a warm day! I think they have the
best soft-serve in the parks.
Back at the room we relaxed for a little while and made a late lunch
out of the cold pizza Lee's coworkers had insisted we take the night
before. I went through some photos and we took a short nap before
leaving again around 5:00 – this time we took the bus.
We didn't have to wait too long for the bus and soon were on our way to the
Studios. We noticed that the pre-recorded bus spiel that plays automagically when you get close to the park still talks about the Stars and Motorcars Parade, which is no longer running. Oops.
I'm not quite sure why Lee wanted to go to the Studios, since it's our
least favorite park, but it was his day to do what he wanted. Lines
here were pretty minimal – posted 10 minute standbys for Rock 'n' Roller Coaster
and Tower of Terror. Though the queue for Rock 'n' Roller Coaster
completely stopped moving not long after we got in it – no explanation
as to why, but after 5-10 minutes it started moving again and we rode
with no further incident. We were starting to think we were a jinx! (Why does everyone feel like they have to run their hands over those glass doors at the ride's entrance? Does anyone else find it as annoying as I do?)
After we'd twisted and turned on the streets of L.A. and made a
visit to the Twilight Zone, we walked around the park a bit, and rode
Star Tours, which only had a 5 minute wait. As we headed out of the
park there were a lot of groups of kids coming in – there were signs
posted for some kind of Disney-Josten's Grad Night event. Even though
it was 7:00 by then the sun hadn't gone down and it was still quite
warm. Very different than the weather in California where it just doesn't
stay hot all afternoon and evening!
We walked to Epcot from there – it had Extra Magic Hours that
night and would be open until midnight. And besides we'd only walked
about 8 miles so far that day. 😉 It seemed very strange to be
walking past the Boardwalk and not going into it, though.
Once inside Epcot we got our Extra Magic Hour wristbands and caught
Off Kilter's final set of
the evening and got dinner from the Fish and Chips shop in the UK
pavilion. They seemed to have changed the brand of malt vinegar they
use – it didn't have much of a bite to it at all. We sat on a curb and
listened to British Invasion while we were eating.
They performed several songs from Sgt. Pepper's Lonely Hearts Club Band.
I think British Invasion has been performing together longer than the
Beatles did.
After the show an AllEars reader (who noticed the logo on the
shirt I was wearing) came over to talk to me for a few minutes.
Unfortunately I forgot to ask her name, but if she's reading this, it
was nice chatting with you!
Over in France we got in line at the Patisserie to get
something for dessert before Illuminations. We both had the chocolate
mousse, which was pretty good. There were a lot more
people in the park than when we were here Monday night, but we still
found a spot in our favorite area near Germany, and the people in front
of us obligingly remained seated on the ground for the entire show!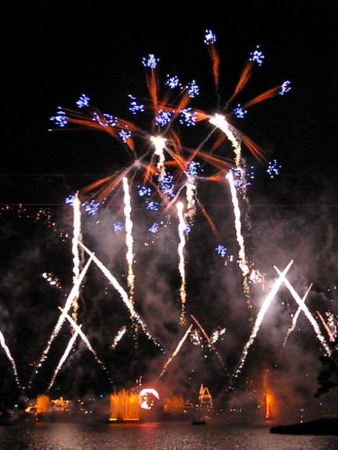 Most people were headed out of the park but we went into the Seas
pavilion and rode the Nemo ride. Man, that is a looooong queue!!!
Fortunately it was pretty empty, and we just kept walking all the way to
the loading area. The ride is cute – I liked the starfish that's up
against the glass at the end who talks to you – one of her comments was
something like "I saw 18,352 people yesterday!" Lee wanted to "talk
turtle" so we went in to see "Turtle Talk with Crush", and that was fun,
as always.
From there we Jouneyed into Our Imaginations. And watched the
fountains outside, which were very pretty at night.
At 10:30 at night Spaceship Earth actually had a line, though it was
only a few minutes long. There were several people in line with us who
did NOT have wristbands, but the CMs weren't checking, and let them on
anyways (we noticed that at Imagination, also). So much for a "Resort
Guest Only" event…Once we got on the ride we discovered we'd
apparently managed to break another ride…though we could hear Judi
Dench's narration, the rest of the audio soundtrack was silent. So no
music or instructions, and it was sort of eerily silent when Judi Dench
wasn't talking.
The computer in the Project Tomorrow area wasn't as good with its
facial recognition this time and we had to tell it which photo was ours. A photo I would have included here, but it doesn't seem to have been emailed to me – which is what happened with the first one, too.
It was almost 11:00 by then, and we were tired, so we headed to the
bus stop. The Port Orleans bus was there, but there was a line – I
thought there was no way we'd get on but we did – and there were even
10-15 people who got on after we did. Standing room only of course, but
it's a pretty short ride. We were back at the room about 11:15. Kind
of a long park day for us, though! But it's all Lee's fault. 🙂
We walked about 13 miles yesterday.
So today was departure day…sigh. We went to breakfast at
Boatwright's. Lee had the Sweet Potato Pancakes and I had the
French Toast. The French Toast was actually *real* French toast,
made with thick slices of French bread. Of course then it was battered
and deep fried and coated with sugar…but it was really good. 🙂
Since we only had carry-on bags I suggested we get our boarding
passes printed at the resort. This took a lot longer than I thought it
would because of some problems with people ahead of us in line, and Lee
was grumpusing at me for wanting to do it. But I looked like a genius
when we got to the airport and the Continental check-in line was
insanely long.
By the way…I was not real happy with Advantage Car Rental – they are
off-site and we waited over
15 minutes for the shuttle to the airport – and there were people ahead
of us that had waited longer than that. They couldn't get everyone who
was waiting on the bus, either. They said that they only had two
shuttle buses. Not good.
Some final thoughts…
It was very nice of Lee to take me with him to enjoy myself while he
worked – thank you, dear. 🙂
Though I missed being within walking distance of a theme park, I
really liked a lot of things about Port Orleans Riverside. It's a
lovely setting, and the paths around the resort are nice for
walking/running – just not quite long enough. Lee and I thought there
should be a path all the way along the river that connects it to Old Key
West, and then to Saratoga Springs and Downtown Disney. The room
was comfortable, though it was very inconvenient to have the outlet for
the internet
connection behind the nightstand rather than over next to the table.
And I could've done without the annoying sound of the turbo-toilets
flushing overhead – we were on the bottom floor, and one night I
think I heard it 8 times between midnight and 7:00. The bus service
was good – I never waited more than 10 minutes, and usually it was
less than 5 whether I was at the resort or a theme park.
The Food Court was great, though – SO much better than anything
available at any of the DVC resorts. There was really quite a selection
with all of the different stations – you could order an omelet
made-to-order at breakfast, and pasta and salads made-to-order the rest
of the day. There were sandwiches and pizza and grilled items
available, also, and I already raved about the turkey dinner. The
bakery section was pretty good, too – the cinnamon rolls were especially
delicious. And I thought the prices were very reasonable, also. And I
enjoyed using my refillable mug. 🙂
It seemed to be a good time to be at WDW, at least from a crowd
standpoint. Mid-week (Monday-Thursday) the crowds were minimal – even
at Magic Kingdom. The weather was pretty good, too. Not even a hint of
rain, and the heat/humidity was not too bad, even for this wimpy
southern Californian (though it got progressively warmer as the week
went on and by yesterday afternoon I was starting to drag.) It is
very nice not to even have to think about carrying a jacket at
night, though!
I enjoyed the displays of Epcot's Flower and Garden Festival – there were
a lot of topiaries that were new to me. Though I was disappointed in
the Rose Walk this year – there didn't seem to be as many rose bushes,
and not as much of a variety of roses, either. I enjoyed the Flower
Power concert I attended. And I really wish our trip had been one day
longer – I could've seen Davy Jones (I hear he puts on a great show),
and we could've gone to the Toy Story Mania Annual Passholder Preview.
Oh well…it'll be opening in California next month.
Speaking of Flower and Garden Festival…AllEars reader Susan tells me:
"As part of the Flower and Garden Festival trolls have
been hidden all through Norway." So that explains the ones that I
noticed. I'm glad that I haven't just been unobservant all these
years! 🙂 Thanks for the information, Susan!
It was really cool to get "dreamed", and to be able to attend the
"Special Park Dream Time Event- event at the
Magic Kingdom!
As usual, I didn't have nearly as much time to relax as I thought I
would…though every day it was my plan to be back at the resort by 2:00
I never made it – though I came close on Thursday. There's just never
enough time to do everything.
Thanks for reading!