This was Challenge #37: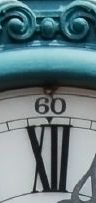 And here's the answer:


Copyright © 2007 Barrie Brewer, Nikon D50, 18-200VR, 1/50s shutter, f5
This lovely clock is on Main Street USA in the Magic Kingdom. Angie Young was the first to send in the correct answer. Nice going Angie!
Here's a special hello to Mrs. Mumpower's first grade class! Like many people this week, they guessed that this clock was at the train station. That was pretty close, but not quite right. As you can see, the clock is actually about halfway down Main Street. I bet you'll know the answer to this week's challenge though.
Until next week, adios! (Hmm, I think that might be a hint!)
Congratulations to all the readers who knew the answer to this past week's contest and sent it in before the end of Thursday: Becky Myers, Baines Family, Lynn Barber, Bruce Lawson, Richard Nussbaum, Mary Williams, Abbey Williams, Carl Williams, Sharon Pierce, Heather Coursen, Mike Fisk, Tina Panzarella, Sharon Dale, Nancy Hannah, Betsey Pickard, Evelyn Cowdell, Jim Greenhouse, Tim Rachuba, Jen Maciok, Mike, Jennifer Tremley, Raymond Hatch, Chris Connors, Jennifer G, Jared Orth, Trish Babler, Maryann Eckenrode, Karen Dresser-Smith, Ken Fischler, Jeff Christiansen, Mike Kaczanowski, Jacquelyn Law, Ed Nawrocki, Pat Whitson, Hollie Hinton, Chris Bertelmann, Aaron Hale, Lisa Gale, Neil Taylor, Nicole Cyr, Kelley H, Patty Lue Roosa, Holley Blyler, Sherry Klinefelter, Theresa Rucando and Heather Young. Each of you will be entered in the May winners' drawing.
_______________________________________________________________________
Challenge #38: Where in the world is this?

Do you know? Do you have a guess? Send in your answer, before the end of the day on Thursday, by clicking HERE!
_______________________________________________________________________
Everyone who sends in a correct answer to a Where in the World Challenge this month will be entered in a drawing at the end of the month for some special AllEars® goodies and a copy of PassPorter's Walt Disney World by Jennifer Marx, Dave Marx, Allison Cerel Marx!