Wow Grad Night was a blast!
I don't recommend going on Space Mountain when you get there because everyone wants to go on it and it ends up being really crowded!
Big Thunder Mountain was the shortest wait I had all night so I recommend going on that plus the view of the park at night is beautiful!
Be sure to go and dance a little bit the music is great and it gets you pumped for graduation!
The Haunted Mansion had a long wait but it's worth it to see everything at night.
I ended up near the front of the concert stage and the fireworks show was amazing! Not as good as the ones at the Pirate and Princess party but close! These were set to the biggest songs of this year and everyone was singing along it was really cool.
I watched The Red Jumpsuit Apparatus; they were ok but had really good stage presence that got everyone else in the crowd pumped!
I loved seeing all of the Disney characters in their caps and gowns and my picture with Grad Mickey is going to be the picture on my graduation party invites!
I totally recommend Grad Night so if you are a high school senior or going to be one talk your class into going!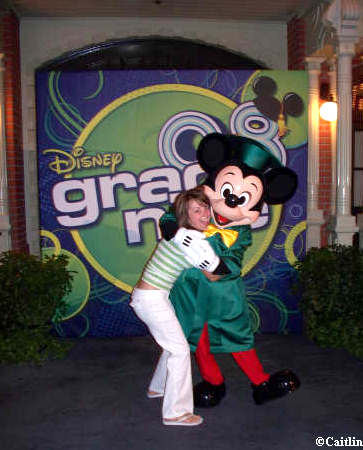 Now I need some sleep ttyl!