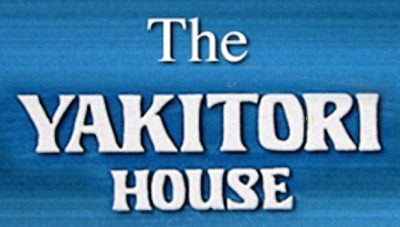 I'm currently remodeling my kitchen (among other projects). Anyone who has ever undertaken a home improvement project knows there are good days and bad days. Today was a bad day. First, the tile man called and cancelled. He had a legitimate excuse, but I was disappointed, none the less. Since I now had the day free, I decided I'd buy paint and embrace a brush and roller. To make a very long story short, I ended up with the wrong color. It was now approaching 5pm and I was frustrated and hungry. My instinct was to sit in front of the TV for the rest of the night and fume, but I decided this wasn't my best course of action so I forced myself into the car and I headed for Epcot.
When I reached one of the outer parking lots, I was directed to the far end of a row – naturally. I just missed the tram so I walked to the main gate. After entering the park, I practically sprinted through Future World. Fortunately, I timed my arrival at the Canada Friendship Boat Landing just as they were loading. I climbed aboard and we set sail. I exited at Morocco and once again took up power walking as I headed for the Yakitori House in the Japan pavilion – which is the point of my blog.
The Yakitori House is my favorite counter service restaurant in Epcot. I like the food, but more than that, I like the atmosphere. It's quiet and serene – the perfect place to go when you need to clear your head and relax.
If the weather is too hot or too cold, I sit in the indoor dining room. Rough-hewn logs hold up the thatched roof while faux shoji screens make up three walls of the restaurant. The ordering counter makes up the fourth. Most tables are long, seat six, and are meant to be shared with strangers, but rarely are. The views from here are peaceful as you look out over much of the Japan Pavilion.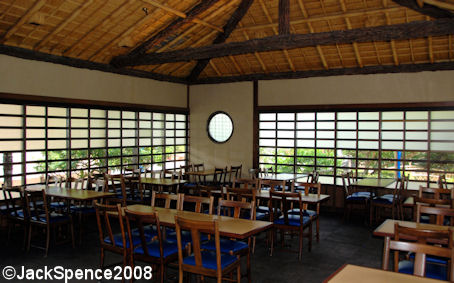 If the weather is nice, as it was this evening, I sit outdoors. Here you'll find approximately ten tables that seat two or four, generously spaced, under Japanese lanterns. Manicured gardens and a lovely rock waterfall and pond surround you. Sitting out here, you feel miles away from everything. Even when all of the tables are in use, it's relatively quite as the waterfall seems to absorb the voices. The only break in this tranquility is when the drummers are performing under the pagoda.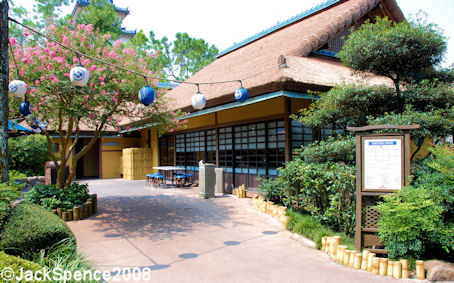 To be honest, I can't tell you too much about the menu since I always order the same thing: Shogun Combination – teriyaki chicken thigh, sukiyaki beef, and steamed rice (hold the ginger). But I've always been happy with this selection so I like to think I'd enjoy some of their other offerings. I guess I'm in a rut.
Now I realize that most of you cannot dash off to Epcot for dinner when you've had a bad day. But I would like to suggest the Yakitori House when you're here on vacation. Epcot is big and it can be stressful. You need to take a break now and then and this spot is the perfect place to do that. Even if it's not meal time, stop by and have a soda (or something stronger) and sit for a spell.
I stretched out my simple meal tonight to around 35 minutes. I ate slowly, enjoyed the atmosphere, and made silly faces with the cutest baby in a stroller seated at a table next to me. By the time I left, I had (almost) forgotten my hectic day and was fairly relaxed. I strolled through the rest of World Showcase instead of my previous frenzied walk.
There are other peaceful places to be found in Epcot, but for me, the Yakitori House is hands-down the most delightful.