I'll admit it to you all, right here and now. I'm a character junkie. I need to have photos of every character I can possibly find and in every outfit possible. Mickey Mouse in his space suit? Got it. Pluto in his workout clothes? Got it. Aladdin as Prince Ali? Got it. The Evil Queen and the Old Hag? Got it and got it. I told you. Shall I continue? Goofy as a chef? Got it. Donald Duck as seen in "The Three Caballeros?" La tengo. Belle in her gold gown and blue dress? Got both. However, I have more of the latter (and honestly, far more Belle shots than I need) because of a certain Belle fan who I know coughmikescopacough.
I will share with you now some of my recent photos taken in Disneyland and Disney's California Adventure. Also, I will include tips on where to find such characters.
Let's begin with Disneyland. When you go thru the turnstyle, don't be surprised to find characters waiting to greet you or there as you are heading out of the park.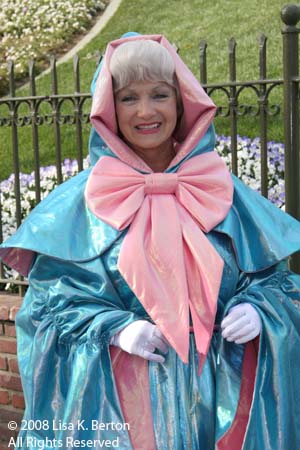 Weekends, school breaks, and holidays always bring out more characters. That being said I have seen everyone from the Fab 5 to Launchpad McQuack to Alice and the Mad Hatter near City Hall, the Fire Station, and The Mad Hatter hat shop on Main Street.

Characters follow a simple rule when returning to the backstage area. They must stop, turn, and wave goodbye. This means if you are behind them, you have one last moment to get a quick shot. Villians don't always wave goodbye but they do stop and turn around.
Let's cross the promenade and head to Disney's California Adventure. If you don't have an Annual Pass you'll need to have your hand stamped and provide your Hopper Ticket to enter.
In the Hollywood Pictures Backlot you'll find a good variety of characters. The outdoor show, Drawn to the Magic, in front of the Animation Building features 3 characters. They are available for a meet and greet afterwards. Disneyland has been celebrating the 70th Anniversary of "Snow White" and offers a chance to meet Dopey or Snow White in front of the Animation Building as well.

Not far from Dopey I also came across Frozone, Mr. Incredible, and the Mad Hatter. For whatever reason and one that fans are thankful for, Mad Hatter and Alice are allowed to wander the parks. What does this mean? You may find one or both of them by the entrance to Disneyland warning teens with spiked hair to stay away from balloons, at the Coke Corner playing musical chairs, in Fantasyland including but not limited to: Mad Tea Party, alongside the restrooms, across from the Matterhorn, and on attractions. I've even seen video of them in Tomorrowland, as Hatter was playing against Peter Pan in Dance, Dance Revolution.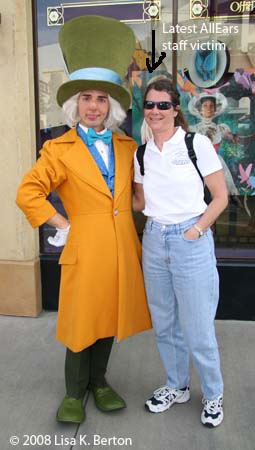 You know this masked err sunglassed woman to be Laura Gilbreath of the famous Laura's Disney Lines blog. Any time I took a photo of her she was excited to be my "unpaid model" or "model who wasn't injured in the making of these photos." Little did she know that the models pay me and psycological damage from hearing my corny jokes may be considered an injury.