All Ears reader Kim Howe had the "dream of a lifetime" in December, when the Walt Disney World Dream Team awarded her a night's stay in Cinderella's Castle.
This is Part 3 – Logistics, Epcot, Dream Squads, and MouseFest, oh my!
We left the conference room and the CMs in the office area congratulated us. Then Elton, Jackie and Kathryn walked with us out into the park and spotted another Dream Squad handing out dreams and encouraged us to go to them. We felt that would be greedy but they really encouraged us. We did and got FastPasses for Epcot only and for that day only. Kathryn waved to us and asked what we got.
Later I learned that at this point Elton when right to Paul to tell him and have him fill out his paperwork. He was still so excited.
At this point, I could barely think straight and, I think, Lisa felt the same way.
It was 11 a.m. and we'd missed the 10 a.m. MouseFest meet, Stroll in Card's Footsteps. We were disappointed but a stay in Cindy's castle was worth it. It seemed we had a lot of time before 1:30 p.m. when we needed to be at the Grand Floridian. I'd planned on attending the Pin Trading meet at 11 a.m. but now we had the FastPasses. We decided to use them and went to Test Track.
As we walked, I checked my phone messages and my mother had called so I called her back. She had also left a message which I didn't listen to until the next day. She was crying with joy for my good fortune. As a girl she watched the Mickey Mouse show and sang the Mousekateer songs so she "gets it" too. Bill's mom also left a message saying that this couldn't have happed to a bigger Disney fan.
I also called Marge and left a message for her to also bring my camera and phone chargers. I thought she didn't answer because she was busy packing. Later she said that she'd probably already left the house. At the time I called the first time, she was ironing and had laundry in the washer and drying. She pulled the plug on the iron and stopped both machines. She ran around like a crazy woman and threw all of her and Paul's clothes in my suitcases and was glad there was enough room because their suitcases were in their attic.
Between our walk to Test Track and the time we spent in the FastPass line, Lisa and I had an opportunity to think and determined that we really did not have has much time as we thought especially since we still wanted to go to the Mega Mouse Meet.
We were glad we pre-registered and had the extra magic hour to get in at noon instead of 1 p.m. During our ride on Test Track my mind was wandering, going a million miles an hour, forget 65MPH, trying to sort things out and put together the afternoon's plan. We agreed we could not use the FastPasses and we should just give them away since they were only good that day. On our way off Test Track there were two young girls, probably sisters, in front of us and we gave the FastPasses to them. They thanked us as did their mother who was waiting for them and saw the exchange. It made us feel really, really good to do that and it gave me goosebumps.

Next we had to finish thinking about our afternoon logistics. Lisa had to get her overnight bag ready and get to the Grand Floridian by 1:30 p.m. Luckily, she was staying at the Boardwalk. We decided the most efficient use of our time was for her to go to her room after the Mega Mouse Meet then wait for me to pick her up with my car out front at the Boardwalk. While she was getting her bag together, I would continue on to Epcot through the International Gateway and out the front entrance, get in my car and drive around to pick her up.
The day was quite warm. We were making our way from Future World to World Showcase and remembered our ice cream voucher. We couldn't recall any carts in World Showcase so we turned around and headed to the cart outside of the Imagination Pavilion.
On our way we saw another Dream Squad handing out the blue and white with silver Mickey ear hats. Boy were we on a roll so we went over and each got one. Jackie was one of the Dream Squad members and we told her we gave away the FastPasses. She said that she and Kathryn agreed that we were so nice that that was probably what we would do with them.
Next we got two Mickey Premium bars. Yum! I was hungry and it was quite warm out. Marge had called and left me a message. She said that she had filled out and signed her paperwork and wanted to know what to do next. I assumed the CM who went over her release form would give her instructions but he didn't.
As I was walking, eating a melting chocolate ice cream pop with a white shirt on, I was also calling and talking to Marge. No time to waste. I told her we had to be at the Grand Floridian by 1:30 p.m. and to meet us there. Later she told me she then went to get a sandwich for lunch to share with Paul. She was finally able to reach Paul to tell him what was going on but learned that Elton had already found him at the front gate and told him.
After learning that Marge was given no further instructions after filling out her paperwork, I wondered if someone would tell Paula or not and was waiting to hear from her asking me the same as Marge did.
Lisa and I continued our fast pace out the International Gateway and decided that walking to the Dolphin and the Mega Mouse Meet would be quicker than the Friendships. We also figured that walking on the Boardwalk side might be quicker than the Yacht and Beach Club side since the sidewalk at the Dolphin snakes in and out close to the building and is not very direct. Besides, the Boardwalk side was currently in the shade. Have I mentioned is was considerably warn out (at least 85 degrees) and we were power walking.
We couldn't believe we waited for MouseFest and especially the Mega Mouse Meet for a year, and now we were going to miss the day's meets (especially Disney Music with Greg Ehrbar, Hidden Mickey's at Epcot with Steve Barrett, Turtle Talk, Magic in the Pixels") and blow through the Mega Mouse Meet. But there were no questions which we chose over the other–the castle won.
Once at the Dolphin, we were glad to find the ballroom was right off the lobby and not through the labyrinth of hallways like the last two years. We put on our wristbands with our raffle number as we walked. I don't know why we even put them on. In order to win any of the prizes you needed to be present and we wouldn't be present. We obviously just weren't thinking clearly. We were handed "swag bags" as we approached the registration area. Since we pre-registered and had our lanyards on, we didn't even need to stop and just got on the escalator down to the ballroom.
The tables near the entrance were busy with people. It was just after 12 p.m. and there were already lots of MouseFesters there. We both thought walking across the room and beginning at empty tables was a good strategy. We only had less than half an hour before we had to leave in order to give us an hour to get to the Grand Floridian. We quickly made our way, individually for the most part, around the room keeping our eye on one another as we went along so as not to lose each other. We picked up literature and swag and talked briefly with "personalities behind the tables" (to quote Mike Scopa). We'd have to visit the websites of the personalities at home-no time now.
At the Allears.net table we told everyone our "news" to a reply of shrieks and congratulations. It's so nice to be among fellow Disney fans who "get it" and appreciate the significance of it all. That's why we attend MouseFest. We continued to share our news and received congratulations as we continued around the room. Mark Goldhaber and Brian Bennett of MousePlanet gave us big hugs. By 12:40 p.m. we'd made a complete circle.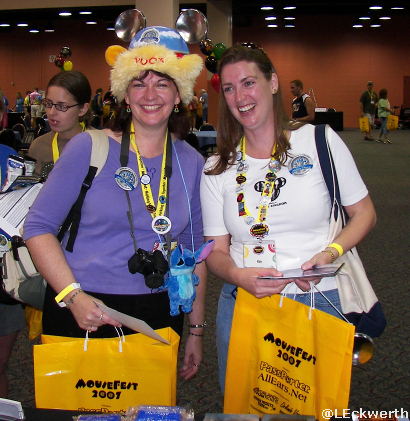 There were snacks available during this extra magic hour and that was a good thing. I picked up a water and granola bar which turned out to be my lunch for the day – besides the Mickey ice cream bar.
Soon it was time to leave.
To be continued….