All Ears reader Kim Howe had the "dream of a lifetime" in December, when the Walt Disney World Dream Team awarded her a night's stay in Cinderella's Castle.
Part 3 – Logistics, Epcot, Dream Squads, and MouseFest, oh my!
This is part 4 – Grand Marshalls in the Magic Kingdom Parade
After leaving the MouseFest MegaMouseMeet, we power walked back toward Epcot. We split up at the Boardwalk and Lisa went to her room to pack and meet me out front of the hotel. I asked her if she thought we could get to the Grand Floridian in 50 minutes. She said there was no question, we will, and we did!
I continued to the International Gateway. My phone would ring but when I took it out of my pocket is would stop and say I had a missed call. It was Elton and after a second call we connected. He wanted to meet me to give me everyone else's completed releases. I was on a tight schedule but told him I was at the fountain in Future World. He said he'd be right there. I paced and as I paced, I gulped my bottle of water and ate my granola bar. It was so warm that I didn't want to pass out. It seemed like it took him forever, but I'm sure it was only five or ten minutes before he arrived and gave me the forms. He'd already heard that Lisa and I gave away the FastPasses. Boy, news travels fast.
I was out through the front gate, in my car and around to the Boardwalk in no time where Lisa was waiting for me talking to her boyfriend, filling him in on the news.
When we arrived at the Magic Kingdom parking plaza, I told the CM, "We were going to the Grand Floridian!" We were waved on and I said to Lisa that saying that sounded nice! When we arrived at the Grand Floridian security gate, I blurted out, "We are staying at Cinderella Castle Suite tonight!" and we were congratulated again and waved on without even being asked to see my ID.
At valet, after I told the CM who we were, he told us to wait in the car for a special welcome. I quickly brushed my hair because it felt so stringy and I was sticky too-not my best for a special welcome. He came back and said we needed to wait inside for a Dream Squad member to meet us.
We walked in and Lisa knew some people just inside the door. How unlikely! She stopped to chat with them. It turned out they all knew the other would be at WDW the same time but never thought they'd run into each other. I kept on walking to where I saw Marge and Paul waiting for us. Paula and Dylan were there, too, but they hadn't seen Marge and Paul. They walked over when they saw me. Lisa soon joined us and I introduced her to everyone. The others all knew each other.
We all talked about how wonderful, unbelievable and fantastic this all was. We each shared our experiences since I'd called them two hours earlier. They all dropped everything and packed very quickly, drove to Epcot, the Grand Floridian and then waited for Lisa and I. Dylan said Paula woke him up to tell him the news and to get ready and how she scared him because she was crying. They put a big bowl of water and food out for their three cats and left the house. At least they all had an opportunity to get some lunch while they waited.
We talked for a half hour and no one showed up from the Dream Squad. At 2 p.m. I went to the Guest Services and waited for what seemed forever for a CM to be free to help me. I told him "our story" and that I didn't want to be late for the parade. I pointed to where we were waiting and the CM went to find out what was going on.
Soon CM Matt showed up. He was not a Dream Squad member, at least he wasn't dressed like them. He was dressed in the Magic Kingdom Guest Services costume with a red plaid vest, white shirt and dark pants. We all introduced ourselves and he told us "Our coach awaits!" Oh my, I thought, will it really be Cinderella's coach with the white ponies. No, it was a white Suburban with a sign on it that said Cinderella Caste Suite.
On our way to the Suburban, Matt pointed out the family who stayed in the suite the previous night. He had just dropped them off and they were waiting for their car. The mother waved, wished us well and said we would have a great time. Marge was taking pictures the whole time and would continue to do so. I am grateful to both her and Lisa for all the pictures they took. I couldn't have gotten all the shots they did and still enjoy myself. They documented the experience very well.
Matt drove us backstage, on the Grand Floridian side, the Magic Kingdom and we passed by the construction site of a new fire station. I didn't recall ever reading one was being built there so it was a surprise. Along the way Matt asked us what we'd like to do, specific characters to visit, etc. I mentioned meeting the Evil Queen. We also said it would be fun to get our hair done at Bibbity Bobbity Boutique but neither opportunity was offered.
We drove around the back of the park and around to the parking lot, on the Contemporary side of the park, behind Main Street USA near the Town Exposition Hall. There, we met CM David who was dressed in the Dream Squad costume of kaki pants, light blue short sleeved shirt and light striped vest. Matt was going to take our luggage to the castle.
He took us on stage between Tony's restaurant and the DVC office in Town Square. Main Street was packed with people waiting for the 3 p.m. parade and we were going to be the Grand Marshalls! We walked very slowly up Main Street chatting with David and each other and stopped for a picture near the hub.
We walked through Adventureland and up the parade route in Frontierland past the gate and the view of park guests. We didn't go completely backstage, though. David introduced us to two more Dream Squad members, Dorothy and Scott. We were just in front of the railroad tracks and had to wave to the train when it went by. We waited here in the hot sun for our parade vehicle to arrive. Some shade and water would have been welcomed. While we waited, three marching bands went by us and we waved to them too. They looked hot. Dylan could relate to them because he's also in a marching band.
When our vehicle arrived, the driver was joking about the brakes not working properly. The vehicles are antique cars and this one really putt-putted down the parade route shaking violently at one point. It had a sign on both sides identifying us "Cinderella Castle Suite Winners." As we drove down the parade route, you could see people read the sign, their faces light up and then they would wave or give us the thumbs up.
Another parade vehicle pulled up behind ours for a large group. Daisy duck rode with them. After the parade we learned that the two men are authors Ridley Pearson and Dave Barry of PETER AND THE DREAM CATCHERS. As we'd walked past the Pirates of the Caribbean, I recalled seeing a sandwich board announcing a book signing. It must have been for them. They all had the black Mickey ears on with their names embroidered on them.
We expected to get ears, too, but did not. Marge asked about it and David hedged. We did wind up getting them AFTER the parade. We felt that either someone dropped the ball on that one or we weren't supposed to get them but did because we asked.
CMs from the Family Fun Day parade arrived. They would be joining us down the parade route. Clarabelle the cow was there too. They chatted with us. Once again, all the CMs were very happy to learn Marge, Paul and Paula were fellow CMs.
David took pictures of us in the parade vehicle. They really came out great because of the sign on the side and everyone's face is visible and smiling.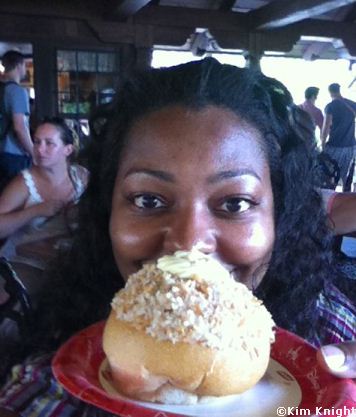 He gave us instructions to wave and smile A LOT during the parade. We asked if we could take pictures and he said we could. We were underway and soon into view of the guests. We were smiling and waving and I soon realized I needed to lift weights more since my upper arms were waving too. Yikes!
Boy, waving and smiling gets tiring fast. I wondered to myself how do those parade performers dance the entire parade route, especially on hot days. Some parade watchers waved back but I didn't think too many did. Paula thought a lot did. Marge said she will always wave to the Grand Marshals now that she has been one. I agreed. It's kind of weird waving to people who ignore you. Before we knew it, we were at the end of the parade route by the Barber's Shop where we got out of our vehicle.
We were escorted to the VIP viewing area in front of the Firehouse. Luckily it was in the shade. It was here that David told us who the other grand marshalls were. Paula and Dylan were familiar with the author's books and had their pictures taken with them. They were very nice people. It was a few minutes before the rest of the parade came by so the girls took a break to freshen up and get drinks. While we waited for the parade, Marge sat on the curb with two young boys and chatted with them. It was cute.
Finally, the parade makes it way to us and it's supposed to be a new parade but it still looks a heck of a lot like the old one to me only the glass globes are off the floats now. We watched, took pictures and waved to the characters. Afterwards I was given a Photopass card with pictures of us from the parade. Nice! CM Scott arrived with our Mickey ears after the parade too. We put them on and had a group picture at the end of Main Street. It looked pretty good with everybody not only wearing the ears but big smiles too.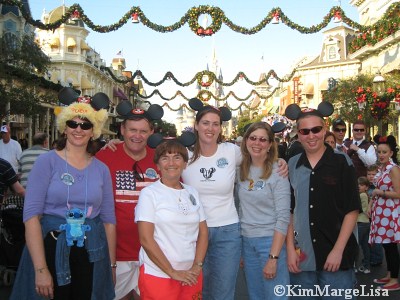 David said we had time to do one ride before he needed to take us to the castle suite. Dylan had already said that he wanted to ride Space Mountain, so Space Mountain it was. He had been and was a good sport through this whole experience. I'm sure it was hard for a 16 year old boy, especially wearing Mickey Mouse ears.
On the walk to Space Mountain, Paul stopped to buy a soda and asked if anyone else wanted one. David told Paul not to worry about it that Scott would take care of it. He got us all either water or sodas. Wow. Everyone walked through the Space Mountain queue but only Lisa, Dylan and I rode. Marge took our picture in our space vehicle but just got Dylan's hand as he waved to her. We screamed and laughed. It always feels like we are going 65 MPH, like on Test Track.
Our next destination was THE castle.
To Be Continued…..