All Star Café Redesign
When I heard that Disney was changing the All Star Café from a table service restaurant to a counter service restaurant, I was disappointed. I always enjoyed this spot. In fact, the first review I ever wrote for AllEars.net was for this eatery. However, I realize that it was a business decision to make the change. Often, this place was deserted, especially if there were no events scheduled at Disney's Wide World of Sports complex. Disney needed to do something to increase business here.
I visited the new restaurant on Sunday November 25th. According to one cast member, this eatery does not have a new name yet so it's still being called the All Star Café until one is selected. This is evident by the missing sign over the entrance and on the posted menus.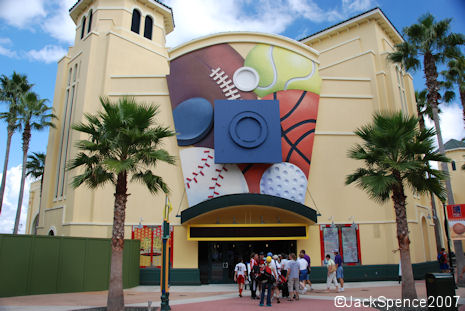 Speaking of the entrance, it has been moved inside the gated area. The old entrance was outside the gated area so anyone could eat here, whether they were attending an event or not. When I visited today, several ticketed events were in progress and cast members were guarding the gates to the sports complex. I approached one of them and explained that I just wanted to eat lunch at the new restaurant. She told me to come on in and pointed the way.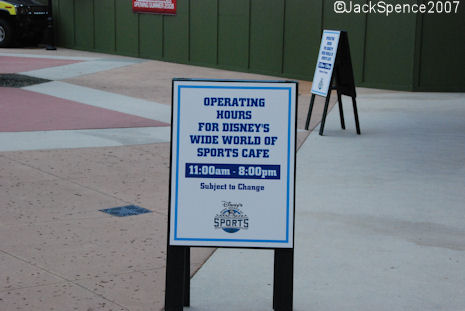 Later, I spoke to a manager about this and she told me that the entrance policy is in flux. At the moment, anyone can eat at the All Star Café. All you have to do is inform a cast member at one of the gates and you will be granted admission. Supposedly, Disney is keeping track of how many "non-event" guests are eating here, but I didn't see anyone counting me as I entered. It is possible that in the future, this restaurant will only be open to guests attending a ticketed event. The manager compared this policy to eating at the Brown Derby in the Disney/MGM Studios. You must have admission to the park in order to eat at its restaurants.
The new entrance to the All Star Café is a cavernous room with a decided lack of decor. There is a large counter with menus overhead along the back side of this room. It is here that you place your order.
After you pay, you are given a plastic number and told to find a seat in the restaurant. Off to the side of the counter is a queue if a line should form (which it did by the time I was leaving).
When I arrived at my table I found an interesting electronic box. Instructions on the side told me to place the plastic number I was given into a slot on the top, then remove it and set the number to the side. This action electronically notifies the kitchen where you are seated so they can easily find you when it comes time to deliver your food. This was a nice gimmick.
Guests are given a paper cup when they order a drink. Beverages are dispensed on an all-you-can-drink basis while dining in the restaurant. Soda fountains, tea, and coffee can be found along one side of the dining room along with condiments, napkins and straws.
The décor of the dining room is the same as it used to be, yet different. All of the personal sports memorabilia has been removed which gives the room a cleaner look.
Also, a wall separating a private dining room has been knocked out, opening up more seating and exposing several large windows that lightens the room considerably.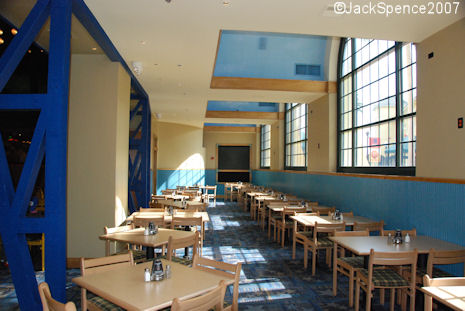 The bar is in its same location and basically unchanged.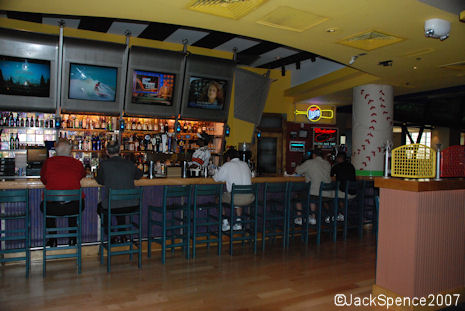 Many of the large TVs are still mounted high above the seating area. However, I was disappointed that they hadn't been upgraded. These are old, rear-projection televisions and they look bad by today's standards. The pictures are not sharp and the color is dubious at best. In this day and age, it's a shame Disney didn't upgrade these sets with LCD or plasma.
Also gone are the little black boxes that could be found on every table. These boxes could be used to tune in the audio on any given station being broadcast. When I asked a cast member what had happened to them, I was told that they were no longer available. Audio was a thing of the past. In fact, even if there is a "big game" on, you will not be able to watch it with sound. I can only guess that Disney is trying to encourage a fast turn-over rather than promote a "sports" restaurant atmosphere. The only non-human sound was the piped-in music.
In one corner of the room was a television tuned to one of the Disney resort stations promoting DVC membership. This was pretty meaningless with no audio.
Another possible change from the old policy is the days of operation. The new restaurant may be closed when no sporting event is scheduled at the complex.
One of my complaints about Disney restaurants over the past several years is the homogenizing of their menus around property. They offer the same food everywhere you go. One glaring example is the Reuben Sandwich. Well, it just so happens I don't like corned beef. I keep asking anyone who will listen, "Why can't they serve pastrami & rye at just one restaurant?" Well at last, they do. And that's what I ordered. And it was good. Sandwiches come with your choice of baked potato chips, melon-cucumber salad, or coleslaw.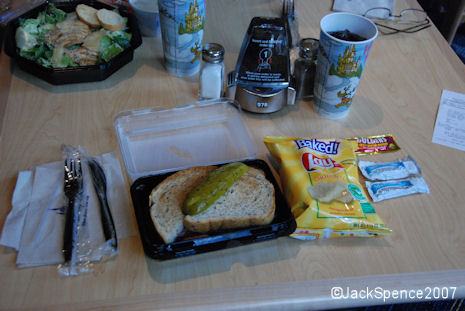 My friend Donald ordered the clam chowder and a chicken Caesar salad. He said the chowder was better than he expected for a counter-service restaurant. He said the Caesar salad was fine – nothing to complain about, but nothing to write home about either. Note, the food is served in plastic boxes.
Also available on the menu was ice cream. I asked what would happen if I ordered ice cream at the same time I ordered my lunch. Would it all arrive at my table at the same time and sit there melting as I ate my sandwich? I was told, no. If you order ice cream, you retrieve it at a later time at a counter inside the dining room. Just show them your receipt and you will be given your dessert. One cast member told me that next week guests will be given a plastic coin when they order ice cream that can be redeemed later.
When we had finished eating, I wasn't sure if I was expected to bus my own table so I asked a cast member. He told me that Disney expects guest to leave the tables dirty and their staff will take care of cleaning up the mess.
This restaurant is definitely a cross between table-service and counter-service. The fact that your food is brought to you and then Disney cleans up after you is a nice touch.
Because of the blurry distinction, Disney is still trying to decide if this restaurant should qualify for the Disney Dining Experience 20% discount. At the moment, it does, but things could change.
This restaurant does honor the Disney Dining Plan. And if you're confused between these two plans, read Anita Answer's column dated November 19th.
Would I go back? Yes. I live locally and as long as I can get in without buying a sporting event ticket, sure, why not. I eat at Disney World five times a week and even with the vast number of dining choices available, I still need all the variety I can get. The meal I ordered was fine and I liked the fact that my food was brought to the table and I didn't have to clean up after myself.

Should you eat here? If you're already attending a sporting event at Disney's Wide World of Sports complex, yes. The food is basic, but good. And if you're hungry, there is no reason to jump in your car and travel someplace else. But should you make a special trip if you don't already have a reason to be here? Not really. Unless you're a true Disneyphile like myself and want to experience everything at Walt Disney World, I wouldn't bother.