WDW Chronicles: New Orleans Sq. at Downtown Disney
by Jim Korkis
Disney Historian
Feature Article
This article appeared in the June 2, 2015 Issue #819 of ALL EARS® (ISSN: 1533-0753)
Editor's Note: This story/information was accurate when it was published. Please be sure to confirm all current rates, information and other details before planning your trip.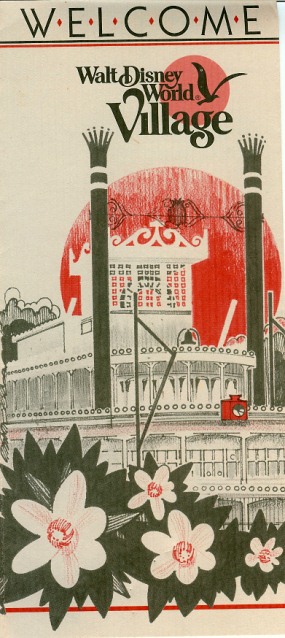 With its own distinctive logo, the new Disney Springs, the reimagined Downtown Disney area that's due to be completed in 2016, is meant to celebrate the turn-of-the-century lakeside towns popular in Florida.
The Disney Imagineers have come up with an entire back story that begins at the Town Center, which is oriented around a series of bubbling natural springs (rumored to be good for a person's health), which first attracted settlers to the area. From there, the town expanded to encompass three more locations: The Landing, Marketplace and West Side.
On March 14, 2013, Tom Staggs, Chairman, Walt Disney Parks and Resorts, told the media: "Drawing inspiration from Florida's waterfront towns and natural beauty, Disney Springs will include four outdoor neighborhoods interconnected by a flowing spring and vibrant lakefront."
But for years, Disney's intent was to transform the shopping and dining complex into an East Coast version of New Orleans Square in Disneyland. Disney Springs is just the latest in the many transformations of the area.
In 1974, just a few years after the opening of the Magic Kingdom, The Walt Disney Company built a collection of vacation villas, treehouse villas, and a golf course that became the Disney Village Resort. The area would later evolve into the Disney Institute. It is now the Disney Vacation Club's Disney's Saratoga Springs Resort and Spa.
The nearby canal system was widened into a large lake, called the Village Lagoon, next to the housing and golf course. Surrounding the Village Lagoon, Disney built a small shopping area that opened on March 22, 1975.
The Lake Buena Vista Shopping Village was immediately popular with guests, locals and business people as a location where they could purchase Disney merchandise and enjoy the Disney magic and quality service without having to pay to get into the Magic Kingdom or stay at one of the Disney resorts.
It was a quiet, soothing, small-town atmosphere where visitors could dine and shop and be entertained. It was a charming retail community surrounding the lake with a barber, post office, art gallery, pottery shop, candle shop, and pharmacy, as well as other simple businesses.
Eventually it was renamed the Disney Village Marketplace and then it became the Downtown Disney Marketplace with the 1989 adjacent expansion into Pleasure Island, a location that mimicked the popular downtown Orlando Church Street where themed restaurants and clubs operated. In 1997, West Side was added to the complex.
The original vision for this location by Disney executives like Dick Nunis and Card Walker was that it would become a unique commerce center, not just for Walt Disney World guests, but for all residents of southwest Orlando. For the longest time, Disney owned property at the Crossroads shopping complex as well.
Due to the Village's remote location, Magic Kingdom included tickets in their A – E resort guest ticket books good for complimentary round-trip bus transport to and from the Village.
Guests loved that the Village was a quiet alternative to the Magic Kingdom.
In the mid 1970's, there was a very real plan for expanding the Lake Buena Vista location with monorails, Peoplemovers, and an urban mass transit station linking Walt Disney World with planned state transit from Tampa to Orlando to Daytona Beach.
However, those plans and more were put on hold around 1976 when Disney committed to building Epcot Center, the largest private (and most expensive with costs constantly going well over budget) construction project in the world at the time.
However Disney Legend Dick Nunis still had a vision to expand the Village past the Empress Lilly restaurant, with an area that would have been themed to the very popular New Orleans Square in Disneyland.
Nunis, who was then president of the Disney theme parks, said in a May 1982 issue of the Eyes & Ears cast publication that, "From the Empress Lilly, we're going into a New Orleans street, and you'll walk right into a beautiful New Orleans hotel."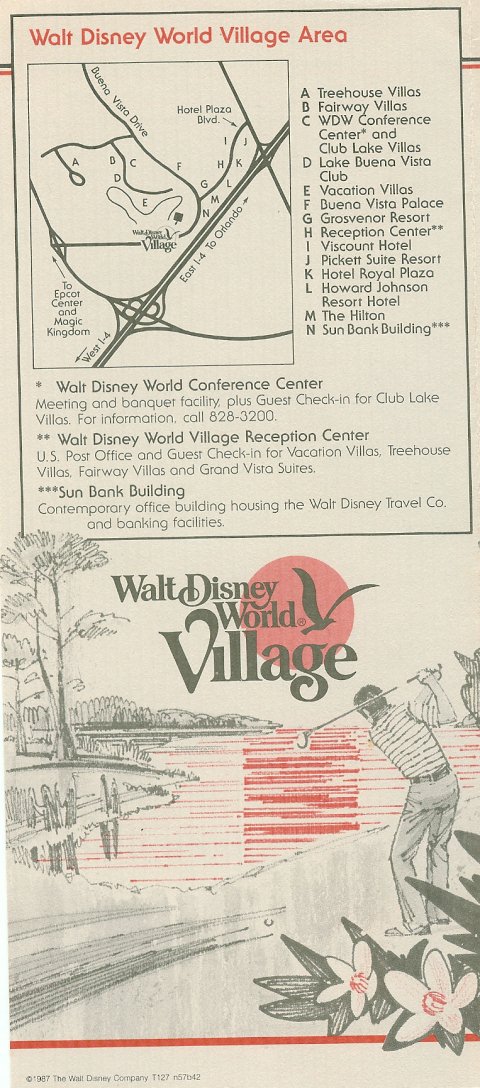 The Empress Lilly, a re-creation of a 19th century paddlewheeler, officially opened on May 1, 1977. At that time, none of the other steamships on Walt Disney World property were named after a woman. This ship was named after Walt Disney's widow, Lillian Bounds Disney, who was there on opening day, alongside Donn Tatum and the WDW Ambassador to christen her namesake.
However, the Empress Lilly was not a boat at all, despite the fact that her paddlewheel churned constantly as if she were ready to steam out of port. It was a building built to resemble a boat, anchored on a submerged concrete foundation.
At 220 feet long by 62 feet wide, she was more than twice the size of the steamboats at the Magic Kingdom.
The Empress Lilly became home to the first Walt Disney World character breakfasts. For less than $10, the breakfast (where children were encouraged to dress up and be on their best behavior) included a special certificate and sometimes a gift like an 18-inch long pennant or a cup with the face of Mickey Mouse wearing an Empress Lilly skipper's cap.
The Empress Lilly housed three different restaurants and a jazz bar and was considered one of the most upscale places to eat on property. Each restaurant on the ship had its own character and dining experience.
The Empress Room was elegantly decorated in the style of Louis XV and men were required to wear ties and jackets to dine there, just as they are today at Victoria & Albert's. Reservations were often made weeks in advance and guests entered through a private entrance where they discovered gold wallpaper and platinum prices for an elegant menu created by an award-winning chef.
A more raucous time was had at the full bar in the Baton Rouge Lounge that featured Dixieland Jazz and comedy. The room's decor was primarily red, a visual play on the lounge's name, with the same red carpet that covered the floor of the special Lillian VIP car on the Disneyland Railroad, as well as the Disney private apartment above the firehouse in Disneyland.
Above the Baton Rouge was the Fisherman's Deck restaurant, specializing in fresh fish caught daily. For those who preferred meat, there was the Steerman's Quarters steakhouse restaurant with its well-remembered Angus beef offerings (as well as lamb and veal), while guests could look out the window at the giant churning paddlewheel.
It was easy to imagine this icon as a part of the elegance of old New Orleans.
According to the Imagineering back-story, the Empress Lilly restaurant would have been a steamboat that had docked to unload its cargo at this riverfront town of New Orleans. In addition, nearby there would be a new 600-room Disney hotel with the same French Quarter theme. A name for the hotel was never officially confirmed.
The guest rooms at the hotel would have been "hidden" in buildings resembling a cotton mill or a boatwright's shop. The rooms would be on the upper floors with the bottom floor reserved for shops and restaurants.
An illustrated marketing packet was produced by the Walt Disney Company in September 1981 (and later revised in April 1982) for the project, detailing "Lake Buena Vista New Orleans Square."
The lushly landscaped area, making use of already existing Florida flora, would have included approximately 120,000 square feet of restaurants, entertainment venues and merchandise shops. The area would have been themed in a New Orleans motif and would have rippled out from Royale Circle.
One of the restaurants was tentatively titled "Garden Restaurant" with one facade facing the Empress Lilly, looking like a Southern mansion, and a different facade facing the Lagoon.
Like at Disneyland, there would have been a Cafe Orleans with Cajun- and Creole-inspired cuisine in a casual setting. The entertainment venues would have included a Preservation Hall Jazz Lounge. Jazz artists had already been performing periodically at the Village Restaurant to so much popularity that a cover charge had to be instituted.
An intriguing mystery was that one of the exterior designs for a building in the brochure was very reminiscent of the exterior of the Pirates of the Caribbean attraction at Disneyland, even though the attraction was already in existence at the Magic Kingdom.
On April 22, 1995, the Empress Lilly closed her doors, and had the interior gutted in preparation for a new dining experience and a new owner, the Levy Restaurants, which had signed a 20-year license to operate the location.
The smokestacks, signage and paddlewheel were removed from the exterior, and on March 10, 1996, it reopened as Fulton's Crab House with new giant gaudy red neon signs to theme in to the rest of the garish Pleasure Island buildings and signage.
A New Orleans-themed resort, named Port Orleans, did appear on Walt Disney World property on May 17, 1991, thanks to Fugleberg Koch Architects of Winter Park, Florida, in collaboration with the Disney Development Company.
It was themed to the French Quarter of New Orleans around the mid-1800s and was situated by the Sassagoula River, a man-made Disney waterway named after the Native American word for the Mississippi.
It was characteristic of the New Orleans French Quarter with balconies, wrought iron railings, cobblestone streets, and courtyards, but with Disney touches like jazz trombone-playing alligators.
On March 1, 2001, the resort officially merged with Dixie Landings and became Port Orleans: French Quarter (with Dixie Landings becoming Port Orleans: Riverside).
The sign on the back of the ship that proudly proclaimed "Empress Lilly, Port of Lake Buena Vista" is long gone. Even though the lights still twinkle around its white gingerbread exterior at night, it is no longer a reminder of the proposal to make the first planned Downtown Disney expansion into a location filled with gentle Southern charm and romance.
= = = = = = = = = = = = =
RELATED LINKS
= = = = = = = = = = = = =
Other features from the Walt Disney World Chronicles series by Jim Korkis can be found in the AllEars® Archives.
Jim also writes occasionally for the AllEars® Guest Blog, contributing entries under the heading of "Jim's Attic."
-=-=-=-=-=-=-=-=-=-=-
ABOUT THE AUTHOR:
Disney Historian and regular AllEars® Columnist Jim Korkis has written hundreds of articles about all things Disney for more than three decades. As a former Walt Disney World cast member, his skills and historical knowledge were utilized by Disney Entertainment, Imagineering, Disney Design Group, Yellow Shoes Marketing, Disney Cruise Line, Disney Feature Animation Florida, Disney Institute, WDW Travel Company, Disney Vacation Club and many other departments.
He is the author of several books, available in both paperback and Kindle versions. You can purchase them via our AllEars.Net Amazon.com store HERE.
-o-o-o-o-o-o-o-o-o-o-o-
Editor's Note: This story/information was accurate when it was published. Please be sure to confirm all current rates, information and other details before planning your trip.