The Pirates League Adventureland Magic Kingdom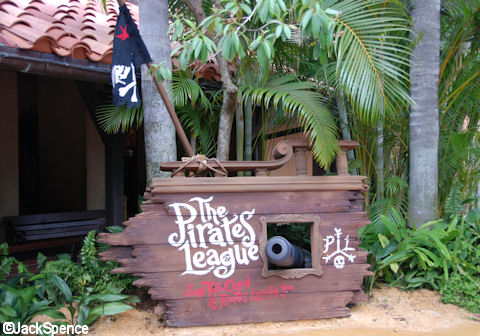 INTRODUCTION
In The Pirates League, an interactive Pirate experience, boys and girls (and grown-ups) can be transformed into pirates, with their own special look and name. They'll also learn how to swashbuckle and the official Pirate League Oath.
THE PIRATES LEAGUE — You enter the Pirates League near the entrance to the Pirates of the Caribbean attraction in the Magic Kingdom's Adventureland. You begin your piratical transformation when you receive your Official Pirate Name as recorded from the leather-bound captain's log. Next, stop by the Muster Station and leave your old self behind as the Pirate Masters perform a marauder's makeover. Hear the ways of the scurvy sea dogs as they apply yer buccaneer beard, scars, earrings and eye patches.
Once you have fully transformed, enter the Secret Room where your Pirate Portrait is taken for posterity and the Pirate Masters reveal their hidden treasure.
COST: The Pirates League offers FOUR packages to choose starting at $29.95 plus tax:
Jake and the Never Land Pirates $39.95
Jake facial effect
Captain Jake hat
Sword and sheath
Pirates League Bag
Coin necklace
The Jake and the Never Land Pirates Deluxe Package $54.95
Jake facial effect
Jake and the Never Land Pirates costume T-shirt (youth sizes only)
Captain Jake hat
Sword and sheath (The Pirates League logo sash)
The Pirates League bag
Unique pirate coin necklace
"The First Mate" or "Empress" $44.95
Choice of facial effect and hair. Choices include: Ghosted Pirate, Zombie, Captain Hook, Blackbeard or Black Eyed Jack or Empress (with vibrant makeup, lip gloss, nail polish and face gem).
Reversible bandanna
Earring and Eye Patch
Sword and Sheath
Temporary Tattoo
Unique Pirate Coin Necklace
Pirate's Key
Personalized Pirate Oath
Official Pirate Name
The Captain Hook Deluxe Package $99.95
Captain Hook costume (youth sizes only)
Captain Hook facial makeup and hair
Sword and sheath (The Pirates League logo sash)
Reversible bandana
Earring and eye patch
The Pirates League bag
Temporary pirate tattoo
Unique pirate coin necklace
Pirate's key
Toy hook
Mermaid $39.95
Luminous mermaid makeup and makeup palette
Hairstyle and color-changing hair clip
Color-changing mermaid necklace
Nail polish
Mermaid Sash
The Mermaid Deluxe Package $79.95
Mermaid costume (youth sizes only)
Luminous mermaid makeup and makeup palette and nail polish
Mermaid hairstyle and color-changing hair clip
Distinctive mermaid necklace
Mermaid sash
Mermaid bracelet
Costumes, headwear, and imaging sold separately at the Pirates League. You may also bring your own.
RESERVATIONS:
The Pirates League accepts reservations at 407-WDW-CREW (939-2739). Open 7 days a week from 9 a.m. to 4 p.m. The last reservations will be taken at 3:30 p.m. Reservations are strongly recommended and can be made up to 180 days prior to arrival. A valid accepted credit card number is required at time of booking. A $10 cancellation fee will be applied for all no-shows or if reservation is cancelled within 24 hours of experience.
NOTE: Theme park admission required. Costume selection and sizing may vary. No discounts apply unless otherwise noted. Guests must be at least 3 years of age. Children must be accompanied by an adult at least 18 years of age or older during the entire experience.
All prices, package components and information are subject to change without notice. Pirate Parade-weather permitting.
RELATED LINK:
Read our former blogger Jack Spence's Pirates League experience HERE. Note that Jack's blog was written when the experience first started and that prices and some other details of the experience have since changed.