Mickey's Toontown Fair Magic Kingdom Archives
MICKEY'S TOONTOWN FAIR CLOSED 2/11/11 TO MAKE WAY FOR THE EXPANSION OF FANTASYLAND. READ MORE ABOUT THE FANTASYLAND PROJECT HERE.
Attractions | Dining | Shopping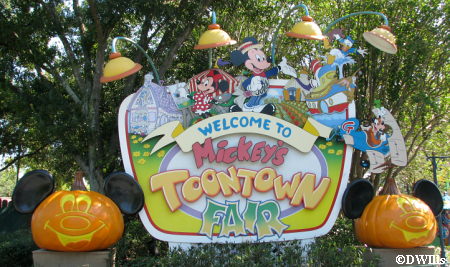 "I only hope that we never lose sight of one thing — that it was all
started by a mouse." – Walt Disney

In this vibrantly colorful two acres of land tucked behind Fantasyland, Walt Disney World's littlest guests (and their adult companions) can visit the most cheerful town fair on the planet. There's lots to see and do, whether you're looking for a thrill on a down-sized roller coaster, have always wondered what Minnie keeps in her freezer, need a refreshing spray of water on Donald's Boat, or want an autograph from the "big cheese" himself. Originally called Mickey's Birthdayland, this area opened in 1988 as part of Mickey's 60th birthday celebration. It was regularly visited by two-thirds of all Magic Kingdom visitors, even after the celebration and it was renamed Mickey's Starland. In 1996, new attractions were added and the name was changed permanently to Mickey's Toontown Fair.
ATTRACTIONS and ENTERTAINMENT
The Barnstormer at Goofy's Wiseacre Farm – Hop into a crop duster and follow Goofy's crazy route on this family roller coaster ride.
Donald's Boat – Climb aboard "Miss Daisy" and cool off with some little squirts.
Judge's Tent – Bring your camera and your autograph book for a private meeting with Mickey!
Mickey's Country House – A tour through Mickey's 4-room cottage.
Minnie's Country House – Minnie's colorful home with lots of furniture meant for climbing.
Toontown Hall of Fame Tent – Meet Disney heroes, heroines and villains in three different rooms offering character greeting opportunities. The newest section of the Hall of Fame is Pixie Hollow, which features a meet and greet opportunity with Tinker Bell and her pixie friends.
Walt Disney World Railroad – 15- to 20-minute journey on an authentic steam train, with stops at Main Street, U.S.A. and Frontierland.
PLACES TO EAT
Toontown Farmers' Market – Fresh fruits, snacks and beverages.
PLACES TO SHOP
County Bounty – Children's clothing, toys, souvenirs.
Mickey's Toontown Fair Souvenirs – Souvenirs and hats.