Mickey's Country House Mickey's Toontown Fair Magic Kingdom Archives
MICKEY'S TOONTOWN FAIR CLOSED 2/11/11 TO MAKE WAY FOR THE EXPANSION OF FANTASYLAND. READ MORE ABOUT THE FANTASYLAND PROJECT HERE.
During the construction, Mickey and Minnie will greet guests in Tomorrowland Patio to the right of Space Mountain. Effective April 1, 2011, Mickey and Minnie will greet guests in the Town Square Theater, the new permanent meet-and-greet area for Mickey and Minnie.
Introduction | Attraction | Touring Tips | Kids and Characters | Dining | Shopping | Interesting Facts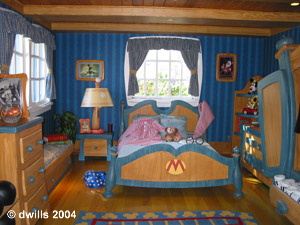 INTRODUCTION
— In the middle of Toontown is Mickey's permanent abode — his home that leads to his all-day greeting area.
ATTRACTION
Mickey's Country House — As you enter Mickey's home, be on the lookout for all the "mouse-ified" details: the coat rack, the mirror. And check out who Mickey's gotten mail from on his hall table — Buzz Lightyear, Ariel, even Wendy and Peter Pan!
While browsing around Mickey's living room, make sure you listen in on the radio to hear a broadcast from Mickey's favorite football team, Duckburg University. Then you'll have a chance to peek inside Mickey's bedroom, with his neatly arranged clothes — lots of the familiar white gloves and yellow shoes we all know and love! — and his special judge's costume. On his bedside table, you'll see a photo of his sweetheart Minnie, as well as plenty of baby pictures of the young Mickey.
In the game room, you'll discover that Mickey is no different from many men — there is sports equipment of every kind, from a ping pong table with mouse-shaped paddles to a dart board to a golf club apparently bent in a fit of frustration. There's also cute mouse-shaped checkers for Mickey's quieter moments, and an array of books, including "Wuthering Mice."
Down the hall, you'll find Mickey's chaotic kitchen, which is in the process of being remodeled by his friends Donald and Goofy. The duo has clearly run amok, with splattered paint everywhere.
As you exit the kitchen into the garden, be sure to note the flowers shaped in Mickey's silhouette, as well as oversized tomato plants, pumpkins (complete with Mouse Ears!) and cactus plants.
Don't miss Pluto's doghouse in the back yard, with his bone-shaped wind chimes! There are also lots of unusual odds and ends in the garage, which includes Mickey's workshop, complete with a "Last Aid" kit and "Craftsmouse" tools.
TOURING TIPS
Mickey's Country House is wheelchair/ECV accessible.
Toontown Fair is busiest in the early morning, but traffic flows fairly smoothly through Mickey's House. Allow 15-20 minutes to walk through. You'll have to wait a little longer to see the Big Cheese himself, though.
If you just can't wait to see Mickey, bypass the sights in the house and exit the back door, then follow the path to the Judge's Tent, in which Mickey greets guests most of the day.
KIDS AND CHARACTERS
Mickey's Country House, and all of Mickey's Toontown Fair, is perfect for preschoolers.
Disney Characters are typically not found in Mickey's House, but take heart! Mickey holds court all day next door in the Judge's Tent — you exit right into the waiting area. And after that, stop in at Toontown Hall of Fame to see Mickey's friends. These locations are normally open from 10 a.m. until park closing. Check your daily Times Guide for times and locations of other Meet and Greet opportunities in Mickey's Toontown Fair.
Magic Kingdom Characters At A Glance
Character Meet and Greet FAQ!
DINING
The closest spot to grab a bite is the Toontown Farmers' Market, a quick snack place that features fruit and beverages.
Magic Kingdom Restaurants At A Glance
Menus From Around the World
Vegetarian and Other Special Diets
SHOPPING
County Bounty is nearby for Disney character memorabilia shopping.
INTERESTING FACTS
Mickey's Country House opened 6/18/88.
If you have comments or tips to share with others about touring the Magic Kingdom, please email us. Thank you.