Magic Kingdom Fantasyland Expansion
UPDATE: October 15, 2012
1:00PM
The Annual Pass New Fantasyland preview sign up system is experiencing technical difficulties. The sign up process will continue at 6:00 pm EST. We apologize for the inconvenience.
Annual Passholders can begin signing up for previews today, at noon on the WDW Passholder Website.
Dates and times for Passholder Previews are as follows:
Saturday, November 3, 2012

8:00 a.m. to 11:30 a.m.; 12:30 p.m. to 4:00 p.m.; 5:00 p.m. to 8:30 p.m.

Saturday, November 10, 2012

8:00 a.m. to 11:30 a.m. ; 12:30 p.m. to 4:00 p.m' 5:00 p.m. to 8:30 p.m.

Sunday, November 11, 2012

8:00 a.m. to 11:30 a.m. ; 12:30 p.m. to 4:00 p.m. ; 5:00 p.m. to 8:30 p.m.
UPDATE: October 12, 2012
Dress Rehersal's began today and Magic Kingdom guests are able to enter the Fantasyland Expansion and experience Enchanted Tales with Belle, Gaston's Tavern, Bon Jour Gifts, Ariel's Grotto Meet and Greet and Under the Sea the Journey of the Little Mermaid.
IMPORTANT NOTE: There's no way of knowing for sure whether the new Fantasyland will be open. When attractions are in the "soft open" phase that means that they are being tested – they open sporadically, not on any set schedule. The official grand opening for the new Fantasyland is still December 6.
UPDATE: October 8, 2012
The Annual Passholder preview signups for the Fantasyland Expansion have been delayed until Monday, October 15, 2012 at 12:00 noon ET.
UPDATE: October 4, 2012
Pete's Silly Sideshow has opened! New character costumes for this meet and greet in Storybook Circus
UPDATE: September 30, 2012
Big Top Souvenirs has opened in Storybook Circus!
UPDATE: September 12, 2012
New Fantasyland Castle Walls Revealed at Magic Kingdom — Walt Disney World Resort guests were treated to a first look at new castle walls unveiled September 12, 2012 at Magic Kingdom. The castle walls are part of New Fantasyland, a multiyear project and the largest expansion in Magic Kingdom history. Grand opening of New Fantasyland is set for Dec. 6, 2012.
Disney Imagineers Chris Beatty, Chris Kelly and Ted Robledo have also shared more details about the new Enchanted Tales with Belle experience. A new video shows you what it's like to enter Beast's castle through the magic portal, where you are greeted by Madame Wardrobe. Lumiere then welcomes you into Beast's library. (SPOILER ALERT! If you want to be totally surprised, don't watch the video!)
Enchanted Tales with Belle is now in "play-testing" mode, which means it is open periodically and guests are invited to have a sneak preview of the new attraction. Kristin Ford had the opportunity to experience Enchanted Tales with Belle while it's in "play-testing" mode and shared her photos and a blog about the new attraction. She also captured a few photos of the entrance to the new Be Our Guest Restaurant, which have been added to a Photo Gallery.
Also, the Disney Parks Blog continues to tease Disney fans with details from the New Fantasyland. It has revealed that Gaston's Tavern, a quick service restaurant, will be selling LeFou's Brew, no-sugar added frozen apple juice with a hint of toasted marshmallow, topped with all-natural passion fruit-mango foam. It will be served in souvenir steins and goblets. If you've been out to Cars Land in Disney California Adventure, it may taste familiar to you — the brew made its debut out there at the Cozy Cone. Gaston's will be a comfy lodge in the French countryside that will provide a respite from the hot sun (or rain). One of the items that will be served all day: warm, gooey cinnamon rolls.
UPDATE: August 7, 2012
New Fantasyland Grand Opening — The grand opening of New Fantasyland will take place on December 6, 2012. Attractions included in this opening are Under the Sea ~ Journey of The Little Mermaid, Be Our Guest Restaurant, Enchanted Tales with Belle, Ariels Grotto, Gaston Tavern and Bonjour! Village Gifts. Previews of these attractions will begin November 19. As previously planned, the New Fantasyland expansion will continue with the opening of Princess Fairytale Hall in 2013 and the debut of a new Disney mountain in the form of the Seven Dwarfs Mine Train in 2014.
UPDATE: August 3, 2012
New Fantasyland Passholder Preview — The official Walt Disney World Passholder website has announced that there will be a special Passholder Preview in November 2012. Registration details have not yet been released, but will be communicated via email and on the Passholder website. Event capacity is limited, so be sure to watch for the update. Valid Magic Kingdom Theme Park admission is required to attend this event.
UPDATE: July 24, 2012
Walt Disney Imagineering has released additional photos from the new Be Our Guest Restaurant, showing how the Enchanted Rose from "Beauty and The Beast" will play a central part in the theming. The rose is represented in both beautiful mosaics and light fixtures, as well as in some of the restaurant's more subtle details, with roses etched in wooden accents and sculpted into stone columns and trim. Reservations for the restaurant will open in late August.
UPDATE: July 17, 2012
Walt Disney Imagineering released two portraits that will be featured within New Fantasyland attractions when the area opens at Magic Kingdom Park this holiday season. A portrait of Beast will adorn the walls of the Be Our Guest Restaurant. This portrait of Gaston will serve as a main piece of artwork in Gaston's Tavern.
UPDATE: June 2, 2012
Work continues on the second Dumbo. New marquees have been installed to arch over both Dumbos. The next phase of Storybook Circus is scheduled to open in July. This phased opening will include the 2nd Dumbo with the interactive queue area and Casey Junior's Splash and Soak area.
Scheduled to open for the holidays: the left side of the expansion which will feature the Be Our Guest Restaurant, Enchanted Tales with Belle, Gaston's tavern, and over one the right, Prince Eric's Castle housing the Journey of the Little Mermaid.
UPDATE: March 12, 2012
The Storybook Circus section of the New Fantasyland "soft-opened" (which means it has opened in a test phase) on March 12 with three attractions operating: Dumbo, Barnstormer featuring the Great Goofini, and rethemed Walt Disney World Railroad Fantasyland station.
February 23, 2012
The Disney Parks Blog revealed this morning that the first elements of Walt Disney World's New Fantasyland will open by late March. The Storybook Circus area of the project will begin phased openings with the debut of one carousel of Dumbo the Flying Elephant, a re-themed Barnstormer roller coaster starring the Great Goofini and the Fantasyland Station of the Walt Disney World Railroad. Later this year, the area will be filled with Dumbo-inspired circus tents and Casey Jr., the locomotive from the movie, Dumbo. In addition, the Disney Princesses will get a new home on the site of Snow White's Scary Adventures, which will be closing Thursday, May 31. A new meet & greet area called Princess Fairytale Hall will open at that location.
July 15, 2011
New artists' renderings of attractions and experiences to be found in the New Fantasyland expansion currently under development have been released: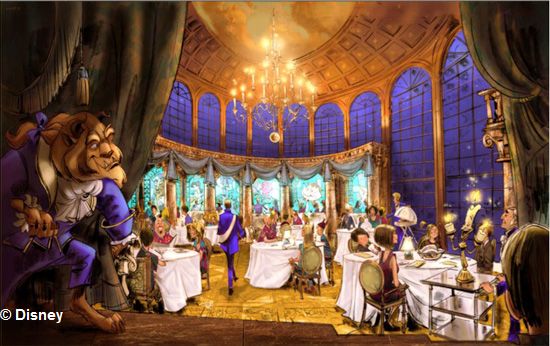 The Be Our Guest Restaurant will welcome "Beauty and the Beast" fans in royal style inside Beast's Castle.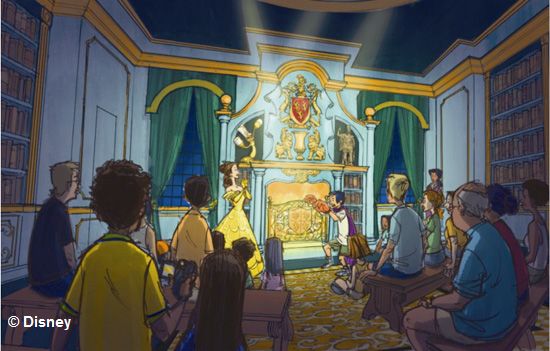 The Enchanted Tales with Belle experience will allow guests to enjoy a re-telling of "the tale as old as time."
The new Barnstormer will feature Goofy as the Great Goofini, a true daredevil pilot in the skies.
Further details have yet to be announced. The New Fantasyland is scheduled to debut in phases beginning in late 2012.
---
UPDATE:

January 18, 2011

Largest Expansion in Magic Kingdom History Will Nearly Double the Size of Fantasyland

LAKE BUENA VISTA, Fla. – The largest expansion in Magic Kingdom history is underway, a project that will nearly double the size of Fantasyland and deliver a new home for Ariel, new ways to interact with favorite Disney princesses, an exciting new family coaster, a double dose of Dumbo and more.

Scheduled to open in phases beginning in late 2012, the new Fantasyland will immerse guests in Disney stories as never before.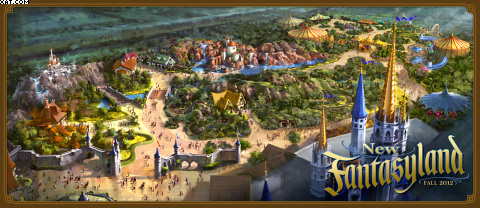 Among the highlights planned:
Under the Sea ~ Journey of the Little Mermaid, a major, all-new attraction during which guests will travel with Ariel and her friends through their exciting adventures above and below the waves – all against a musical backdrop of songs from the classic film.
The castle of the Beast, standing majestically upon a hill just across an old stone bridge from Ariel's new home. The Be Our Guest Restaurant will feature a lavish dining experience in the elegant ballroom, gallery, and mysterious "West Wing" of the castle. With seating for 550, this magnificent facility will offer "great food fast" service by day and full table service dining in the evening. Nearby in Belle's Village, guests will find the rousing Gaston's Tavern and Bonjour! Village Gifts.
Just outside the village is Belle's cottage and Enchanted Tales with Belle. The adventure begins in Maurice's workshop, where a magical mirror is the doorway to a captivating new kind of storytelling experience: Guests are transported to the Beast's library to meet Belle and Lumiere, and share in a lively, interactive, re-telling of the "tale as old as time."
But that's just the beginning of what guests will discover when the multi-phase project is completed.
Here's more of what's in store:
The Seven Dwarfs Mine Train will take guests on a rollicking, musical ride into the mine "where a million diamonds shine." The coaster will feature a first-of-its kind ride system with a train of ride vehicles that swing back and forth, responding to every twist and turn of the track. The journey will be accompanied by music from the classic Disney film and animated figures of Snow White and the Dwarfs.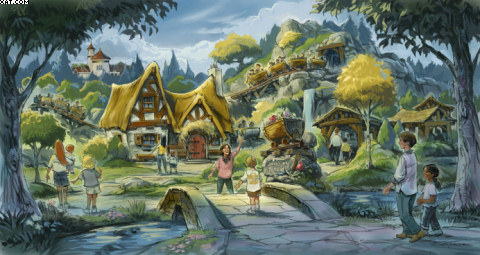 In Princess Fairytale Hall, Aurora, Cinderella and other Disney princesses, such as Tiana and Rapunzel, will greet guests in their new home, an elegant royal court on the site where Snow White's Scary Adventures stands today.
The sound of the calliope will lead guests to the brand new Storybook Circus and not one but two circling carousels of airborne pachyderms on Dumbo the Flying Elephant. Before taking to the skies on this Fantasyland favorite, guests can experience an array of fun-filled family games and interactive wonders for kids of all ages inside the Big Top.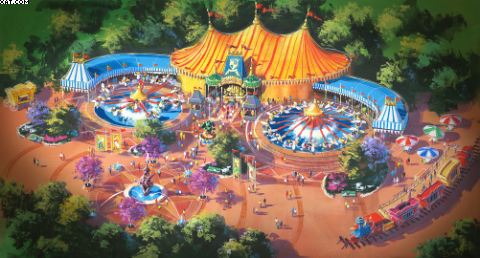 Next door in Storybook Circus, the classic Barnstormer gets a bright new look as well, featuring Goofy as The Great Goofini. It's a twisting, turning roller coaster "flight" high above the circus fun.
LAKE BUENA VISTA, Fla. (Feb. 10, 2010) OFFICIAL PRESS RELEASE
Fantasyland Expansion (groundbreaking 2010) – This three-year construction project will result in the largest expansion in Magic Kingdom history. For the first time, guests will be able to step into their favorite Disney fairy tales to have more magical and immersive encounters with Disney princesses.
Each princess will have her own themed village within Fantasyland Forest:
— At Dreams Come True with Cinderella, guests can meet Cinderella face to face in her country chateau, share a dance or train to be one of her Royal Knights.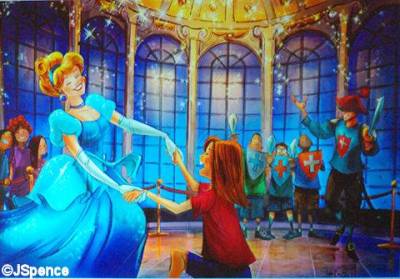 — At A Birthday Surprise for Sleeping Beauty, it is party time inside the Briar Rose Cottage, nestled in a lush, forest setting. The three good fairies give Aurora the Sweet 16 party she never received, and everyone's invited to join in the surprise celebration.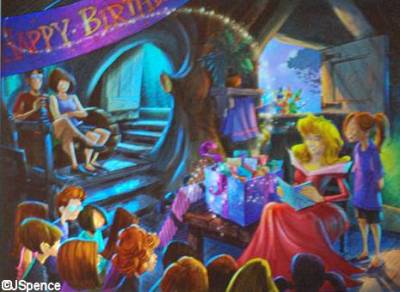 — An enchanted mirror will transport guests from Belle's father's cottage to Beast's castle for an enchanting storytelling performance during Enchanted Tales with Belle. The new district will invite parkgoers to the Be Our Guest Restaurant, one of three enchanted dining rooms inside Beast's castle. And just outside the castle in Belle's Village will be Gaston's Tavern, another themed eatery.
— Meanwhile, in the new Under the Sea: Journey of the Little Mermaid attraction, Ariel and all her friends will entertain in a ride-through adventure featuring favorite songs from the popular animated feature.
— The big top comes to Dumbo's Flying Circus with a magical flight high above brand-new circus grounds, twice the size of the classic attraction. Inside a stylized tent, guests enjoy midway games and other fun-filled experiences.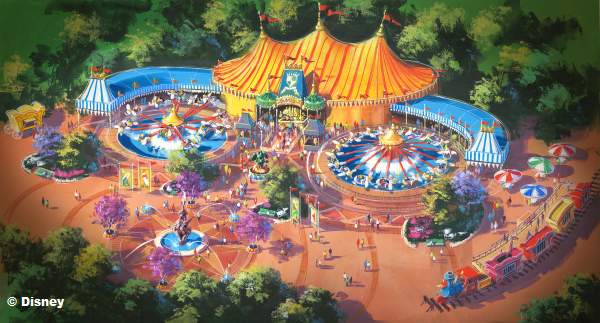 SEPTEMBER 2009 — Walt Disney World announced a major expansion of Fantasyland, which will also entail the closing of Mickey's Toontown. The expansion will effectively double the size of Fantasyland by 2013. The first phase of this expansion involves the closing of Toontown, so that new areas can be built. In the first new area, there will be spots featuring Cinderella, Sleeping Beauty, and Belle. Also featured will be Beast's castle, which will include a new restaurant that will be counter service during the day and table service by night. Another part of the first phase of the expansion will be the doubling of Dumbo, and a new interactive, three-ring circus tent that will effectively eliminate queues for this popular attraction. In addition, you'll be able to journey under the sea with Ariel, The Little Mermaid, in her very own attraction (which will also open at Disney's California Adventure). The first phase of the expansion should be concluded in 2011. The second phase of the expansion, which should be finished by 2013, will be the construction of Pixie Hollow, featuring Tinker Bell and her fairy friends.