February 2019 Walt Disney World Bits and Bites
Feature Article
This article appeared in the January 22, 2019 Issue #1009 of ALL EARS® (ISSN: 1533-0753)
Editor's Note: This story/information was accurate when it was published. Please be sure to confirm all current rates, information and other details before planning your trip.
= = = = = = = = = = = = = = = = =



STEP BACK IN TIME
= = = = = = = = = = = = = = = = =
by Joan L. Feder
AllEars® Staff Writer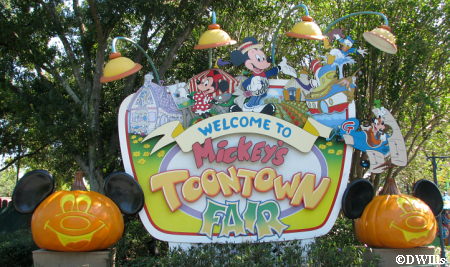 Join us on our monthly journey into the past as we explore the history of Walt Disney World and the Walt Disney Company. This time we take a look back at Mickey's Toontown Fair, the lost land of the Magic Kingdom.
Originally called Mickey's Birthdayland, this seventh and smallest land opened on June 18, 1988. It was built in only 90 days, and was intended to be temporary. Located between Tomorrowland and Fantasyland, it was themed as a surprise party that Minnie was throwing for Mickey's 60th birthday. A new train stop was added to the Walt Disney World Railroad, with special music and plywood cartoon characters along the route.
Mickey's Birthdayland was themed around Duckburg, the home town of the illustrious quadzillionaire, Scrooge McDuck. The land was made up of painted flats and facades, along with statues of Scrooge, and city founder Cornelius Coot. There was a special birthday show, as well as character meet and greets. Guests could also visit Grandma Duck's Farm, a petting zoo that was home to Minnie Moo, a cow with Mickey-shaped markings. The land was surprisingly popular, so after the birthday celebrations ended in 1990, the area was renamed Mickey's Starland. It became home to Disney Afternoon characters such as Launchpad McQuack and Zummi Gummi. In 1995, it was briefly called Mickey's Toyland for the holiday season.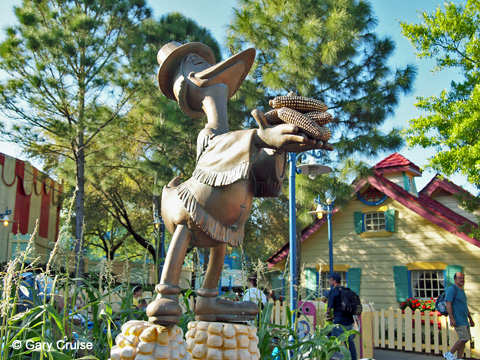 In 1996, Mickey's Starland closed and underwent an extensive renovation. It reopened as Mickey's Toontown Fair on October 1, 1996, as part of the Magic Kingdom's 25th anniversary. According to the new backstory, this was the holiday home of the characters who ordinarily lived in Mickey's Toontown at Disneyland. The Duckburg theme was gone, leaving only the statue of Cornelius Coot as a reminder of the past.
Several types of attractions were located in Mickey's Toontown Fair. The only ride was a very short roller coaster, The Barnstormer at Goofy's Wiseacre Farm. Donald's Boat, the "Miss Daisy", was a splash and play area with shooting water, a spinning steering wheel and a bell to ring. Guests could walk through both Mickey and Minnie's Country Houses, which included nifty interactive features like a microwave that "popped" popcorn. Mickey visited with his fans in the Judge's Tent, and the Hall of Fame held meet and greets with Princesses and Fairies.
Mickey's Toontown Fair closed on February 11, 2011, but is still part of the Magic Kingdom. It reopened in 2012 as Storybook Circus, home to a double dose of Dumbo the Flying Elephant, and its air-conditioned play area. Of the original attractions, only the Barnstormer remains, but it is now themed as Goofy's homemade stunt plane. Mickey's Country House morphed into the Casey Jr. Splash 'n' Soak Station. Minnie's Country House is the walkway between Storybook Circus and Fantasy Forest. The Toontown Hall of Fame is now Pete's Silly Sideshow, where you can meet Pluto the Wonder Pup, fortune teller Daisy Fortuna, snake charmer The Astounding Donaldo, and that daring aerial stuntman himself, The Great Goofini.
RELATED LINKS
= = = = = = = = = = = = = = = = =



HIDDEN MICKEYS ALERT
= = = = = = = = = = = = = = = = =
Steve Barrett, author of the Hidden Mickeys Field Guide books and webmaster of HiddenMickeyGuy.com, describes a few possible Hidden Mickeys at Disney California Adventure and at Disney's Hollywood Studios. What do you think?
1. The Little Mermaid – Ariel's Undersea Adventure, DCA. During the first part of the ride, Scuttle the seagull sits to the left of a wooden crate. A keyring hanging over the edge of the crate has several metal circles that may form a classic Hidden Mickey at certain angles. This image seems to change shape at times. Is it a convincing Hidden Mickey? (Thanks to Josh and Cassi Cox, Dawn Maple, Emily Cook, April Beisser, and Tyler and Brandie Bolton.)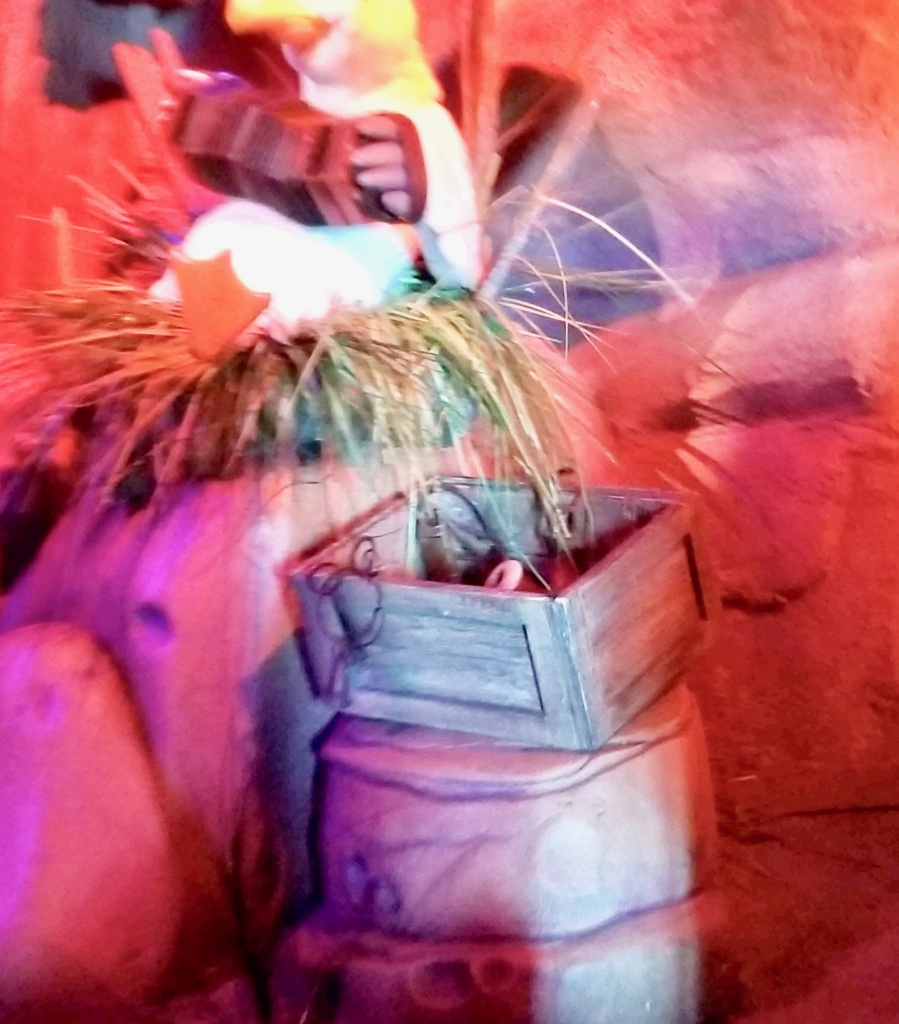 2. Pixar Pier, DCA. Between Incredicoaster and Lamplight Lounge is a billboard entitled "Keep Our Pier Clean!." On the left side of the billboard, small otters grasp a plastic six-pack holder, and its reflection in the water shows a possible upside-down classic Mickey. Does it pass muster as a Hidden Mickey? (Thanks to Tyler and Brandie Bolton.)
3. Alien Swirling Saucers, DHS. In a "Docking Control" mural along the left side of the entrance queue, three buttons (red, green, and blue) on the right side of a console are arranged in a classic Mickey formation. Is it hidden enough? (Thanks to Michael Scibetta, Connor and Jessica Marley, Tyler Glynn, Holly Ahronheim, and Scott Trask.)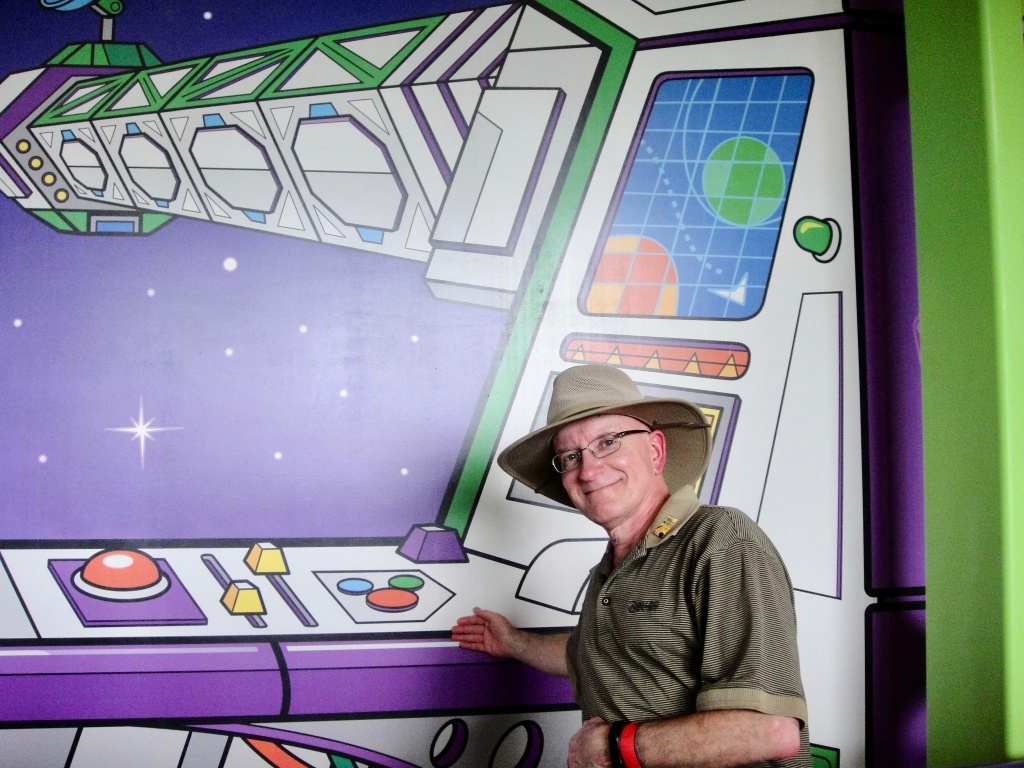 =-=-=-=-=-=-=-=-=-=-=-=-=-=-=-=
You can find an archive of past Hidden Mickey Alerts HERE.

And check out our latest Searching Disney with Steve blog.
= = = = = = = = = = = = = = = = =



MONTHLY REMIND-EARS
= = = = = = = = = = = = = = = = =
Through Feb. 25: Epcot International Festival of the Arts 2019 — Guests can experience the arts in three ways: through beautifully prepared cuisine, visual art and a lineup of Broadway-caliber live entertainment.
Through Sept. 30: 90 Years of Mickey Mouse — "The World's Biggest Mouse Party" will be a celebration at Disney parks and resorts around the world, with commemorative merchandise, photo locations and more.
Feb. 21-24: Disney Princess Half Marathon Weekend 2019
Check our Events page for a full schedule of upcoming events.
-=-=-=-=-=-=-=-=-=-=-=-=-=-=-=-=-=-=-
Resort-Wide
Disney Skyliner construction:
Walt Disney World is in the process of creating a new transportation system, Disney Skyliner, which will give you a bird's-eye view of the resort while traveling via gondolas. During this time, construction noise will be seen or heard throughout the resort, but noise should not be heard from Disney hotel rooms between dusk and 9 a.m. It was recently announced that the Skyliner will open in Fall 2019.

The Walt Disney World Monorail system is undergoing ongoing refurbishment. As a result, normal service and/or routes may be modified. Alternative transportation options will be available during this time.
Kali River Rapids will close for refurbishment on January 7. It's scheduled to reopen on March 22.

Rafiki's Planet Watch temporarily closed on October 20. No reopening date has yet been announced.
Star Wars: Galaxy's Edge — Work is underway on the 14-acre Star Wars-themed land at Disney's Hollywood Studios that was announced during the 2015 D23 EXPO. Galaxy's Edge will open at Walt Disney World in Late Fall 2019.
Walt Disney World Railroad closed December 3, to make way for construction of the new TRON attraction.

Peter Pan's Flight closed for refurbishment in early January. It is due to reopen in early February 2019.
Rooms are undergoing refurbishment through early 2019.
Animal Kingdom Lodge – Jambo House
Rooms are undergoing refurbishment through Fall 2019.
Art of Animation Resort is currently undergoing some general refurbishment projects. During this time, the resort will be in full operation with all amenities available, including dining, merchandise and recreation locations. It is possible that construction may be seen or heard, but noise should not be heard from guest rooms between dusk and 9 a.m. No end date for these projects has been announced as yet.
The resort room "hard goods refurbishment" at Coronado Springs has been extended to continue throughout summer 2019.

The previously announced new 15-story Gran Destino tower will open at Disney's Coronado Springs resort on July 9, 2019. The rooftop restaurant, Toledo, will also open on that date.
Disney's Old Key West Resort is undergoing a wholesale refurbishment, which is expected to be completed in 2019. You can see some photos of refurbished rooms HERE.
The rooms at Port Orleans Riverside are being refurbished now through early 2019.
The Yacht and Beach Club Convention Center is undergoing expansion and renovation. No end date has been specified.
The Walt Disney World Swan and Dolphin
Ground was broken recently on a new tower to be called The Cove. It will be located on the site of the Swan's tennis courts, adjacent to Fantasia Mini-Golf.
Water Parks
Typhoon Lagoon is closed for its annual refurbishment. It will reopen on March 16.
NBA Experience at Walt Disney World Resort will be a one-of-a-kind basketball-themed experience featuring hands-on activities that put guests of all ages right in the middle of NBA game action. There will be immersive NBA video productions and numerous interactive experiences and an exciting retail store that will offer something for all NBA fans worldwide.The NBA Experience opens in Summer 2019.

City Works Eatery and Pour House, a restaurant and bar known for craft beers from local breweries and around the world, plans to open its eighth location in Disney Springs West Side in Summer 2019.

Jaleo, a new Spanish restaurant coming from acclaimed Chef Jose Andres, is due to open in early 2019. It will have a quick-service restaurant attached to it called Pepe.
-=-=-=-=-=-=-=-=-=-
A complete list of known rehabs can be found HERE.
= = = = = = = = = = = = = = = = =



MAGICAL MOMENTS
= = = = = = = = = = = = = = = = =
Each month, we like to share a few heart-warming Magical Moments brought to us by the amazing Disney cast members. Unfortunately, this month we only received one such story!
Oscar J.: I use a scooter to get around Walt Disney World. I recently stayed for a few days at Saratoga Springs, then was moving to Pop Century. I knew I had to go to Disney Springs to get a bus to get to the other hotel. Well, the boats weren't running that morning and the buses weren't either. The cast member at the front desk moved me to Pop Century in an accessible van at NO charge. You can't get better service than this!
-=-=-=-=-=–=-=-=-=-=-=-=-=-=-=
EDITOR'S NOTE: We just bet you have a story to tell about an unforgettable moment during your Disney vacation! Please send your favorite memory for inclusion in a future AllEars® via our Contact Us page. Thank you all for sharing!