TOURING
AT A GLANCE...
COMMISSARY LANE
HOLLYWOOD BLVD.
SUNSET BLVD.
ECHO LAKE
STAR WARS LAND
- Under Construction
Path of the Jedi
Millennium Falcon Attraction
MUPPETS COURTYARD
TOY STORY LAND
- Under Construction
(Currently PIXAR PLACE)
MICKEY AVENUE
ANIMATION COURTYARD
ENTERTAINMENT
SPECIAL EVENTS
DISNEY'S HOLLYWOOD
STUDIOS ARCHIVES
OTHER WALT DISNEY WORLD
THEME PARKS
OTHER DISNEY THEME
PARKS
Star Wars Land
-- Announced August 2015

Disney's Hollywood Studios
UPDATE NOVEMBER 19, 2016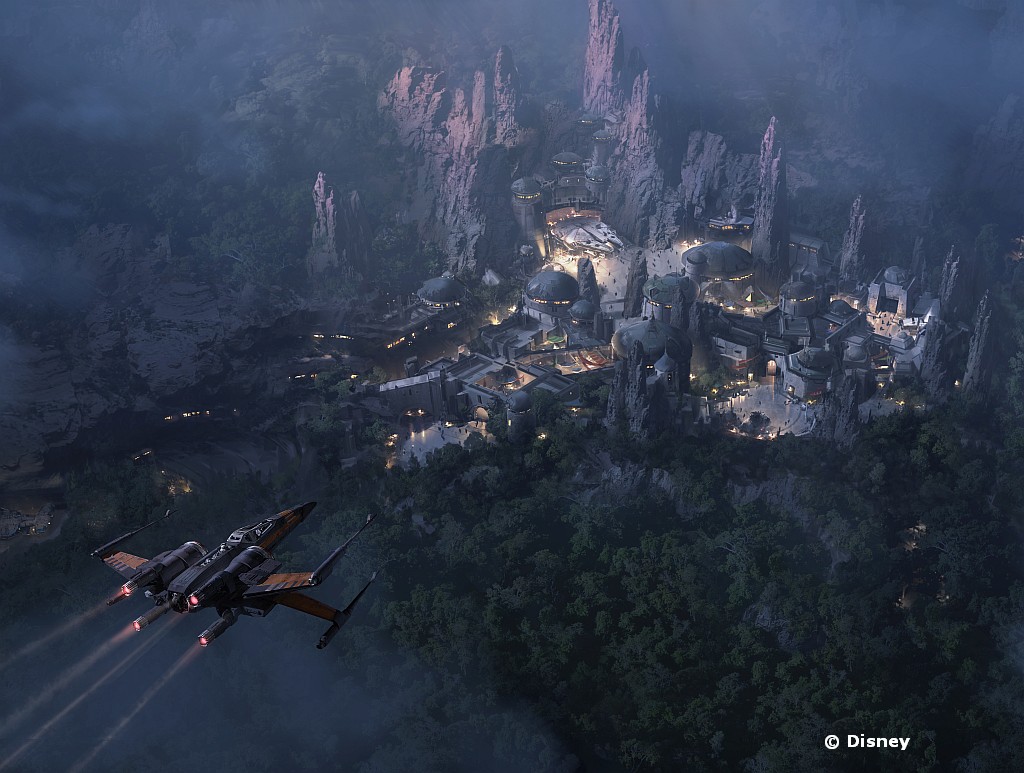 Today, at the D23 Destination D event, Walt Disney World unveiled a new image from Walt Disney Imagineering that shows how the Star Wars-themed land at Disney's Hollywood Studios will look once the sun goes down. As you can see, the land will take on a whole new dimension after dark and feature adventures and surprises around each corner. If you look close, the image reveals a peek at what you'll discover in this all-new land located in the southwest corner of Disney's Hollywood Studios, including one of the signature attractions that lets you take the controls of the Millennium Falcon. Work is already underway at Disney's Hollywood Studios and Disneyland park in Anaheim, to bring the stories from a galaxy, far, far away to life in the parks.

Work has begun on the 14-acre Star Wars-themed land at Disney's Hollywood Studios that was announced during the 2015 D23 EXPO. With construction under way, Star Wars Weekends will NOT be offered.

However, a number of Star Wars-related experiences have already debuted at the theme park.
Star Wars Launch Bay takes guests into the Star Wars saga and the upcoming film, Star Wars: The Force Awakens, with special exhibits and behind-the-scenes peeks, special merchandise and opportunities to encounter Chewbacca and Darth Vader.
Star Tours - The Adventures Continue has added a new adventure inspired by Star Wars: The Force Awakens.
"Star Wars: Path of the Jedi" is an abridged, cinematic reel celebrating the Star Wars saga (episodes I-VII) in a theater setting near Echo Lake (in the former ABC Sound Studio).
Jedi Training: Trials of the Temple is a reimagined Jedi Training experience that takes younglings to the secret site of an ancient Jedi temple where they face Darth Vader along with the Seventh Sister, a new villain from the Disney XD series "Star Wars Rebels."
"Symphony in the Stars: A Galactic Spectacular," a dazzling Star Wars-themed fireworks show set to memorable Star Wars music from throughout the saga, debuted December 18, 2015, the same day that the new film, "Star Wars: The Force Awakens," opened in theaters. Excerpts of music from the new film are included. (Note that during the 2016 holiday season, this show will be on hiatus, while Jingle Bell, Jingle BAM is performed instead.)
Stormtrooper Patrols -- First Order Stormtroopers are now patrolling the Animation Courtyard area in front of the Star Wars Launch Bay. They may also patrol various other areas of the park, interacting with guests during their mission to find members of the Resistance.
Galactic Food -- Guests can experience Star Wars through their palates. Various novelty items and specialty foods inspired by a galaxy far, far away, such as Blue Milk Panna Cotta, Padawan Limeade, BB-8 Lemon and Butter Cream cupcake and a Han Solo Souvenir Kid's Meal served in a Han Solo-themed bucket, are now available at various locations inside Disney's Hollywood Studios. Guests can also purchase admission to a dessert party during the fireworks show featuring themed desserts, specialty drinks and a souvenir Chewbacca stein.

---
UPDATE FEBRUARY 22, 2016:
On Sunday, February 21, during the "Wonderful World of Disney: Disneyland 60" special that aired on ABC-TV, actor Harrison Ford, Star Wars' Han Solo, shared some exciting new details about the Star Wars-themed lands planned for Disneyland and Walt Disney World Resorts.
Walt Disney Imagineering has joined forces with the imagination of Lucasfilm to bring this galaxy to life, and the illustrations shared during the TV special show the epic scale of these new lands, which will each span 14 acres.


Guests will be able to step aboard The Millennium Falcon and actually pilot the fastest ship in the galaxy, steering the vessel through space, firing the laser cannons, in complete control of the experience. And with the arrival of the First Order to the planet, visitors will find themselves in the middle of a tense battle between stormtroopers and Resistance fighters.



No dates or timeframes were given for the development of these new lands, and construction has not officially begun, although many attractions in both Disneyland and Disney's Hollywood Studios are closing to make room for the new lands.
----------------------------
ORIGINAL ANNOUNCEMENT
At the 2015 D23 EXPO in August, Disney CEO Bob Iger announced that a new, 14-acre Star Wars-themed land would be constructed in both Disney's Hollywood Studios in Walt Disney World and in Disneyland in California. Star Wars Land will transport guests to a never-before-seen planet with two signature attractions, including a customized secret mission on the Millennium Falcon and an epic Star Wars adventure that puts guests in the middle of a climactic battle. Here's the official press release with details of this announcement. And here's video of Bob Iger's surprise announcement: