TOURING
AT A GLANCE...
Entertainment
Special Events
Special Reports
OTHER WALT DISNEY WORLD THEME PARKS
OTHER DISNEY THEME PARKS
Minnie's Country House

Mickey's Toontown Fair
Magic Kingdom Archives
MICKEY'S TOONTOWN FAIR CLOSED 2/11/11 TO MAKE WAY FOR THE EXPANSION OF FANTASYLAND. READ MORE ABOUT THE FANTASYLAND PROJECT HERE.
During the construction, Mickey and Minnie will greet guests in Tomorrowland Patio to the right of Space Mountain. Effective April 1, 2011, Mickey and Minnie will greet guests in the Town Square Theater, the new permanent meet-and-greet area for Mickey and Minnie.
Introduction | Attraction | Touring Tips | Kids and Characters | Dining | Shopping | Interesting Facts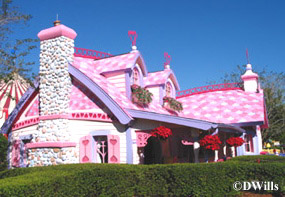 INTRODUCTION
-- Minnie Mouse has taken up residence in Mickey's Toontown Fair, tucked away between Tomorrowland and Fantasyland in the Magic Kingdom. See how Mickey's other half lives as you take a walk through her colorful home.
ATTRACTION
-- Minnie's Country House is a whimsical lavender and baby pink bungalow decorated with hearts and flowers, which reflects Mickey's favorite girl, Minnie Mouse.
Minnie's many interests are revealed as you walk through the rooms: In the living room, you see Minnie's eclectic taste in furniture, as well as her family and friends' photographs.
As you walk through her craft room, you see that Minnie is a very artistic person -- she sews, makes pottery, paints, and spins fabric! Be sure to note her Norman Rockwell-esque self-portrait, and her prize-winning painting of Donald Duck as "Blue Boy."
Minnie is editor of Minnie's Cartoon Country Living Magazine, and as you walk through her office, you can check the latest messages on her answering machine, and see how she's doing on checking off the tasks on her "To Do" List (many of which are "Call Mickey!").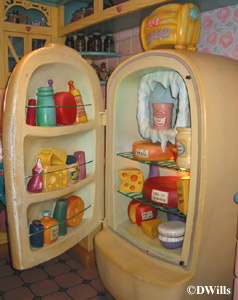 You'll probably spend the most time in Minnie's kitchen -- there are lots of interactive activities here. You can bake a "quick-rising" cake at the touch of a button on her oven, or pop up a fresh batch of noisy microwave popcorn. Open the door to Minnie's refrigerator and you'll feel a blast of icy cold air. Be sure to check out all cheesy dairy products Minnie keeps on hand -- she even has cheese-flavored ice cream!
After you've toured Minnie's house, you can take a pleasant stroll in her garden, and around the purple and pink gazebo. That Minnie -- what a thoroughly modern woman!


TOURING TIPS
Hidden Mickey Alert: In Minnie's Craft Room, there's a portrait of Clarabelle Cow with a Hidden Mickey. Also take a look at the wallpaper border and see what you can spy.
This attraction is wheelchair/ECV accessible.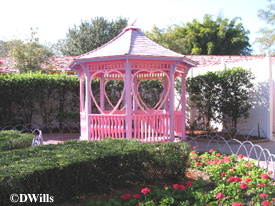 Traffic flows fairly smoothly through Minnie's House. Allow about 20 minutes to walk through and try all the hands-on activities.
KIDS AND CHARACTERS
Minnie's House, and all of Mickey's Toontown Fair, is perfect for preschoolers.

Minnie and other Disney Characters are typically not found inside Minnie's Country House, but you won't have far to go to find them. Exit the house and walk to the left to the Toontown Hall of Fame to see Mickey and others. (Note: Occasionally, Minnie appears in her back yard, but it's not scheduled or announced.)
Check your daily Times Guide for times and locations of other Meet and Greet opportunities in Mickey's Toontown Fair.
Magic Kingdom Characters At A Glance
Character Meet and Greet FAQ!


DINING
The closest spot to grab a bite is the Toontown Farmers' Market, a quick snack place that features fruit and beverages.


Magic Kingdom Restaurants At A Glance
Menus From Around the World
Vegetarian and Other Special Diets
SHOPPING
There's really no place to shop nearby Minnie's Country House, but the store County Bounty is just a short walk down the street.


INTERESTING FACTS
Minnie's Country House debuted April 15, 1996, replacing Mickey's Hollywood Theatre, which opened in 1988.

If you have comments or tips to share with others about touring the Magic Kingdom, please email us. Thank you.