TOURING
AT A GLANCE...
Entertainment
Special Events
Special Reports
OTHER WALT DISNEY WORLD THEME PARKS
OTHER DISNEY THEME PARKS
Toontown Hall of Fame
Judge's Tent
Mickey's Toontown Fair
Magic Kingdom Archives

MICKEY'S TOONTOWN FAIR CLOSED 2/11/11 TO MAKE WAY FOR THE EXPANSION OF FANTASYLAND. READ MORE ABOUT THE FANTASYLAND PROJECT HERE.
During the construction, the Disney Princesses are holding court in the Adventureland Veranda.

Introduction | Attraction | Touring Tips | Kids and Characters | Dining | Shopping | Interesting Facts
INTRODUCTION
-- Mickey and all his pals greet their fans in this cluster of candy-striped tents and fanciful fairground facades, reminiscent of an old-fashioned county fair. Best of all, the characters are there all day long!
ATTRACTION
--Toontown Hall of Fame -- As you approach the Hall of Fame/County Bounty facade, you pass through Cornelius Coot Commons. Be sure to stop and read the dedication plaque, which reminds you that all of Mickey's Toontown Fair is dedicated to that enterprising old farmer, "Cornelius Coot, who turned his corn crop into loot."
Inside, you'll find the County Bounty, which features plush animals and all kinds of Toontown souvenirs, as well as special Toontown Fair "blue ribbon-winners." Beyond the merchandise area, there are three rooms, each with its own line, for private meetings with a variety of Disney characters. You're welcomed by stars from all sorts of favorite Disney animated shorts and classic feature films -- signs will tell you who's currently greeting guests in each room. These characters MAY appear: Storybook Friends - Pooh, Tigger, Piglet and sometimes Eeyore; Famous Pals - Minnie, Goofy, and Pluto; Toon Pals - Donald and Daisy. (All characters are subject to change.)
Meet your favorite Disney princesses in the Princess Room. The Princess Room debuted in early October 2004 to meet the high demand for meet-and-greet opportunities with JUST the princesses.

Princesses are on a rotating schedule, so ask before you wait in line as to which are currently greeting guests. Princesses on the schedule include:
Aurora (aka Sleeping Beauty), Snow White, and Cinderella (and her mice Suzy and Perla). Mary Poppins may also be in the rotation, and other princesses may be added to the schedule.
The Judge's Tent -- Next door to the Hall of Fame, is the Toontown Fair Judge's Tent. And we all know who the Judge is! Bring your autograph book for your own special meeting with Judge Mickey Mouse, surrounded by prize-winning fruits and vegetables. While you're waiting, there's an entertaining video featuring all of Mickey's county fair adventures. You get to the Judge's Tent through Mickey's Country House.
TOURING TIPS
Toontown Fair is busiest in the early morning. You may have to wait a little while to see the Big Cheese, but lines for meeting the other characters move fairly quickly. For the shortest lines, try visiting during parade times, or late in the day.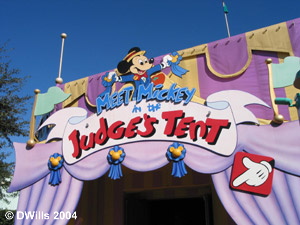 The Toontown Hall of Fame and the Judge's Tent are wheelchair/ECV accessible.
KIDS AND CHARACTERS
If you're looking for Disney Characters, you've come to the right place! These locations are normally open from 10 a.m. until park closing. Check your daily Times Guide for times and locations of other Meet and Greet opportunities in the Magic Kingdom.
Magic Kingdom Characters At A Glance
Character Meet and Greet FAQ!
DINING
The closest spot to grab a bite is the Toontown Farmers' Market, a quick snack place that features fruit and beverages.


Magic Kingdom Restaurants At A Glance
Menus From Around the World
Vegetarian and Other Special Diets
SHOPPING
County Bounty shares the same roof as the Hall of Fame. Shop here for Disney character memorabilia.
INTERESTING FACTS
Mickey's Toontown Fair Hall of Fame started life as Mickey's Birthday Surprise on June 18, 1988, when Mickey's Birthdayland was opened. In 1990, Mickey's Birthdayland was renamed Mickey's Starland, and this attraction became Mickey's Magical TV World (4/26/1990). When Starland was rehabbed into Mickey's Toontown Fair in 1996, this area was reintroduced as Mickey's Toontown Fair Hall of Fame, a major character Meet and Greet Location.

If you have comments or tips to share with others about touring the Magic Kingdom, please email us. Thank you.