Disney's Hollywood Studios Archives Backstage Pass
NOTE: As of 2/02, this walking tour has closed until further notice.
Introduction | Attraction | Touring Tips | Kids and Characters
Dining | Shopping | Interesting Facts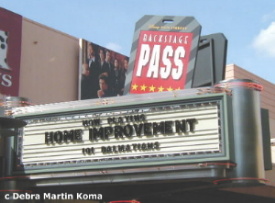 INTRODUCTION
If you walk to the right of the Chinese Theater, then hang a left on to Mickey Avenue, you'll stumble across the Soundstages that house the Backstage Pass, a 25-minute walking tour through actual soundstages that gives guests a first-hand look at real movie and TV production. In addition to touring actual sets, tour guides clue you in on a few behind-the-scenes secrets.
ATTRACTION
Backstage Pass – The movie featured in this tour changes periodically, but it is currently featuring Disney's live-action version of 101 Dalmatians. After a short video about casting puppies for the film, you find yourself in the dimly lit Henson Creature Shop, overlooking hundreds of puppets and props used in a variety of films and television shows. The guide explains how some of these creatures are developed and gives a demonstration of a mechanical puppy.
The second stop on the tour is a re-creation of the set of ABC-TV's long-running sitcom Home Improvement, which starred comedian Tim Allen. In addition to getting a bird's-eye view of the furnishings from a catwalk above, one member of the tour group is selected to participate in a demonstration of "blue-screen" technology – the guest is virtually "inserted" into a scene from the show, and broadcast on monitors giving the appearance that he/she is acting opposite Tim Allen.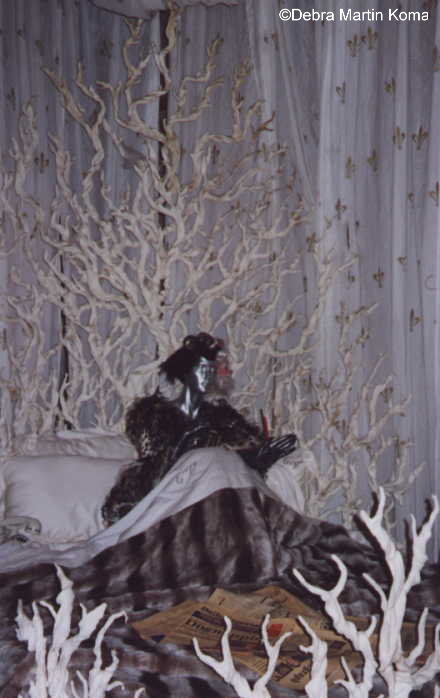 The third section of the tour takes you past working soundstages, which Disney rents to a variety of television productions. During one recent tour, guests were treated to seeing the behind-the-scenes action of the filming of a new syndicated program, "Sheena." (Several soundstages have recently been converted to a new Disney attraction based on the popular TV game show "Who Wants to be a Millionaire," which debuted in early April 2001.)
The final segment of the tour allows guests to wander past sets from the live-action film 101 Dalmatians, which starred actress Glenn Close as the evil Cruella de Vil. Also on display are costumes from the film, including several of Cruella's exotic outfits.

Mini-Review: As of August 2000, the script for this tour was very weak, as was the delivery of the Cast Member tour guide. There are several aspects of interest along this tour, but all in all, I'd save it for a day when you either want to get out of the heat, or have nothing better to do.
TOURING TIPS
There may be actual filming going on during your visit – ask a Cast Member!
This is a 25-minute walking tour – there are no places to sit along the way, only lean rails in several locations.
This attraction is wheelchair/ECV accessible.

Restrooms and telephones are located to the right of the entrance to this building.
KIDS AND CHARACTERS
There are no characters associated with this attraction. There are, however, several character greeting stations further along Mickey Avenue. Check your daily Guide Map for times and locations.
DINING
There is no place to eat in the immediate vicinity of the Backstage Pass. Studio Catering Co., a counter service restaurant featuring sandwiches and snacks, is located a short walk down Mickey Avenue, past the Backlot Tour.
SHOPPING
Believe it or not, there is no shopping area located in the immediate vicinity of this attraction.
INTERESTING FACTS
The Backstage Pass was originally part of the Backstage Studio Tour, one of the attractions that debuted when the Disney's Hollywood Studios opened in May 1989. That tour was divided into two attractions, the Backstage Pass walking tour and the tram tour called Disney's Hollywood Studios Backlot Tour several years ago.