TARZAN ROCKS! Animal Kingdom
SPECIAL NOTE: Tarzan Rocks! Closed 1/21/2006
The Theater in the Wild, in Animal Kingdom's Dinoland USA, will be fully enclosed in 2006. Tarzan Rocks!, the 7-year-old old stage show that is performed in the theater, closed 1/21/06 so that this refurbishment could be implemented. When the Theater in the Wild reopens, a new stage show will debut in the renovated location.
**********
ATTRACTION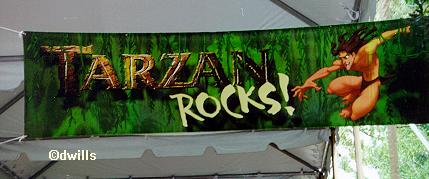 TARZAN ROCKS! is a high energy 30-minute live show based on the Walt Disney animated feature, Tarzan.
…AND Rock it does from start to finish!
I had no idea what was in store for me as I stood in line for the live show Tarzan Rocks! Based on "Tarzan", a 1999 Disney animated feature film, "Tarzan Rocks!" brings the high energy and music of the motion picture to life for 30 minutes! And Rock YOU will as you watch this show!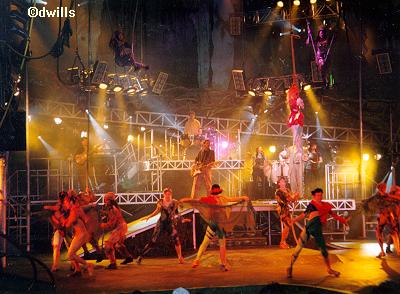 In addition to Tarzan, Jane and Terk — there are singers, dancers, musicians, gymnasts, in-line skaters and aerialists who will entertain you in DinoLand USA's Theater in the Wild (former home of the Jungle Book).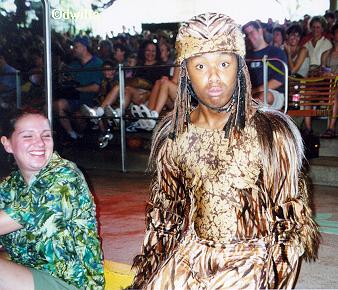 "This unique show is a stylistic fusion of rock concert spectacle and a classic action/adventure story that creates a theatrical thrill ride," says the show's director, Reed Jones. The performers fill the theatre during one song set and are both among and above the audience.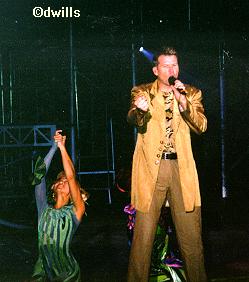 The four-act show features five songs from the film's soundtrack, including the hit single "You'll Be In My Heart." Terk performs Trashin' the Camp and the audience even gets a chance to practice their Tarzan Yell!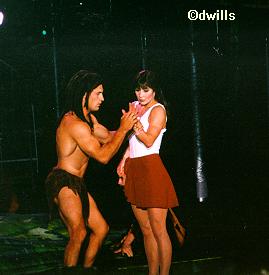 During the show, Tarzan and Jane soar above the crowd in a lofty aerial ballet and Tarzan makes a thrilling slide rappel over the audience.
The entire cast of 27 is back on stage for one last reprise of "You'll Be In My Heart" as this high energy show comes to an end.
I highly recommend Tarzan Rocks!, especially if you're need a break from walking and want to be re-energized! This is now a must see on my Animal Kingdom list of shows and attractions right with Festival of the Lion King, Dinosaur, Asia's Tiger Trek and Kilimanjaro Safaris!
KIDS AND CHARACTERS
Kids seem to love the show! Terk can often be found for photos and autographs in either the Camp Minnie-Mickey Character Trails or at the park entrance.
Your review was right on, it was really a rockin' fast paced show. All of us, again, thought it was excellent. Including my "no-shows, only rides" 5-year old. (Tony Balistreri)
TOURING TIPS
When seeing the Tarzan show you might want to consider sitting in the upper part because the rollerbladers come up into the walkway behind you if you sit in the lower section. A lot of the people in the lower section were turning around to see parts of the show. By the way, it is a great show! (Kathy Balderston)
DINING
There are no places to eat in the immediate vicinity of Tarzan Rocks. There are 2 places to consider in DinoLand U.S.A. Fast Snacks can be found at the Dino Diner or visit Restaurantosaurus home of McDonald's lunches!
SHOPPING
The only shop in DinoLand U.S.A. is Chester and Hester's Dinosaur Treasures, themed to be a road-side tacky souvenir store. You can find logo merchandise for the Dinosaur attraction, lots and lots of soft plastic dinosaurs that your kids will probably want but they won't fit in any suitcase, and of course lots of t-shirts, keychains, buttons, postcards, and more.
INTERESTING FACTS
Tarzan Rocks performs several times a day in Disney's Animal Kingdom 1,500-seat amphitheater. The four-act show features five songs from the film's soundtrack.
The show opened in July 1999 and closed January 21, 2006.