You've found yourself in Magic Kingdom tired, hungry, and unhappy with your dining options. What now?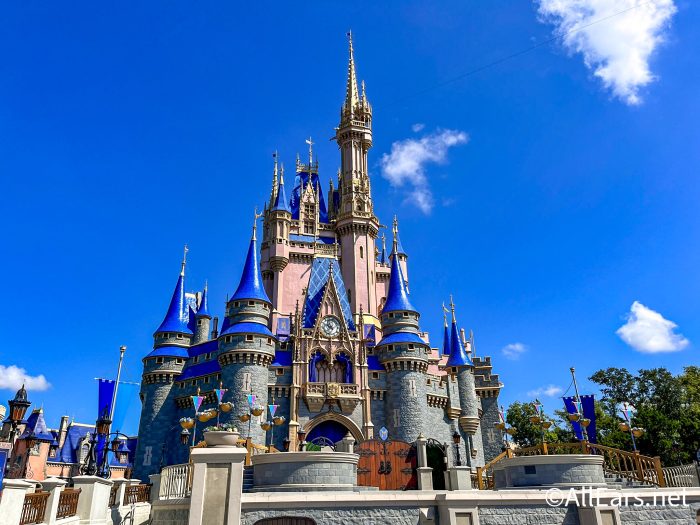 Magic Kingdom in its own right has some great dining options, but it also comes with quite a few misses as well. You may be weighing whether or not to settle on your next meal within Magic Kingdom, but did you know there are several GREAT dining options nearby at Disney World hotels?!
Magic Kingdom has convenient access to nearby hotels via monorail and water transportation. It's at these hotels you can find six restaurants we think are totally worth leaving Magic Kingdom for.
California Grill
Hop on the monorail and take a ride to Disney's Contemporary Resort. Here you'll find the ever-popular California Grill. Considered the premier restaurant of the Contemporary Resort, this is a great option if you're looking to take a fine dining break during your day at Magic Kingdom.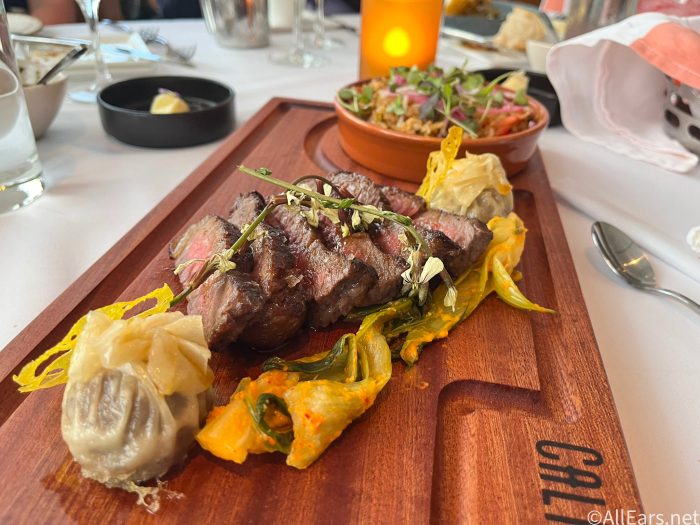 California Grill is located on the 15th floor of the Tower building and offers great views of Seven Seas Lagoon and Magic Kingdom park. The lounge and/or outer balcony are definitely recommended spots to watch the Magic Kingdom fireworks from. The dining selection is also stellar — consisting of California-style cuisine and sushi.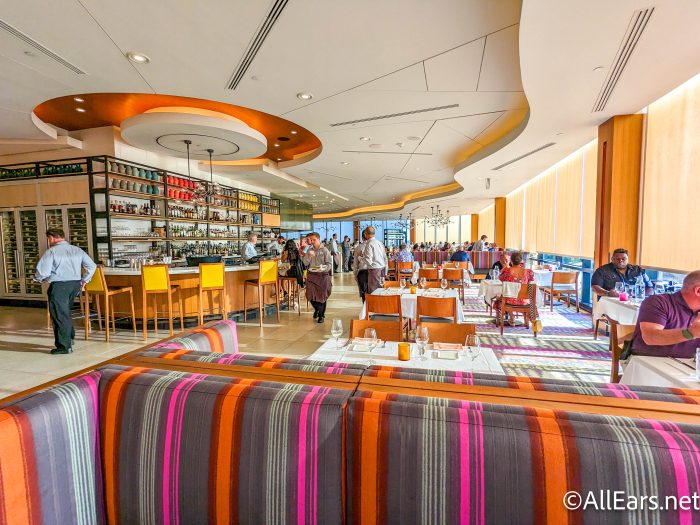 It's important to note that California Grill is a Disney Signature Dining experience that not only requires a higher budget, but also a "resort casual" dress code. That means no swimwear, flip-flops, or torn clothes. California Grill serves dinner only and you can check in on the second floor next to the escalators.
Steakhouse 71
We're going to stay in at Disney's Contemporary Resort for our next pick. Steakhouse 71 is advertised by Disney as a "family-friendly steakhouse" and if nothing else, it can give your family that great dining experience without the monetary strain a place like California Grill may cause.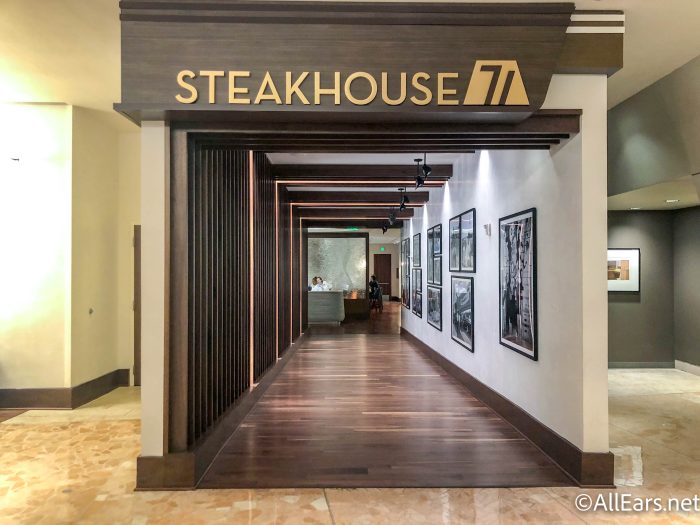 Home of some of Walt Disney's favorite foods, Steakhouse 71 is named as a nod to the year Disney World opened. The menu features classic steakhouse options, as well as some fish, chicken, and plant-based options. The menu prices do increase with the changes in service (breakfast being the cheapest while dinner is the most expensive), but overall it's still a fairly affordable quality meal ranging from $15-$59.99 per person depending on which meal you eat there.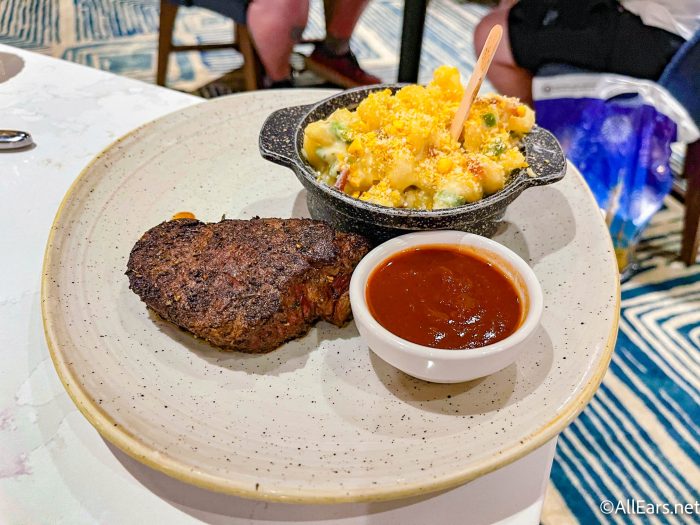 Steakhouse 71's dress code is  basic theme park attire, perfect for heading over from Magic Kingdom for breakfast, lunch, or dinner! If you're not feeling up for a clothing quick change after the long day at Magic Kingdom, Steakhouse 71 is a great alternative.
Gasparilla Island Grill
Heading back on the monorail or water taxi, we'll find our next stop at Disney's Grand Floridian Resort & Spa. This is where Gasparilla Island Grill and its awesome macaroni and cheese can be found.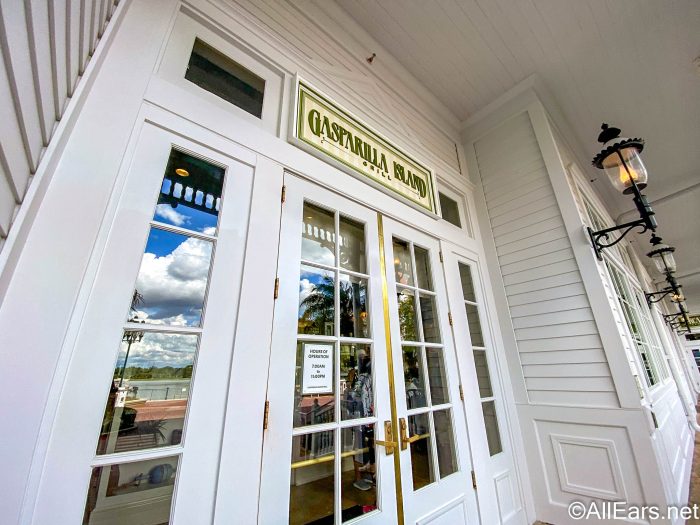 The first quick service restaurant on our list, Gasparilla Island Grill serves a bevy of burgers, flatbreads, and sandwiches made from bread found at the Grand Floridian Bakery. This cheapest option yet has a large menu that also includes a breakfast service, plant-based options, beer, and wine.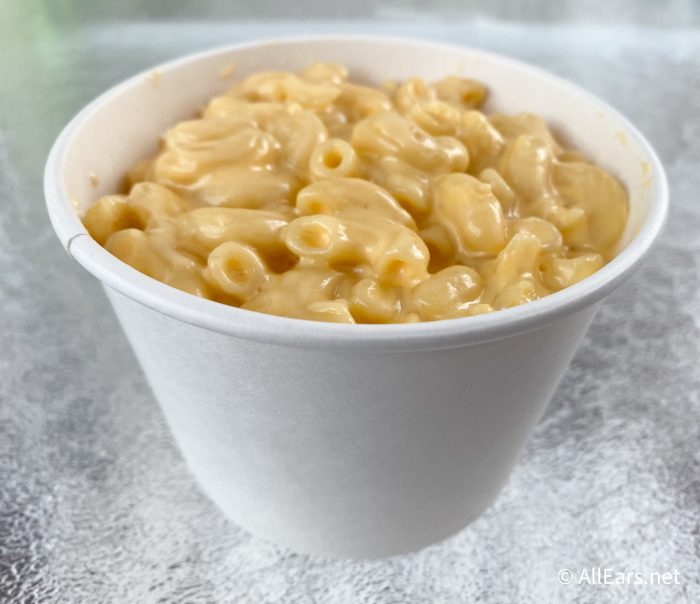 This quick service location is great if you and your family are looking to get away from Magic Kingdom and want to find good food at a cheap price. Here, you'll surely find something for everyone!
'Ohana
Get ready to experience some Hawaiian hospitality at our next restaurant! A monorail or water taxi ride away at Disney's Polynesian Village Resort, 'Ohana is a really popular restaurant among Disney World guests for good reason.
Whether you're in the mood for breakfast with Lilo and Stitch or a dinner featuring live entertainment with a ukulele player, singers and other interactive activities, 'Ohana is sure to give you a memorable dining experience. If Polynesian-inspired cuisine sounds good to you, we recommend you give 'Ohana a try if you haven't already.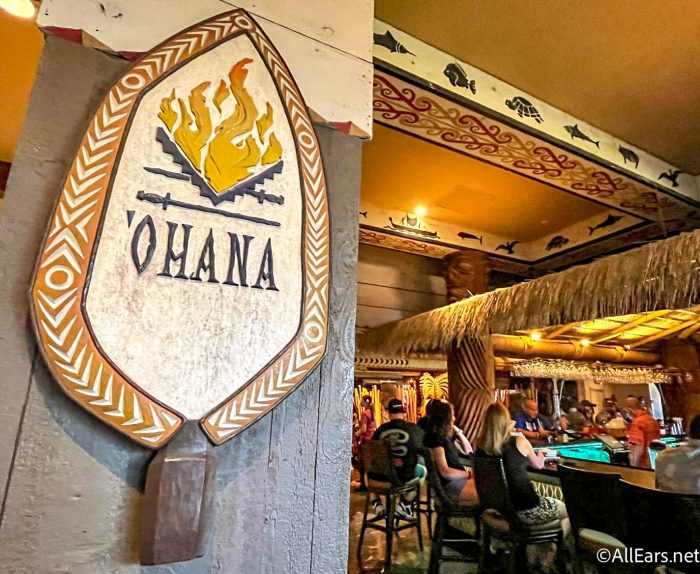 Be sure to try the 'Ohana Bread Pudding and 'Ohana Noodles — two of our absolute favorites!
Meals are served family-style, with breakfast priced at $45 (plus tax and gratuity) per adult and $29 (plus tax and gratuity) per child ages 3-9. Dinner is $59 (plus tax and gratuity) per adult and children ages 3-9 cost $38 (plus tax and gratuity) each.
Capt. Cook's
Staying at the Polynesian, we recommend Capt. Cook's, a quick service restaurant located in the Great Ceremonial House. A popular eatery among guest, it boasts a nice menu of family-friendly Polynesian and American cuisine.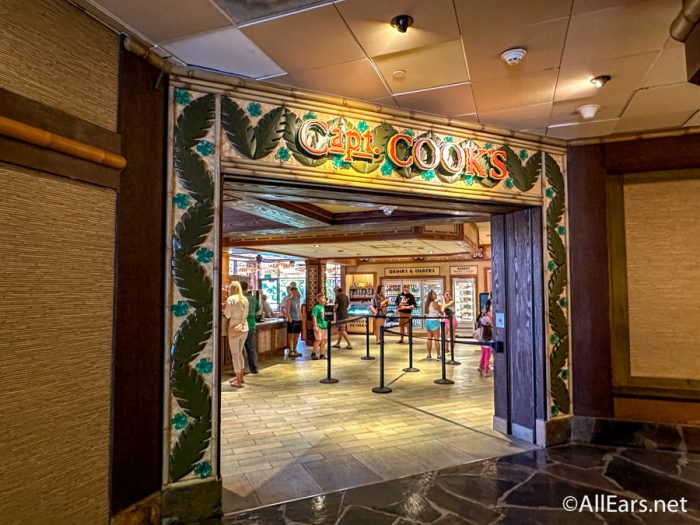 Serving breakfast, lunch, and dinner, Capt. Cook's is great if you're looking to escape Magic Kingdom any time of the day. We're particularly fond of the breakfast menu — specifically the Tonga Toast. Banana-stuffed sourdough bread, battered, deep-fried, and dusted with Cinnamon-Sugar AND THEN served with Bacon or Sausage — talk about starting your day off on the right foot. YUM!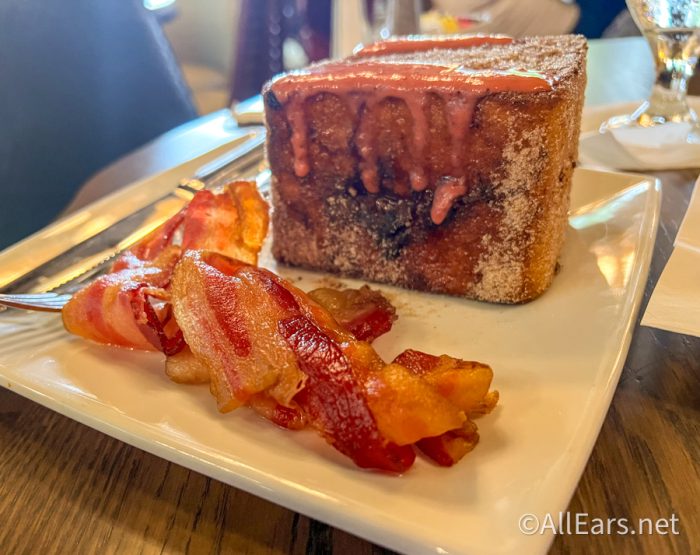 Capt. Cook's is a great quick service location if you're looking for snacks, dessert, or a cheap meal after an expensive day in Magic Kingdom. It's also a great spot to hit up if you want a quick bite while experiencing Disney's beautiful Polynesian Resort.
Whispering Canyon Cafe
Finally, we're going to leave Magic Kingdom by boat for something a bit more rustic. Heading over to Disney's Wilderness Lodge, we're going to indulge ourselves in Western cuisine at Whispering Canyon Cafe.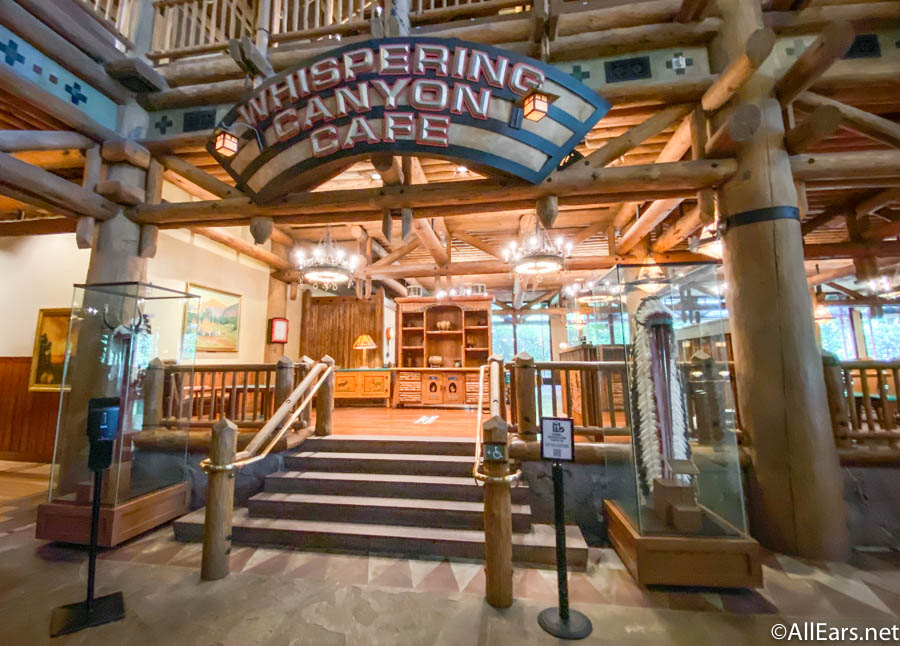 Dining with a twist, here you'll enjoy a hearty smoked BBQ meal while Cast Members "horse around".  That's right, your servers are prone to have rugged charm and a reputation for sass.  Meanwhile, don't be surprised if you see "horse races for kids" around the restaurant. If you're looking for a vibrant and loud atmosphere that fits the excitement of Magic Kingdom, look no further.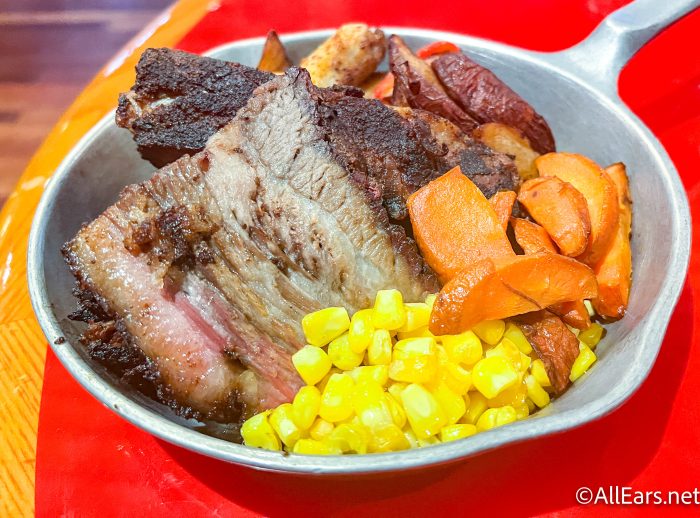 Breakfast, lunch, and dinner services all feature hearty meals that will fill you up while the atmosphere keeps you totally entertained. We think Whispering Canyon Cafe is a rootinest-tootinest restaurant if there ever was one!
Emma, Sage and Dustin went to Whispering Canyon Cafe recently, and you can watch their video about the experience right here!
There you have it! These are just a few of our favorite restaurants that we feel are totally worth leaving Magic Kingdom for, but let us know which ones we missed that you feel should be on the list. Be sure to continue to follow us at AllEars for all kinds of Disney World restaurant and hotel tips!
Join the AllEars.net Newsletter to stay on top of ALL the breaking Disney News! You'll also get access to AllEars tips, reviews, trivia, and MORE! Click here to Subscribe!

Do you agree with our list? Let us know in the comments!