Water parks are a necessity in the Orlando heat!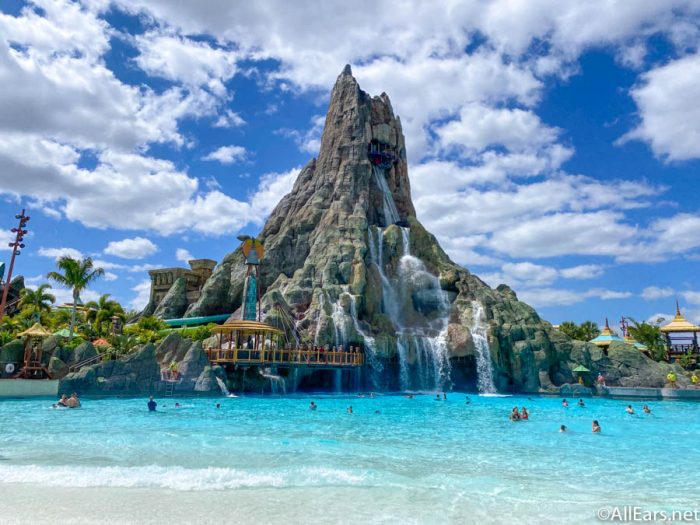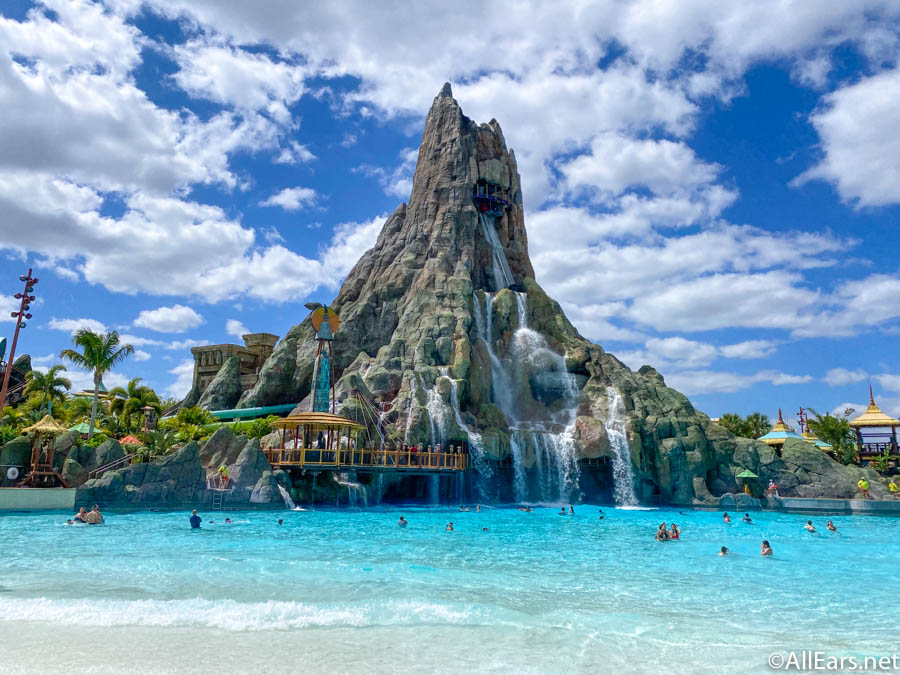 There are several water parks to cool off in here in Orlando, from Disney's Typhoon Lagoon to Universal's Volcano Bay, and even Blizzard Beach, which is currently closed for renovations. If you're struggling to choose which water park to spend your time (and money) at, we're here to help you decide.
We're going to pit two of Orlando's most popular water parks, Volcano Bay and Typhoon Lagoon, against each other in a head-to-head throwdown. Two water parks enter, and one park leaves. Which one will it be for you? Welcome to water park Thunderdome.
Universal's Volcano Bay opened in 2017 inside the Universal Orlando Resort. It features 19 total attractions, including 12 water slides. It also sports a lazy river, a whitewater river, and gigantic swimming pools.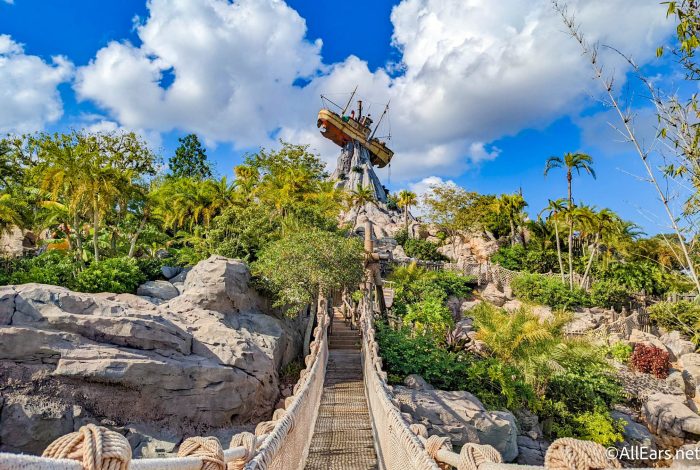 Disney's Typhoon Lagoon first opened in 1989, so it's much older than Volcano Bay. Among its 11 attractions are a lazy river, the largest wave pool in North America, and a handful of water slides.
Ticket Prices
Typhoon Lagoon – starts at $69 per day

Volcano Bay – starts at $80 per day
For both parks, ticket prices are based on the season. So, in busier, peak seasons, those prices will be higher than they are during slower, off-seasons.
Waterslide Breakdown
Volcano Bay, which is a Universal park, favors more thrilling attractions, with several large water slides. Typhoon Lagoon in Disney World is geared more toward a relaxing experience.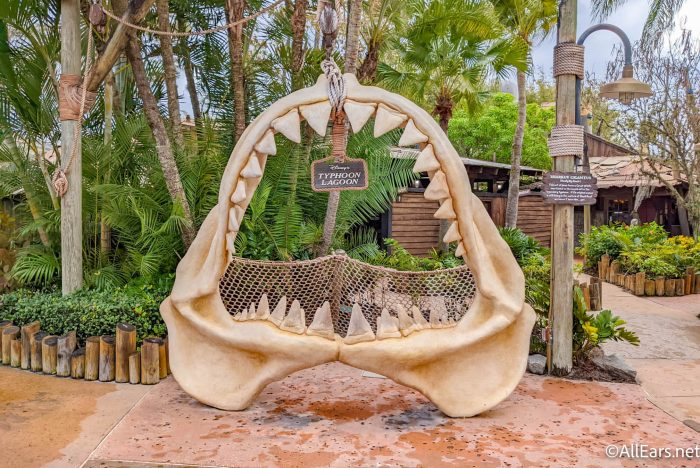 Typhoon Lagoon
Seven water slides

One small kid slide

One children's splash zone

One lazy river

One wave pool
The biggest and most intense ride at Typhoon Lagoon is Humunga Kowabunga which sees you plummet down Mount Mayday for a near-vertical 54-foot drop in the dark!
Volcano Bay
12 water slides

One small kid slide

Two children's splash zones

Two lazy rivers

One wave pool
The biggest and most intense ride at Volcano Bay and, unsurprisingly, the tallest body slide in America is the Ko'okiri Body Plunge. This incredible ride sees you fall at a 70-degree angle through a drop door and down a 125-foot drop before heading vertically beneath a pool of guests and landing in a splash zone at the bottom of the iconic volcano.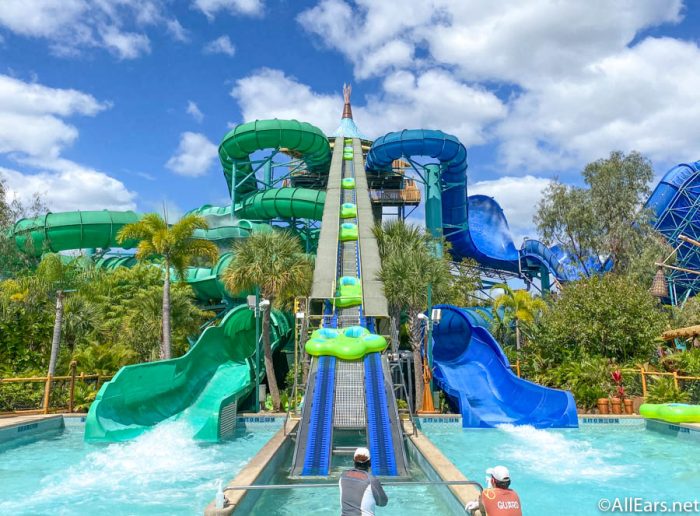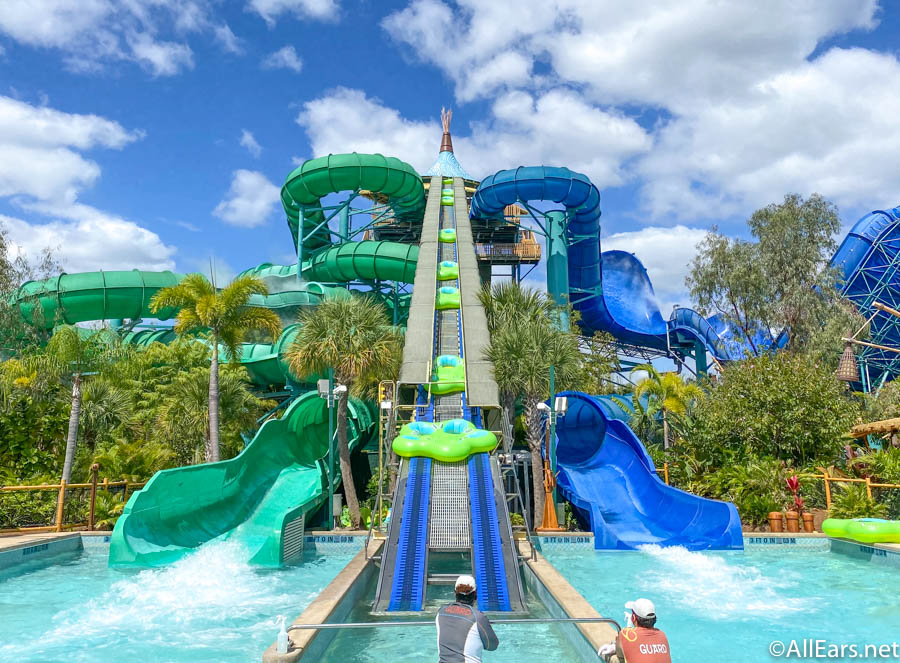 Volcano Bay has the edge when it comes to how anyone experiences the park and its attractions.
First, the "skip the line" option at Universal, Express Pass, is available at Volcano Bay, as well.  Guests can purchase the traditional Express Pass for $19.99 (plus tax, per person), which permits the guests to bypass the line for participating attractions once per day. There is also the Express Pass Plus for $39.99 (plus tax per person). This works similarly to the Express Pass but allows guests to bypass the standby line for ALL Volcano Bay attractions.
The second water park enhancement that Volcano Bay offers is the TapuTapu. When you arrive at Volcano Bay, you'll receive a TapuTapu (which looks like a cross between a MagicBand and an Apple Watch) to wear on your wrist. You'll use it to ride most of the attractions, open rental lockers, make cash-free payments, and more.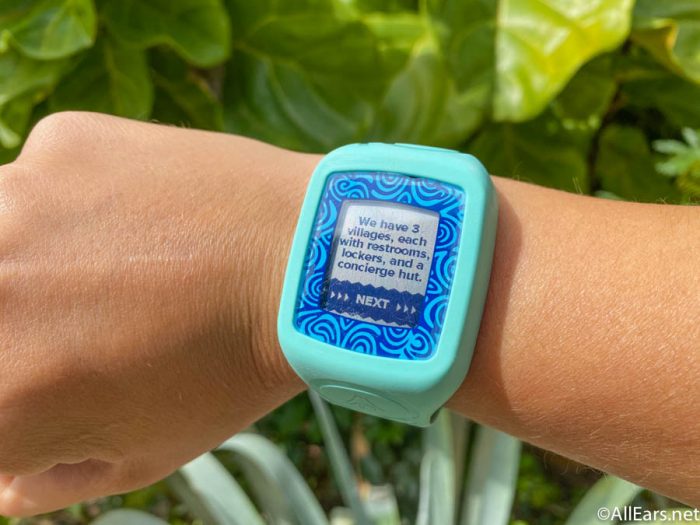 All the rides at Volcano Bay feature a Virtual Line and you use TapuTapu to access them. It changes how you wait – leaving you free to float, swim, splash, eat, shop or just relax until it's your time to ride. Here's how it works:
Tap in at an attraction with your TapuTapu wearable and you're in the Virtual Line.
You're free to explore the park while your TapuTapu counts down the minutes to your return time.
When your TapuTapu vibrates, it's time to return to your attraction with just a short wait before you ride.
Food
There aren't too many differences between the food offerings at the water parks. We have some favorites items that we love at Typhoon Lagoon, but on the whole, we've found the quality fo the food to be a bit better at Volcano Bay.
Typhoon Lagoon
You'll find burgers, sandwiches, hot dogs and flatbreads around Typhoon Lagoon. There are some great ice cream treats. The edge in the food game at Typhoon Lagoon is that you regularly find Dole Whip, and not just any Dole Whip, but one of our favorites, the Hei Hei Cone with raspberry and pineapple Dole Whip.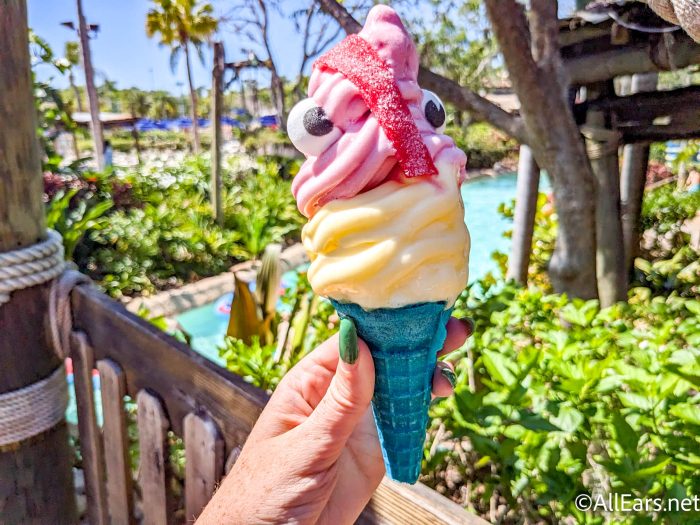 Another cooling favorite is the Sand Pail ice cream sundae. Just like it sounds, a sand pail filled with ice cream, toppings and whipped cream. And when you're done gorging on ice cream, you have a toy to play with at the wave pool (just make sure you clean it out first!). And our last foodie tip, is to be sure to grab a refillable mug. This will come in handy while you spend your day in the sun to get free refills throughout your day and stay hydrated.
Volcano Bay
As we said, the overall quality and food offerings at Volcano Bay beat out Typhoon Lagoon options. Universal has the Freestyle Cups that can be refilled, not just at Volcano Bay, but at any of the Universal Coca-Cola freestyle machines.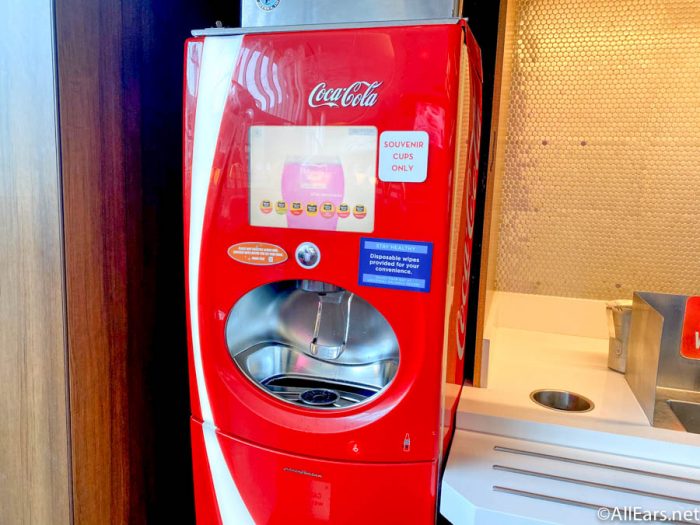 There are four in Volcano Bay, so you can stay hydrated and keep cool without blowing the bank. There are several full bars throughout the water park, meaning you are never too far from a place to grab a drink. While Disney water parks do have bars, they aren't as full-service comparatively, and there aren't as many throughout their water parks.
Relaxation
Once you've had some wet thrills on those amazing water slides, you're probably looking for a spot to chill and relax and soak in the sun. Both parks have lounge chairs and shade, but let's explore!
Typhoon Lagoon
You can find tons of lounge chairs all around the water park, or just grab a floatation tube and find your chill on the lazy river (who says relaxation can only be found on dry land?)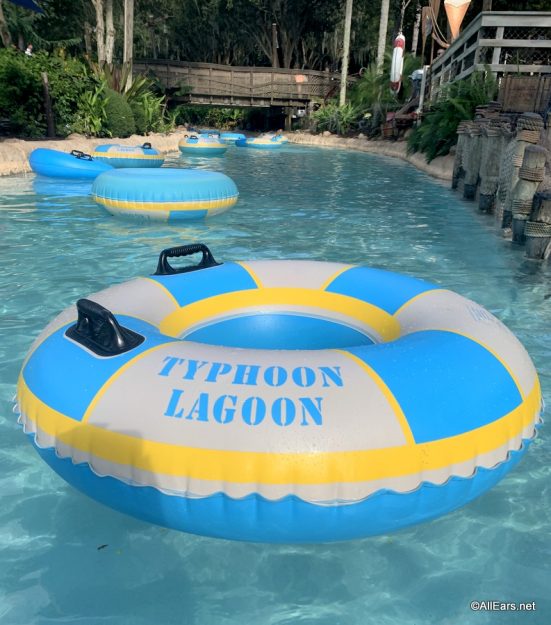 But if you are looking for a spot to set up as your base camp for your family to go experience the wave pool, the lazy river, the splash area, and the water slides, then you may want to look at reserving an umbrella. Ok, ok, wait. There's more to it than just an umbrella. You get:
A beach umbrella
Two reserved lounge chairs
Two beach chairs
A small drink table
Towels
To rent your umbrella set up starting at $49 plus tax and going up to $99 in busier times.
Volcano Bay
Volcano Bay is the ultimate pinnacle in relaxation options.  Volcano Bay offers Premium Seating, and Private Cabanas for singles and families some of which accommodate up to 16 people!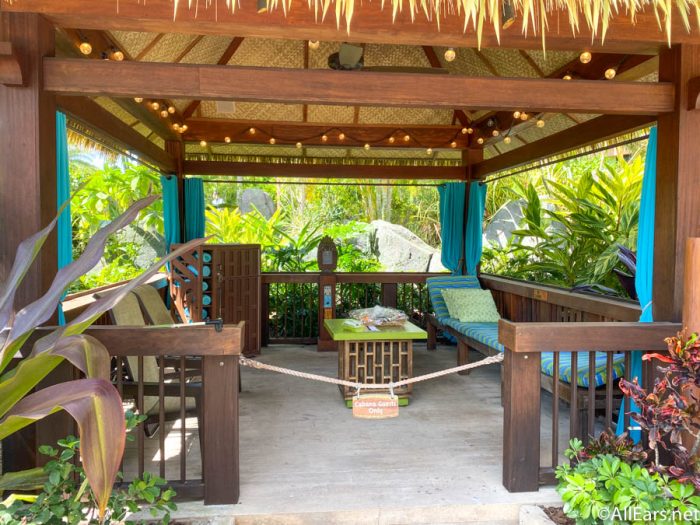 Each retreat offers padded lounge chairs, a small refrigerator stocked with bottled water, complimentary fruit and snack basket, towel and locker service, plus concierge service with an exclusive menu of food and drink delivered directly to the cabana. You do have to call 1-877-801-9720 to reserve them in advance, and the cost ranges from $200-$800 per day, depending on the size and the season.
Summary
Volcano Bay is newer and features more attractions, including bigger waterslides. It has the price to match, with tickets that'll cost more on busy days. You'll also be able to purchase a line-skipping pass, known as the Express Pass.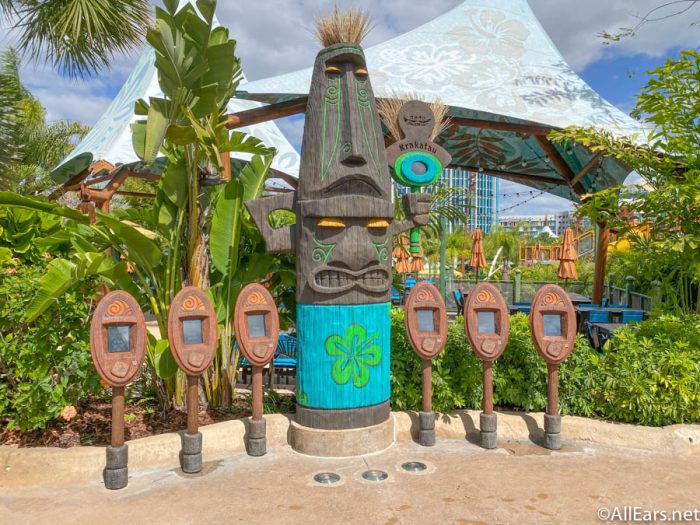 Typhoon Lagoon may be a more attractive option for families with small children, as most of its attractions contain no height requirement. Typhoon Lagoon is also cheaper than Volcano Bay and can offer better discounts to eligible guests. That being said, it doesn't offer a line-skipping option, which means you may spend time waiting for rides.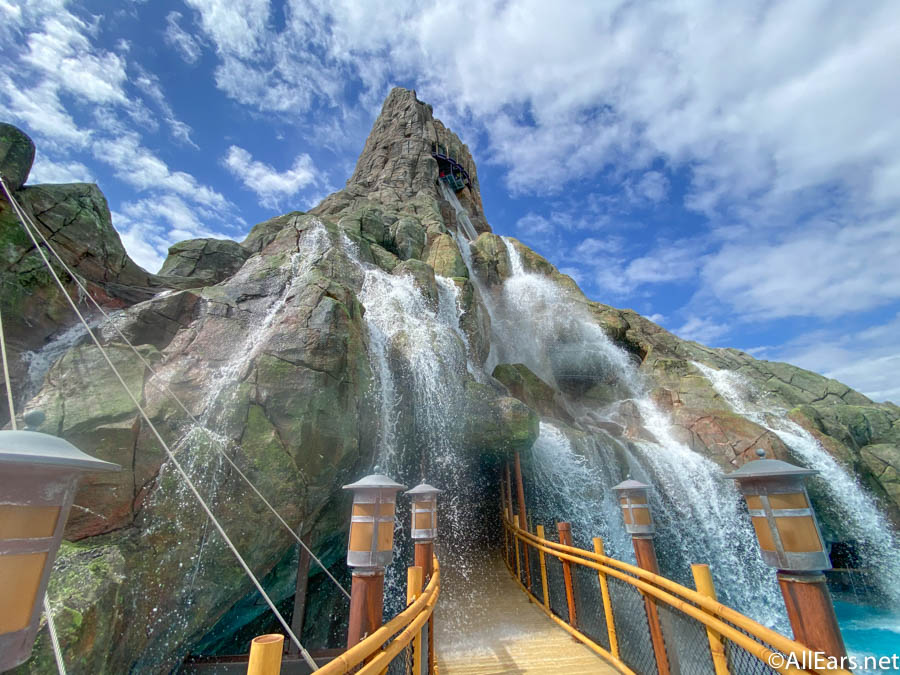 Whichever one you choose, you're sure to enjoy the cool water and refreshing waves of these Central Florida water parks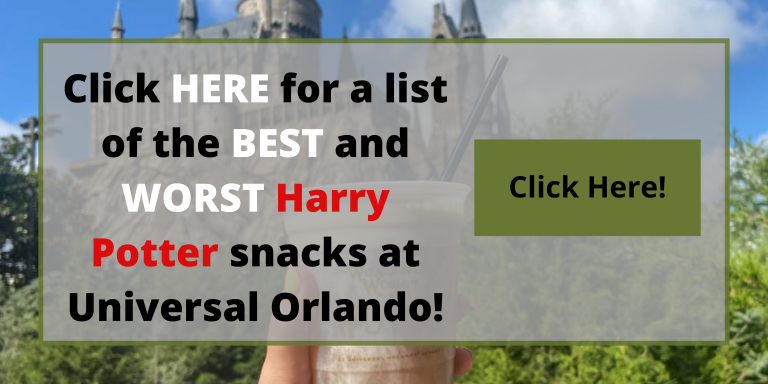 Have you been to Volcano Bay and Typhoon Lagoon? Which is your favorite? Let us know in the comments below!