Disney's Animal Kingdom is full of immersive details.
We know that you read our posts and watch our YouTube videos faithfully, so you likely know almost everything there is to know about this dedicated to the beauty and conservation of our planet. But we're going to break down some of these secrets and share them with you. So the next time you're there, you can share these details with your friends and family and wow them with your Disney World knowledge.
We know you're probably pretty savvy on Magic Kingdom trivia —  So let's dive into some other facts you may not know about Disney World's other kingdom.
Tree of Life Sculptures
The Tree of Life has 320 animals sculpted all around the trunk, branches, and surrounding roots.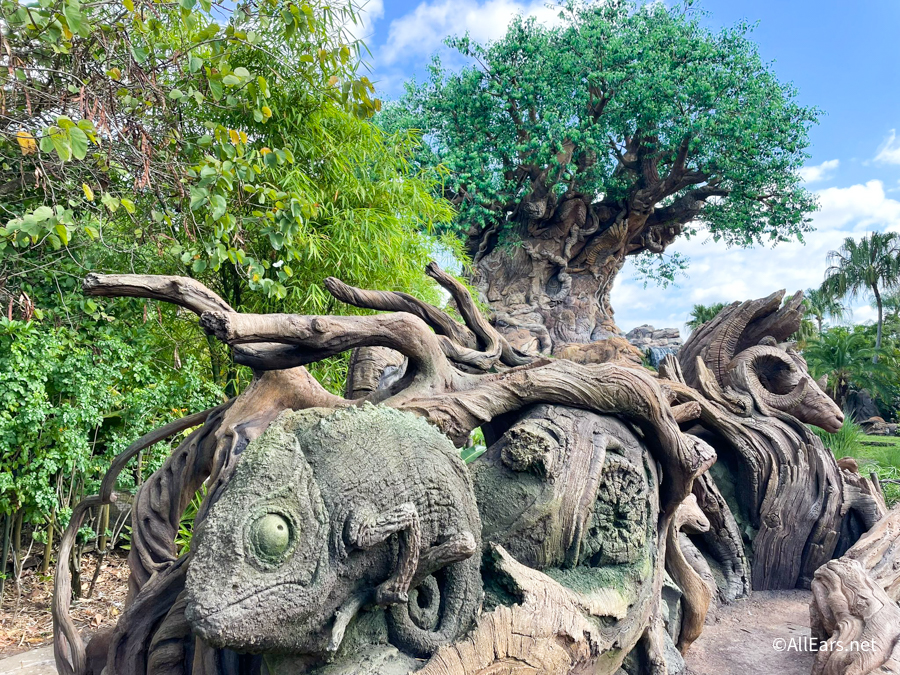 You might've known about animals (they're kinda hard to miss). You may have even known about the exact number you can find. But here's something you may not be aware of.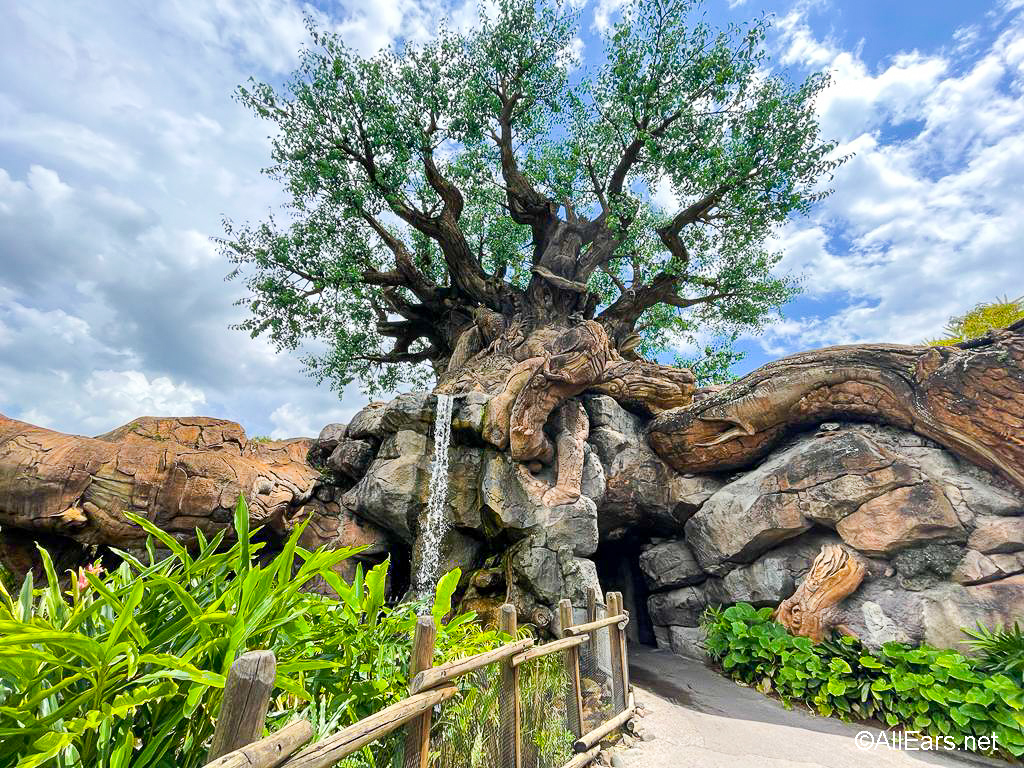 As you travel through the queue for Tough to Be A Bug, you'll shrink down into "bug size" and see these sculpted animals continue with you through the queue. As you get "smaller" the animals get "bigger". And when you're finally under the roots of the tree, as you look around, you'll see new sculpted creatures: dinosaurs!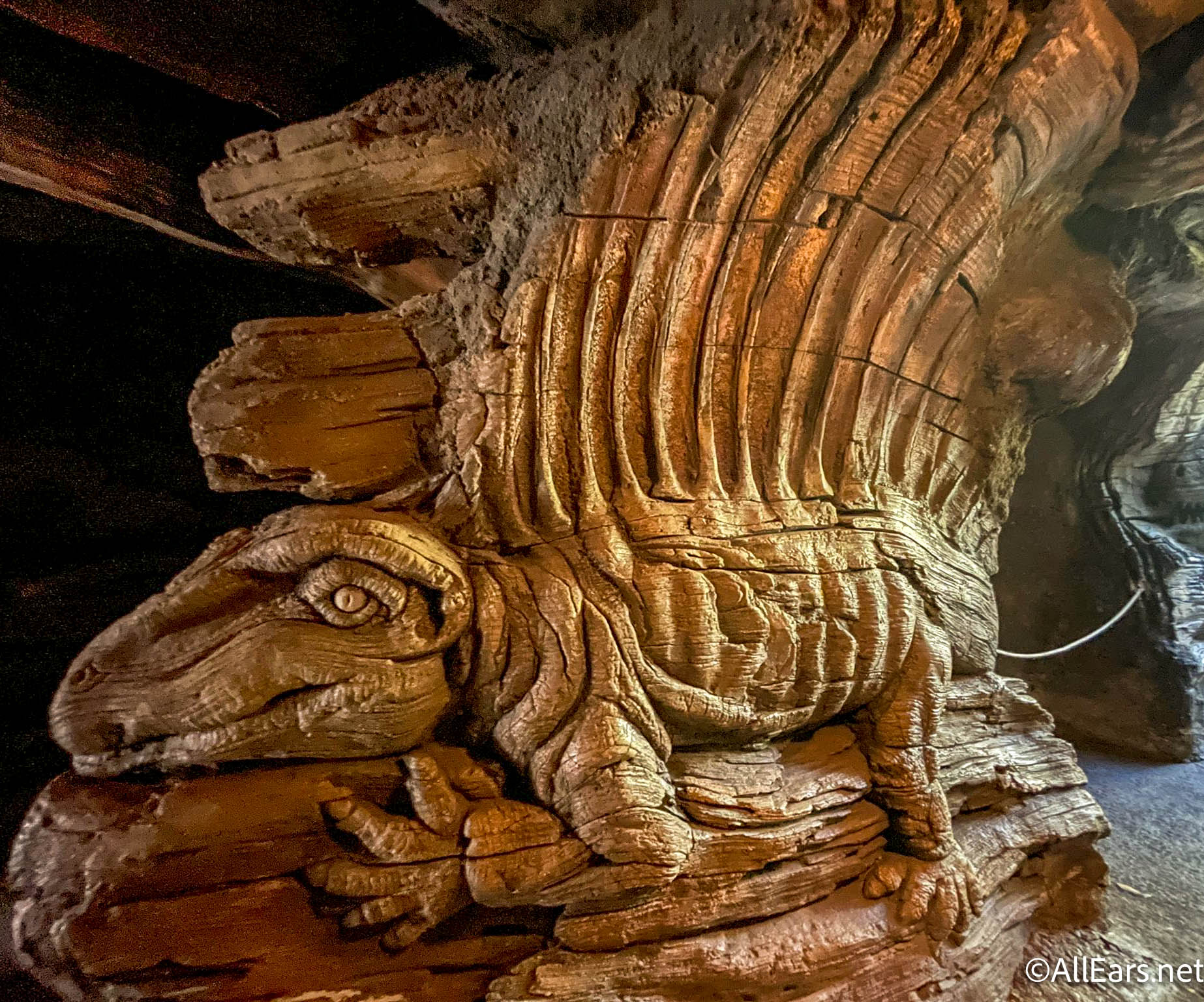 Yep, right where you'd find the fossils of these extinct animals (underground) is also where you'll find their representation on the Tree of Life. Can ya dig it? 😂
During your next trip to Animal Kingdom, take the time to wander through the Tree of Life Garden and Tough to be a Bug queue to see if you can find your favorite dino friend.
And if that's not a cool enough detail for you. Today, the Tree of Life is made up of 45 secondary branches leading to 756 tertiary branches, leading to 7,891 end branches with 102,583 green leaves (each more than one foot long). Impress your family members with those facts!
Flame Tree BBQ Details
It's hard to miss Flame Tree BBQ. It's centrally located on Discovery Island, the hub of Animal Kingdom park. And you can likely smell it long before you can see it. The fragrance of smoked barbecue will lure you in!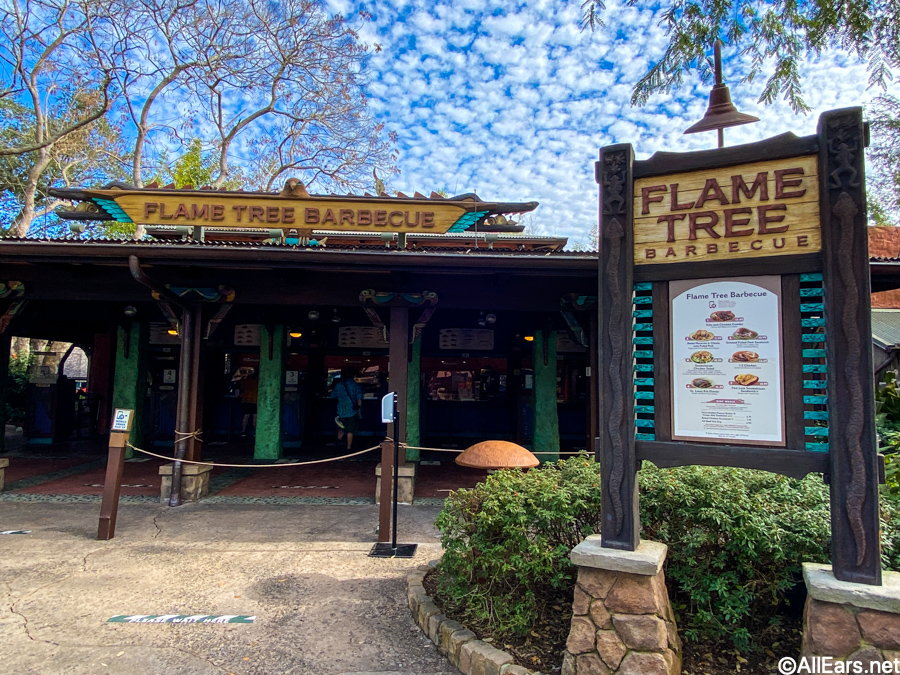 And true to its name, Flame Tree is a quick service dining location that offers a variety of barbecue entrees, and is also available through Mobile Order, so you're that much closer to noshin' on your ribs. Once you grab your tray of food, you'll be able to sit at one of the many nearby covered pagodas.
Look around you, and you'll notice alligators eating fish, anteaters eating ants, and spiders capturing butterflies (you'll even spy some spiderwebs).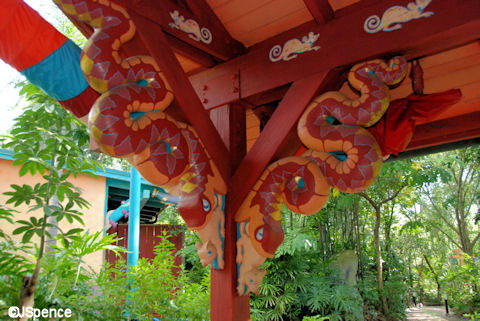 So you're in good company when you sit in one of these pagoda to nosh on your ribs, all part of the circle of life and that eternal food chain.
Joe Rohde Left His Mark
If you've done your homework on Animal Kingdom, you'll know that this park is is what is it because of the vision and leadership of Joe Rohde, one of Disney's legendary Imagineers who led the creative team to dream, research, travel, and forge this park into existence.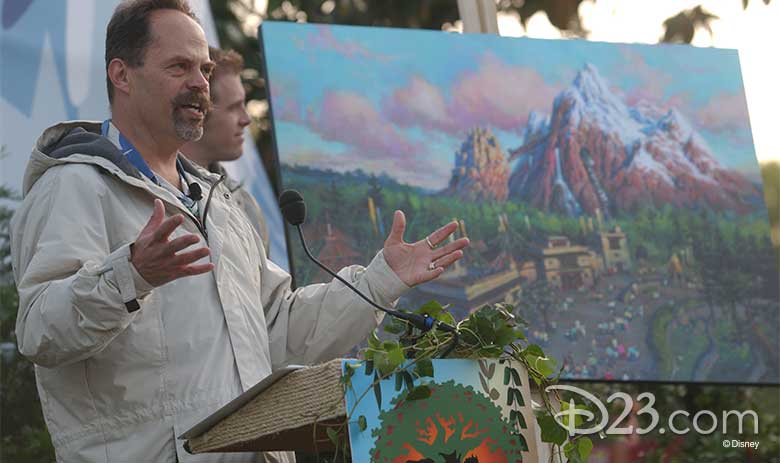 Because of how integral Rohde was to the design and creation of Animal Kingdom, you'll find several little nods and Easter eggs referencing him and the creative force that he is.  For starters, pay attention as you exit Avatar: Flight of Passage. On the mossy wall, near the exit of the queue, you'll find three handprints in paint.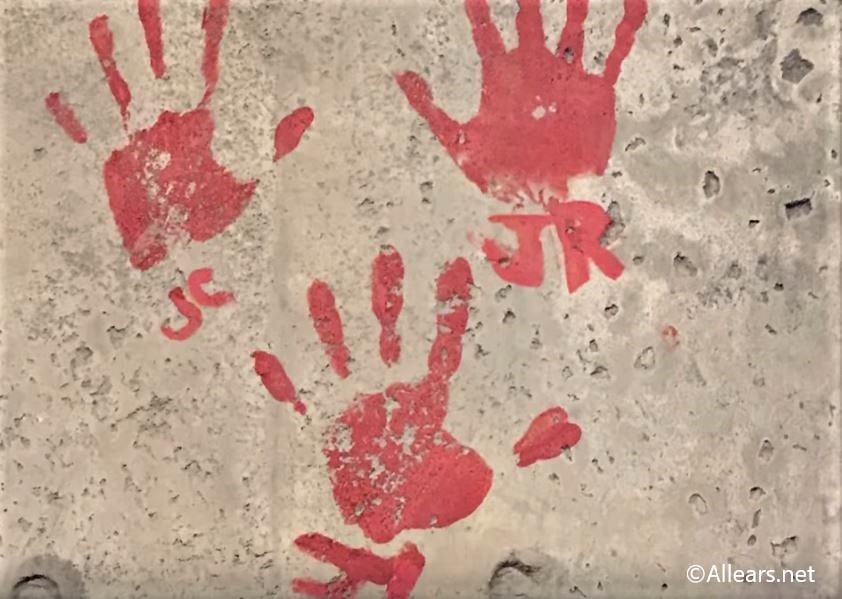 Those are the handprints of Joe Rohde (the lead Imagineer behind Animal Kingdom), James Cameron (the director of the film Avatar), and John Landau (the producer of the film Avatar).
If you're in Pandora around meal time, and you take our advice to grab a plate of cheeseburger pods from Satu'li Canteen, you'll also be in the perfect place to find the next homage to Rohde.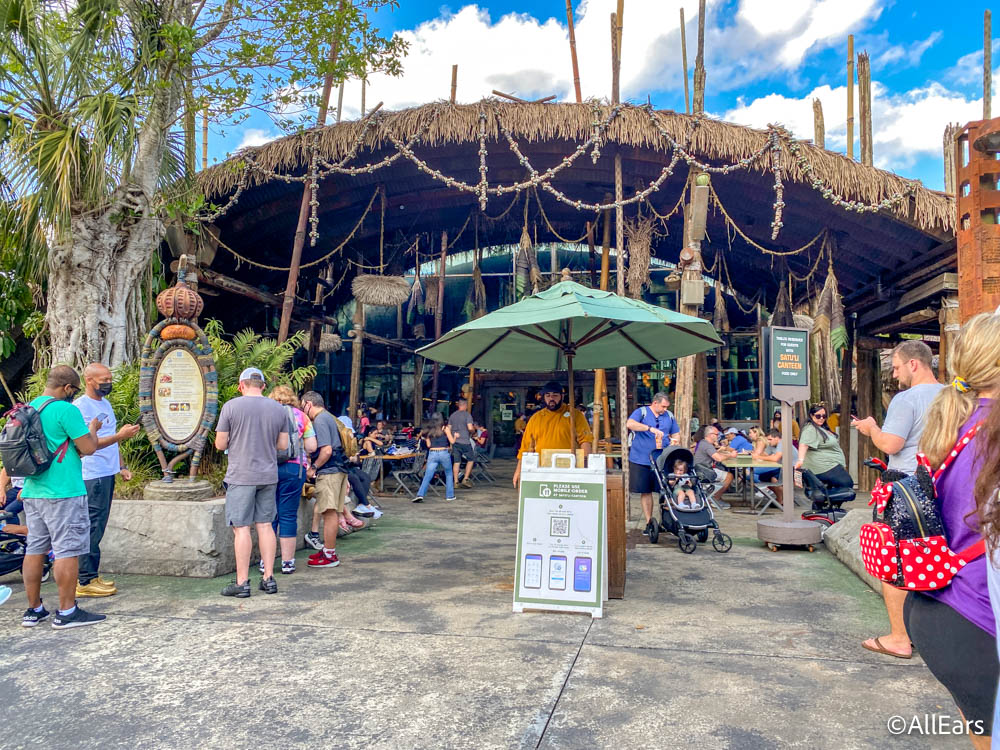 You can also find a nod to Joe Rohde in Satu'li Canteen in a photo in the queue portraying the groundbreaking of the Pandora land. And another special bonus, Rohde disclosed that the recipe used for the cheeseburger pods is a family recipe!
Inspired by a Rohde family home recipe pioneered by the boys, with Mims help…Hamburger Hash, which was basically everything that would go in a cheeseburger including the bun chopped up and cooked in a pan. Yum. https://t.co/b66l4Fp6Hy

— Joe Rohde (@Joe_Rohde) December 17, 2021
Pongu Pongu in Pandora, is the home to the Night Blossom drink and the Pongu Lumpia pineapple cream cheese lumpia. But it's also the home of another Joe Rohde detail.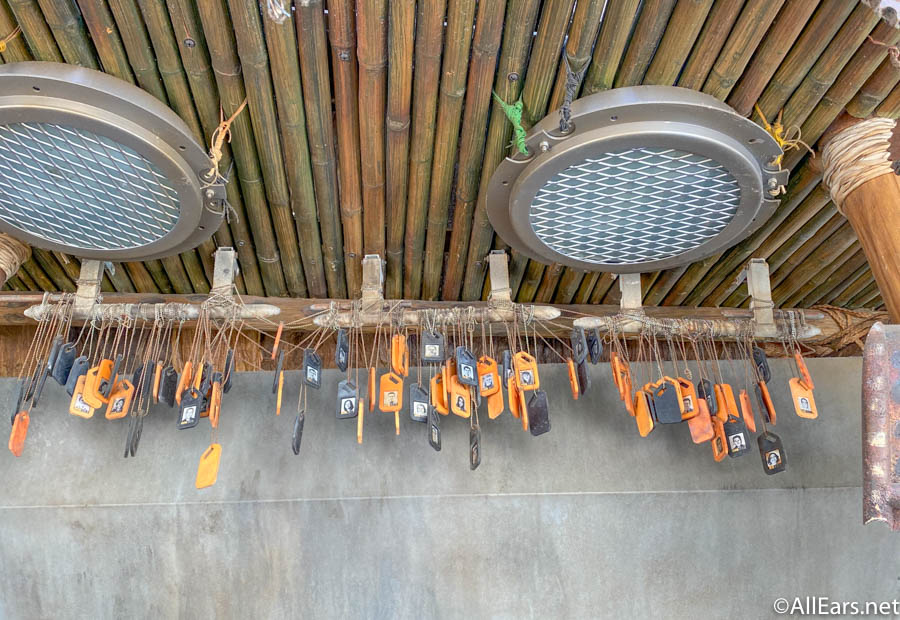 You can also find a Joe Rohde dog tag with the other Imagineer "dog tags" hanging at Pongu Pongu.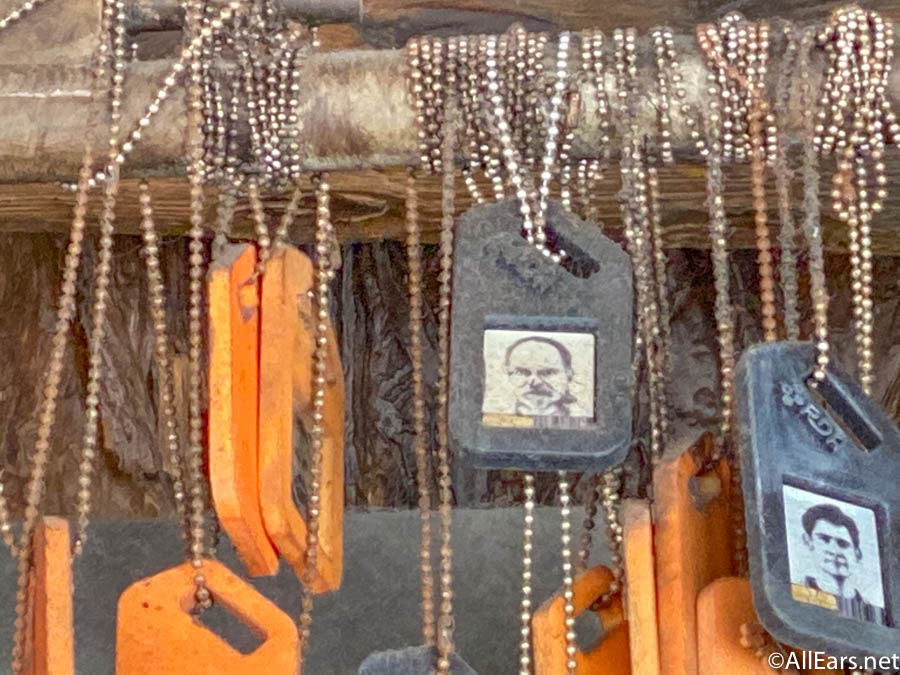 And our last Joe Rohde nugget is beyond the board of Pandora and into the wilds of Africa.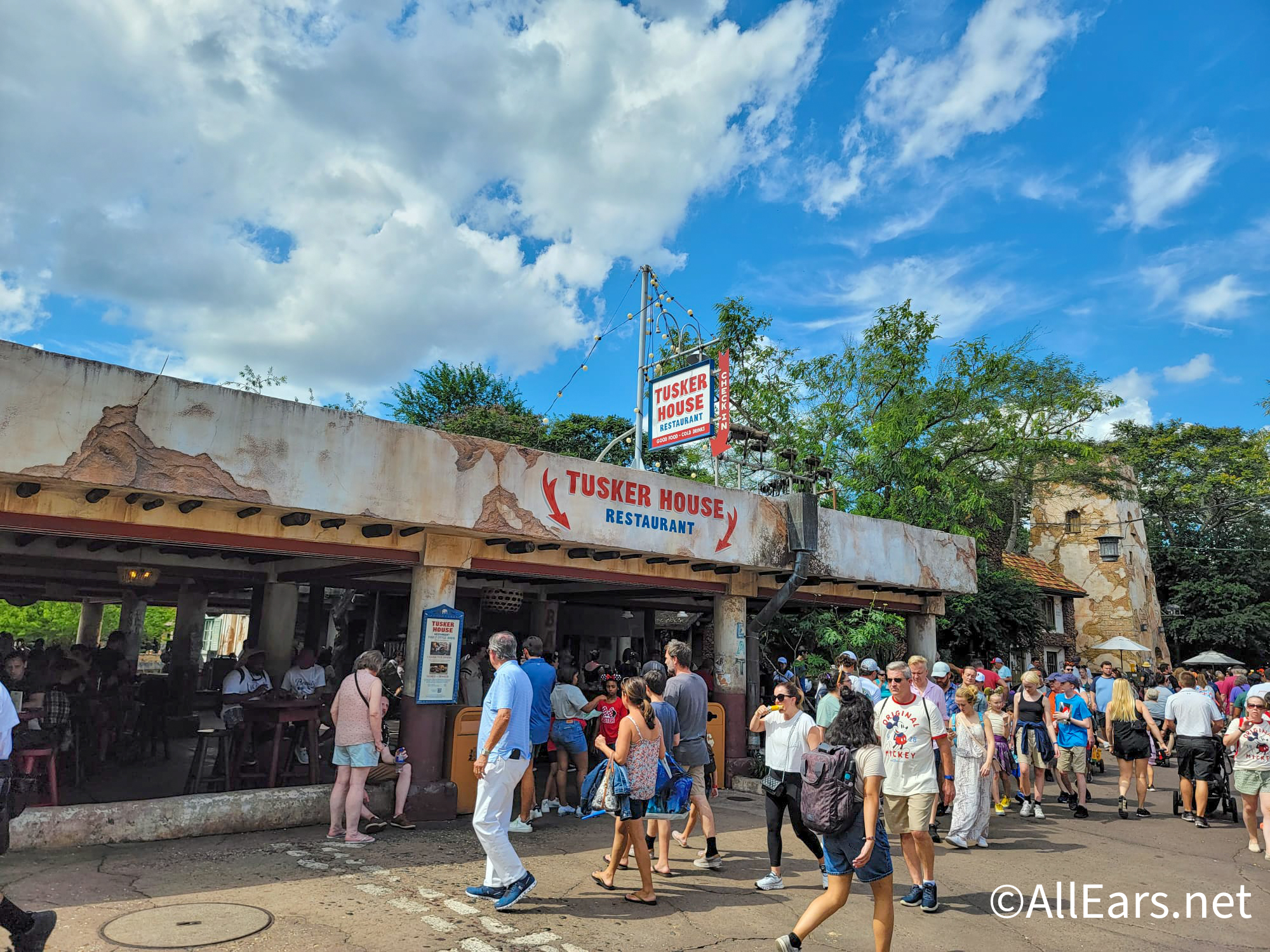 Behind Tusker House, on the wall of masks, you'll find another nod to Joe Rohde with the sign at the bottom of the wall that says "Jorodi" masks.
Harambe Village Details
You'll spot a sign for Mr. Mutumbo's Wonderful Fishing Tours on your way into the Africa section from Pandora,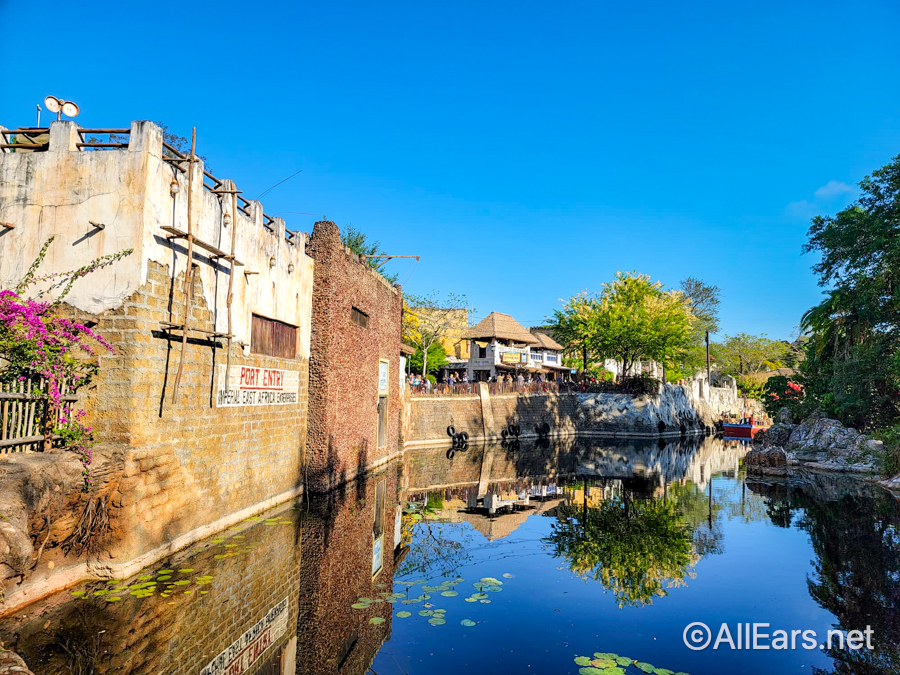 And if you look around Harambe, you'll also signs and flyers advertising for Mr. Mutumbo's Fishing experience as well, like you're in a real African village.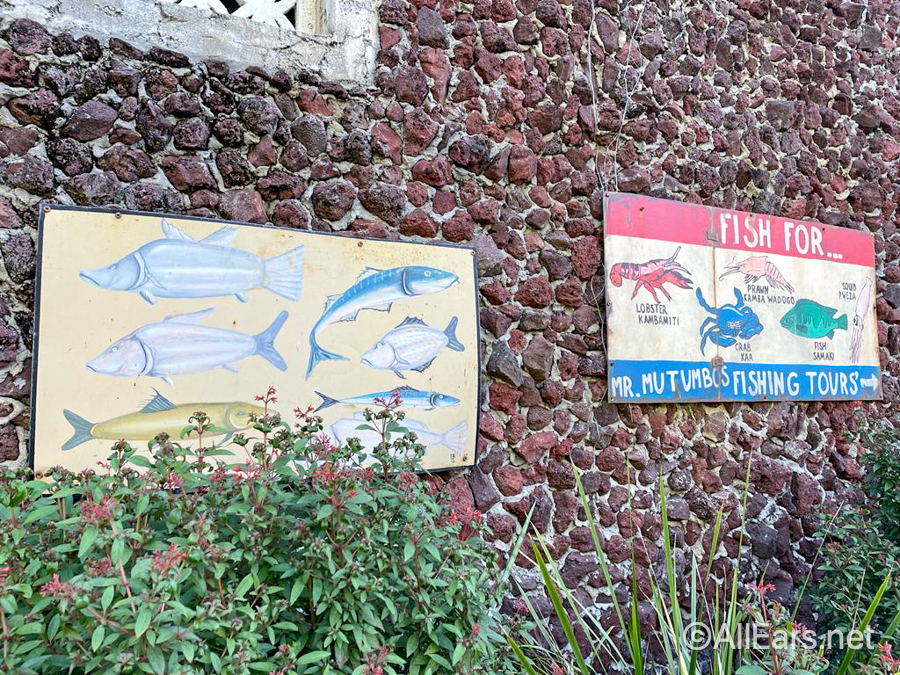 Imagineers brought over real African craftsmen to create authentically thatched roofs in Harambe. To thatch the roofs in the traditional way, as done in Africa, the craftsman navigated the roofs barefoot to feel out for weak spots and make sure the thatching was secure. This barefoot approach caused some concerns for OSHA, the US Occupational Safety & Health Administration, and Disney had to complete a lengthy process of petitions and appeals to help the craftsman create the thatched roofs authentically.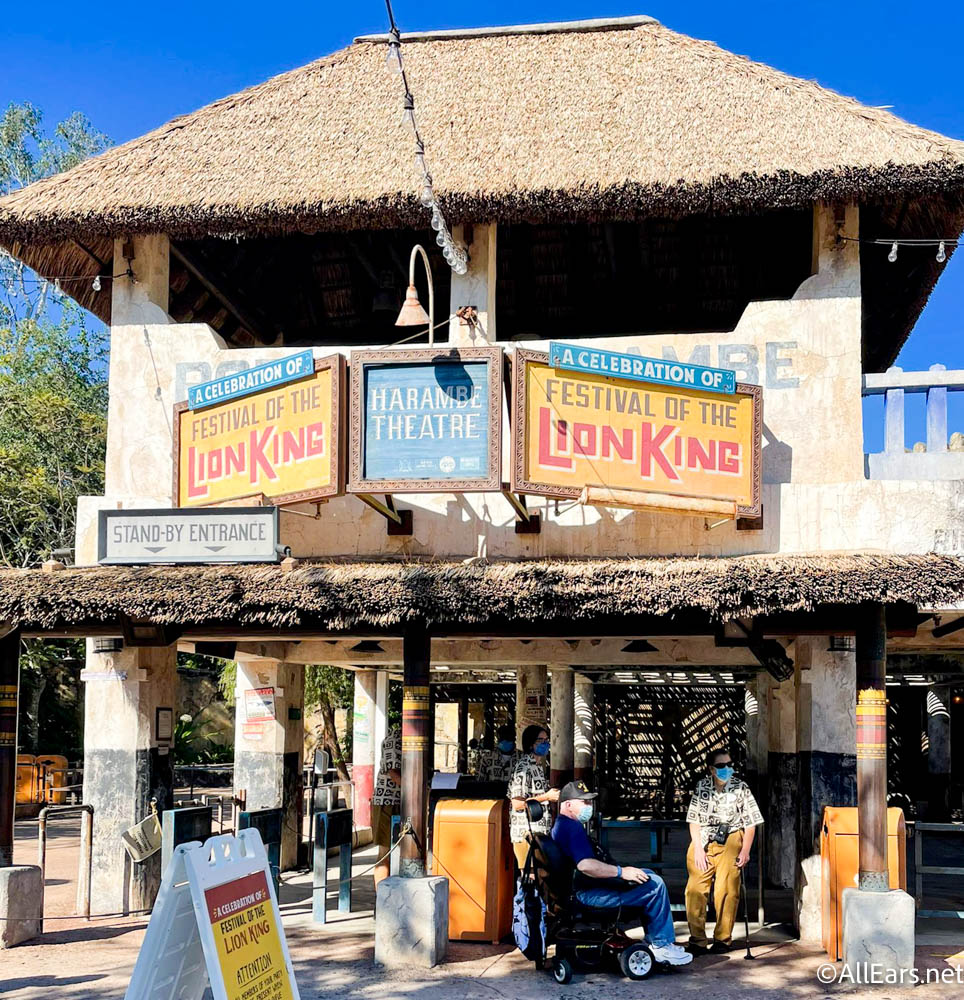 Animal Kingdom has plants from every continent (except for Antarctica). Many plants were planted up to a year in advance while planning for the park.
This was because Disney had to make sure the animal residents had well-adapted habitats and environments to be moved into. So Disney horticulturalists were cultivating plants for this park before construction even started!
Nod to Animal Kingdom's Origin Story
One of the ways Animal Kingdom Park ties back into its origin story is the highlighting of the Tiger on the Maharajah Jungle Trek.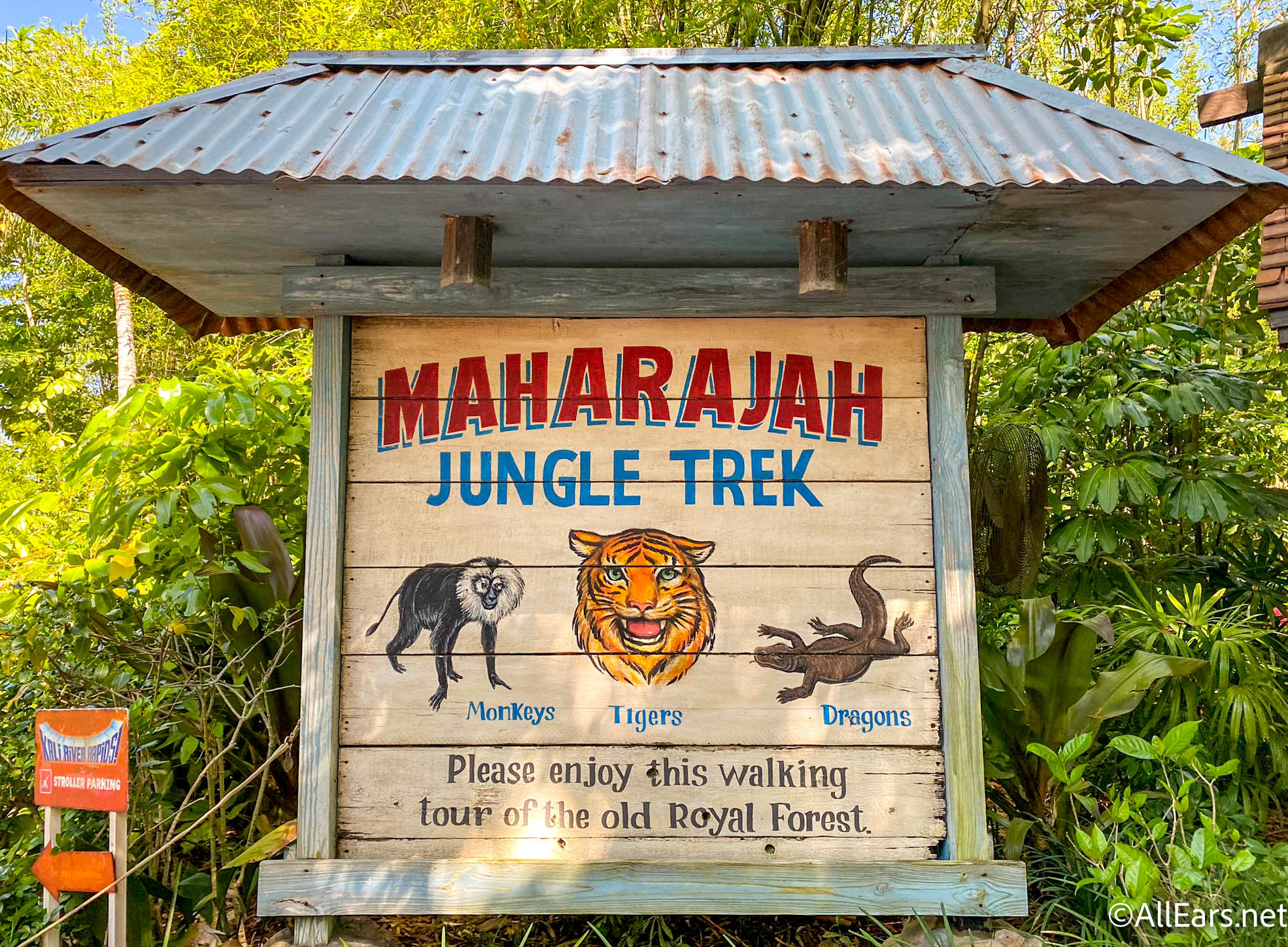 When Rohde was proposing the idea of Animal Kingdom Park, there were reservations among the leadership that animals could still hold the attention of an audience, and they were leaning more toward technology and thrill rides.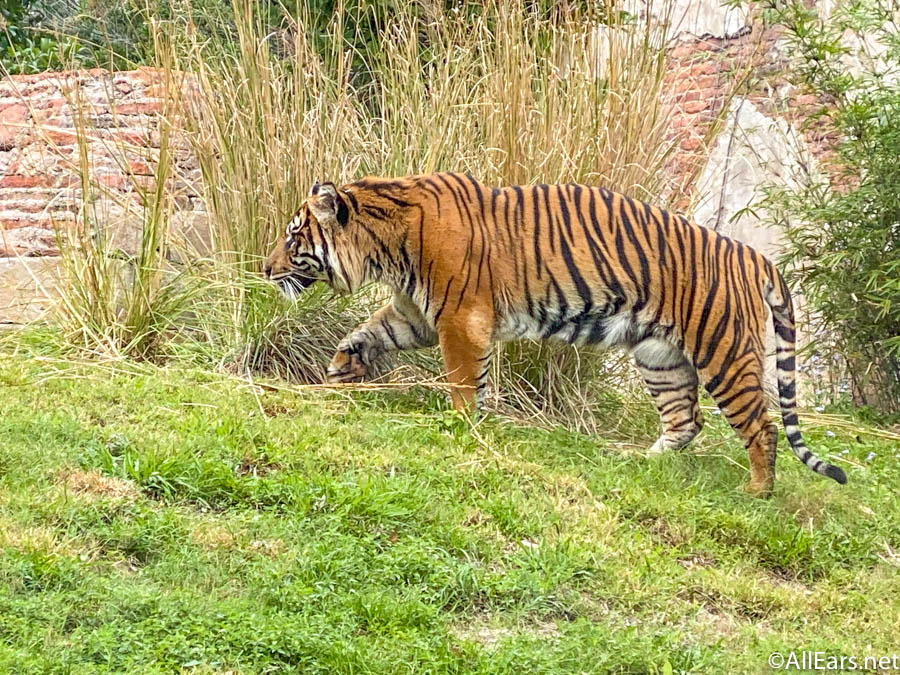 During one of the meetings, as Joe Rohde was presenting, he arranged to have an animal handler bring a live tiger into the room. While presenting, the tiger was led around the room and then exited, while the leadership was awestruck at the magnificence of the large cat. And that interaction reportedly was the turning point that Rohde needed to convince the Board that animals are still captivating and worthy of a whole park.
Official Beverage of Expedition Everest
If you've every walked through and waiting in the Expedition Everest: Legend of the Forbidden Mountain queue, you know how detailed and immersive it is. The queue winds through tea gardens, passed shrines to the yeti, through a shop for supplies you'll need for your journey, and even a museum documenting the explorers before you and their encounters.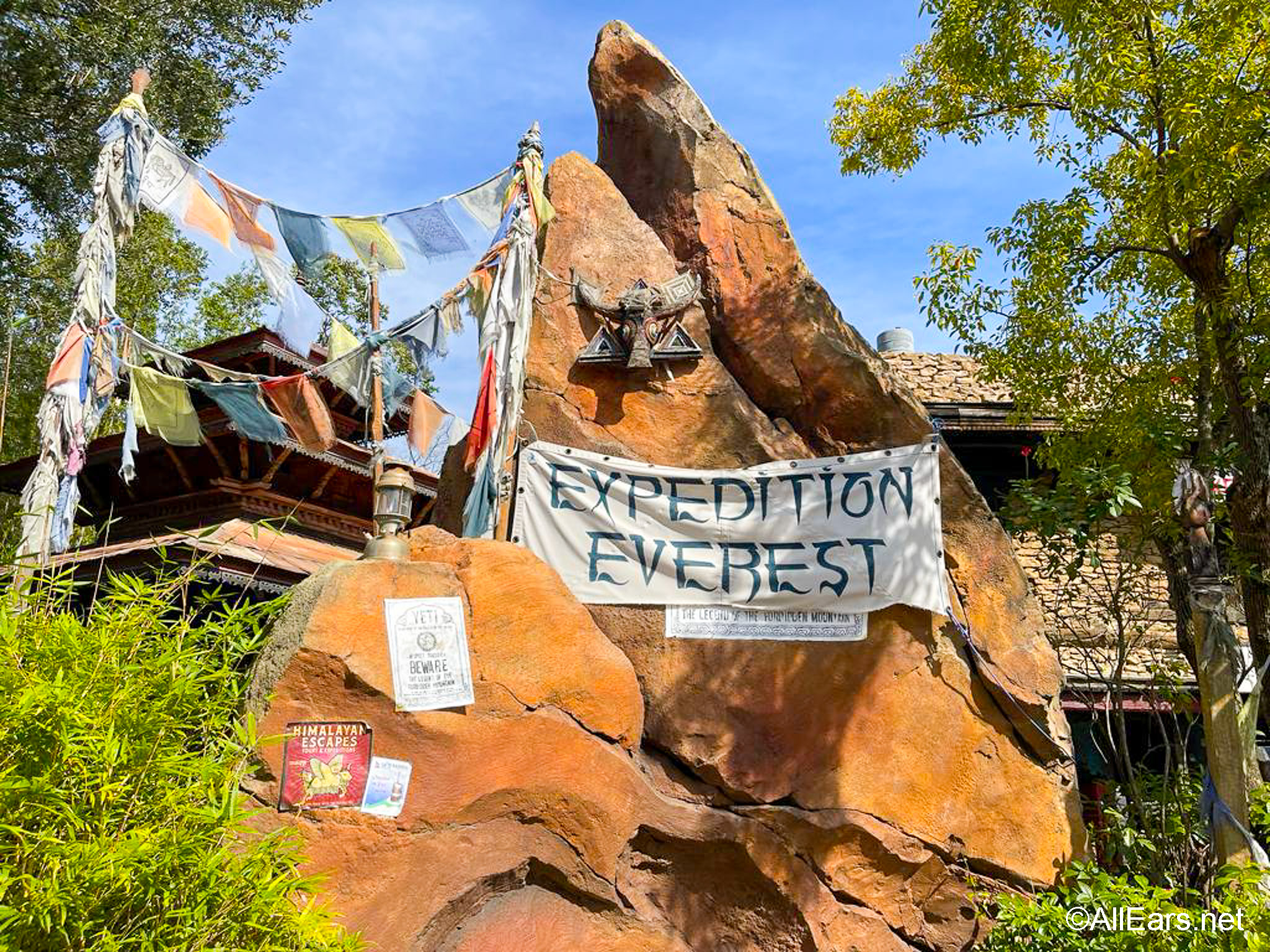 This queue alone has dozens of little secrets, nods, and Easter eggs. But the one we're gonna highlight today is this little-known pun. In the explorer's shop you can find ads and canisters for a uniquely themed beverage, "Ye Tea."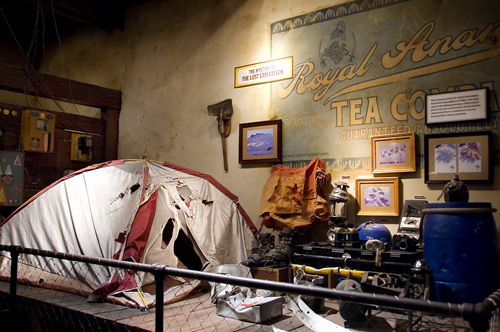 Its details like this — the extra attention that Imagineers contribute — that make Disney World a place where you can always find something new, and a detail you may have never noticed before. As you travel the queue, keep your eye out for that "Ye Tea."
Details Beyond Extinction
The Disney company is known for its storytelling, and this expands beyond the films and into the parks. Each shop, resort, restaurant, and attraction has a story, and Disney strives to make that story the focus of your experience, and not all of the mechanics and nuances behind it. You are intended to participate in a transformative experience, and not see all of the tools behind the magic.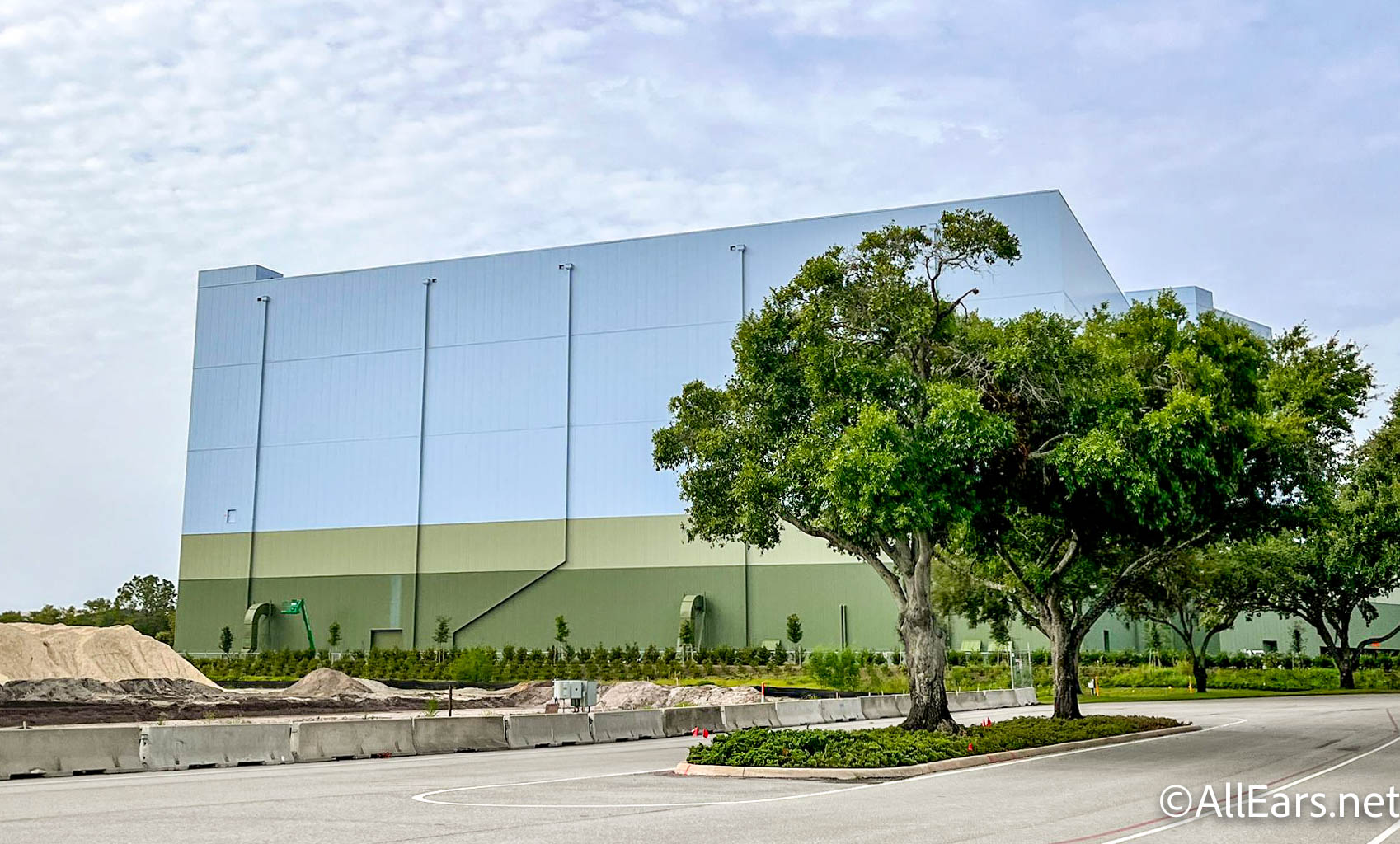 As a way to keep you emersed in the story, Disney even invented new paint colors, like "go away green" and "bye bye blue" that they paint on show buildings and on tools or utilities to disguise them from plain view. This technique is what is used on the DINOSAUR attraction show building.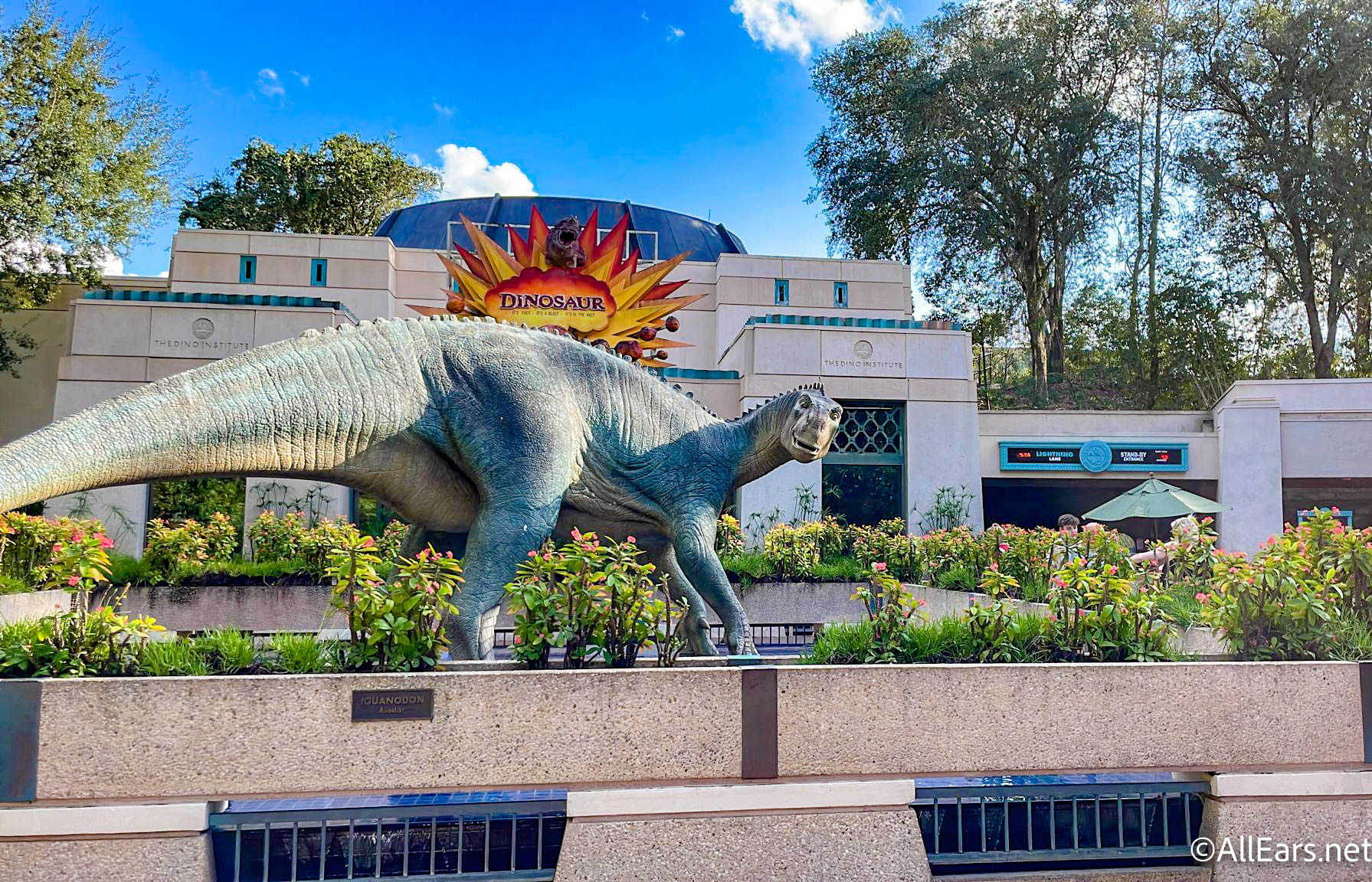 But if you look closer, that "go away green" has a little help from trees in front of it. And look even closer — yep, those trees are actually planted ON TOP of the DINOSAUR building!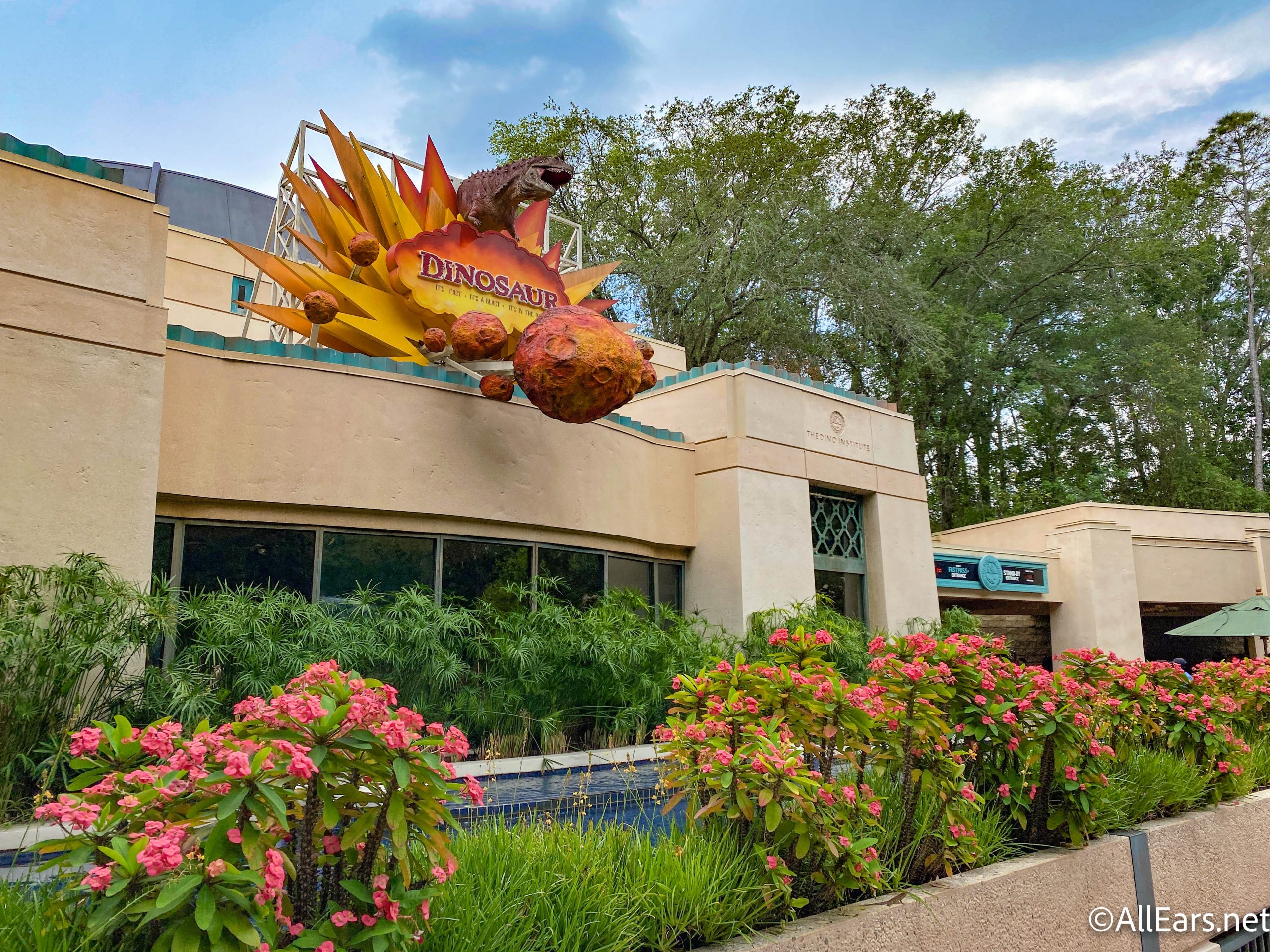 And just for kicks, here's another hidden secret in DINOSAUR. This one is super cool, but also so cool that it's more commonly known. DINOSAUR was originally sponsored by McDonald's.
As a nod to that sponsorship, the red, yellow, and white pipes you'll spy as you wait to load into the ride vehicles have the chemical code for ketchup, mustard, and mayo.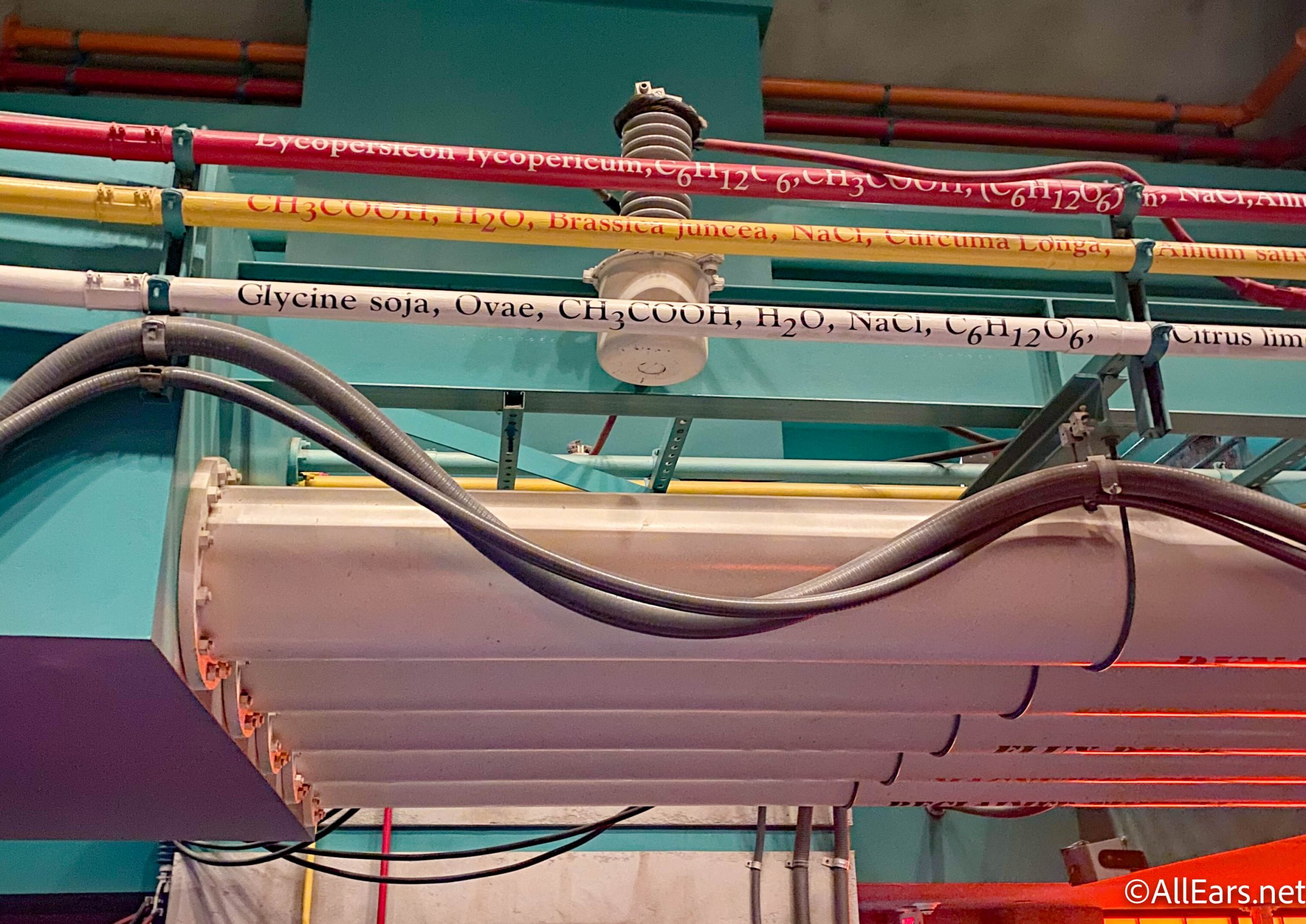 So there you have it — some fun secrets you probably didn't know about Animal Kingdom.
Join the AllEars.net Newsletter to stay on top of ALL the breaking Disney News! You'll also get access to AllEars tips, reviews, trivia, and MORE! Click here to Subscribe!

What's your favorite hidden detail or secret at Animal Kingdom? Let us know in the comments.