The day we've been waiting for is finally here!
There's a lot happening in Disney World, but on March 23rd, Roundup Rodeo BBQ officially OPENED (FINALLY!) in Disney's Hollywood Studios! We've already shared a peek inside thanks to a media event we attended, as well as a look at some of the food we got to try. But now we're getting the full experience on this restaurant's official opening day — join us to see what it's really like.
Roundup Rodeo BBQ is themed as if Andy has set up a toy rodeo playset in his backyard and the details of the restaurant really show that.
Grab your cowboy hats and boots because Roundup Rodeo BBQ is officially OPEN today! 🤠 pic.twitter.com/H7n83im8G9

— AllEars.Net (@AllEarsNet) March 23, 2023
Yee-Haw! A bunch of our gang joined in on the fun.
It's time to rodeo, y'all! 🤠 pic.twitter.com/yvxQlpQqPJ

— AllEars.Net (@AllEarsNet) March 23, 2023
The details on the outside of the restaurant are incredible like this bread twist tie holding up the little lamp!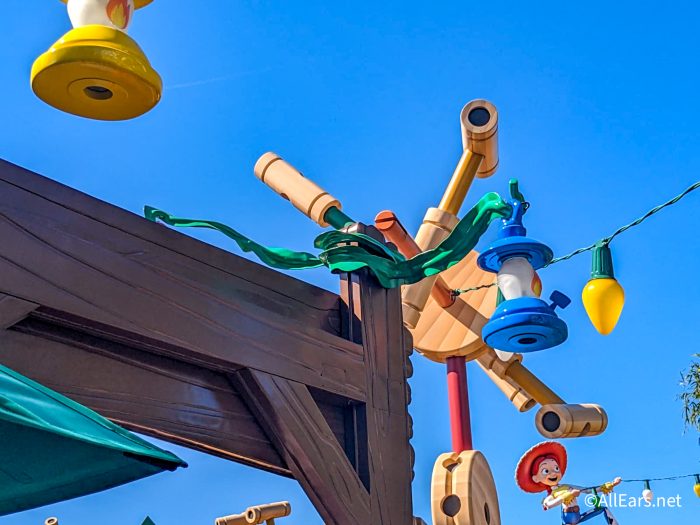 And just look at the little flame on the lamp — it makes us think about those stickers we used to put on toys when we got them as kids.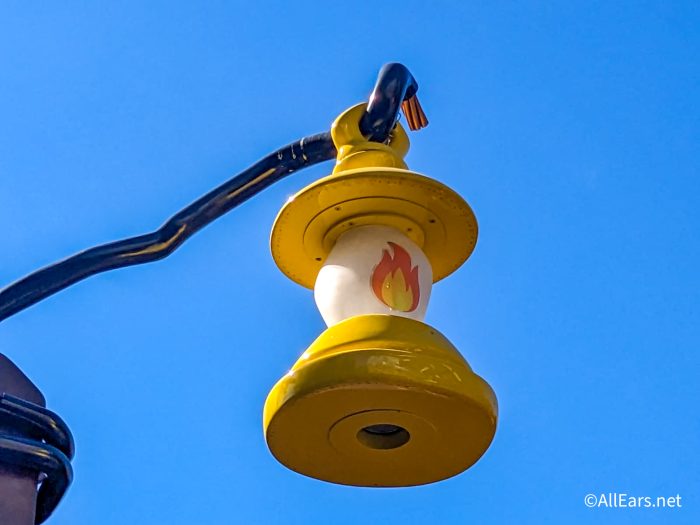 We also got to see the Cast Members' uniforms for the restaurant. Look at that cowboy hat — so stylish.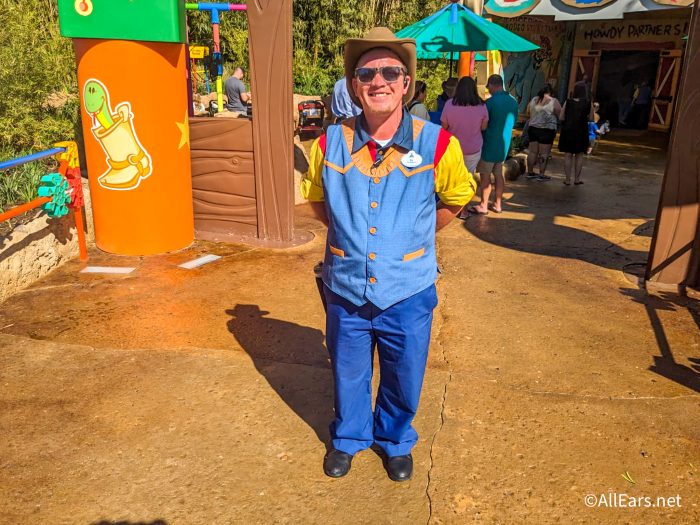 The plates inside are crafted to look like traditional paper plates you might have at your backyard bbq, but these are actually hard ceramic plates (so don't worry, the weight of your food won't cause these to bend and fold).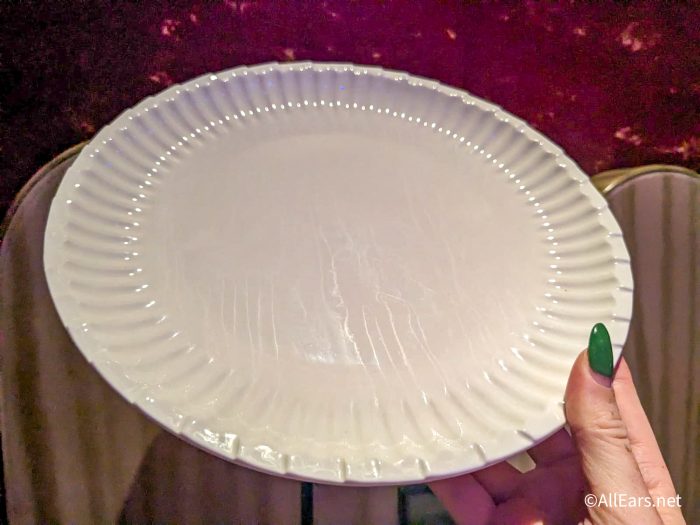 Here's a look at one of the tables inside — really makes you feel like you're part of the Toy Story universe.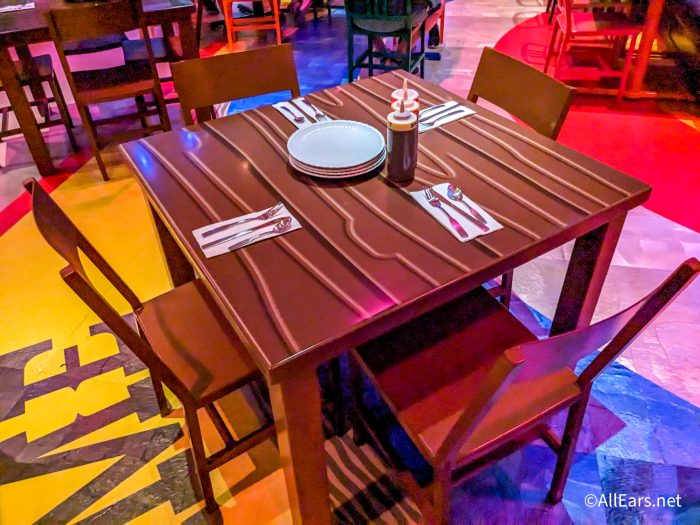 And just take a look around at ALL of that theming.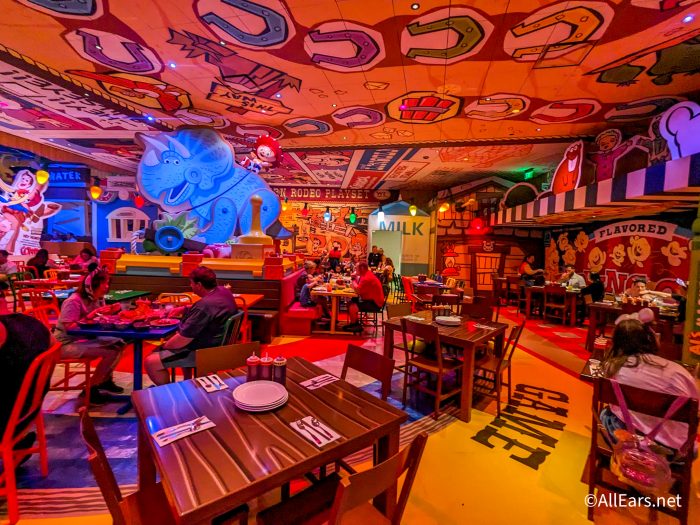 From the floors to the ceilings, the walls, and everywhere in between — there are LOTS of things to look at.
Looks like Andy used anything and everything he had to make this place come "alive."
The restaurant serves its food family style. Here is a look at the menu! You will get some bread to start things off, 3 salads, a meat platter, and then your choice of 4 sides, and each person's choice of 1 dessert. There are also plant-based and allergy-friendly options available.
The back of the menu features beverages and even Grown-Up Drinks!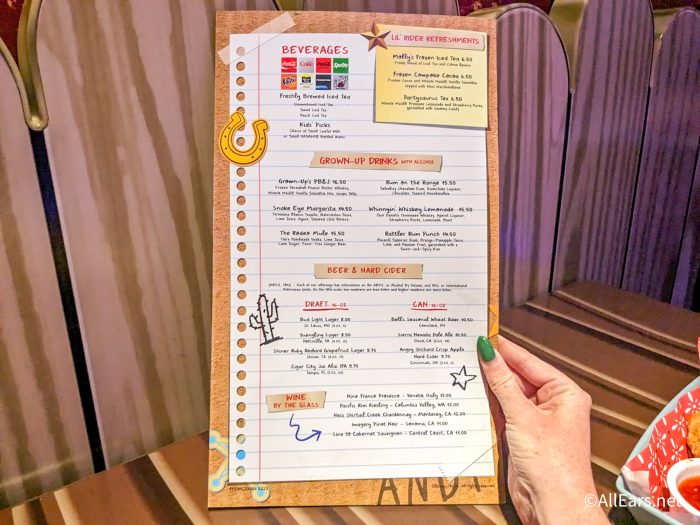 We started things off with The Prospector's Homemade Cheddar Biscuits with Sweet Pepper Jelly.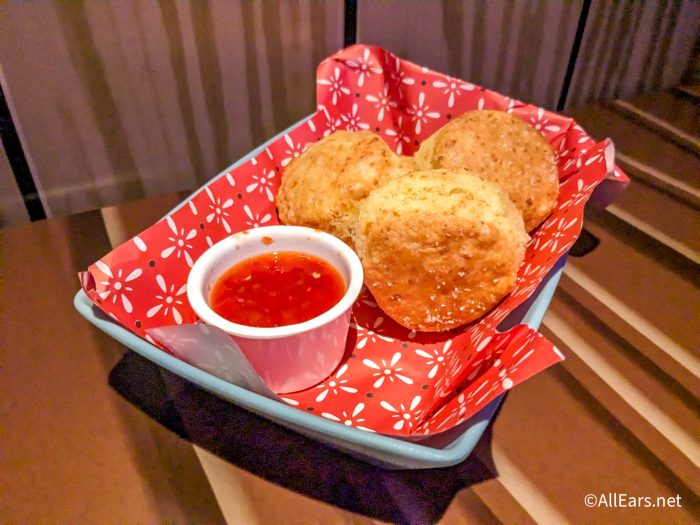 Note, however, that there is an allergy-friendly bread available, so if you have allergy concerns ask about that.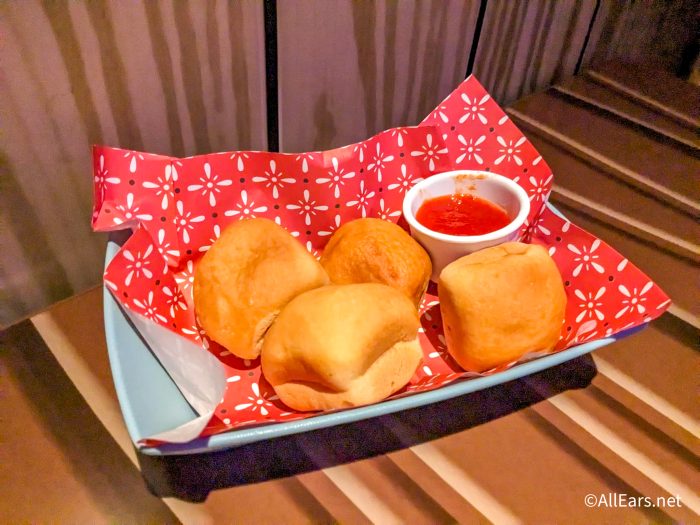 Then we were served our salads (the table gets to enjoy all 3).
It's time for appetizers! Each table gets a tomato salad, a romaine and kale salad, and a watermelon salad! Can't forget the cheddar biscuits too! pic.twitter.com/WBgCJEZKiI

— AllEars.Net (@AllEarsNet) March 23, 2023
The salads include a Tomato Salad, Watermelon Salad, and Romaine and Kale Salad.
First, we started with Rex's Romaine and Kale Salad. The salad came with apples, dried cranberries, and pumpkin seeds with a green goddess dressing.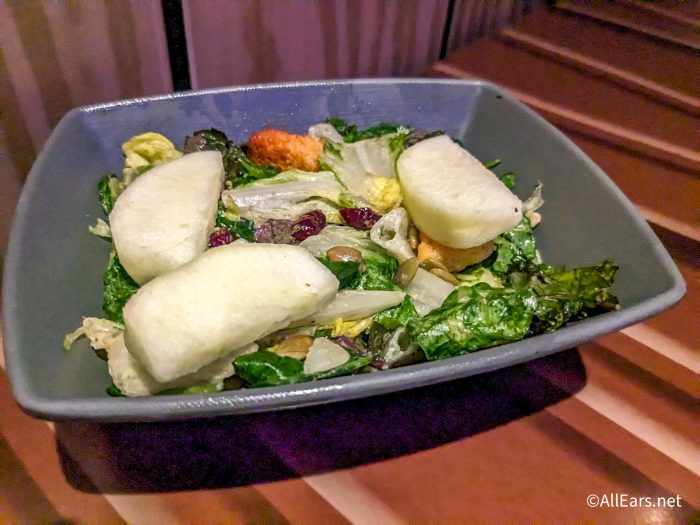 Next, we tried the Rootin' Tootin Tomato Salad which has cucumbers, pickled red onions, and white balsamic vinaigrette.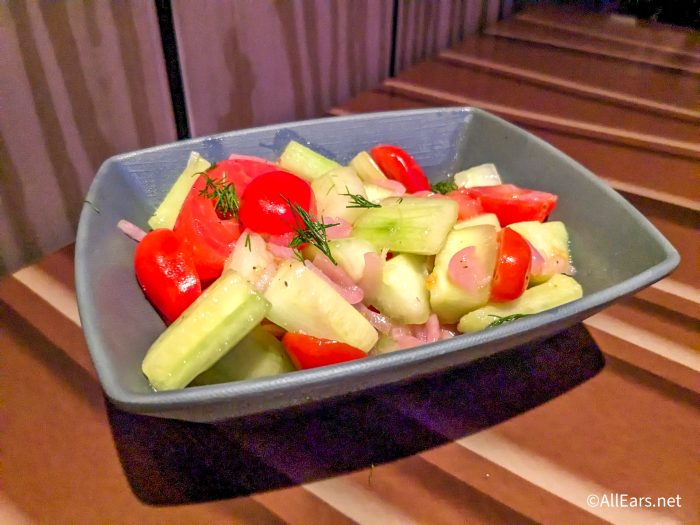 The final salad is Wheezy's Watermelon Salad topped with fresh mint.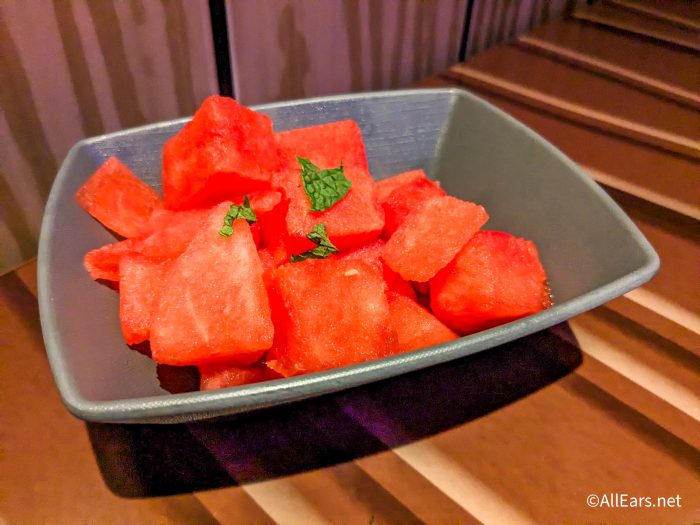 Then it was time to enjoy a platter of MEAT!
Bring. On. The. BBQ! pic.twitter.com/9yfKih5vic

— AllEars.Net (@AllEarsNet) March 23, 2023
The meats are all you care to enjoy (they're served family-style but you can ask for more of what you'd like)!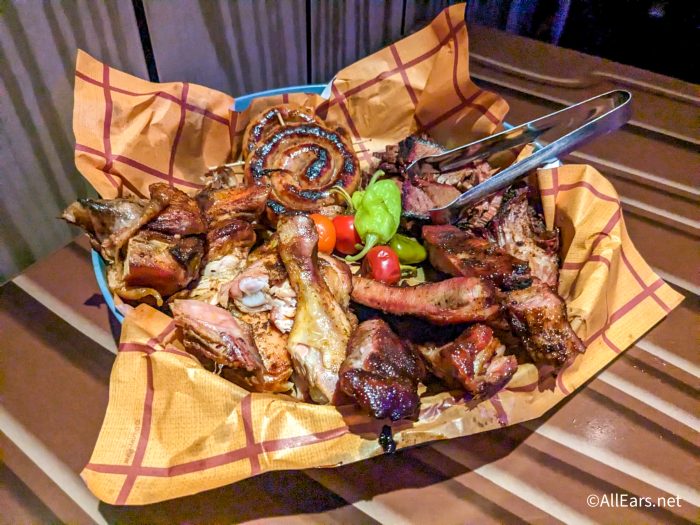 We tried Evil Dr. Smoked Ribs…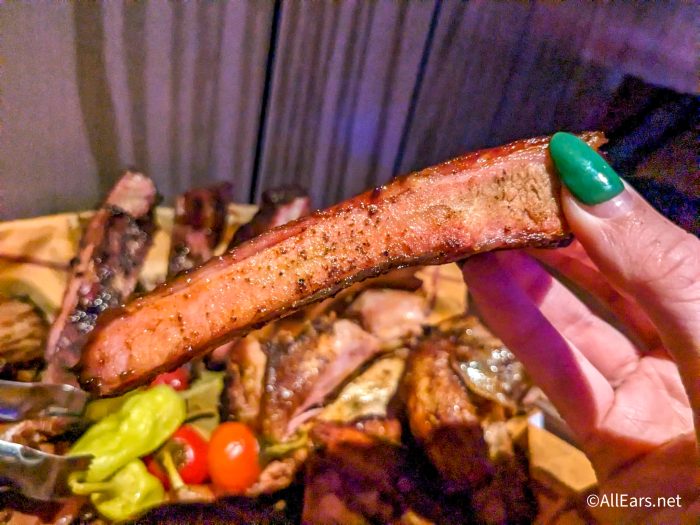 …and There's a Sausage in my Boot which is Fire-grilled Pork Sausage…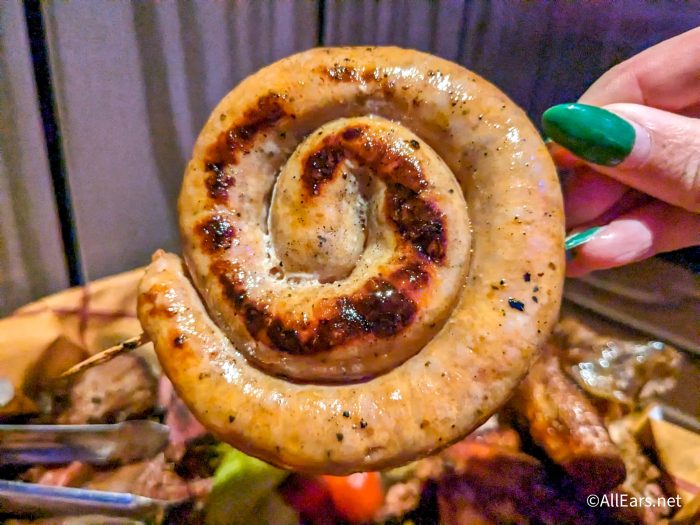 …along with Buttercup's Beef Brisket…
…and finally, BBQ Chicken.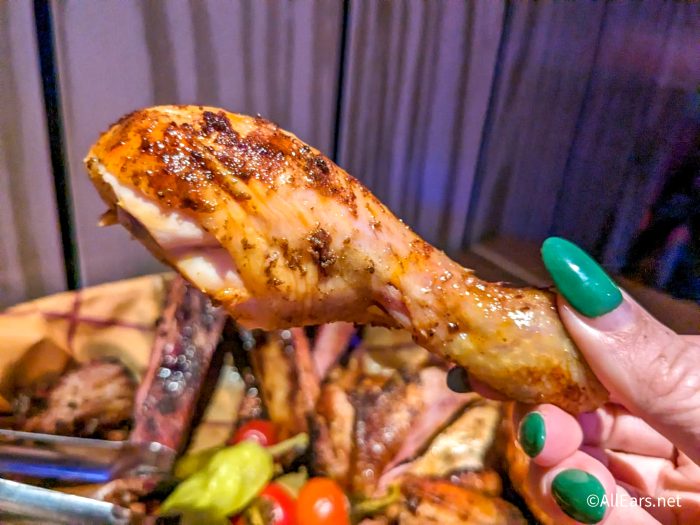 We can't forget all the sauces that come with the meats — choose from sweet, classic, and spicy!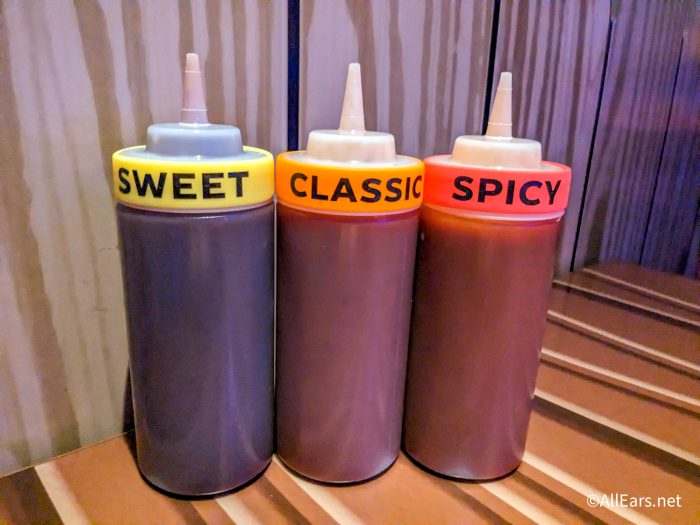 We also got to try Trixie's Plant-Based Trio, which comes with Combat Carloflower with Harissa Drizzle and Walnut Gremolata, Scrumptious Bratwurst, and Rip Roarin' Rib Chop.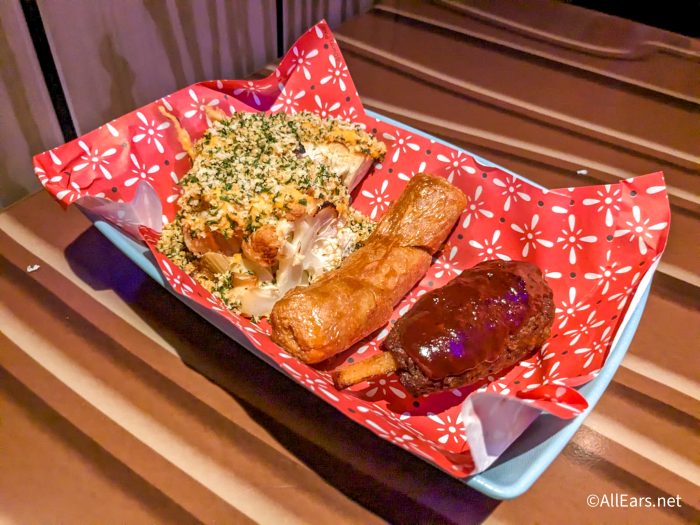 For sides, each table receives 4 sides initially (you select the ones you want). But we spoke to a Cast Member who said you can get as much as you want, Disney just asks that you initially start with 4.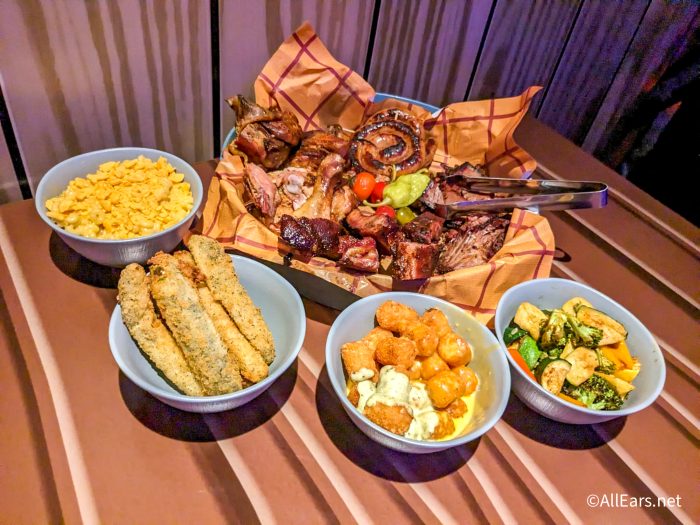 We tried Slinky Dooooooooooooog's Mac & Cheese…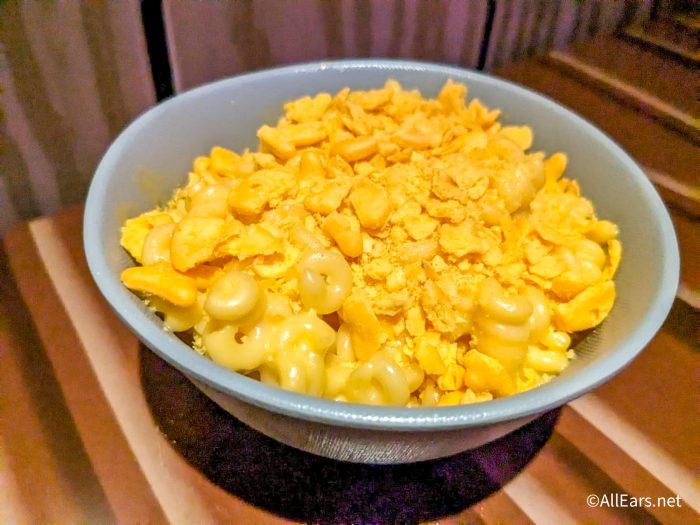 …Buckin' Bake Beans…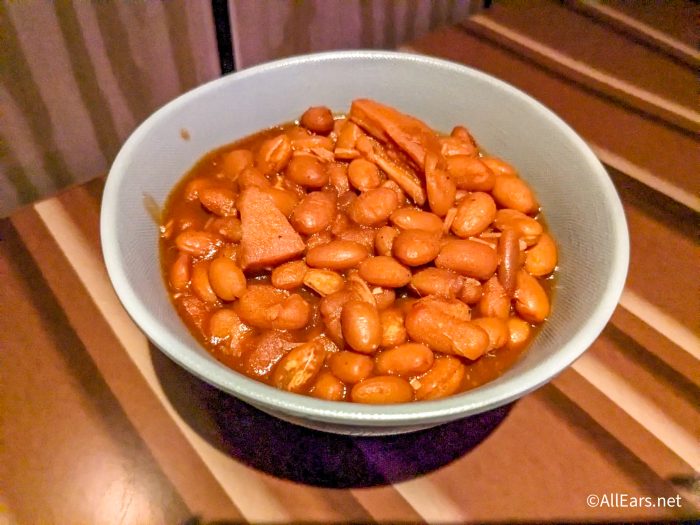 …Veggie Slaw…
…Cowpoke Corn on the Cob…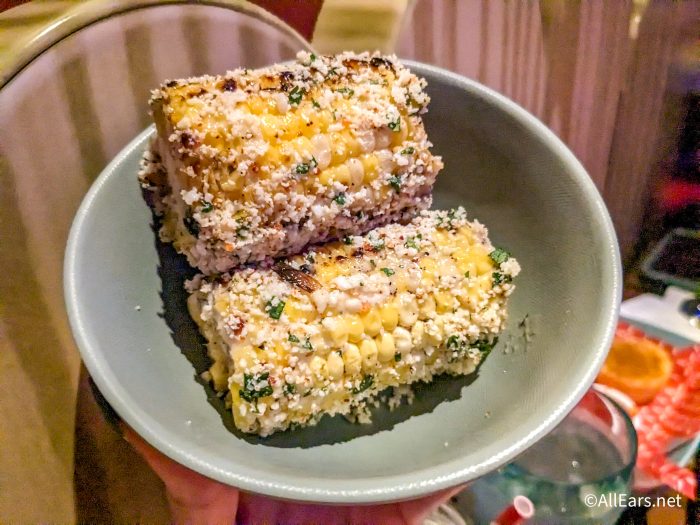 …The Married Spuds — loaded potato barrels…
…Force Field Fried Pickles…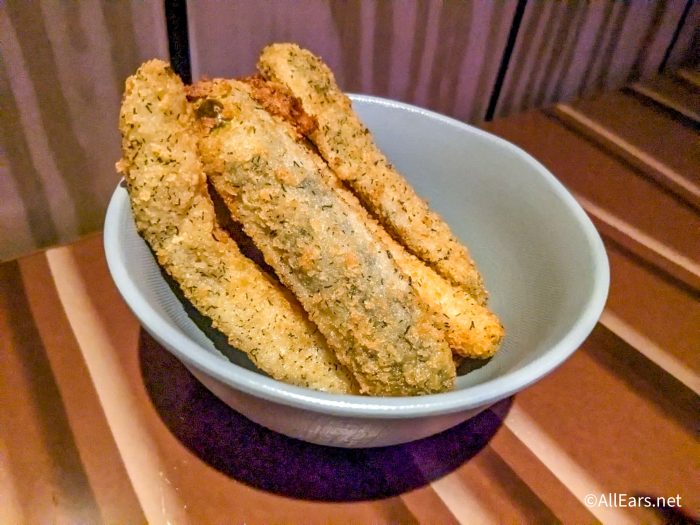 …and finally, the Campfire-Roasted Vegetables.
Up next, DESSERT! Each person is meant to pick 1 but again a Cast Member told us that it is all you care to enjoy. Be sure to ask and see what the situation is like when you visit.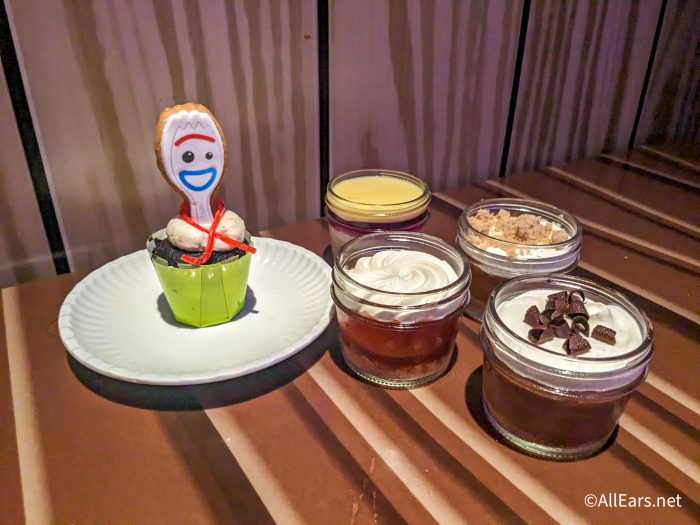 We got the Cupcake a la Forky…
…Goat's Apple Pie…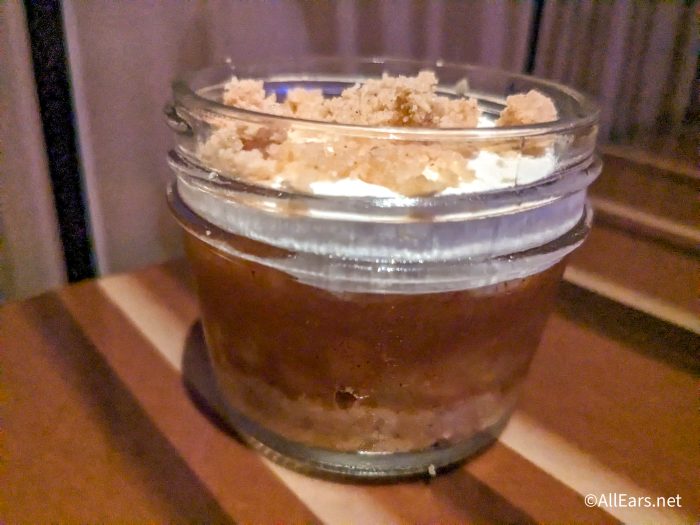 … Billy's Chocolate Silk Pie…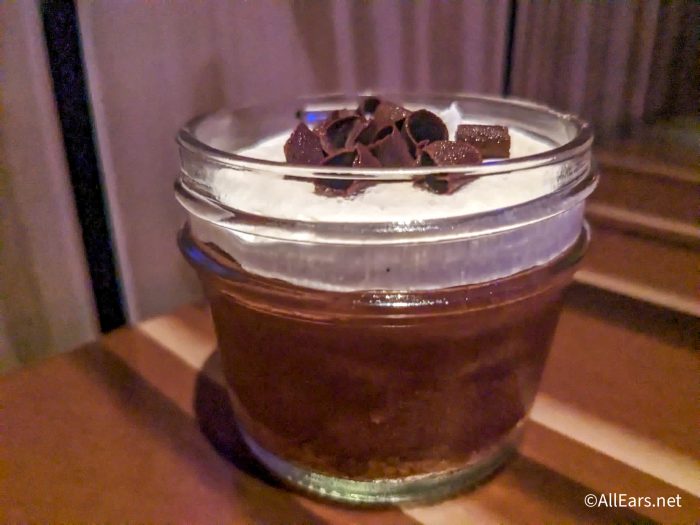 …Gruff's Peach-Strawberry pie…
…and finally, Bo's Lemon and Blueberry Cheesecake.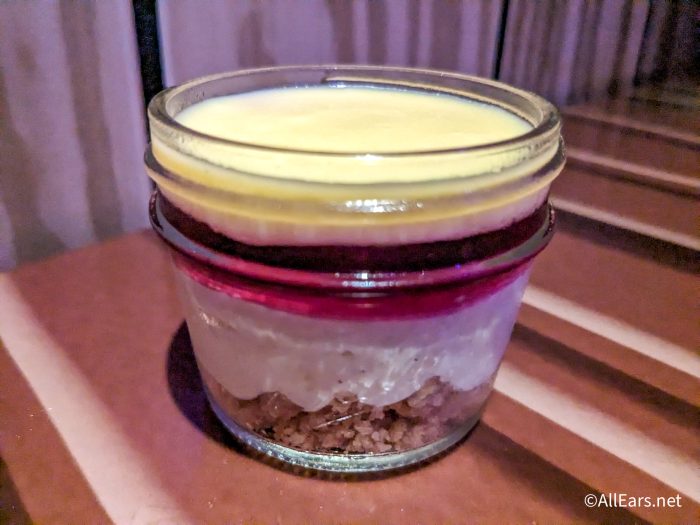 Of course, we can't forget about our drinks. We got the Frozen Cowpoke Cocoa which is a Frozen Cocoa and Minute Maid Vanilla Smoothie topped with Mini Marshmallows.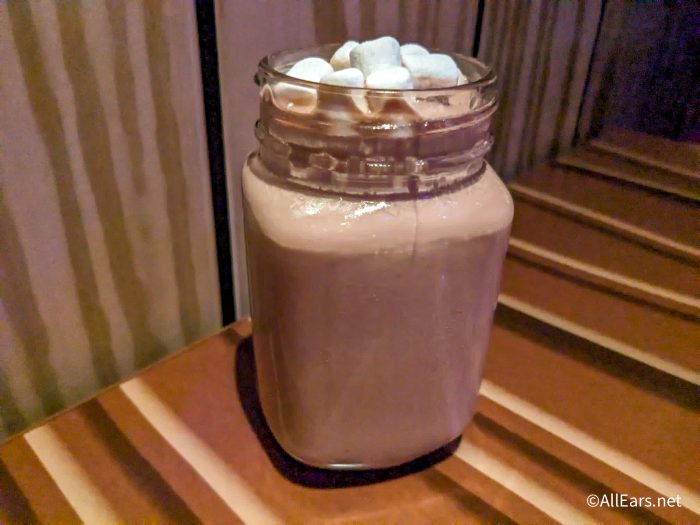 Plus, we tried the Partusaurus Tex featuring Minute Maid Lemonade and Strawberry Puree with gummy warms…
…and Grown-Up's Peanut Butter & Jelly featuring Frozen Skrewball Peanut Butter Whiskey, Minute-Maid Vanilla Smoothie Mix, and Grape Jelly.
Finally, we were finished! Check out the giant pencil we got to sign our check (our handwriting might not have been the best with this huge thing but oh well, when in Toy Story Land!).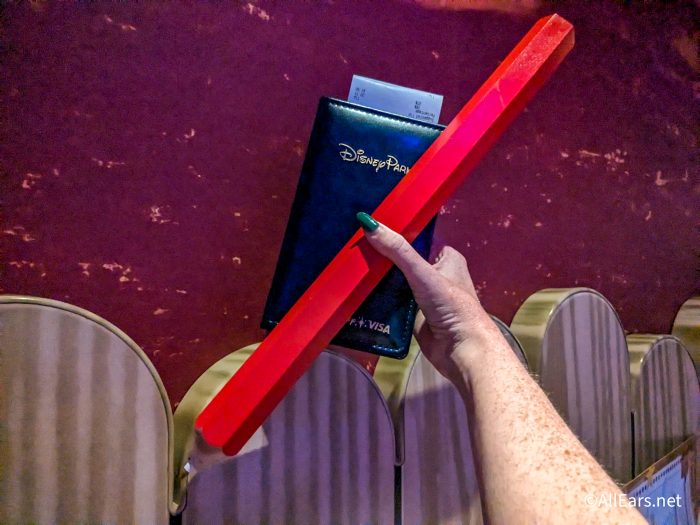 It was a rootin' tootin' good time!
As we mentioned before, we got to check out this restaurant through a media event a few days ago and shared a look at the food — you can see our initial thoughts here. But we were excited to get the "full" experience now that it's available for everyone to enjoy.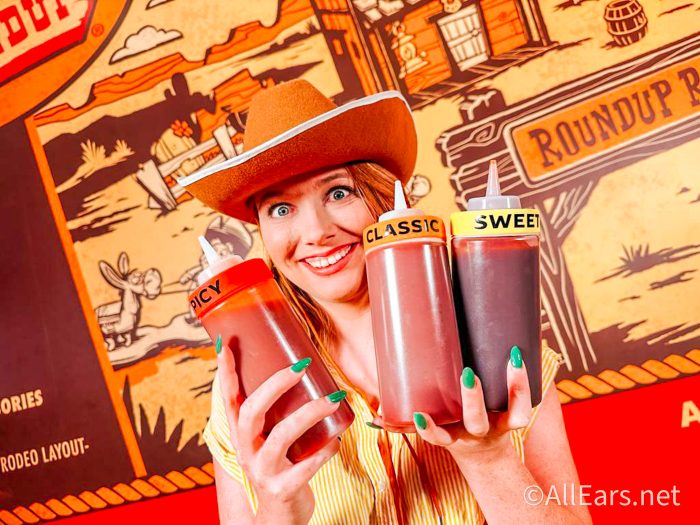 There's so much to see while you dine here, so you'll really want to take several minutes to take everything in.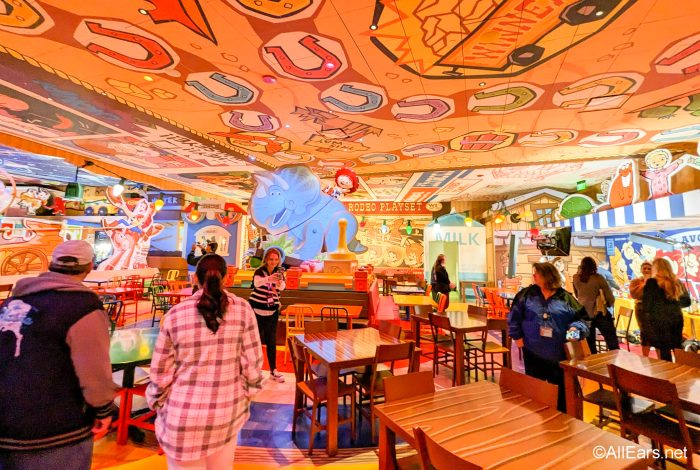 Because this is a brand new restaurant, we recommend that you grab your reservations ASAP as they could fill up quickly. And as always, stay tuned to AllEars for all the latest Disney news!
What are your thoughts on this new restaurant? Tell us in the comments below!