We hope you brought your appetites with you to read this — because it's time to dig into some barbecue!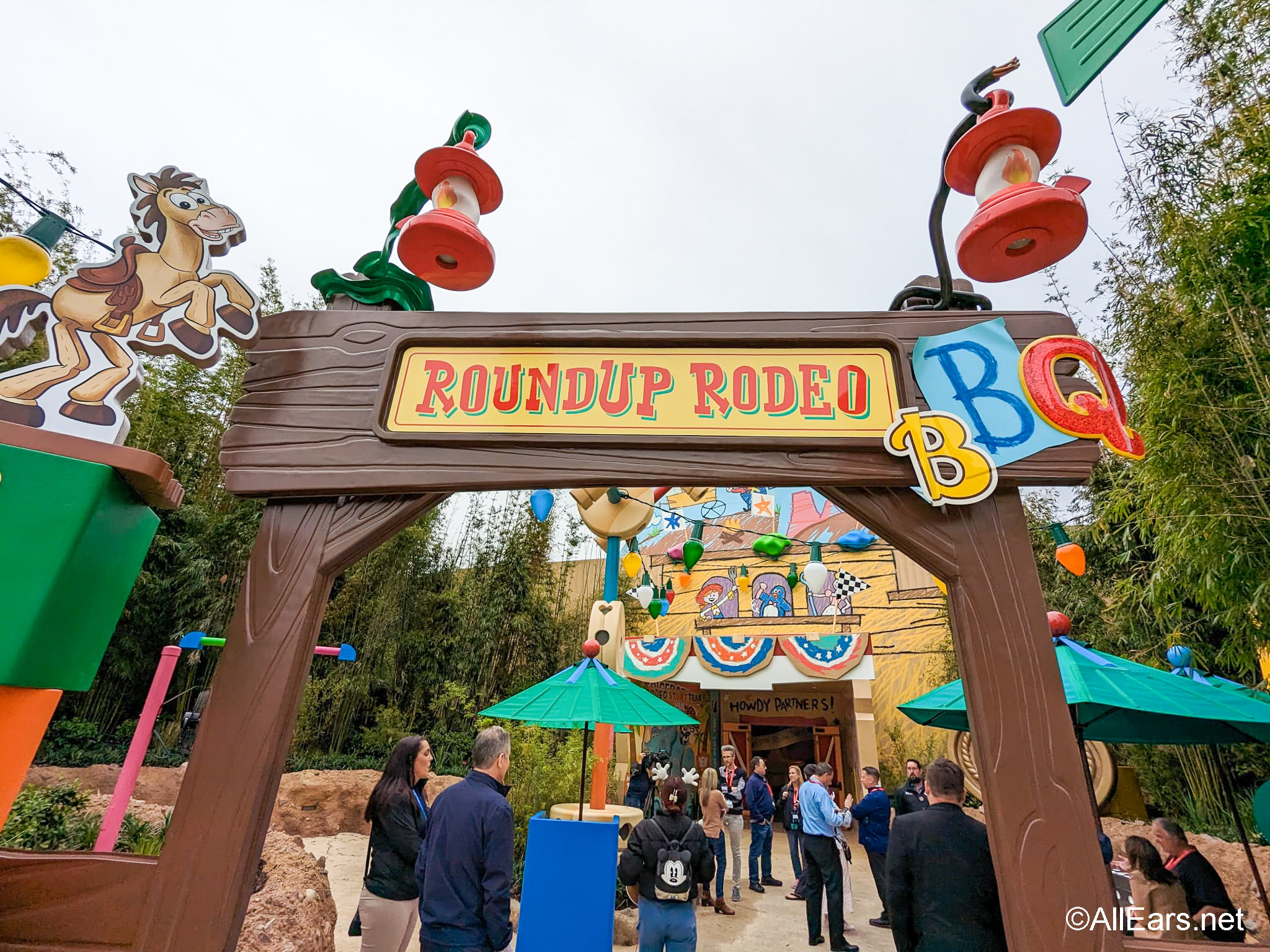 Roundup Rodeo BBQ is opening in Disney's Hollywood Studios on March 23rd, but we were lucky enough to get a sneak peek at the restaurant — and try some of that sweet and smokey barbecue! Come with us to check out everything you need to know.
We're checking out Roundup Rodeo BBQ in Disney's Hollywood Studios for the very first time and bringing you with us! Disney invited us to try some of the new eats and we couldn't wait to dine in and share our thoughts with you.
Roundup Rodeo BBQ is the newest table-service restaurant at Hollywood Studios, and you can make reservations now for dates after the restaurant's March 23rd opening. Here's what you'll see when walking into the new location.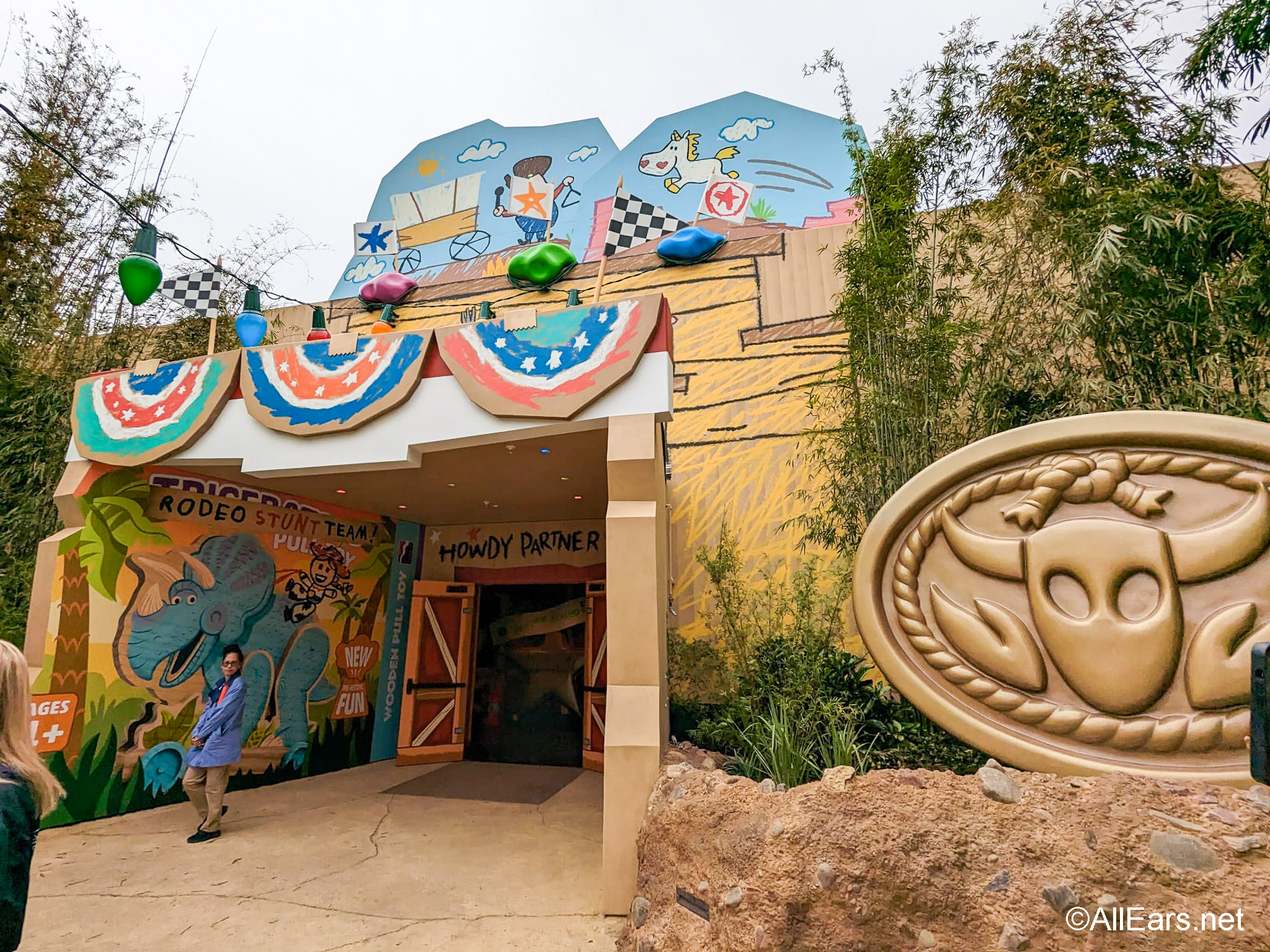 For some background, the idea here is that you're dining in Andy's backyard, in a play arena he created for all his toys. The western-style setting has a steam train supported by colored pencils, a house of cards, and game boards with characters from the Toy Story movies.
This is a prix fixe meal and the cost for adults is $45 and $25 for kiddos.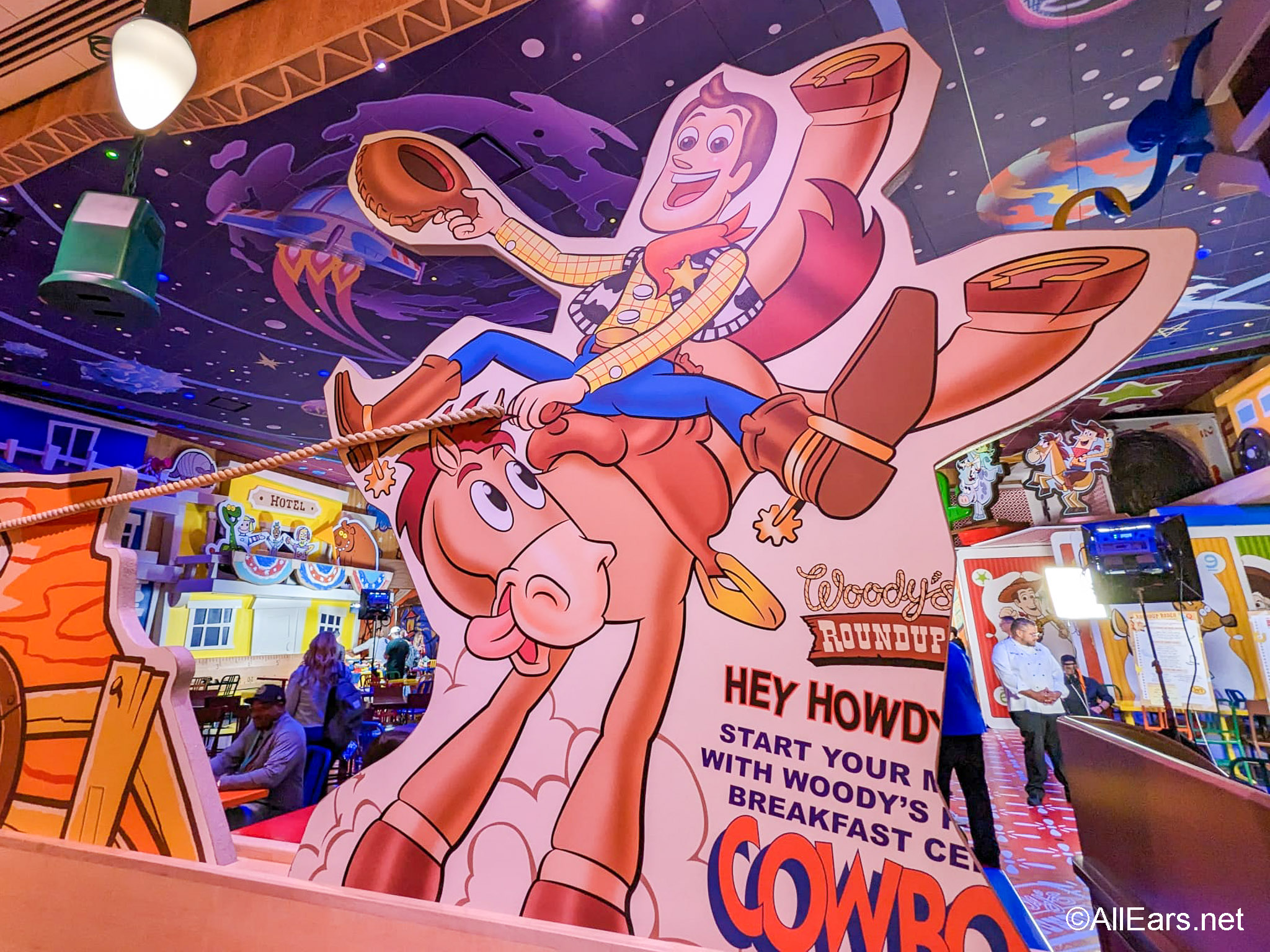 You'll find all sorts of toys and nods to the Toy Story movies plus the characters we know and love. There are a few different seating areas, but no matter where you are you'll certainly be part of all the action. But, you're here to look at the FOOD, right?! Let's check it out.
We were lucky enough to be invited to check out some of the new eats — check out the full spread of what we got to try! There are a ton of foods on this menu, and we only tried a few items this time around, but you can be sure we'll be back for a full review.
Of course, in typical Disney fashion, we started off with some bread! But not just any old bread — The Prospector's Homemade Cheddar Biscuits with Sweet Pepper Jelly. See all those little pockets of cheddar?! Oh yeah, that's the good stuff.
These were soft and almost scone-like, but not too flaky. They had a great flavor thanks to the cheddar, though we weren't particularly wowed by these. The pepper jelly they're served with, though, is divine! It was sweet and zesty with a bit of a savory tang thanks to the peppers. It was excellent when combined with the biscuits.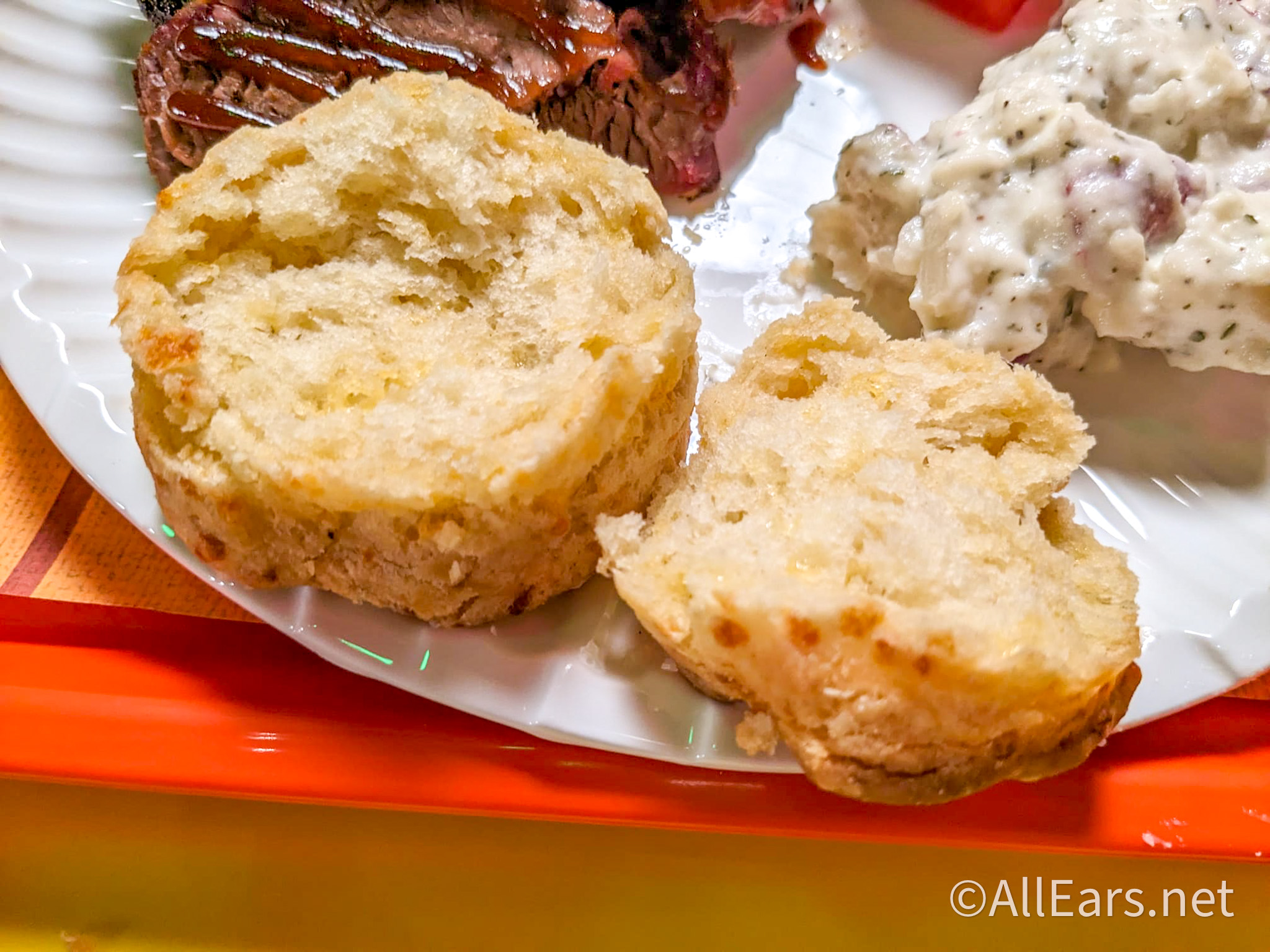 Next, we moved on to the MEATS. The Evil Dr. Smoked Ribs are fall-off-the-bone pork ribs, slow-cooked for hours in the onsite smokehouse. They were absolutely true to their name — they easily fell off the bone and were so tender. They were a lot sweeter than they were smokey, but the crispy charred bits on the outside added a great texture and smoked flavor.
We also tried Buttercup's Beef Brisket, which is hand-sliced brisket, smoked, and then slow-cooked to juicy perfection. We thought this was sweet rather than too smokey as well, but it was so, so tender and basically melted in our mouth. And, when you add those homemade sauces this whole dish is taken up a notch.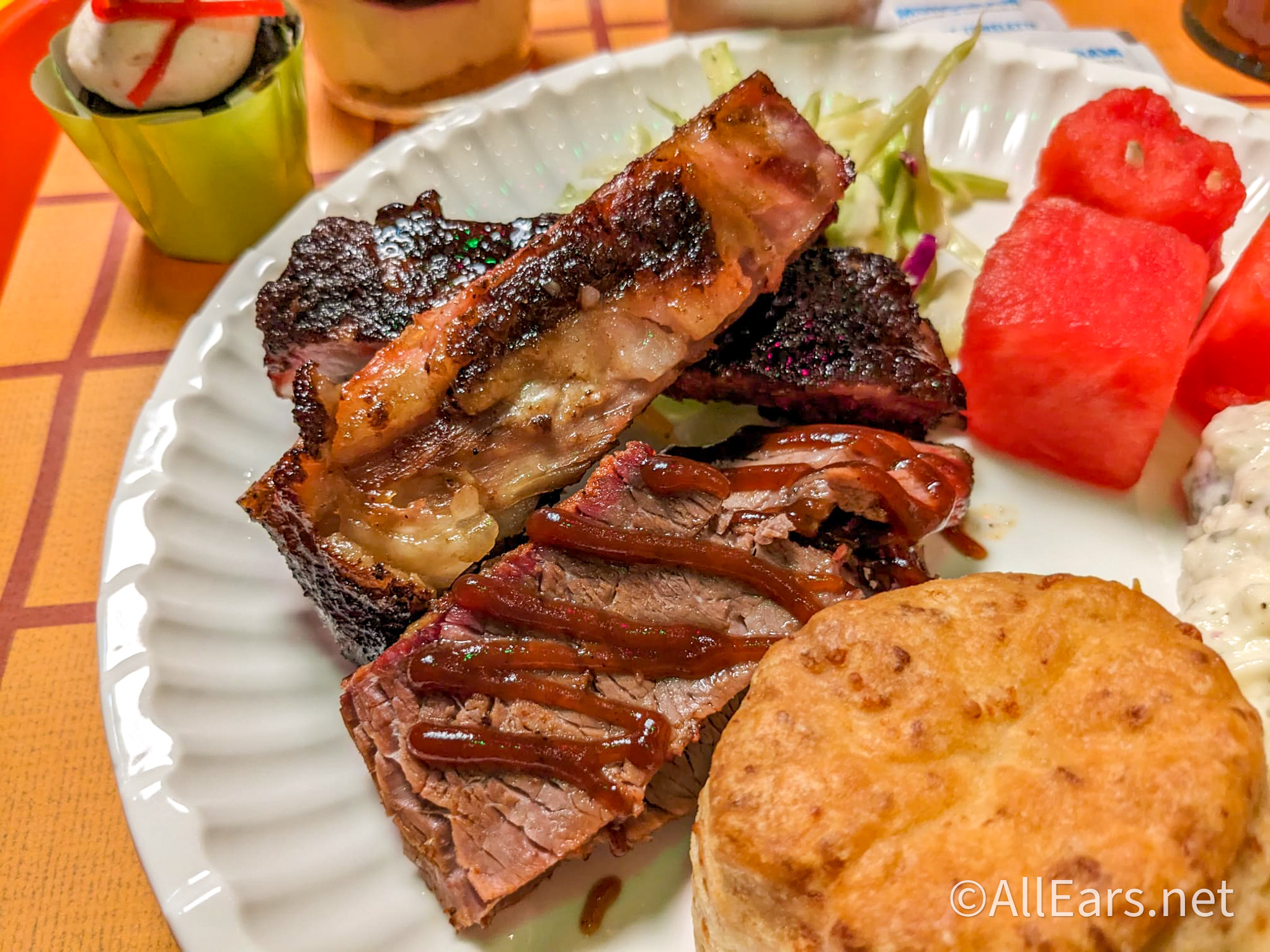 Speaking of those sauces, let's talk about 'em! The Sweet is really nice and reminded us of Sweet Baby Ray's if you've ever had that — just a solid, sweet sauce.
The Classic sauce is rather peppery and vinegary. There's a bit of a tang from the vinegar, but not a whole lot of heat. This would be good for folks who like a looser, vinegary sauce.
The Spicy sauce reminded us of Louisiana Hot Sauce! It wasn't super spicy but that flavor builds after a while. It wasn't overly smokey, but would be good for folks who are looking to kick things up a notch.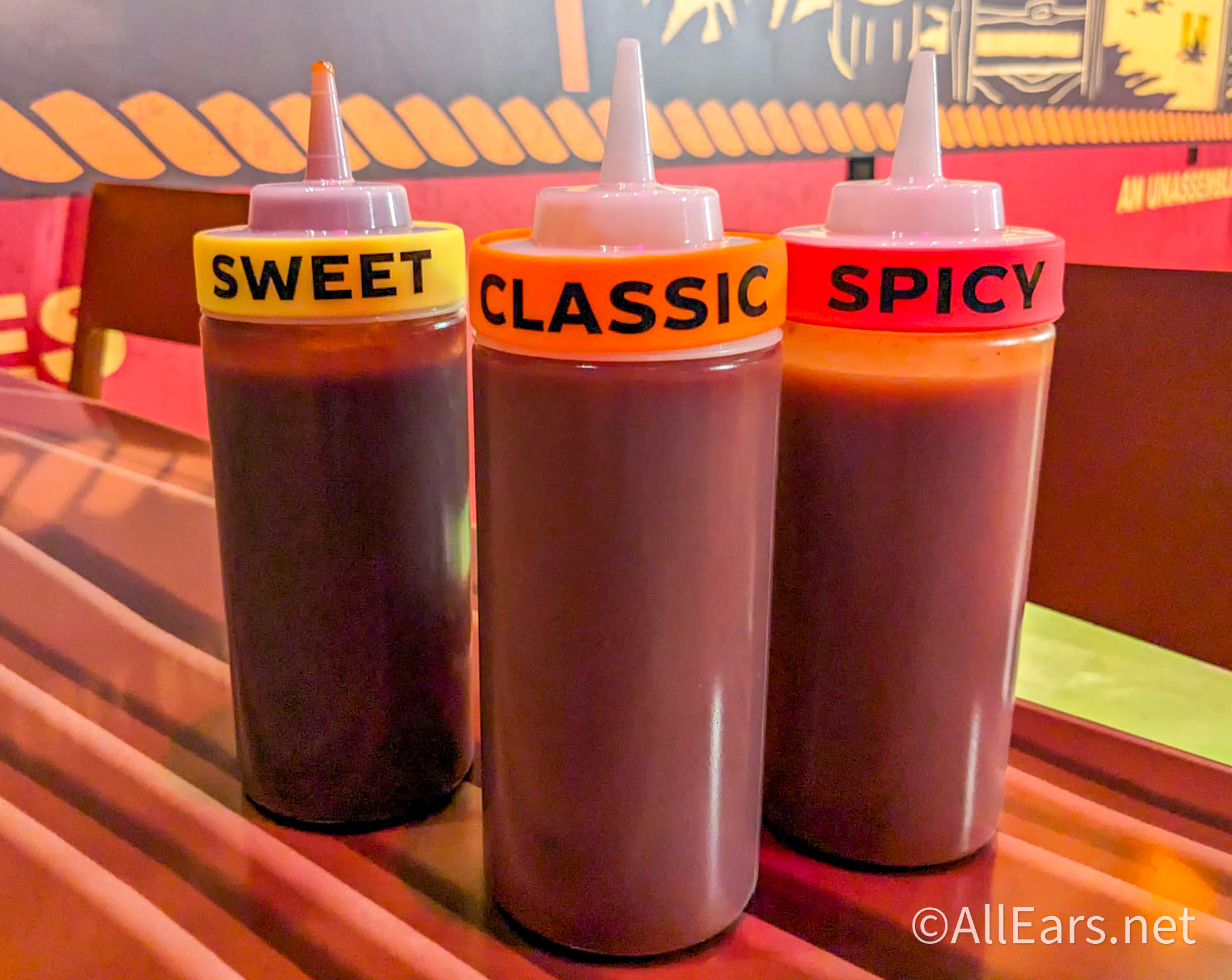 You'll find plenty of sides on the menu, and we kicked things off with the Veggie Slaw — a plant-based crunchy shredded veggie slaw. If you're looking for veggies with a side of your meat, this is definitely for you! It was light, juicy, and crunchy. It was on the earthy side, and the vinaigrette was a little sweet. It wasn't the best slaw we've ever had, but we enjoyed it.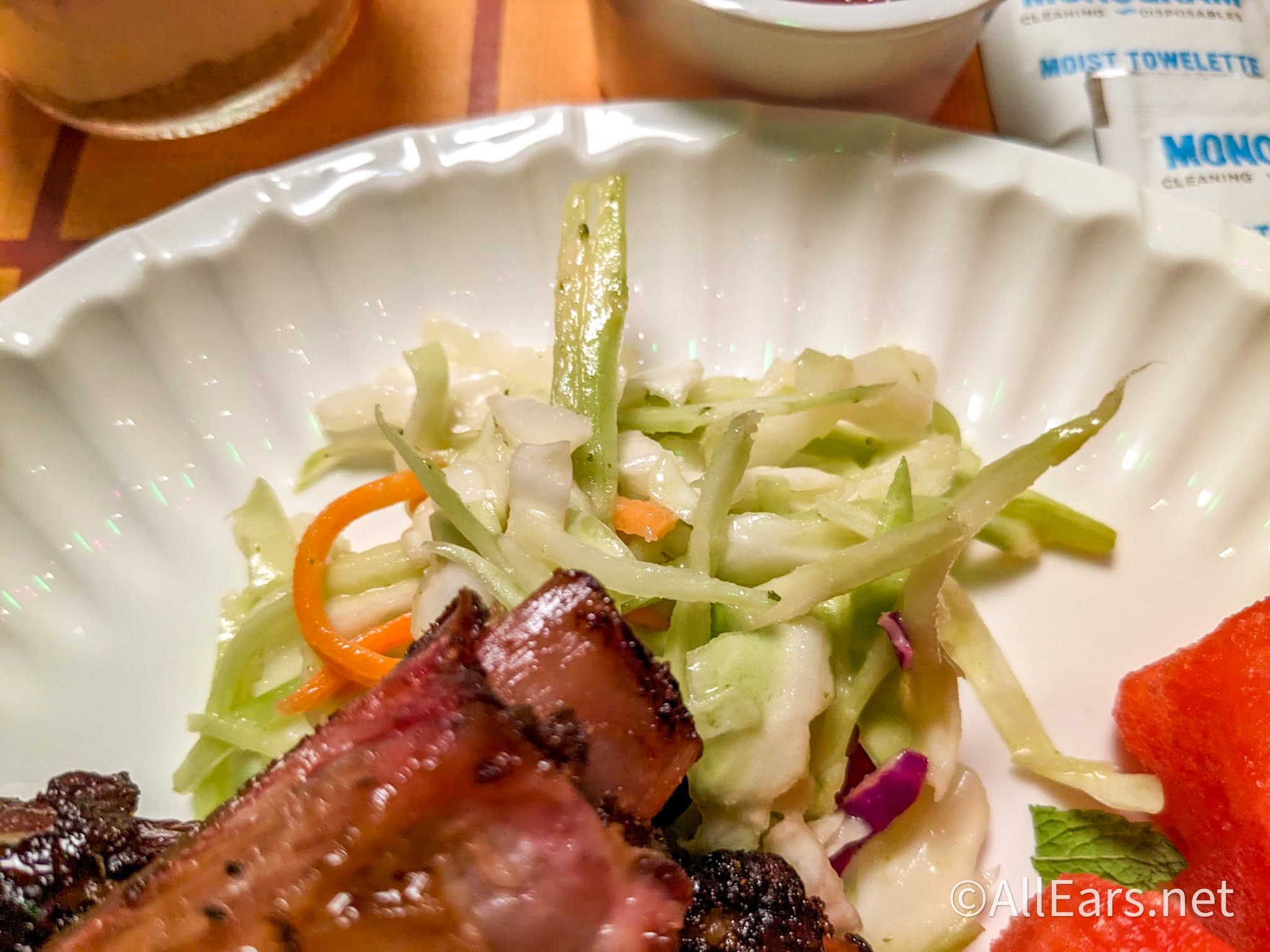 We promise the Mean Old Potato Salad was not made from any personified potato you might know and love, but it is a homestyle potato salad with red-skinned potatoes. We really enjoyed this — it was super peppery and crunchy thanks to the skins. It had a great creaminess and tasted a bit on the salty side, so if you're super sensitive to that you might want to keep that in mind.
Wheezy's Watermelon Salad was a super refreshing combination of watermelon and freshly torn mint leaves. It tasted exactly like you'd expect — incredibly refreshing and light, and a nice compliment to the heavier items on the plate.
To wash our main meal down, we had a delicious Peach Iced Tea. You can't go wrong here — there was a light peach flavor, and it wasn't too sweet. To us, it tasted like something a sweet southern grandma would make for you on a hot day.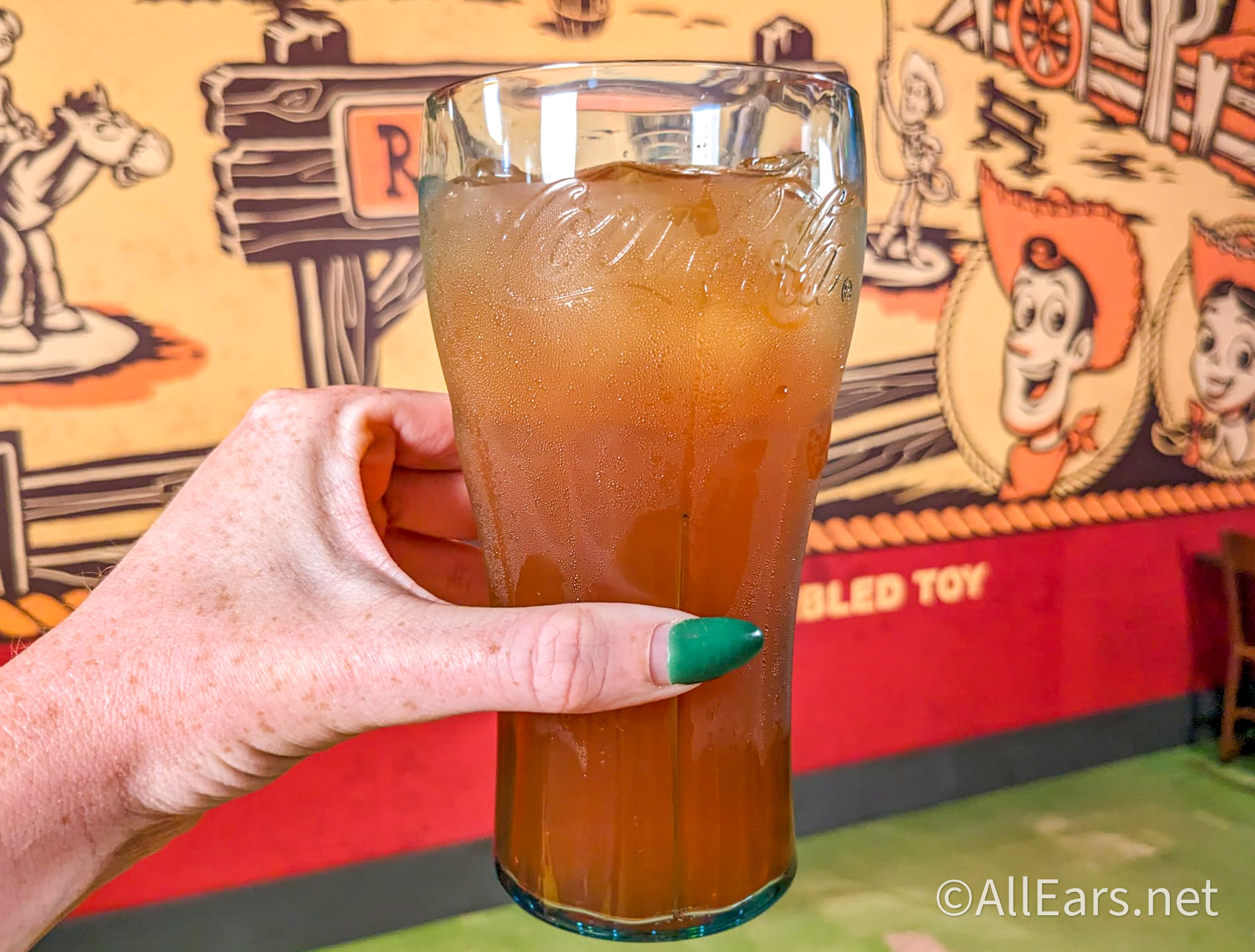 Did you think we were skipping dessert?! We tried Goat's Apple Pie served in a Mason jar, which is made from tart apples and warm pie spices along with a creamy sweet filling and a crumble crust.
This definitely tastes homemade — it's very cinnamon-y and sweet. The apples weren't too mushy and still had a nice snap to them. If you've ever had the baked apples from Cracker Barrel, this reminded us of those!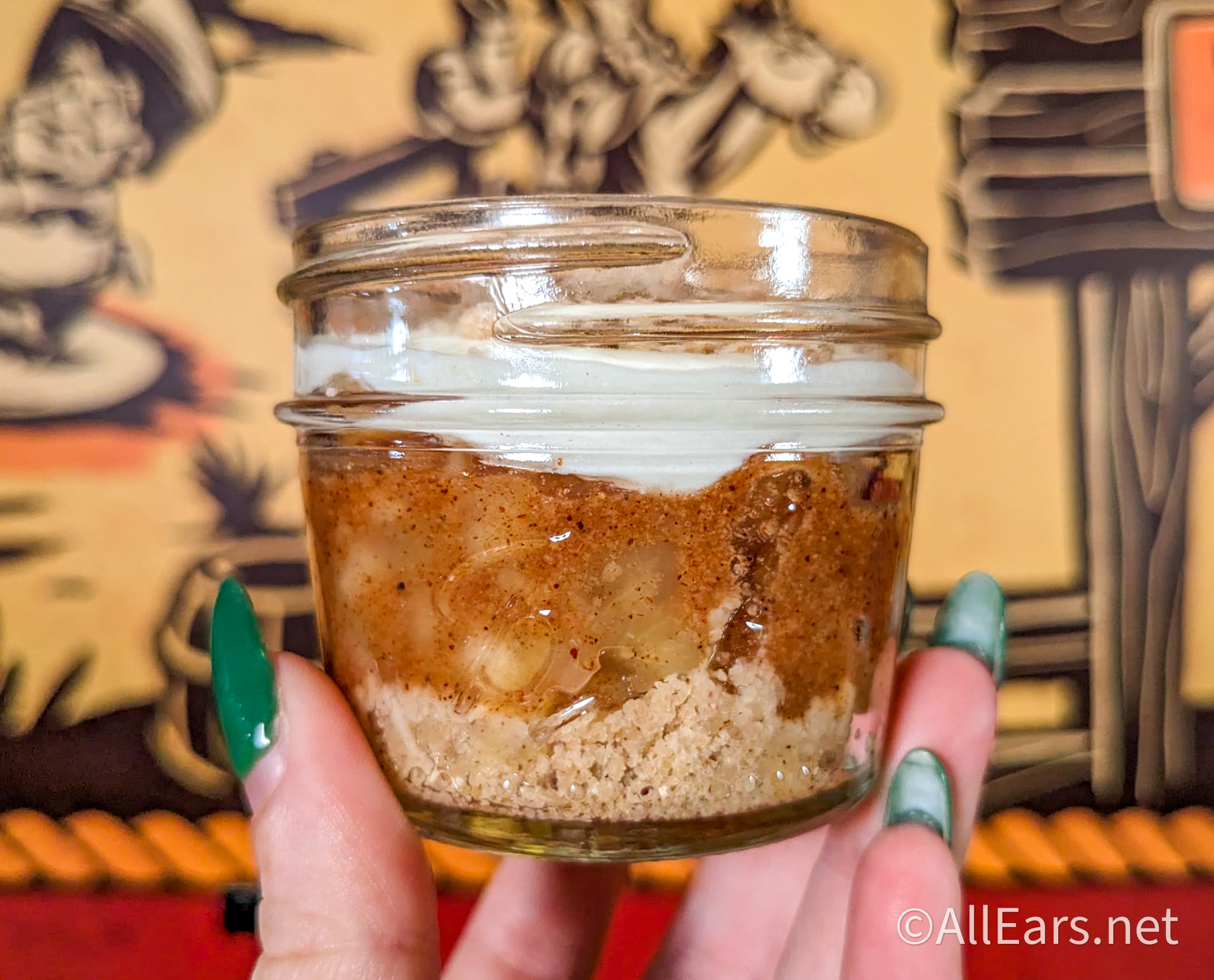 We also tried Bo's Lemon and Blueberry Cheesecake, which was our personal favorite and that's coming from our reporter who is normally an apple pie person. The lemon on top is light and tart, but our favorite part was the blueberries. They were sticky and sweet, and we still found some whole blueberries in ours. The cheesecake was rich and creamy, and a really great addition to the fruity flavors.
And finally, we tried the Cupcake à la Forky, which is a classic chocolate cake with a gooey chocolate ganache center topped with velvety graham cracker buttercream and a sugar cookie.
This is definitely geared toward kids as it's a little on the smaller side. It was pretty darn sweet and reminded us of a grocery store cupcake. There's a gooey chocolate center that helps the dryness of the cupcake. The Forky cookie is an adorable touch and kids will love it. It's a shortbread cookie and was nice and crumbly.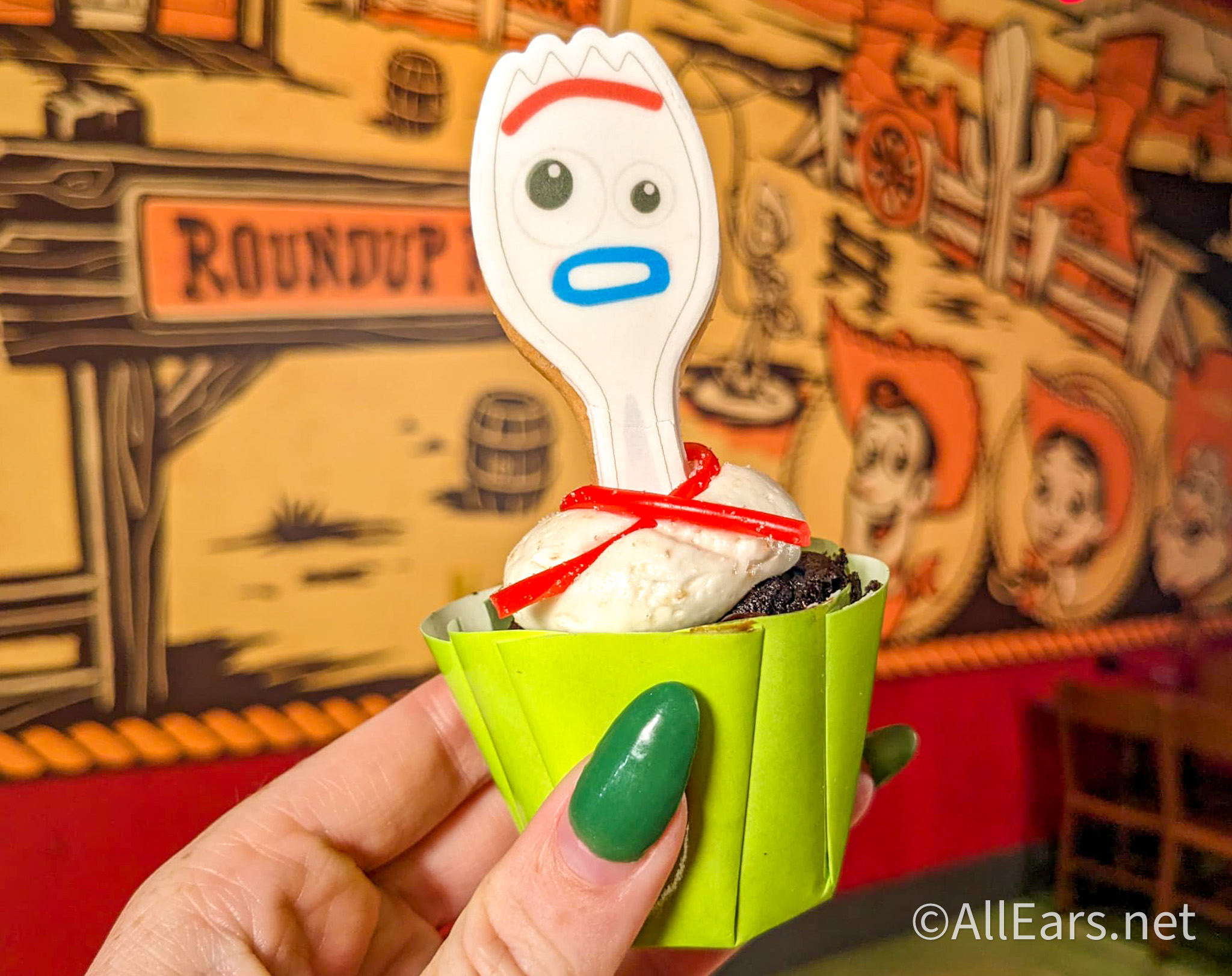 Overall, we really enjoyed our experience at Roundup Rodeo BBQ, and think it will make an excellent addition to Hollywood Studios. The barbecue was more along the lines of a backyard family barbecue rather than the regional barbecue you can find somewhere like Regal Eagle.
This would be a great spot for families to take a break from the park while still being entertained and getting some delicious eats. The environment is fun, with short show-like moments and interactions with Cast Members.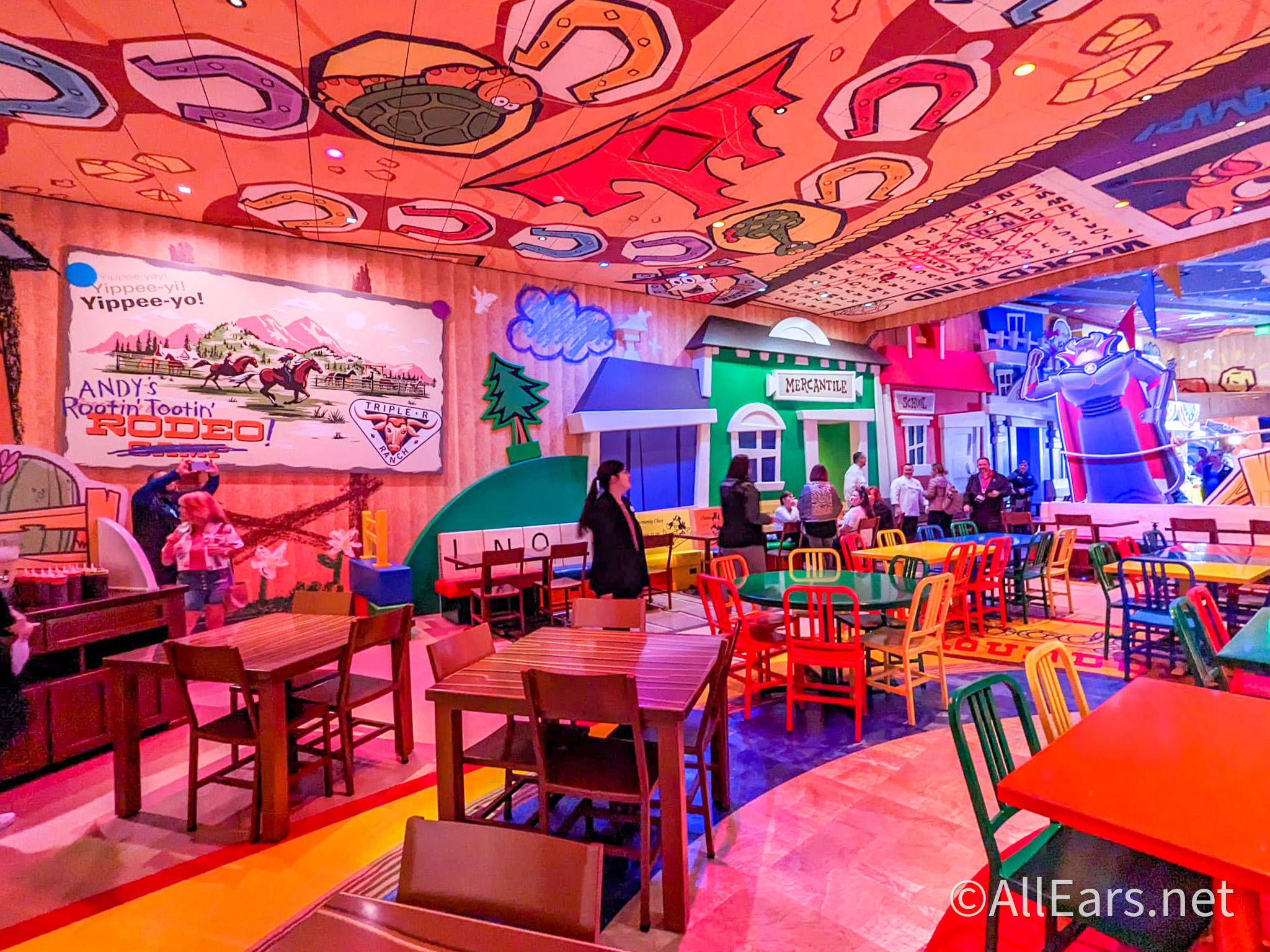 Be sure to stay tuned to AllEars for more news from Roundup Rodeo BBQ before it opens — and after!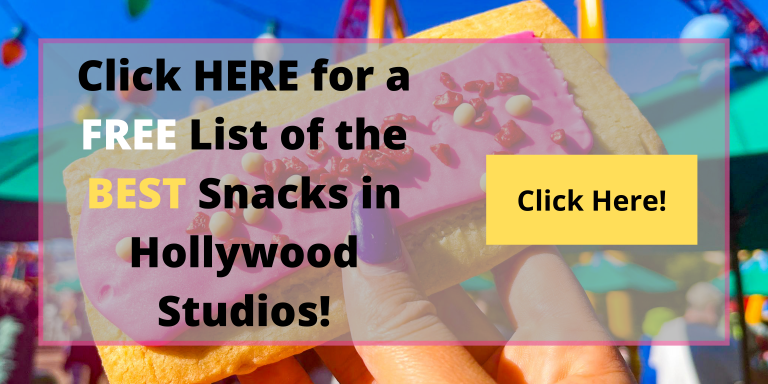 Will you be dining at this new spot? Let us know in the comments.
Disclosure: We were invited by Disney to attend a media preview of Roundup Rodeo BBQ. This did not affect our reporting of the event — our opinions are our own.