The day has finally arrived: the BoardWalk Deli has officially opened at Disney's BoardWalk!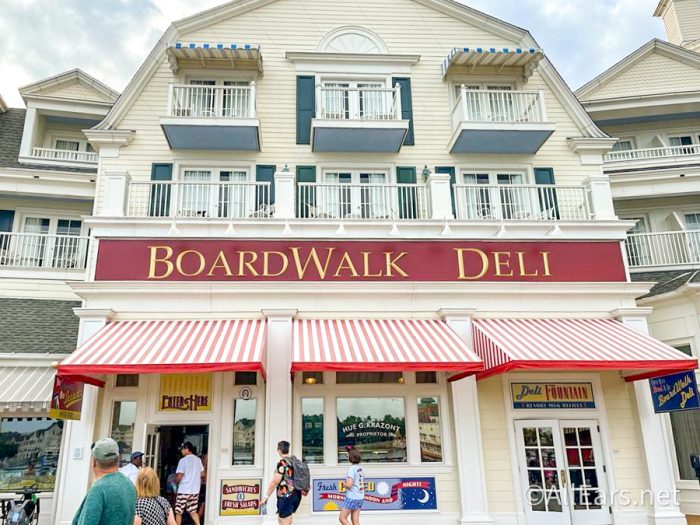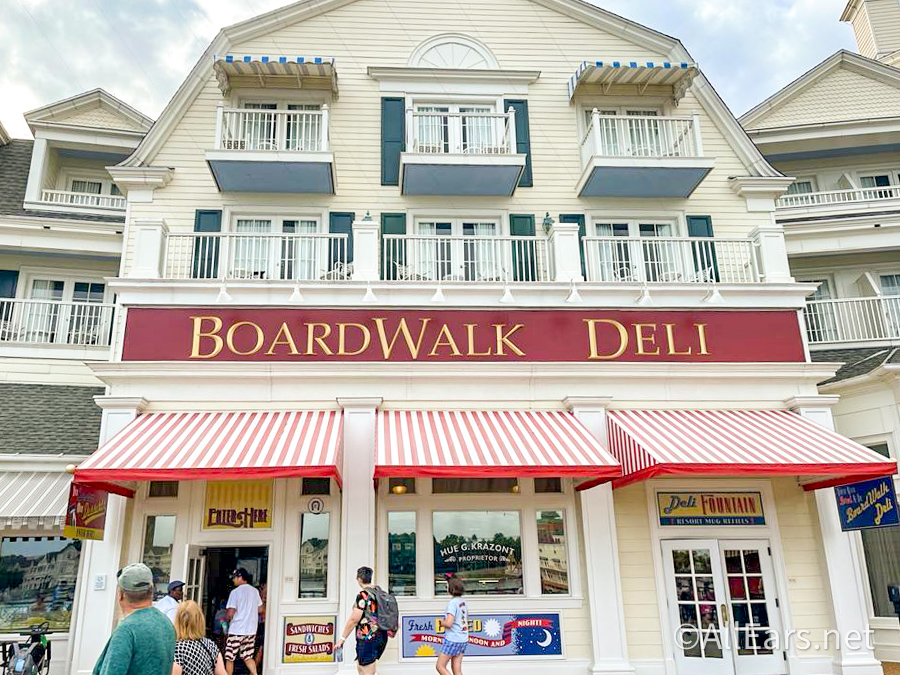 The BoardWalk Deli is the replacement for the BoardWalk Bakery and serves up some of the old favorites that used to be available at the bakery along with some new offerings like sandwiches, soups, and more! We've already brought you a first look at the items available at breakfast, and now it's time to take a look at what you can grab for lunch and dinner.
The lunch and dinner menus at the BoardWalk Deli are exactly the same. Without further ado, let's take a look at the FOOD!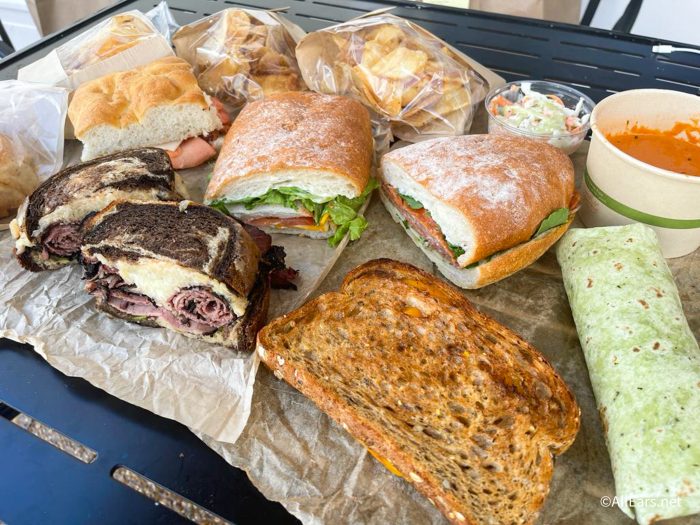 There are six new sandwiches on the menu, including a plant-based option, and we got all of them! First up is the Warm Pastrami Reuben. This sandwich is $12.99 and has Sauerkraut, Swiss, and Thousand Island Dressing on Marble Rye served with choice of side.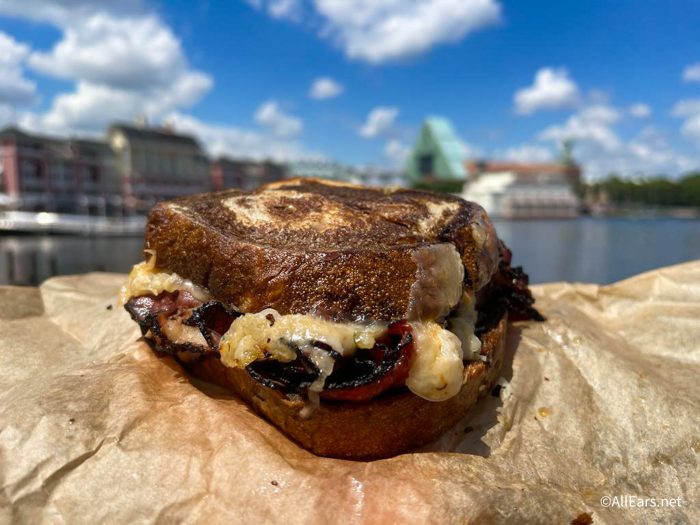 You can also get the Italian Sub which is $11.49 and has Capicola, Soppressata, Pepperoni, Provolone, Arugula, Tomato, Arugula Pesto, and Mayonnaise on Ciabatta served with choice of side.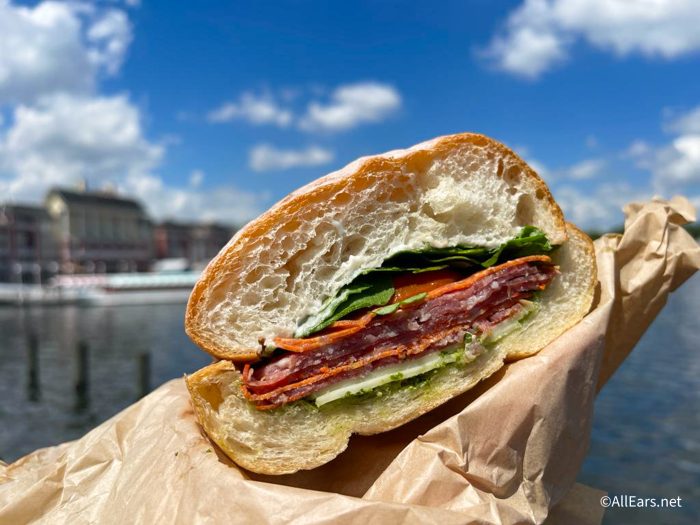 Feeling more like a wrap? You can get the Chicken Salad Wrap, which is Rotisserie Chicken, Grapes, Walnuts, and Mayonnaise in a Spinach Wrap served with choice of side, for $10.99.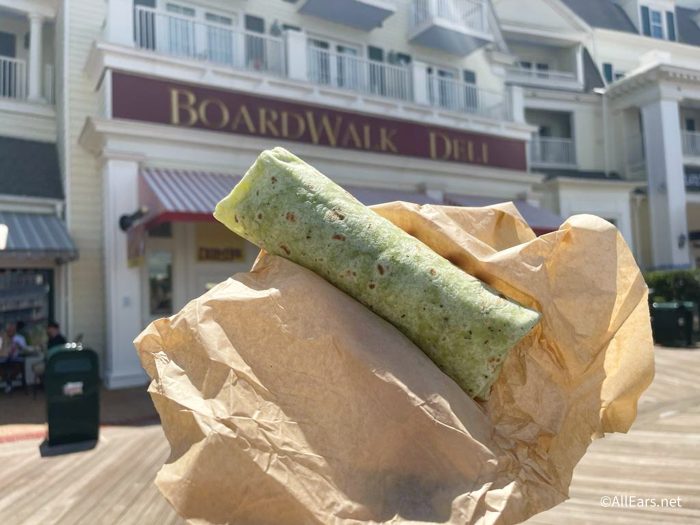 The wrap is stuffed full of chicken — take a look inside!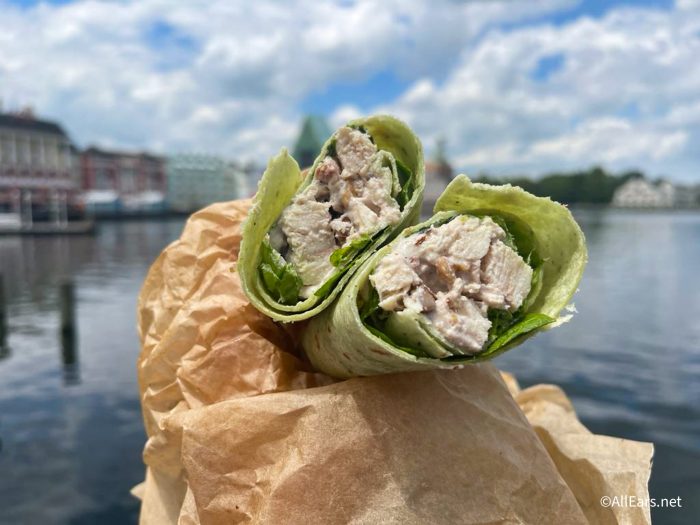 There's also a Roasted Chicken Sandwich, which comes with Cheddar, Lettuce, Tomato, and Roasted Garlic Aïoli on Ciabatta served with choice of side. It is $10.49.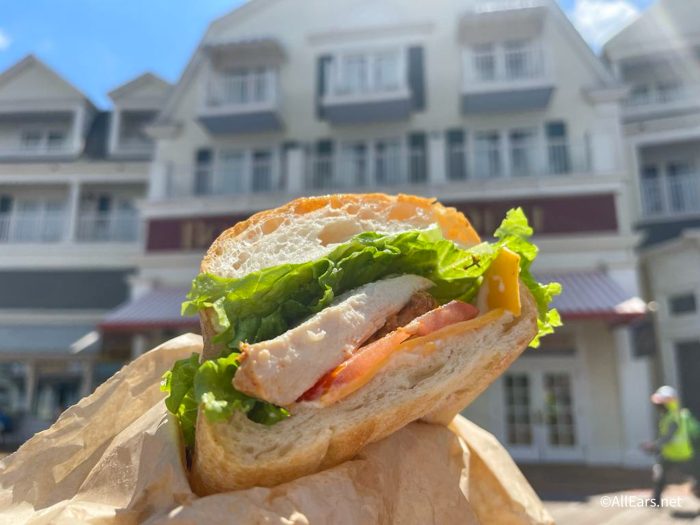 There's even an option for plant-based eaters with the Veggie Crunch Muffuletta, which is Cured and Pickled Root Vegetables, "Cheese", and Olive-Vegetable Tapenade on Focaccia served with choice of Side, for $10.49.
And the final sandwich on the menu is a classic: a Grilled Cheese Sandwich and Tomato-Basil Soup. This sandwich is Provolone and Cheddar on Multigrain served with Tomato-Basil Soup and is $9.99.
Take a look inside at all that cheesy goodness!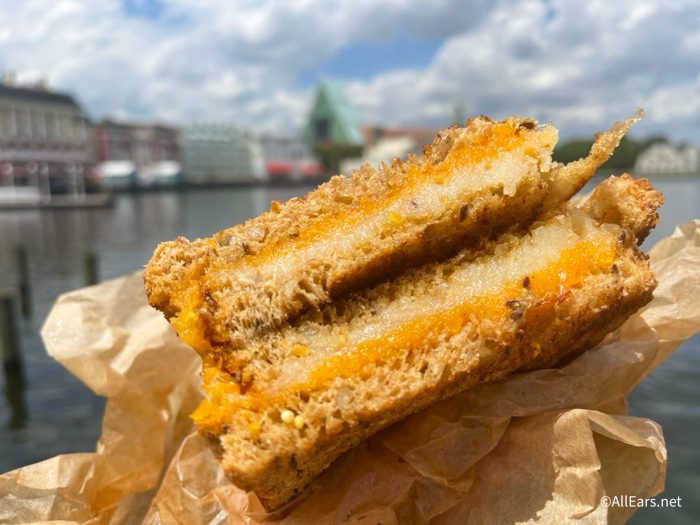 The sandwich is served with Tomato-Basil Soup, as well.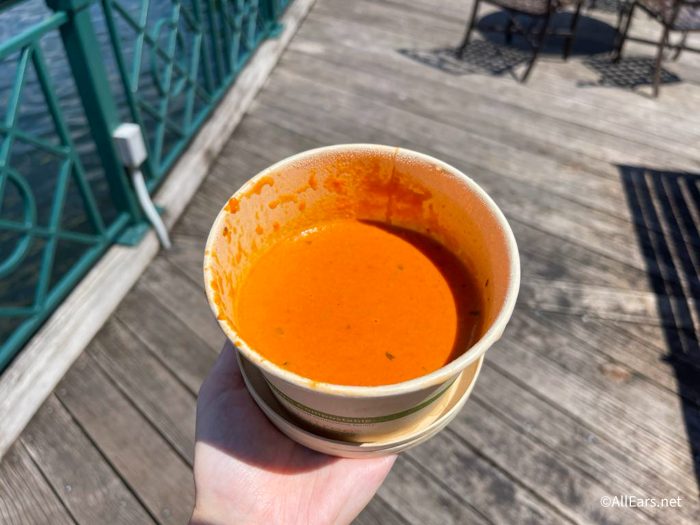 The Tomato-Basil Soup is also available individually as a side for $4.99. Speaking of sides, we also got the Coleslaw for $3.49…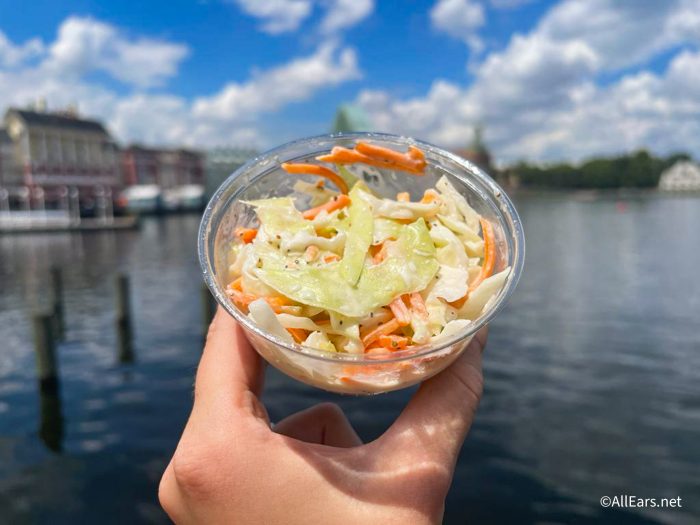 …and the Potato Chips for $4.49.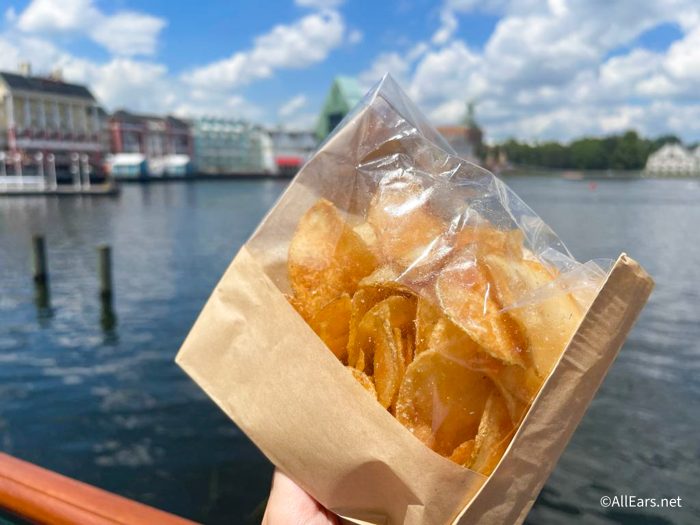 There is also a fourth side option, which is House-made Dill Pickle that you can get for $2.29. In addition to these sandwiches and sides, the pastries that are available during breakfast are also available throughout the day, as well as some desserts. You can check out our look at the breakfast offerings here to see the pastries and desserts.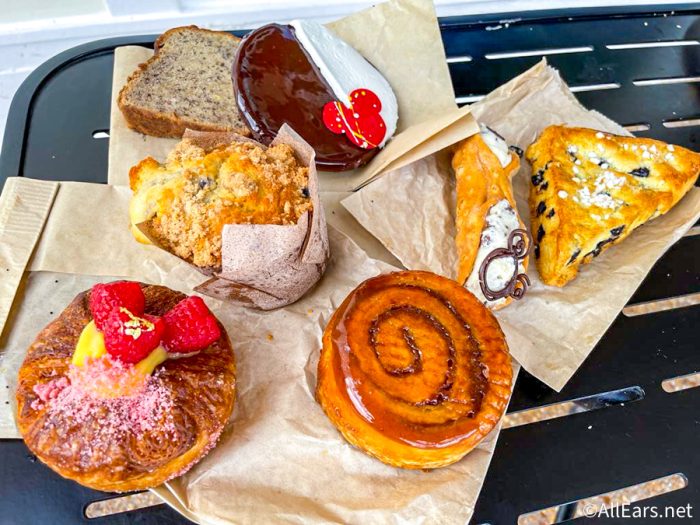 If you're interested in trying out the BoardWalk Deli, you can head to Disney's BoardWalk and check it out for yourself! The deli is open daily from 7AM-10PM. Looking for other dining options while at the BoardWalk? You can try out Trattoria al Forno, which is an Italian restaurant that is open for both breakfast and dinner, though you'll need to make a dining reservation in order to eat here.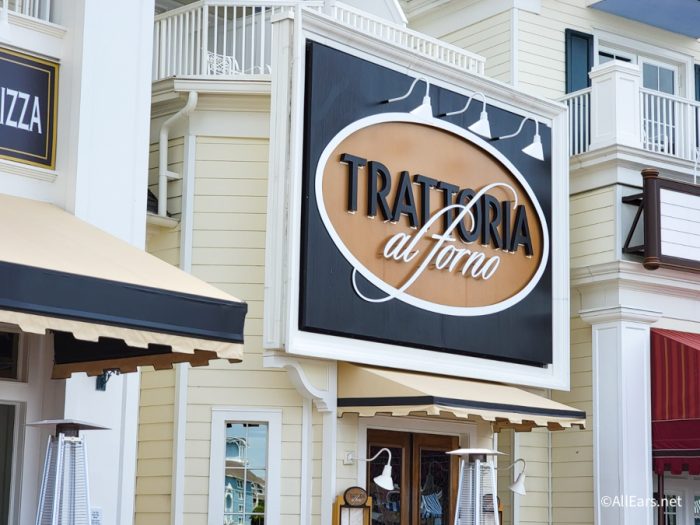 Disney's BoardWalk has a ton of other dining options too, like Flying Fish, the Pizza Window, and AbracadaBar, just to name a few. As always, make sure to stay tuned to AllEars for the latest Disney news!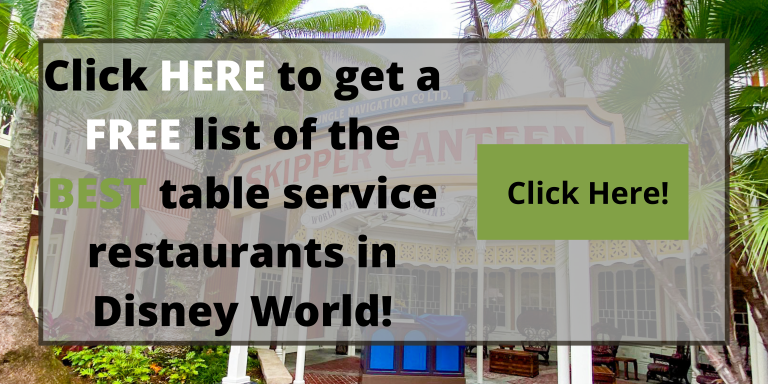 Will you be trying the new BoardWalk Deli? Let us know in the comments!