Okay, we get it — there are a LOT of food booths at the EPCOT Food and Wine Festival, and it can be SO overwhelming.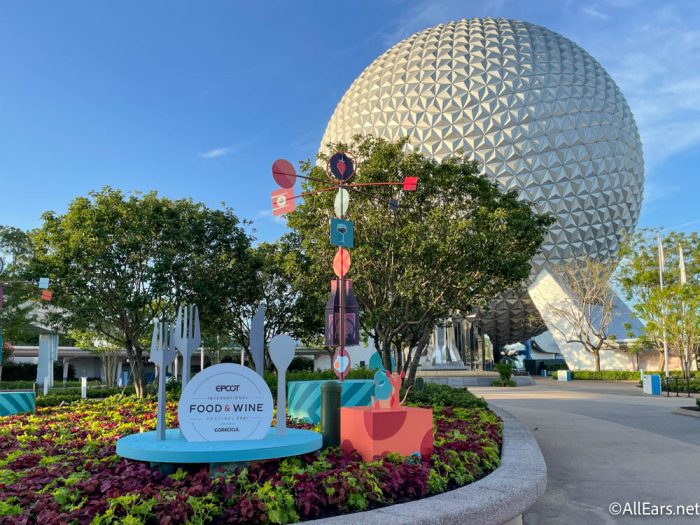 So how do you decide exactly which booths are worth visiting and which ones to skip? We've already told you about our favorite foods at the festival, but now we're going to tell you which booths you should NOT skip this year.
Canada
We're going to start with one of our favorite food booths to visit every year — Canada! This is where you can get that delicious Canadian Cheddar and Bacon Soup for $5.75 served with a pretzel roll, as well as the "Le Cellier" Wild Mushroom Beef Filet Mignon for $9.25 with truffle-butter sauce.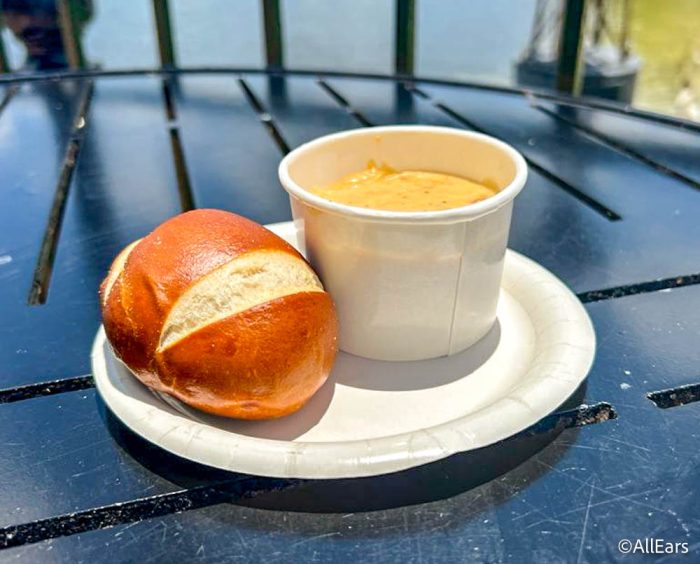 So you can technically eat a Le Cellier dish without actually having to spend valuable park time in a table-service restaurant. Plus it's WAY cheaper. The only downside is that the festival portion size is smaller, but you need to make room for all the other EPCOT Food and Wine Festival eats, too, right?
Earth Eats
Who knew that a booth dedicated to plant-based dishes would make our list, but Earth Eats surprised us this year with the new Impossible Meatball with herbed polenta, rustic puttanesca sauce, and basil pesto for $5.75. The flavors here were just perfect for meat eaters and non-meat eaters alike.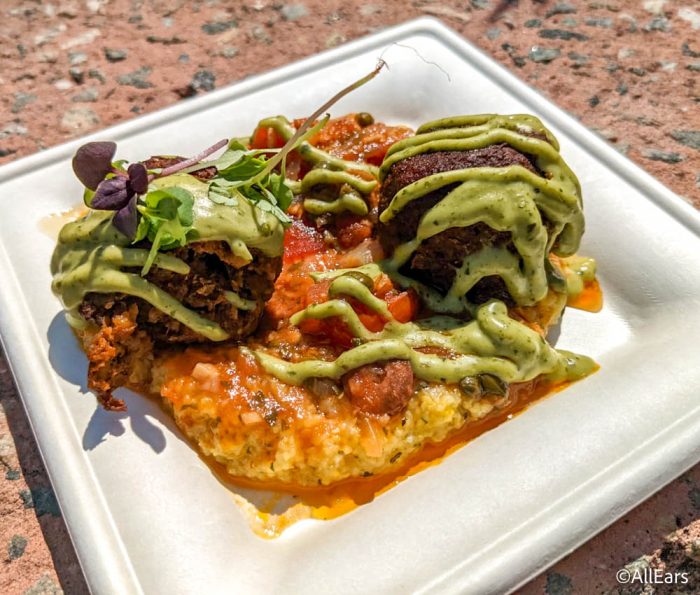 We also thought the Impossible Burger Slider with wasabi cream and spicy slaw on a sesame seed bun for $6 was pretty tasty. But beware — this dish packs some heat! There's also the refreshing Strawberry Breeze drink ($4.50 for the non-alcoholic drink, $11 for the alcoholic version) that's perfect for a hot Florida day.
Italy
We'll admit that the Italy booth has not been a favorite of ours in past years. This year, though, Italy decided to officially step into the ring. There are two Gnocchi di Patate dishes here that we loved — the one with the mushrooms, was our clear favorite. Both are $9 each.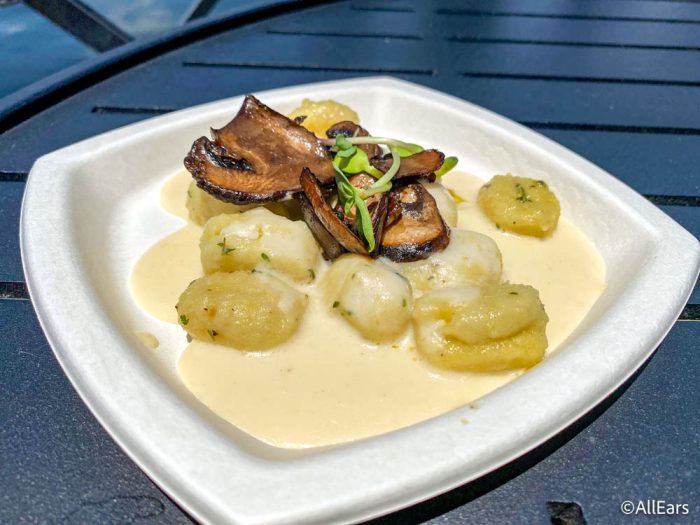 The Panna Cotta: Orange blossom panna cotta with seasonal berries for $8 was also a light, refreshing dessert.
The Fry Basket
There's only one new food booth at this year's festival, and it's The Fry Basket. Yes, it's a food booth dedicated to nothing but fries, which is why it should be a MUST on your EPCOT Food and Wine List. Specifically, don't miss out on the Adobo Yuca Fries, served with a garlic-cilantro aïoli for $5.50.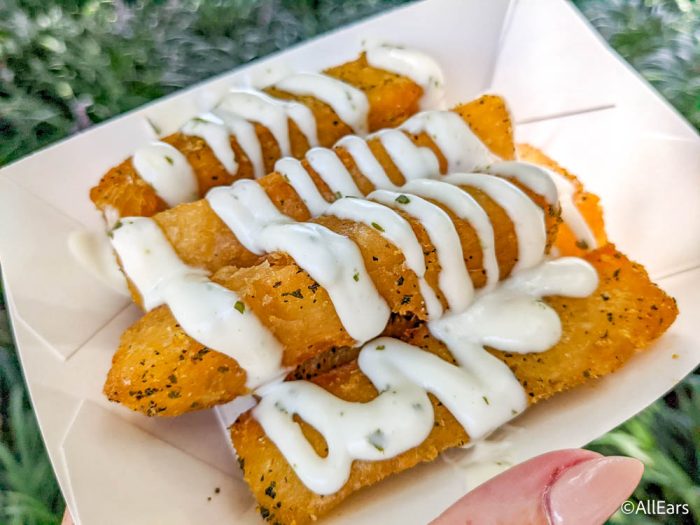 Although they don't taste like potatoes, they are delicious in their own unique way. But don't worry because you can also get regular fries, here, too, with the Fry Flight — yes, there's a flight with three types of fries for $7.50.
Appleseed Orchard
If your idea of the perfect summer day is sitting indoors with air conditioning while drinking  a flight of delicious apple ciders, then Appleseed Orchard is where you want to be. The flight is $10 and features three refreshing beverages that are sure to help you cool down.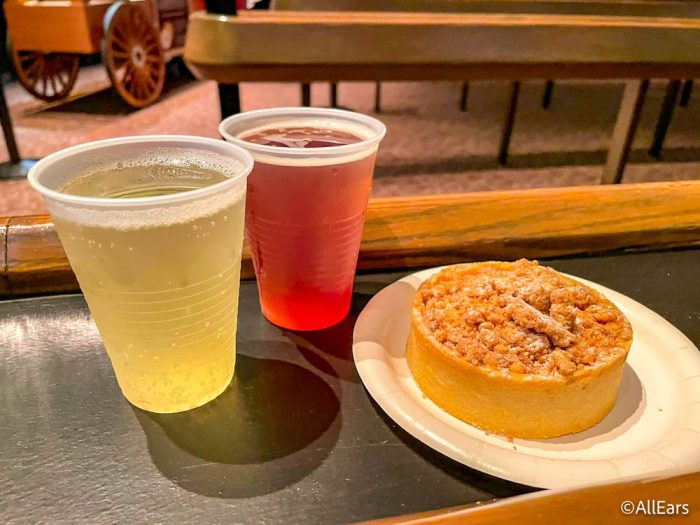 While you're enjoying eating inside, be sure to also grab the Apple Crumble Tart for $4.75 to satisfy your sweet tooth.
Brew-Wing
If you love wings, you need to make a beeline straight for Brew-Wing. But we recommend skipping the Traditional Buffalo Wings. Instead, go for the Garlic-Parmesan Wings, the Sticky Wings with Peanut Sauce and Grape Gel (yes, really), and the Dry-rubbed Jerk-spiced Wings with papaya chili sauce.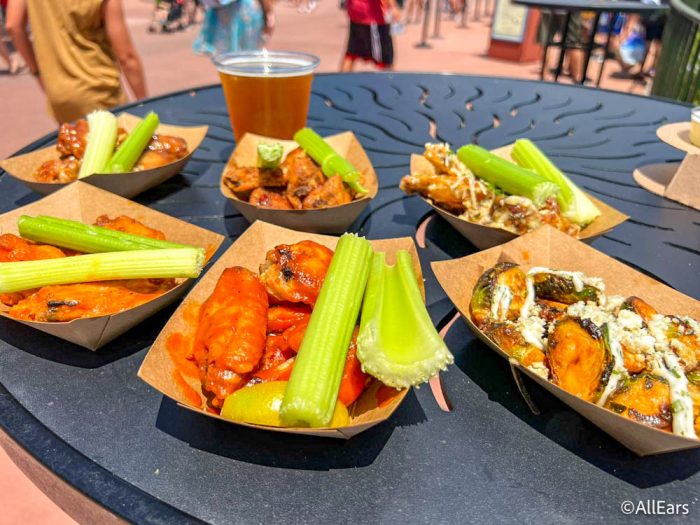 The wings dishes here are $7.50 each. We suggest you accompany those wings with some refreshing ciders, as well as a Watermelon Ale.
Australia
Although we were disappointed with the wines in Australia, the food did not disappoint! The returning Grilled Sweet-and-Spicy Bush Berry Shrimp with Pineapple, Pepper, Onion, and Snap Peas for $6.50 is still deliciously spicy. The Roasted Lamb Chop with Mint Pesto and Potato Crunchies for $8.25, which is also returning, is still a festival favorite of ours.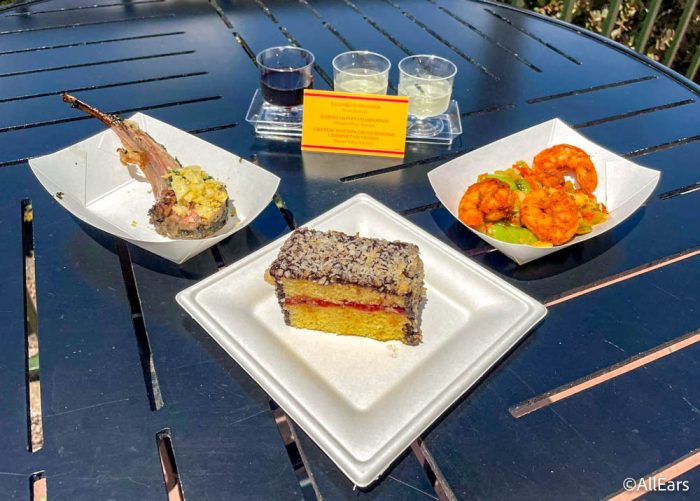 The Lamington Cake (Yellow cake with raspberry filling dipped in chocolate and coconut) for $4.50 is a nice dessert with a big portion size — it's dense, which makes it easily shareable.
Brazil
Brazil is constantly a fan-favorite and we can't turn down the Pão de Queijo, which is Brazilian cheese bread for $4.75. It's cheesy bread, so it's delicious and something that almost everyone can enjoy.
We also liked this year's new dish, the Feijoada, made with Black Beans with crispy pork belly, Brazil nut pesto, and Ben's Original Long Grain White Rice for $6.25. The combination of flavors in this dish is perfect. The Frozen Caipirinha with Cachaça for $11 is back, too — it's a nice, refreshing drink!
Refreshment Port
If you're a poutine fan, be sure to grab the Braised Beef Poutine, made with French fries, Boursin Garlic & Fine Herbs Cheese Sauce, cheese curds, and gherkin relish for $9.50 from Refreshment Port.  The cheese sauce kicks this up a notch.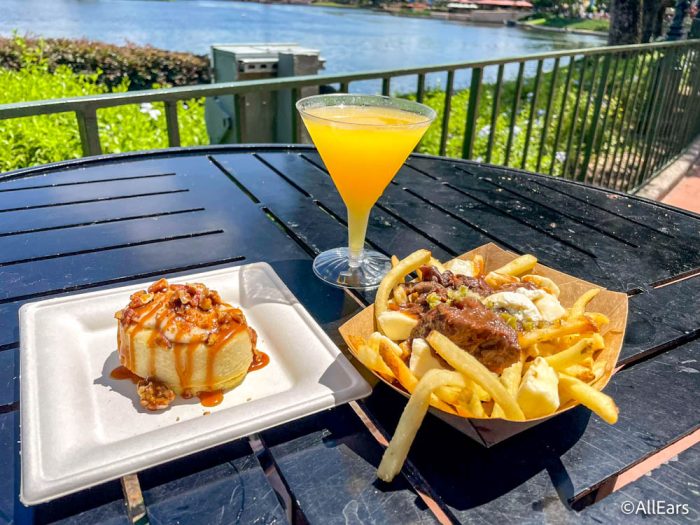 The Maple Cheesecake with whipped maple bourbon cheese and candied pecans for $4.50 is also a festival favorite that we've had many years in a row. However, if you try the Mango Martini, just know that you can REALLY taste the alcohol in it (and you get to decide if that's a good or bad thing).
Flavors From Fire
Flavors From Fire is another booth we return to year after year. The Smoked Corned Beef with crispy potatoes, cheese curds, pickled onions, and beer-cheese fondue for $5.50 has long been a festival favorite of ours. This year's new Banh Mi Bao with char-grilled Asian skirt steak, chicken liver aïoli, pickled vegetables, and cilantro for $5.75 isn't quite as good, but still a solid choice.
The only complaint we have about the Rocky Road Chocolate Cake with marshmallows, spiced almonds, and chocolate ganache for$4.25 is that it's pretty small. But it's a must for chocolate lovers.
If you do plan on visiting the EPCOT Food and Wine Festival, here's a look at ALL the food booths and menus, as well as our list of our personal favorite best dishes.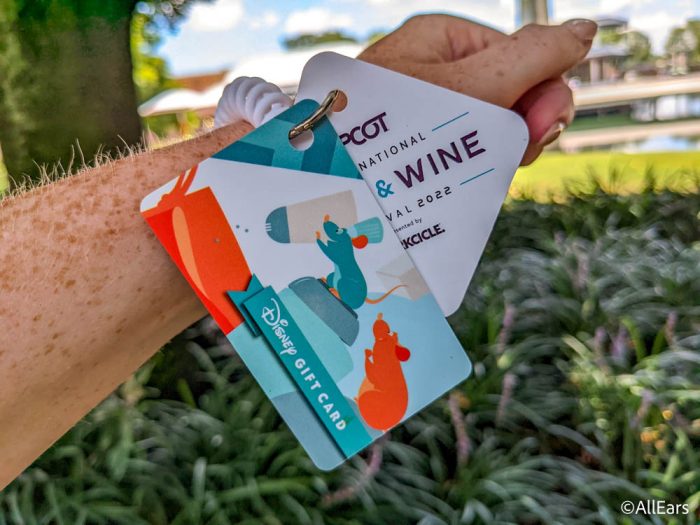 Also, don't forget about Emile's Fromage Montage, the cheese crawl, where you can win a prize just by eating specific cheese-based dishes. This year's crawl is a little different — you get more choices of what you want to eat!
Join the AllEars.net Newsletter to stay on top of ALL the breaking Disney News! You'll also get access to AllEars tips, reviews, trivia, and MORE! Click here to Subscribe!

Will you be attending the EPCOT Food  and Wine Festival this year? Let us know which foods you're looking forward to trying in the comments!