Back in the day, my friends at Walt Disney World and Disneyland public relations would regularly send out press releases to a variety of news outlets, with each release touting the latest resort opening, new thrill attraction or park show. Always included in those press packets were 8 x 10 glossy photos – black and white in the early days, beautiful color photos in later years.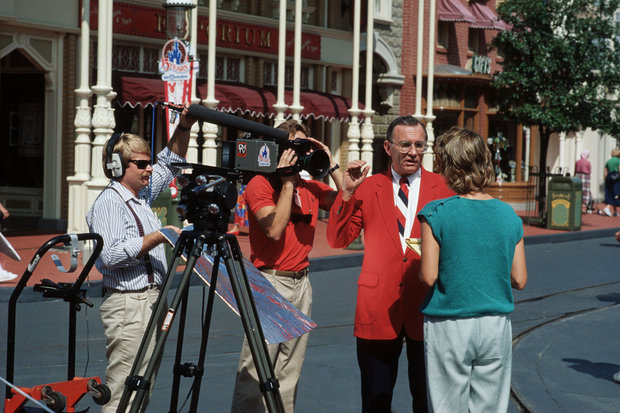 Disney Legend Charlie Ridgway, a former newspaperman, worked in publicity at Disneyland and went on to head up the public relations team at Walt Disney World. He and his staff were chiefly responsible for sending out these now treasured pieces of Disney history.
Being the pack rat that I am, I've held on to most of those photos. And every so often, especially during our semi-annual "spring cleaning" efforts, I get to look at them and reminisce.
The vintage Disney photos in my collection serve as time machines of sorts, allowing us to return to a simpler time, all the while illustrating just how much things have changed in the Vacation Kingdom of the World and the Happiest Place on Earth over the past 30 or 40 years.
The following is just a small sampling of my photo collection. For the most part, these Disney Parks attractions are no longer in existence … but live on in our memories.
Have fun taking a trip down Disney Memory Lane, Vintage Photo Edition.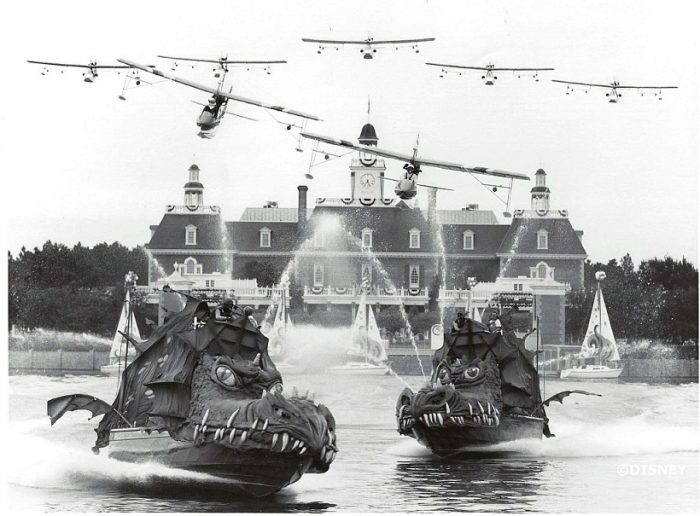 A SKYLEIDOSCOPE OF COLOR AT EPCOT
First up, we take you to the World Showcase Lagoon at EPCOT. That's where an afternoon showed called Skyleidoscope debuted in 1985.
The Disney press materials described the 15-minute show as "an aerial spectacle" that "transforms the 45-acre World Showcase Lagoon into a colorful fantasy-land of purple dragons, exploding gumdrops, and whimsical flying machines."
According to the materials, the show highlighted "ultra-light seaplanes and kites, jet skiers and speedboats, sailboats and airlifted saucers into purple-winged dragons, jet-powered sea shells, dragonfly-patrol planes and hang glider toys."
The show starred Dreamfinder and his impish friend Figment [of Journey Into Imagination fame] in a series of classic Disney good vs. evil scenarios.
Skyleidsocope thrilled EPCOT guests until 1987, when one of the "whimsical flying machines" crashed during a practice run, killing the pilot.
All of the aircraft used during the Skyleidoscope show [and the subsequent Surprise in the Skies presentation in 1991] were based at the now-defunct EPCOT Center Ultralight Flightpark, a private-use ultralight airport that was located where the Art of Animation resort now resides.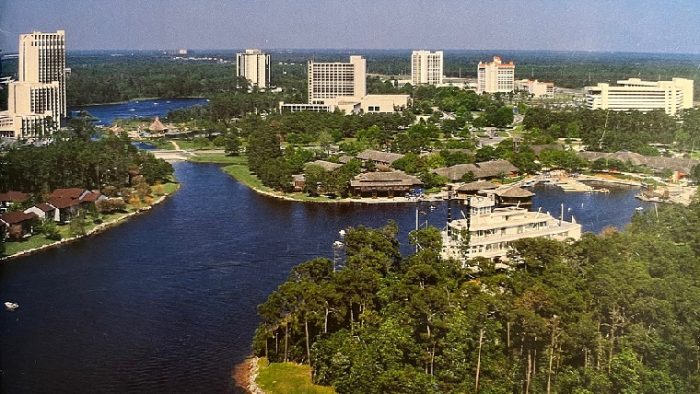 WHAT'S IN A NAME?
Before there was a Walt Disney World resort, there were lakes, swamps and trees.
Before there was a shopping/dining/entertainment district called Disney Springs, there were lakes, trees, a few retail outlets and what appeared to be a paddlewheel boat. Looming nearby, there were several tall hotel complexes, all within walking distance.
The area we now know as Disney Springs has undergone many changes, not the least of which has been its name.
It all started in 1975 with the opening of the Lake Buena Vista Shopping Village. The idea was to give Disney guests a place to enjoy a Disney experience without going into a theme park, while remaining on Disney property. Spending money on souvenirs was optional.
In 1977, the area saw its first name change when it became the Walt Disney World Shopping Village. In 1989, the name changed again, this time to the Disney Village Marketplace, and then in 1997, Downtown Disney debuted.
With each name change came new stores, new experiences [The World of Disney retail store opened in 1996, while Cirque du Soleil's La Nouba opened in 1998] and overcrowded parking lots.
The re-imagined Disney Springs, replete with indoor parking garages, upscale dining and eclectic shopping options, was open to the public in 2015.
In addition to the parking garages, Disney made it easier for guests in nearby resorts to reach Disney Springs.
Guests at Saratoga Springs have the option to either walk, courtesy of a new pedestrian bridge, take a water taxi, or hop aboard a bus. Guests at Port Orleans and Old Key West resorts can take buses or water taxis. Hardy guests also have the option to walk to Disney Springs along a scenic trail that's more than a mile long.
When the dining/shopping/entertainment district first opened, one of the district's staples was the Empress Lilly [named for Walt's wife], which was a recreation of a 19th century riverboat [actually, the "boat" was built atop a permanent foundation and was never actually seaworthy].
The Empress Lilly was a fine seafood restaurant [it can be seen in the lower right of the above photo]. Over the years, the restaurant has changed hands and names – first it became Fulton's Crabhouse, and most recently, Paddlefish.
Some of the former ventures to once call the Village/Marketplace/Downtown Disney home include the Virgin Megastore [back when compact discs were a thing]; Chef Mickey's [which was relocated to the Contemporary Resort]; and Pleasure Island, an adults-only entertainment district which featured comedy, dance and music clubs … as well as New Year's Eve-style fireworks every night.
BEHIND THE SCENES TOOK CENTER STAGE AT MGM STUDIOS
Walt Disney World's third theme park – the Disney/MGM Studios – opened in 1989. The idea was to give guests a behind-the-scenes look at movie and television production.
Guests could see how stunts were performed and how blue screen technology was used. They could watch Disney's artists at their drawing boards, creating the latest animation classic, and guests could learn how difficult it was to incorporate sound effects into a motion picture.
At the Disney/MGM Studios, you could relive classic scenes from classic films and TV shows … or see actual filming taking place on a sound stage.
One of the featured attractions when the park opened was the Backstage Studio Tour [aka the Backlot Studio Tour].
In the photo above, guests seated on a tram watch as skilled costumers sew outfits for movie or TV productions, as well as for use by Walt Disney World cast members in the parks and resorts.
Costumes worn by actors in famous movies such as Dick Tracy and Who Framed Roger Rabbit? were displayed during the tour.
The tour also showed an elaborate collection of exterior facades of houses used in a variety of TV shows, the most famous of which was probably the house used for exterior shots for The Golden Girls.
Of course, the highlight of the Backstage Studio Tour came when your tram entered Catastrophe Canyon … and a real-life "catastrophe" of explosions, fire and cascading water unfolded in front of you.
The Backstage Studio Tour closed in 2014 to make way for Toy Story Land.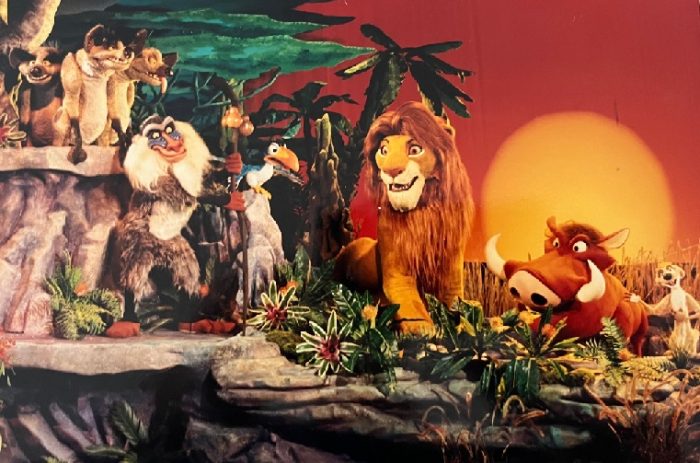 THE LEGEND OF THE LION KING THRILLED GUESTS IN THE 1990s
When the Walt Disney Company releases an animated movie and it's expected to be a box office smash, a park attraction based on that movie is often introduced to help gin up excitement.
Case in point: Disney released The Lion King in 1994 and it became an instant hit. Shortly after its release, the Legend of the Lion King show debuted in the Magic Kingdom at Walt Disney World.
The park show, like the movie, was a huge success. A cast of skilled puppeteers controlled many of the film's most beloved characters, while music and voices from the film helped enhance the overall production.
Simba was the star of the Legend of the Lion King show, and he was joined by Rafiki, the wise baboon; Zazu, a hornbill and the king's adviser; wacky pals Timon and Pumba, a meercat and warthog; and a nefarious trio of hyenas: Shenzi, Banzai and Ed.
The Legend of the Lion King ran from 1994 to 2002. It was replaced by Mickey's PhilharMagic. Prior to the Legend of the Lion King, the show building housed The Mickey Mouse Revue and the 3-D film Magic Journeys.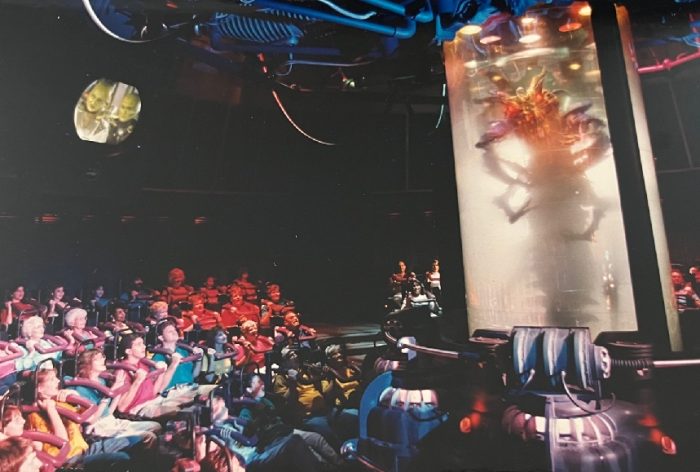 AN ATTRACTION THAT LIVED UP TO ITS NAME
Most people consider the Magic Kingdom to be a place of wonder, fantasy and light-hearted fun … a venue where parents can take their young children to enjoy family friendly entertainment.
In 1995, that philosophy went off the rails.
That's when New Tomorrowland debuted in Walt Disney World … and with it, the introduction of The ExtraTERRORestrial Alien Encounter in the former theater-in-the-round Mission to Mars show building.
The attraction was billed as "a sensory thriller from Disney and George Lucas [the creator of Stars Wars]." It was all that … and more.
Things seemed a bit off when you sat in your seat and a large restraining bar dropped down over your shoulders. Why did we need to be restrained? What happened if you wanted to leave during the show … well, I guess you couldn't.
The "darkly humorous" show featured a "hideous creature" who was mistakenly teleported into the midst of the audience. That's him/her/it to the right in the photo.
Before the creature's appearance, the theater went dark … and those safety bars became part of the show when the creature's hot breath and menacing grunts could be felt and heard in your ears.
The show was not appropriate for young children … and many adults, as well.
After numerous complaints and declining attendance, Alien Encounter closed in 2003, to be replaced by a more family friendly show called Stitch's Great Escape [capitalizing on the popularity of the Lilo & Stitch animated film].
ROCKET RODS WAS ONE OF DISNEY'S BIGGEST FLOPS
In 1998, a New Tomorrowland debuted in Disneyland.
The much-hyped re-imagined land featured a new attraction called Rocket Rods. It was billed as Disneyland's "newest and fastest thrill ride, zipping overhead throughout Tomorrowland."
Almost from the day it debuted, the Rocket Rods – dubbed a "prototype rapid transit system" – were a major headache.
To begin with, the attraction was designed to run on the former [and popular] WEDway PeopleMover track, which was devoid of banked turns. The ride vehicles, which seated five guests in a 1-1-1-2 configuration, would accelerate during straightaways, but then would have to decelerate as it approached curves.
The constant changes in speed wreaked havoc with the ride vehicles' onboard computer systems. Breakdowns became commonplace, leaving hundreds of frustrated guests waiting in never-moving lines. In addition, the tires used on the vehicles lasted only a few days before they needed to be replaced.
Further, the support structure used for the PeopleMover wasn't strong enough to handle a high-speed attraction and it began to weaken.
In April of 2001, the ill-fated Rocket Rods attraction officially shut down and rode off into Disney Parks lore, for better or worse.
Curiously, the PeopleMover tracks remain in place, fueling speculation that at some point, the classic attraction might return.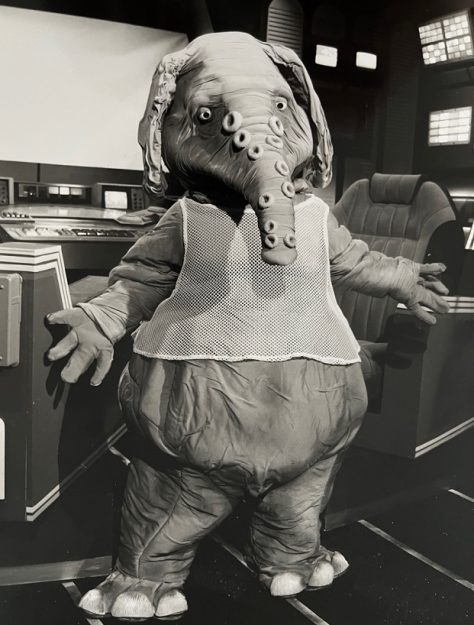 AN OUT-OF-THIS-WORLD, STAR STUDDED ATTRACTION
In 1986, entertainer Michael Jackson and filmmakers Francis Ford Coppola and George Lucas were at the height of their popularity.
It was quite a coup for Disney to bring all three entertainment giants together for the creation of the 3-D space fantasy film Captain EO, which debuted in EPCOT's Journey Into Imagination pavilion in 1986.
The 15-minute film [which cost a reported $30 million to make] featured a score composed and performed by Jackson. It was directed by Coppola and produced by Lucas.
In addition to Jackson, Academy Award-winning actress Anjelica Huston also starred in Captain EO. Jeff Hornaday was in charge of choreography.
Captain EO also featured a number of in-theater special effects to further enhance each performance.
One of the other stars of the film was the Disney-created character Hooter, pictured above.
Hooter helped Jackson bring music and color to a formerly drab planet by playing songs through his flute-like trunk. If you want to laugh, check out the seam running down his right leg!
Captain EO ran from 1986 to 1998. It was revived in 2010 following Jackson's untimely death. Its second running closed in 2015.
Chuck Schmidt is an award-winning journalist who has covered all things Disney since 1984 in both print and on-line. He has authored or co-authored seven books on Disney, including his Disney's Animal Kingdom: An Unofficial History, for Theme Park Press. He also has written a regular blog for AllEars.Net, called Still Goofy About Disney, since 2015.