The seas haven't always been smooth when it comes to Disney and ocean cruising, especially in the years before Disney Cruise Line came into existence. The seeds for the Disney Cruise Line – which debuted in 1998 with the christening of the Disney Magic – were sown in 1985.
That's when Disney partnered with Premier Cruises to offer what were known then as land-and-sea packages – guests would spend several days at Walt Disney World before heading over to Port Canaveral on the coast of the Atlantic Ocean to board one of Premier's Big Red Boats to enjoy a cruise through the Caribbean.
Included in the cost of the cruise were these exclusives: A Private Magic Morning Breakfast with Disney characters in the Contemporary's Top of the World Restaurant; accommodations at a Disney resort; round-trip airfare and a rental car; and unlimited theme park admissions. Looking back on it, not a bad deal.
The Premier Cruise was billed as "America's No. 1 Family Cruise Vacation" and for several years, the association between Disney and Premier flourished. Premier's Big Red Boats, as they were known, sailed out of Port Canaveral in Florida and docked at Nassau in the Bahamas, staying in port long enough for guests to enjoy tours of the island, swimming and boating by day, as well as nightclub and gambling options during the evening.
During a typical Premier cruise, the Big Red Boats would make a stop at a private island in the Bahamas, where guests would board a tender from the ship and disembark onto Salt Cay, a small, uninhabited spit of land. Guests visiting the island were told that what made it so special was the fact that it was used for some scenes for the classic 1960s TV show Gilligan's Island.
After a few years, the Disney hierarchy realized that the 10-year licensing agreement it had with Premier wasn't working. For one thing, Premier's ships, built decades before the Americans with Disabilities Act, were not handicapped-accessible.
For another, Disney was concerned that it didn't have complete control over what was being offered on the ships, mainly in the areas of guest service, cleanliness, food and entertainment.
And lastly, newer, much larger and decidedly more upscale ocean liners were now plying the world's oceans, part of an industry-wide resurgence by all the major cruise lines, and would-be cruisers were flocking in droves to these opulent "floating hotels," and all the amenities they had to offer.
Premier's Big Red Boats I, II and III floundered after losing the Disney partnership in 1994. For a time, Premier hooked up with Universal, Walt Disney World's chief competitor for theme park guests in central Florida, as it attempted to keep families with kids interested in cruising. They even offered characters from Universal's animation properties in an attempt to replicate what Disney had done.
But it wasn't to be. The end came swiftly for Premier. In September of 2000, U.S. marshals seized all seven Premier cruise ships around the world, including The Big Red Boat II, which ended up being escorted to the Navy home port on the New York City borough of Staten Island after being taken over by the marshals, having unloaded its unsuspecting passengers in Manhattan after a sailing. It turns out the Big Red Boats, as well as their sister ships, were drowning in a sea of red ink.
At the time, a recorded message on Premier's phone line said: "We regret to inform you that Premier Cruise Lines was forced to suspend operations of all our vessels indefinitely. Our lender has taken possession of the ships pursuant to the ships' mortgages." A total of 492 of Big Red Boat II's crew members were left stranded on Staten Island for several weeks as lawyers sorted out the financial quagmire.
In an ironic twist, the rusting hulk of the Big Red Boat II was seen docked in Nassau in the Bahamas during a port call by the Disney Wonder in January of 2002. The ship still had a distinctive, if fading, P on its funnel.
Of the three Big Red Boats which took part in the Disney/Premier association, only the Oceanic (Big Red Boat I) enjoyed a longer run than its sister ships. One by one, the boats met the inevitable fate of aging cruise ships – they were sold for scrap metal. In 2012, Big Red Boat I joined the other Premier liners on the scrap heap, closing the chapter on the Big Red Boats.
Several years before the Disney-Premier partnership ran out in 1994, then-Disney CEO Michael Eisner was already thinking outside the box and told his chief lieutenants not to renew the Premier deal. Thus began a years-long process, trying to figure out just what course to take when it came to the Walt Disney Company's seaworthiness.
For most of 1992, Disney explored three options: Partnerships with two major cruise lines were on the table, as was the possibility of taking the bold move of starting its own cruise line. The final option – letting the Premier partnership expire and getting out of cruising altogether – was a third possibility.
Eisner gathered some his top executives in November of 1992 to tackle the cruise dilemma. In a meeting room in Glendale, Calif., were Eisner, Frank Wells, Al Weiss and Frank Ioppolo. Larry Murphy, then the company's Executive Vice President and Chief Strategic Officer, gave a comprehensive presentation on why Disney should go full speed ahead and commit to becoming a major player in the cruise industry.
The executives loved the idea and the Disney Cruise Line, which would start with two yet-to-be-built ocean liners, was born.
It turns out that green-lighting the cruise line was the easy part. Critical decisions had to be made before the first passengers would step aboard more than five years later. First and foremost: What would the ships look like?
The design proposals ran the gamut, from sleek and ultra-modern to classic and traditional, reflecting the bygone ocean cruising era of the 1930s.
A MODERN TAKE ON A CLASSIC LOOK
In the end, Disney decided to feature a modern take on the classic cruise ship look. The ships would feature two distinctive funnels, as well as black, white, red and yellow color stylings, a la Mickey Mouse.
Two new Disney ships – to be named the Disney Magic and the Disney Wonder – were commissioned. They were assembled by Fincantieri shipbuilders in Italy.
Disney's higher-ups also had specific ideas on just how they would conduct their cruises.
The emphasis would be on families having fun and sharing experiences – together. To that end, there would be no gaming casinos, a staple on all other cruise lines. The thinking was, if parents spent time in casinos, that would cut down on family time.
There would be world-class, Broadway-style entertainment offered in the ships' theaters. There would be areas on the ship dedicated to young passengers, as well as adults-only spaces, including upscale dining options. The food would be exceptional, with a new concept called "rotational dining," where guests each night would rotate among three distinctively Disney dining rooms during their cruise.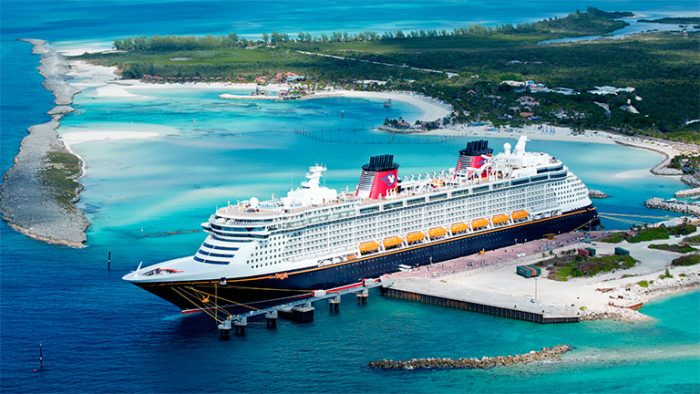 And there would be an all-day stop at a private island in the Bahamas – Gorda Cay, which was renamed Castaway Cay – where cleanliness, guest amenities and guest services would abound.
Over the years, Disney Cruise Line has become known for picking "the best of the best" when it comes to hiring its crew members, further enhancing the Disney cruise experience.
"We'll put an ad in the paper for 20 positions, and we'll receive easily 1,000 applications," said Lloyd Machado, hotel director for the Disney Magic. Applicants must pass a battery of tests, including English and IQ exams.
Once they've been selected, they take part in the fabled two-day Traditions program (created by Disney Legend Van France prior to Disneyland's opening in 1955), which gives them an in-depth education into Disney's rich history and core values. More training follows. Attendance at all of the ship's activities, including the always popular stage shows, is mandatory, so each new hire can be as well-versed as possible on just about every aspect of the ship.
"What differentiates us from other cruise lines," Machado added, "is our new cast members will shadow our current staff, learning by observing. They will have been on board for four weeks before they actually interact with our guests."
But the training doesn't end there. There's a human resources officer on board to do follow-ups and assessments of each new crew member in an effort to make sure, as Machado put it, "they hold our core values, like honesty, integrity and teamwork, to the highest standards. After all," he adds, "a happy crew is a happy cruise."
The Disney Magic debuted in 1998, followed by its sister ship, the Disney Wonder, in 1999.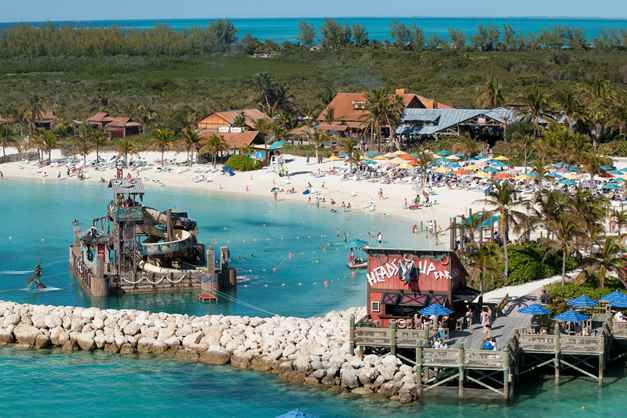 Once Disney Cruise Line had established itself as a major player in the cruise industry, orders were placed for two additional – and larger – ships: The Disney Dream was christened in 2011, to be joined by the Disney Fantasy a year later. Both new ships were built at the Meyer-Werft Shipyards in Papenburg, Germany.
Later this summer, a fifth ship will join the DCL fold when the Disney Wish comes online. The Wish will be joined in the years ahead by two additional, and as yet unnamed, ocean liners.
With all these additions, a second private island in the Bahamas is under construction, joining Castaway Cay
According to Disney, "[The destination] will be located on the beautiful island of Eleuthera at a place called Lighthouse Point. The new destination will celebrate both the stories and culture of the Bahamas, as well as the natural environment of Lighthouse Point itself."
The new Disney Cruise Line destination is expected to open to guests in 2024.
LAST IN A SIX-PART SERIES. Thanks for sailing with us!
Chuck Schmidt is an award-winning journalist who has covered all things Disney since 1984 in both print and on-line. He has authored or co-authored seven books on Disney, including his Disney's Animal Kingdom: An Unofficial History, for Theme Park Press. He also has written a regular blog for AllEars.Net, called Still Goofy About Disney, since 2015.