Live entertainment has been a major part of the Disney parks experience since Disneyland opened in 1955, with everything from live theatrical shows to fireworks spectaculars thrilling guests. However, for every show like the Golden Horseshoe Revue or Illuminations: Reflections of Earth that became legendary among fans, there were countless shows that didn't last. Whether for technical reasons, negative reception, or even a tragic accident, these shows disappeared from Disney parks so soon that many guests today barely know they existed.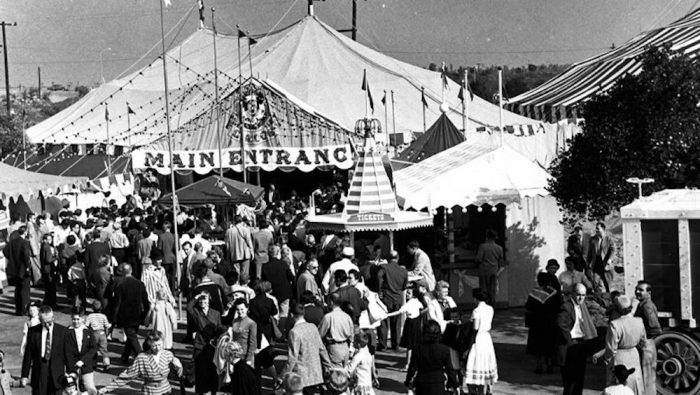 Disneyland's The Mickey Mouse Club Circus:
While we'll mainly be focusing on Walt Disney World today, we'd be remiss if we didn't mention Disneyland's Mickey Mouse Club Circus, which holds the dubious distinction of being the first ever Disney show to quickly disappear after its debut.
The Mickey Mouse Club Circus was exactly what the name describes: a full-blown circus, featuring clowns, acrobats, a flying trapeze, daredevil stunts, and trained jungle animals all under a big top tent, initially right in the middle of Disneyland's Fantasyland.
A pet project of Walt Disney's, the circus initially opened with great fanfare, including a parade down Main Street and a Christmas theme, in late 1955. However, the show was a massive flop. Not only was Walt unhappy with the animals (who had a habit of escaping ) and the the circus performers (who had a habit of acting very… un-Disney-like), but crowds didn't seem all that interested in seeing a circus instead of Disneyland's other rides and attractions.
In January of 1956, the Mickey Mouse Club Circus was moved from. Fantasyland to Holidayland, but that failed to reignite interest in the concept. The circus was gone by September of that year – 10 months after its debut – never to be seen again.
EPCOT's Skyleidoscope:
Moving on to Walt Disney World, the first short-lived show we'll look at in Florida took place in and above EPCOT's World Showcase Lagoon from September of 1985 through the fall of 1987.
Known as Skyleidoscope, the show featured several watercraft and light aircraft interacting with each other, all based around a story starring Dreamfinder, from the park's Journey Into Imagination attraction. Disney described the ride as such:
"Dreamfinder takes to the skies to create some rainbows to brighten the day, but a family of wicked sea dragons led by "Ma and Pa Dragon" destroy these rainbows through fire and smoke, prompting a colorful battle between good and evil."
The show was actually somewhat well-received, however tragedy struck in 1987 during a practice flight utilizing one of the show's aircraft. The crash unfortunately took the life of the craft's pilot and led to the show's near-immediate cancellation.
EPCOT's Splashtacular:
Remaining in EPCOT, the next short-lived show on our list ran from late 1993 through the summer of 1994. Based loosely on a popular show from the Tokyo Disney Resort, Splashtacular was based around the park's large Fountain of Nations, and featured a barely comprehensible plot that featured a cavalcade of Disney characters led by Mickey Mouse battling an Evil Alien Sorceress and her minions, including a giant robotic dinosaur named TerrorsauX.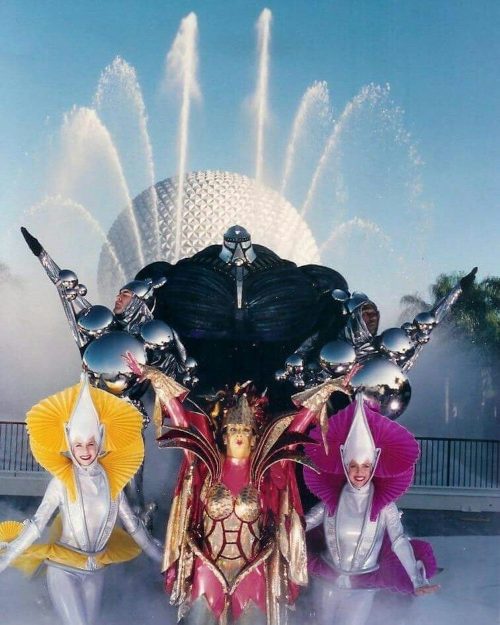 There are generally two accepted reasons for the fact that Splashtacular lasted less than a year. The first is that Disney executives felt that the show's magical plot clashed with EPCOT's more realistic vision of the future, in particular the then-newly opened Innoventions. The second is that the show created a massive traffic jam around the fountain — which was located in the middle of the mark's main thoroughfare — and that gusts of wind would soak performers and guests alike during each show.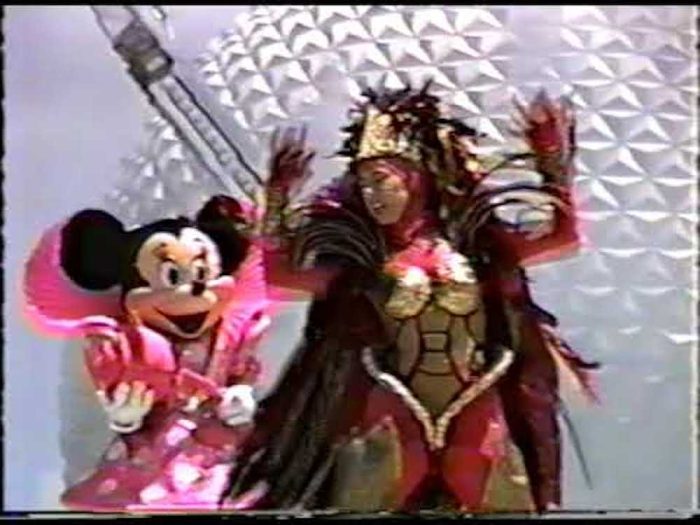 Whatever the truth, the show was gone within a year, and Splashtacular's only lasting legacy was the technical improvements made to the Fountain of Nations, which remained in place until the fountain itself was removed during EPCOT's transformation that began in 2019.
Animal Kingdom's Journey into the Jungle Book:
Journey into the Jungle Book opened with Disney's Animal Kingdom in April of 1998. The musical stage show used "a new breed of "hum-animals", highly mobile costumed characters combining human performers and innovative puppetry" to tell the story of the classic animated Jungle Book film.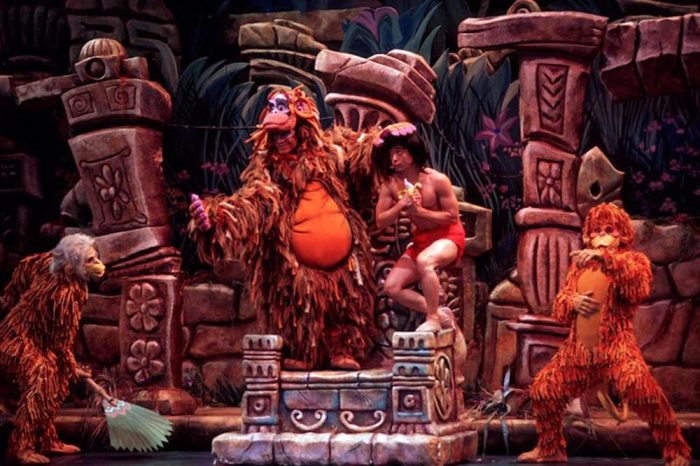 While the show was somewhat well received, it proved to just be a stopgap. Journey into the Jungle Book was closed in April of 1999, less than a year after its debut, to make room for Tarzan Rocks!. That "high energy" show used rollerbladers, acrobats, and the film's Phil Collins soundtrack to adapt Disney's 1999 animated version of Tarzan for the stage.
Animal Kingdom's The Jungle Book: Alive With Magic:
Journey into the Jungle Book wasn't the only time that property was used to fill a temporary need at Animal Kingdom. In May of 2016, the The Jungle Book: Alive With Magic nighttime show debuted at the park. The show, based on the live action adaption of the story Disney released that same year, utilized light and water effects, combined with live actors and the film's musical score to tell the film's story.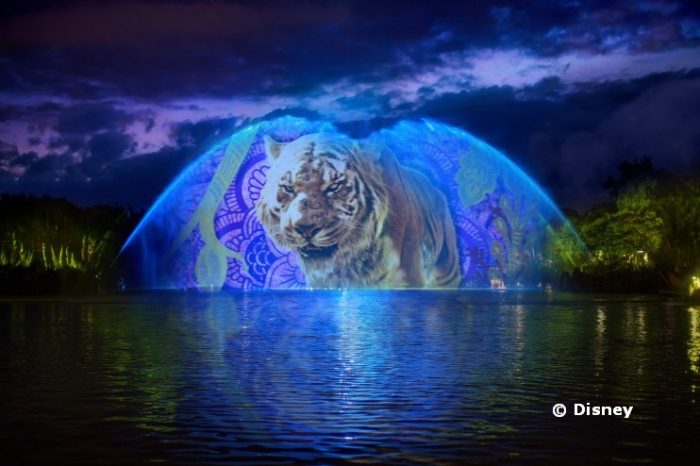 The Jungle Book: Alive With Magic was always planned to be a limited show, and only ran through September of 2016 while Imagineers put the finishing touches on Rivers of Light, the long in-development Animal Kingdom nighttime show that finally opened in 2017. It also had its own relatively short, problematic run.
Magic Kingdom's Stitch's Supersonic Celebration:
Coming full circle back to a castle park, we'll conclude at the Magic Kingdom with arguably the most legendarily disastrous live show a Disney park has ever produced: Stitch's Supersonic Celebration.
The show was described by Disney in promotional materials as:
"A live broadcast of the Tomorrowland News Network, with your host Tip Trendo, is interrupted by a video transmission from Stitch, who has "borrowed" a space cruiser assigned to cover Galaxy Day—a special celebration where everyone around the galaxy celebrates everything worth celebrating. Stitch is always up for a good party! Join Stitch, Tip, the singing Galactic Girls and some surprise guests for an out-of-this-world party filled with music and dancing. Learn some space-age dance moves and groove to old favorites and original songs with the intergalactic crew on stage."
Despite the promise of a "good party", audiences felt like the interactive show was anything but when it opened on May 6, 2009. Both critical and guest reception was highly negative, with many not only railing against the content of the show, but also the theater where it was held, which featured very few shady spots to hide form the Florida sun, as well as a screen that was often impossible to see in direct sunlight.
Due to the incredibly negative guest reaction to both the show and its theater, Stitch's Supersonic Celebration closed on June 27, 2009, a scant six weeks after it opened.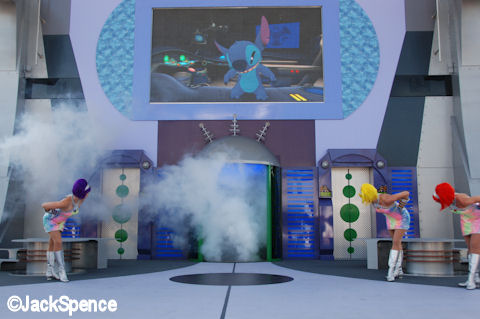 Did you a chance to see any of these short-lived shows at Walt Disney World? Did they deserve their early axe, or should any of them have been given another chance. Let us know in the comments below.