For the first time ever there will be a Star Wars lounge and a Marvel dining experience on a Disney Cruise Line ship — the Disney Wish!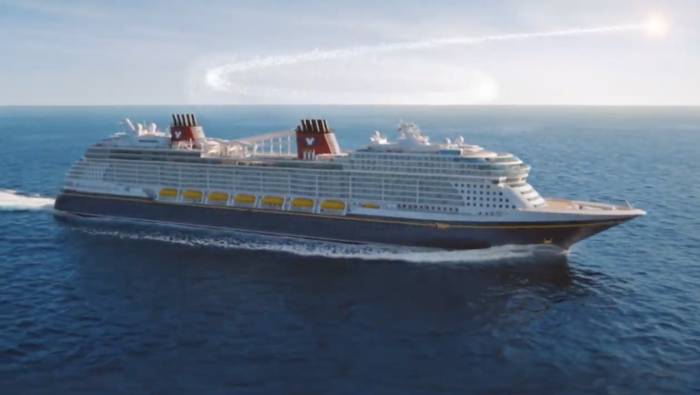 We've shared a bunch of details about all of the new things coming to this ship, but recently we got a peek at a whole bunch more. Now we're sharing some of the NEWEST details about the restaurants and dining experiences coming to the Disney Wish!
We recently got the chance to get a peek at the Disney Wish through a special Imagineering Showcase/media preview of the ship. Here's a look at some of the updates shared about the dining experiences coming to the Wish.
Worlds of Marvel
We'll start our journey with the super heroes and the Disney Wish's NEW Marvel dining experience — Worlds of Marvel. During Worlds of Marvel, guests will be able to check out "Avengers: Quantum Encounter." This is a special, interactive dining experience. The story behind this experience is that Ant-Man and The Wasp are embarking on their first speaking engagement on behalf of the Avengers. They'll actually be hosting a presentation showcasing some of the most powerful Super Hero tech to all of you.
During our conference we learned that Worlds of Marvel is VERY large. There are actually 700 seats in this restaurant (120 tables). But, you won't be situated in a ginormous, ballroom-style space. Instead (much like Disney has tried to do throughout this ship), they've divided the dining room into more individual spaces to help it feel more intimate.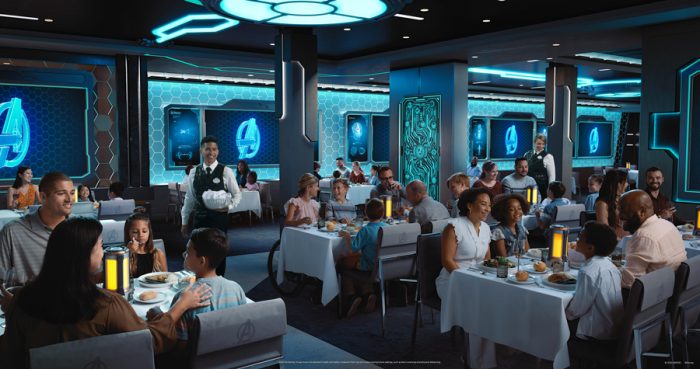 As you can see in the image above, each table will feature a Quantum Core. We actually got a peek at these in their testing phase. They each have buttons on them that guests can press to interact with things around them. The way the technology was explained to us is that these Quantum Cores are essentially remote-controlled Pym particles. They can be used to target items in the restaurant or around the ship to shrink or enlarge them. Our understanding is that guests will likely be able to see these effects take place on the screens around them. The cores themselves will light up and make sound effects, and their lighting can be synced across the tables in the space.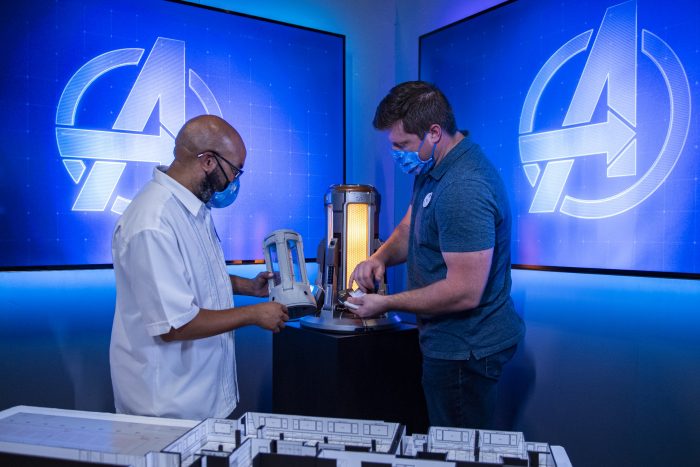 Speaking of screens, the entire restaurant features more than 100 monitors. These will play a big role in the story of the space (more on that in a second). There are also glass walls that surround the space. These walls allow Disney to create all kinds of special effects throughout your dinner like red alerts or power downs, depending on just what's going on.
You might be wondering just what the story of Avengers: Quantum Encounter is. Well, we've got some details for you! The story breaks down into 3 separate acts.
Act 1: Act 1 starts after guests have placed their dinner orders. Once you've searched the menu and picked your meal, the lights will dim and Ant Man and the Wasp will show up on the monitors in the room. They'll be there to talk to you about some quantum tech.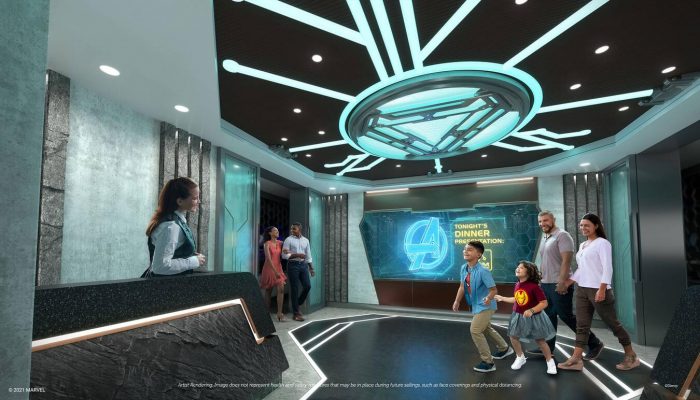 Act 2: Act 2 takes place while you're eating, but it's not meant to be disruptive of your meal. The Disney Imagineers shared that while they want the experience to be fun, they also know that dinner is often families' chance to reconnect after maybe being in separate spaces of the ship during the day, or otherwise just talk and relax together. So, during Act 2 you'll get the chance to do just that as you munch down on your tasty meal.
All the while, the monitors around you will be used to tell the next part of the story. On the screens, you'll actually see clips from Marvel films, with a special focus on the technology being used by the Super Heroes. The screens will display graphics and other cool information about all of that super powered tech.
Act 3: Next, it's time for the exciting Act 3! Guests will get to hear a bit from Friday, and then they'll realize that a Marvel villain is trying to override some of Friday's system protocols. It seems this super villain wants to get their hands on the Quantum Core and use it for their own evil purposes. Who is the villain you might ask? Well it's a character you'll recognize from Marvel and someone who you may have thought was long gone. Take a close look at the photo below and see if you can guess.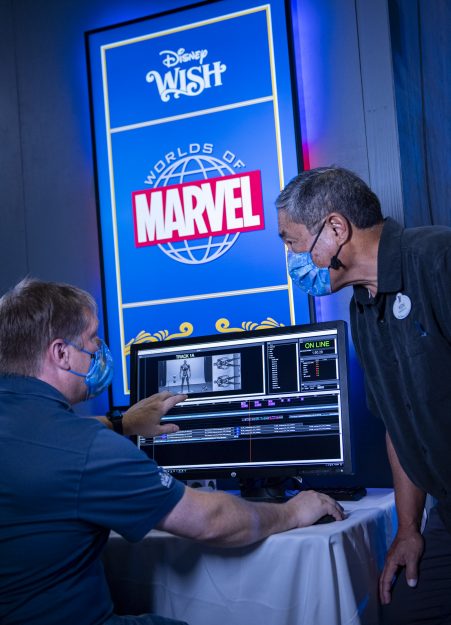 During Act 3, you'll get to enjoy an 8-minute sequence all related to this villain trying to get access to the Quantum Cores. In fighting the villain, Ant Man and The Wasp realize they could use some help so they call in Captain America and Captain Marvel for assistance. As you look at the screens, you'll see the villain and heroes fighting at locations all over the Disney Wish including hallways, the upper decks, and more.
Then, it'll be up to you and those in the restaurant with you, to help save the day with the use of the Quantum Cores at your tables! After you've taken down the villain, Ant Man and the Wasp will visit the restaurant to give you their thanks!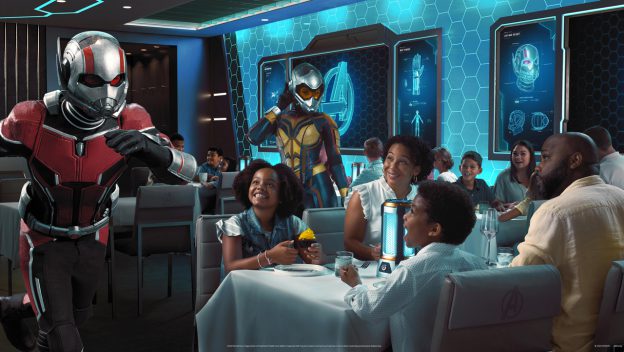 Time for dessert? Let's just say things with the quantum tech might have gone awry and you might find yourself with some TINY treats.
Marvel fans (and Disney fans) will find all kinds of easter eggs throughout Worlds of Marvel, so that's something to keep an eye out for. And one Disney Imagineer said that the restaurant may even tie into Disney's NEW interactive game for the Wish, Disney Uncharted Adventure. We can't wait to learn more!
Star Wars: Hyperspace Lounge
Next, it's time for LOTS of cool Star Wars details. Star Wars: Hyperspace Lounge will be a bar/lounge on the Wish that is accessible by families during the day, but transitions to adults-only access at night. Be sure to visit during both times as you'll notice some subtle differences marking the change in mood. For example, during the day the soundtrack will likely focus more on the John Williams score, while nighttime will have more of a cantina-type vibe (though the exact music for that is still being worked on).
The Lounge itself looks incredibly cool, but now we've got more AMAZING details we think Star Wars fans will be really excited about. Let's start at the front. When you approach Hyperspace Lounge you'll pass through a darker area and then reach a door that has that signature Star Wars rounded look to it. And, of course, you'll get to hear that satisfying "woosh" as it opens, revealing the space inside!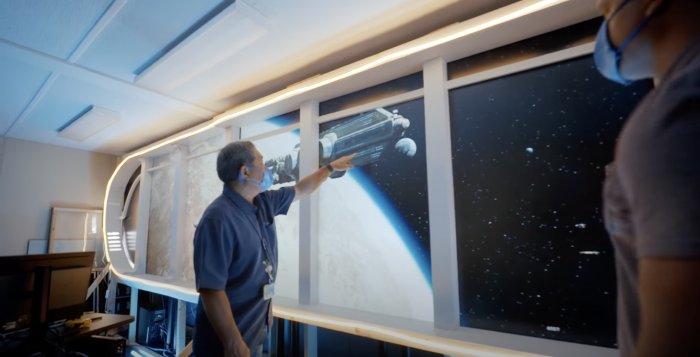 During the media preview, we got the chance to get a glimpse at a mock-up of the window to "space" for the bar, and truly our jaws dropped. The screen is really large in size. In terms of pixels, the Imagineers shared that the pixel size is so large that they had to work with Industrial Light and Magic to re-create the scenes that will be shown.
Fans will actually get to see some unique angles and perspectives of ships and worlds that they otherwise can't see in the movies. Just where will fans get to go? Well, this Star Wars bar will take guests to Tatooine, Mustafar, Batuu, Coruscant, and the Moons of Endor. We also learned that fans will get to visit an Ace Squadron scene, inspired by the Star Wars animated series Rogue Squadron.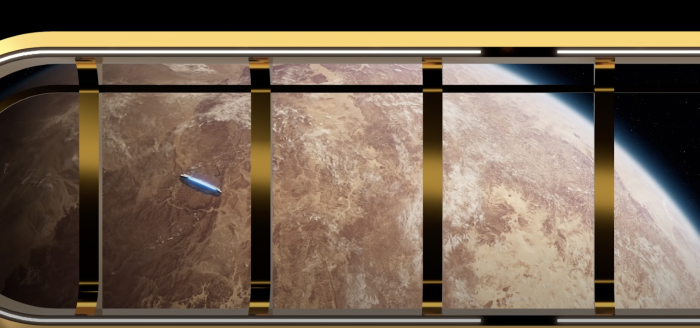 If you're the type of person who LOVES easter eggs and loves Star Wars, this is going to be the place for you. There are tons of easter eggs that have reportedly been placed in the scenes you'll see. And there are all kinds of ships to check out. You may even get to see some fan-favorite ships, like perhaps one from Star Tours?!
Each scene will last for about 7-10 minutes and then there will be a hyperspace transition between them. Star Wars mega fans will notice that the hyperspace actually goes sideways (right to left, in sync with the movement of the ship), which is something that has really only been seen once before in the films according to the Imagineers we spoke to. The Imagineers shared that they worked on embracing this unique view and making it work.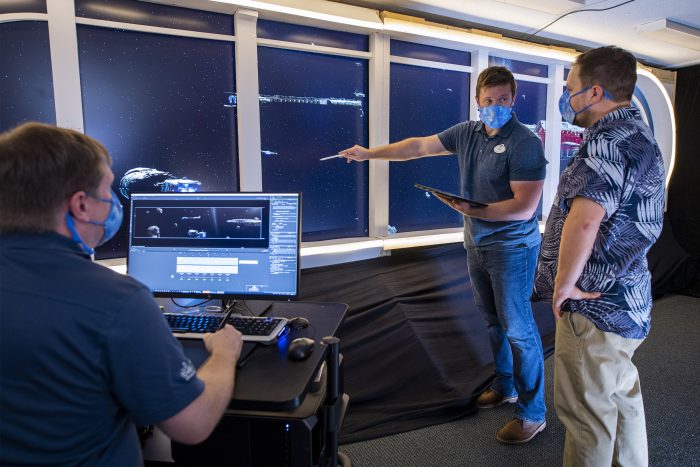 What will the actual lounge/bar space feature in terms of seating? Well, the furniture is all being custom made (and is said to be quite comfy)! We got to see some concept designs for the layout of the space which contained the bar area, a center table that was a bit longer, and then various booths and seating areas sprinkled throughout the space.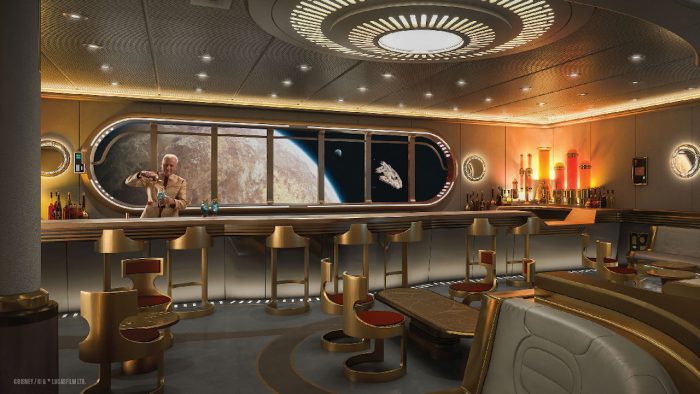 What's interesting is that Disney noted the back area is actually on an elevated banquette. That's helpful so that even if the bar gets busy, those in the back will still get a decent view of the screen near the bar.
And you'll always have something to look at no matter where you're seated. Throughout the space there are about 4 (though potentially more or less) spots where "space oddities" of all kinds will be displayed. And in the back of the restaurant there's a holotube. We got to see the holotube that's going to be installed in the ship and it was very impressive! In the cylindrical-shaped holotube, you'll see holograms of ships passing by, and the holograms will vary depending on what scene you're in.
Even the bar will be fully in theme. The beer taps will feature Star Wars-themed designs, and you won't find a bottle of traditional liquors from Earth. Instead of the typical whiskey bottle you'd be able to buy from the store (which you'd typically see behind a bar), you'll find that all of the liquors have been placed into thematic bottles, making you feel like you've truly been transported to a Star Wars ship.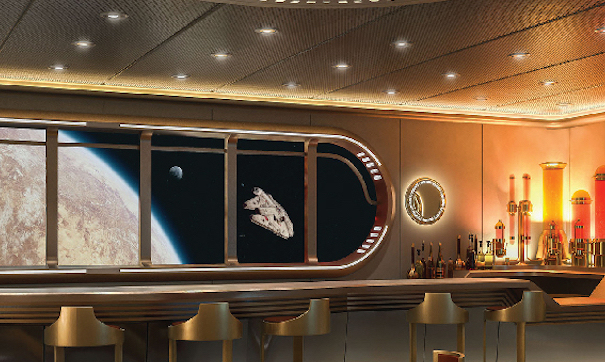 Disney shared that they worked with Doug Chiang from Lucasfilm on the costumes for the Cast Members that are being used in this space, so if you're a big fan of Chiang's work, that's something to look forward to.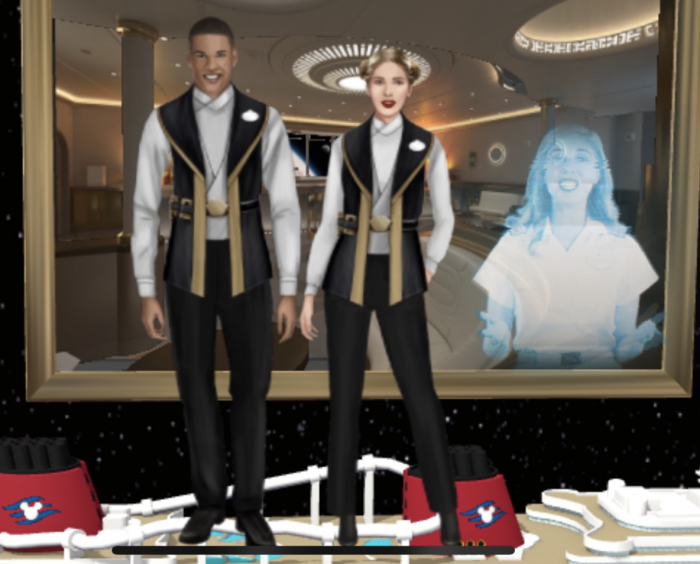 Whether you're a Star Wars novice or someone that has a deep knowledge of Star Wars, we have a feeling there will be something here for you.
Arendelle: A Frozen Dining Adventure
Of course, we can't make this post without sharing some details about the NEW Frozen dining adventure coming to the Wish. During our media preview, we got to hear a little bit more about this experience, including how guests will be walking through Arendelle Castle and will get to see suits of armor and paintings on the walls (we just hope no one gets stuck there and is forced to talk to the paintings all day long).
More Dining Details
There are lots of other dining experiences coming to the Disney Wish, some of which are reserved for adults, others which are for the entire family to enjoy.
The biggest takeaway we got during the media preview is really just that you'll want to keep those eyes OPEN and actively look for all kinds of unique details in each of these spaces.
For example, did you notice that some of the lamps at the tables in 1923 are shaped like those at animators' desks?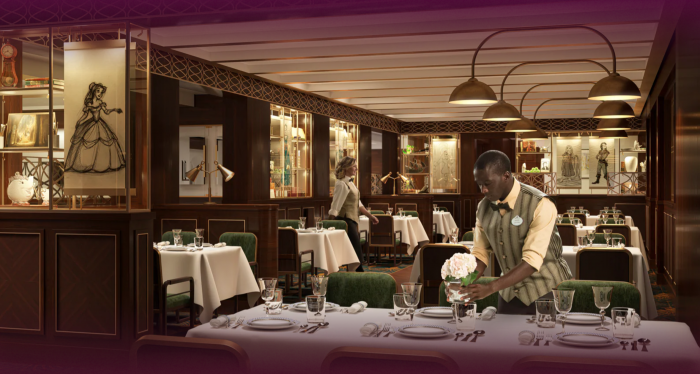 And if you stop by The Rose, Enchante, and/or Palo Steakhouse, be on the lookout for unique light fixtures shaped like Lumiere, or decorations featuring a rose and (Belle's favorite) books.
Also note that Disney has specified that guests must pass through The Rose to get to Enchante or Palo Steakhouse.
There's More!
As always, Disney has a bit more magic up their sleeves and details that have yet to be released. One thing in particular relates to guests' dining experiences on longer cruises. Since guests rotate through the restaurants, on cruises that are 4 nights in length, some passengers may dine again at the Frozen or Marvel experiences. One individual at the media event asked whether this meant that those guests would essentially have to re-live the exact same story at these places. In response, Disney said that there will be an announcement on that soon!
We can't wait to hear what else Disney has planned for the Wish and what new experiences may be on the way for guests to enjoy. We'll be sure to keep an eye out for more updates on that and let you know what we find! Stay tuned for more Disney Cruise Line news.
Join the AllEars.net Newsletter to stay on top of ALL the breaking Disney News! You'll also get access to AllEars tips, reviews, trivia, and MORE! Click here to Subscribe!

Disclosure: We were invited by Disney Cruise Line to attend a media preview of the Disney Wish. This did not affect our reporting of the event — our opinions are our own.