Sometimes all you really want when you want at Disney World is a perfectly-cooked steak.
And although many restaurants at Disney World serve steak in some form or fashion, some do it way better than others.
So we're looking at what you've said in the AllEars Reviews about many of these restaurants that serve steak. And we're ranking those restaurants according to what you told us!
SCORE: 5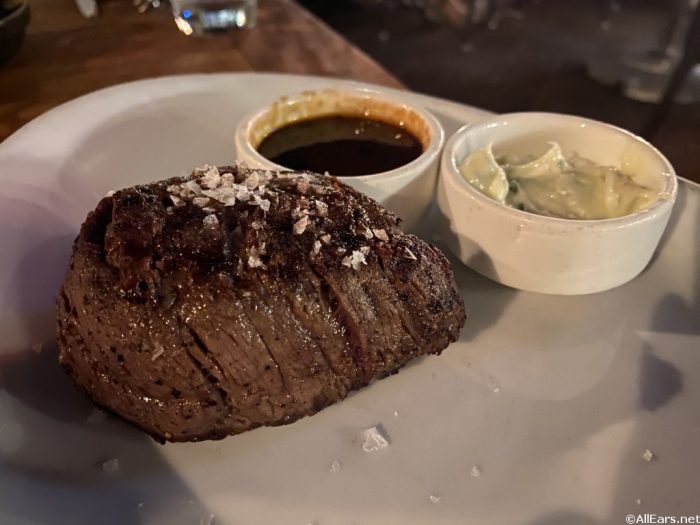 "We ate here in 2019. Overpriced, and not up to the quality level of a true high-end steak house. The preparation of their steaks was spot on, but the meat was clearly not of the highest quality. They claim to use prime beef, but frankly the meat we were served should have been graded choice at best. Sides are good. Service is hard to rate, because the restaurant is so oppressively loud we weren't able to hear our server."
"The prices are WAYYYYY too much for what you get. When you pay $50 for an 8 oz steak, you should get at least a potato, and vegetables or a salad. My husband got sick immediately after eating."
"My husband and I ate at STK on a Tuesday evening. It was loud and expensive, even for Disney prices. The steak was just okay, and the waitstaff was slow to respond to requests…"
SCORE: 7.3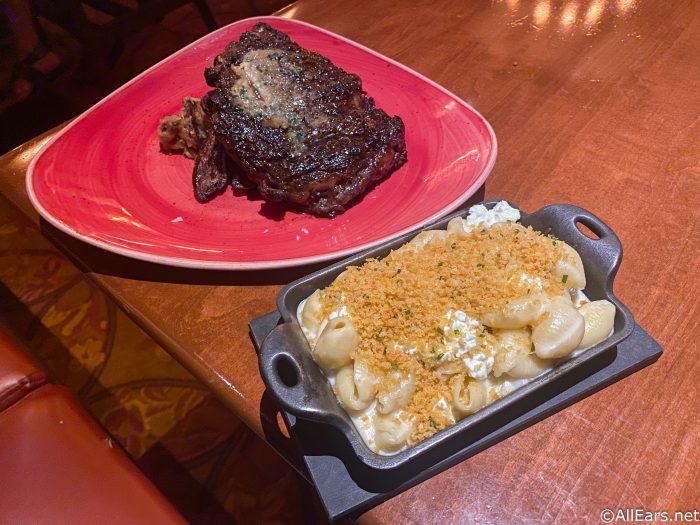 "Our absolute must do every trip to Disney World. Amazing steak, risotto, beer cheese soup and bread. Nice to get indoors and have a fancy meal for birthdays and anniversaries while on vacation."
"Food was very enjoyable. The menu was limited due to the pandemic, but we were able to find things on the menu that tasted great. The filet mignon and ribeye were very good. Service wasn't the best, and they all seemed very stuck-up. The guests also acted the same way, which was uncomfortable. But our dinner and dessert were awesome."
"Beautiful atmosphere and even better food. We were celebrating a milestone birthday on our visit, and this dinner made it all the more special. The breadbasket and cheese soup are delicious, but the steak is the reason to come back again next time we are visiting WDW."
SCORE: 7.47
"I've been here a good deal and have always had a positive experience. The cast members here are friendly, the bread they bring before the meal is good, and the steak and Mac and cheese is magic. This is also the only restaurant on property that has given me a little keepsake as a way of thank you for returning to the restaurant which always makes you feel special."
"The food was great. My husband had the steak and said it was the best he had ever eaten."
"Steak with Mac and cheese is amazing!"
SCORE: 7.47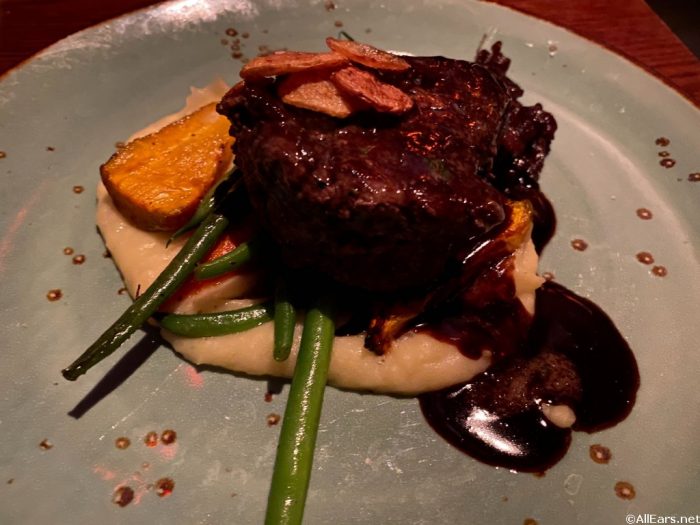 "The meal here was pretty good overall, although the desserts were a bit on the too sweet side for me personally. The appetizer FO Soup was delicious, that melty cheese was to die for! The steak overall was delicious- small but to be expected because it's a filet ,ordered medium rare and cooked to perfection. The steak came with mashed potatoes and for what you pay for, there wasn't a whole lot of them-like a tiny scoop on mine and my boyfriends plate. The meal also came with yummy bread and butter which I had no idea about and they shaped the butter like Mickey Mouse! Because of COVID, couldn't take pictures with the best and barely came out for more than a minute so that was super disappointing. This was more of a one and done dinner option for us, maybe will try the regular quick service lunch menu next time when that's back."
"So disappointed with dinner at Be our Guest. I have never felt more ripped off than when I left this place. This is a very pricey location and they dont deliver. The food is average at best. My steak was so salty I could hardly eat it. They charge you $40 for a kids meal that consist of below average mac and cheese and hard chicken fingers. The Beast comes through in this dark restaurant so fast you barely can see him. Our server was nice but not efficient. We waited a very long time for every portion (drinks to dessert). We almost walked out without dessert because we waited almost 30 minutes for it. We the server finally came she forgot the coffee we ordered. Ten minutes later after we finished dessert the coffee arrived… COLD. She gave us to go cups of coffee which did is no good as you cant walk and drink in the park during Covid. We had already been in the restaurant much longer than expected due to the extremely slow service. With two kids we were ready to head back to the resort. This was my third time at Be our Guest. The first two times were breakfast and lunch. Im here to tell you breakfast and dinner are a complete RIP Off. If you want to experience this location for the Beast castle do lunch."
"We went for my birthday dinner and everything was fantastic. My steak was cooked perfectly, and everything else was delicious as well. The desserts were so cute and the grey stuff is to die for. Since our waitress knew it was my birthday she brought out a little extra birthday magic for me which made it even more special. Can't wait to go back."
SCORE: 7.72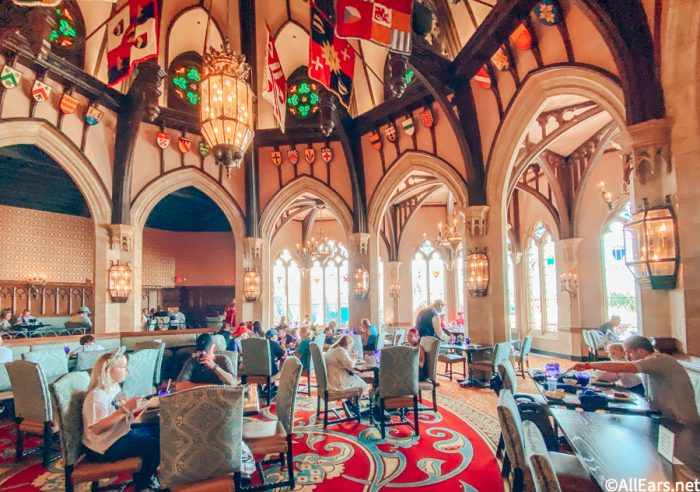 "We recently got back from my kiddos first Disney trip! We did alot of character meals, and really enjoyed most of them. CRT was a pretty great experience! The service was the best we had in all of Disney! We got a table by the window overlooking the carousel. This dinner was on our last day of the trip. We spent the dinner talking about the trip and being super excited to see cinderella. My husband and I both got the meat and cheese to start, it was good, but we had better throughout our trip. I had the beef loin as well as my husband. He had the steak at BOG and said that was better. I thought the steak was ok, not my favorite. My husband got the cheesecake dessert, it was very good. I really enjoyed the chocolate dessert. My daughter loves to decorate her own cupcake, such a nice touch. We also got some pixie dust, and got a free cupcake for my birthday here. My 2 year old got to eat the cupcake, which kept him from wanting his sister's dessert. This was the perfect ending to our trip."
"I got the steak and I loved the food so much as well at the dessert (the clock strikes 12 is delicious)!"
"We went there without kids so that was our first mistake. The characters weren't important to us and they all got sad faces when we said we really didn't need our pictures with them. The food was okay. I had scallops for an appetizer and it came with one not very big scallop. I had steak and shrimp for the entree and ended up with about 5 spoonfuls of mashed potatoes, a piece of steak that I could have hidden in the palm of my hand along with 2 average shrimps. The cheesecake and strawberry desert consisted of cheesecake and half of a strawberry."
SCORE: 8.03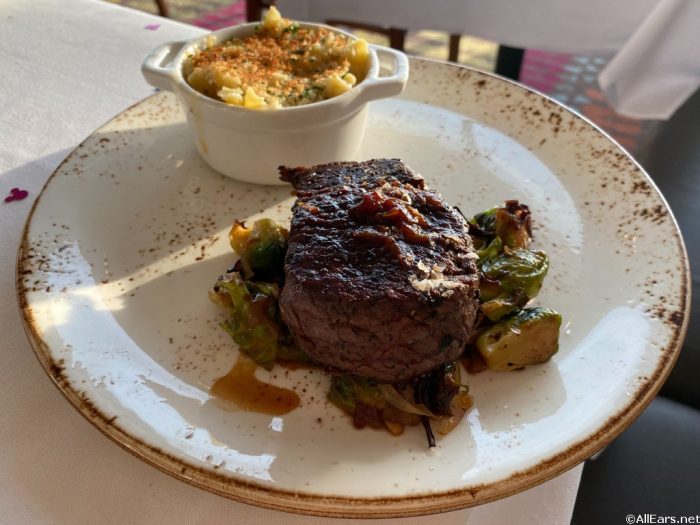 "My husband and I went here for our fancy dinner to celebrate our marriage. the view is amazing tho we sat farther into the restaurant which is still good but if you want a window view make sure you let them know beforehand. the pork chops are great as well as the steak and lobster combo. the stand out of our dinner was the pepperoni pizza its amazing. we also go 2 free glasses of champagne for celebrating getting married."
"We all ordered the Cowboy Cut 19oz ribeye steak. We have different tastes in how well the meat is done, but they all came out perfect. You could cut the steak with a fork. It was so juicy and seasoned just right. It was served with honey saffron-glazed carrots and aged Gouda macaroni and cheese. Wow, the mac n cheese was so good! There was so much food, only one of our group was able to finish the whole steak. "
"This was our first time dining here and we cannot wait to return. We were so lucky to be seated at the window, although it looked like you would have a great view no matter where you sat. I am still dreaming about the steak I had and everyone else loved their food. Watching the fireworks while enjoying your dessert was such an awesome and unique experience with the music being piped in. It was very pricey, but well worth the splurge for the very unique and memorable experience. Would love to do it again someday."
SCORE: 8.12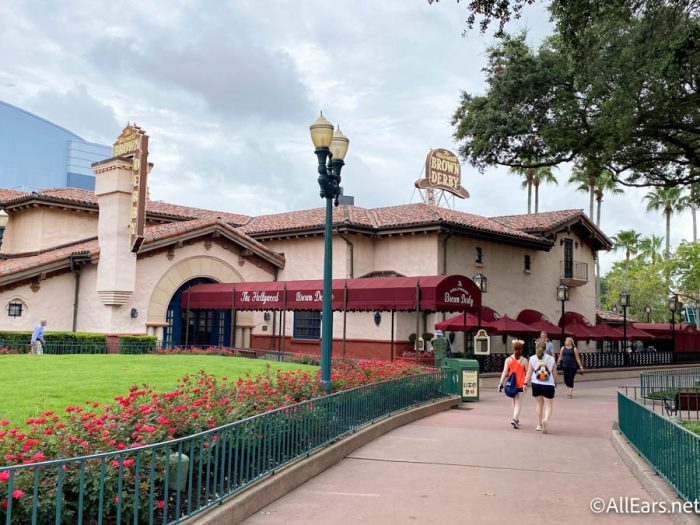 "THE FOOD WAS SOOOOOO GOOD. Mouthwatering. Literally, after every bite, you had to moan a little. My mom and I had the shrimp cocktail for an app and then the filet mignon and grilled shrimp. The steak melted in your mouth. Fantastic."
"My husband and I brought our 2 kids (9 & 7) here in August and we all ordered plant-based meals. My husband and I LOVED our plant based salisbury steak meals but the kids were not into the vegetarian pho (I tried it and it wasn't great). Our lovely server also gave me free grapefruit cake because I was celebrating my nursing school graduation."
"It was really fun to be in such a "fancy" place while in the middle of the park. I did feel underdressed but that obviously isn't an issue because they know where they are and you aren't judged for it. I got the steak when we went here and it was deeeelicious but very small. I know that is my typical American palate talking but for a 2 dining credit per person meal I was left wanting more. My husband got the pork chop and he really enjoyed it too. Same complaint on size though. He did try the grapefruit cake. Said it was okay."
SCORE: 8.25
"This restaurant is at a moderate resort, you say!? The food was so, so, so good. My wife and I dream about the steaks we've had there (LOL). The views of WDW are incredible. The interior design is beautiful!! We were celebrating my wife's birthday here, the waitress gave us a magical moment!"
"The attention our waiter Brian gave us was beyond amazing. The Ribeye steak was something my wife and I are still talking about. The Deserts are very good also. The best part is that we did not feel rushed, we took our time enjoying our meal and drinks. The wait for our table was not long."
"My husband and I celebrated our 25th wedding anniversary with a stay in the Grande Destino Tower at Coronado Springs Resort. We dined at the new Toledo's on the top of the tower. The atmosphere was wonderful & we had a table with a window view of Hollywood Studios. We had the 28oz bone-in Ribeye for two which came with our choice of two sides. It was cooked to perfection! The best steak we've had at any restaurant on Disney property including the steakhouses! The service was great as well. After dinner the manager offered us a tour of the hotel's club level lounge. It made me wish we'd spent the extra money to have access to the lounge…. there's always next time!"
SCORE: 8.31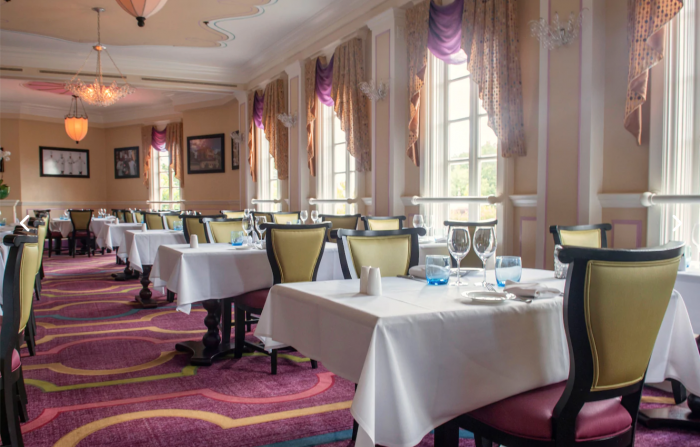 "The service was lovely and overall, the food tasted very good. I do not feel the restaurant lived up to my expectations, but I usually dine at the Yachtsman Steakhouse or Flying Fish. I enjoyed the Tuna Tartare, but the mustard flavor was very powerful. The Chicken Cordon Bleu was very good and nicely presented. My son said his Duck Breast was just okay and my husband's filet was very good, but not worth the cost. Desserts were very attractive, I can't recall what they were…and that's disappointing as we ate there last week."
"The meal started with a small treat from the chef, a cheese puff that was delicious. I had hot decaf tea with my meal and we had the bottled Evian water – both top shelf. Once we ordered, the waiter called over the bread service waitress. There were several breads we could try – a baguette, a multigrain roll, mushroom rolls, and many other selections. Every one we tried was delicious. I ordered the salad with pears and pecans that was absolutely phenomenal. I had asked for it without cheese and the French mustard dressing was soooooooo good. The pears were crisp and sweet – very much like a dessert. For entree, I had the tenderloin with mushroom top – it is so hard to get a great well done steak, but this was perfect! The entree came with a cappuccino mashed potatoes – which was a layer of mashed potatoes, topped with a truffle foam – um! yum! For dessert, I had to have the meringue with various creams and raspberry sorbet – OMG – so good! Arguably, the BEST dessert on WDW property. "
"Easily the best meal we had on our entire trip. Though the food and drinks are expensive, they are totally worth it. My wife and I enjoyed the entire scope of our meal and cannot recommend it enough to friends and family. Any trip to Disney without dinner here is wasteful."
SCORE: 8.34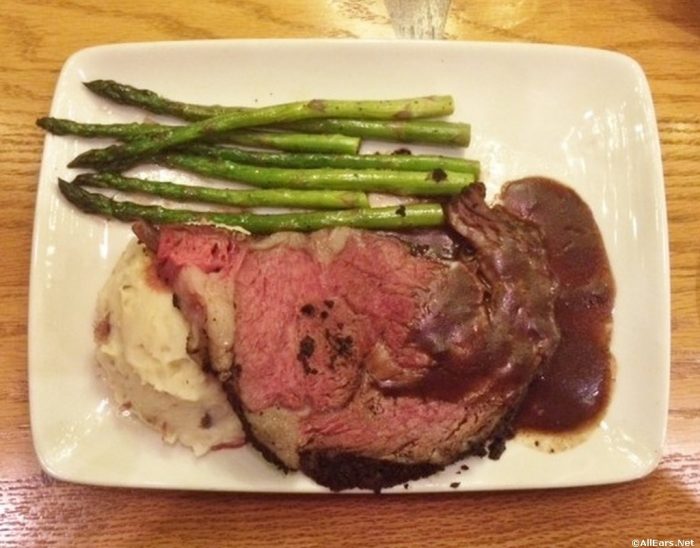 "2nd time eating here. Was fantastic food again! We had the prime rib, the steak, and the all you can eat platter. My son didn't like some of the meat on the all you can eat platter as well as some of the other meat, but he still had plenty to eat that was great. Had the crayfish bisque. Was very good, but literally 2 pieces of crayfish in it! Chocolate creme brule dessert was one of the best we had all week! Good service, very attentive. Interesting that this was the only place we ate of all the 8 days we were there that didn't tell us happy birthday or happy anniversary (we both had bdays and our anniv that week and both had 2 buttons on). Not a big deal as we had tons of celebrations the whole time we were there, but I realized it after dinner."
"I ate at Boatwright's in April of 2010. We were staying at Port Orleans Riverside and in the middle of our trip we had such a brutally hot day (mid 90s) that we decided to leave the park and skip our reservation at Crystal Palace. We stopped at Boatwright's and explained the situation, and they were able to fit us (a group of 10) in after a wait of only 20-30 minutes. I ordered the Prime Rib, and I have to say it was the best steak I ate during our 10 day trip- and I had steak 5 times. The steak was cooked perfectly and just melted in my mouth.. just delicious. I also enjoyed the mashed potatoes. For dessert I had the crème brulee- admittedly the first time I have ever had crème brulee, and it was extremely tasty. Others from our group got the Prime Rib, the Boatwright's Jambalaya, and the Louisiana Lugger (Pork Chop) and we all enjoyed the food."
"Ate here Sept. 30. The prime rib was delicious as well as the masked potatoes and asparagus. First time that we ate here and will definitely be back. We stayed at OKW and took boats to Downtown Disney they Port Orleans Riverside. The trip was worth it and had a nice relaxing boat ride."
SCORE: 8.58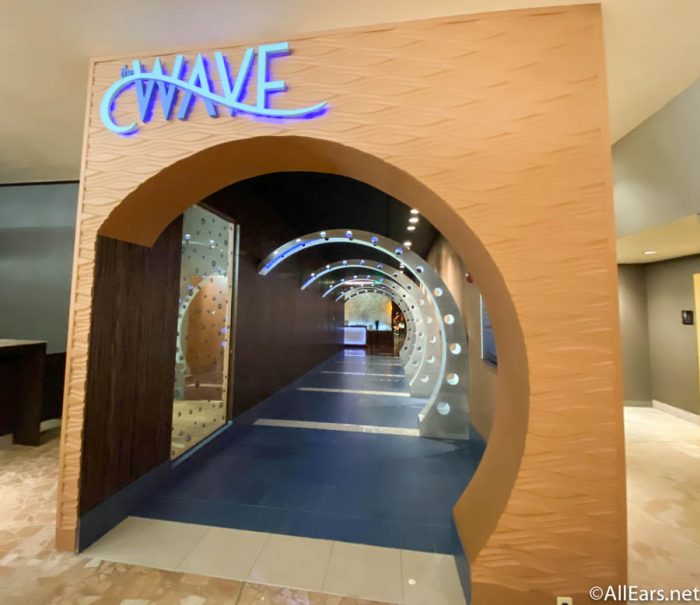 "Our first experience at The Wave was dinner on Jan 17, 2017. I can't say enough about the food and the service. The crab and shrimp cake appetizer was delicious. Our fillets were done perfectly and the roasted veggies were wonderful. They staff were so friendly and surprised us with a plate of a chocolate Minnie and chocolate covered strawberries, truffle hearts, balloons and wine glasses with champagne for our 50th anniversary. We will make this a must do each time we visit Disney World."
"I would go over 10 here if I could. In a week where we ate at a lot of high end places, this was the best we had hands down. The service was top notch and the food was great. Steaks were cooked perfect, sides were very good, just blown away. I even made a comment to my wife that I felt this blew California Grill out of the water. The Wave is now on a regular rotation for restaurants for our visits."
"Always on my meal list, never disappoints. Fantastic, knowledgeable servers, nice variety of menu choices. Their crab cake appetizer is not as good as it used to be, far from it actually – choose something else The pork chop was excellent, the strip steak as well (I've also had the beef tenderloin in past visits – highly popular for a delicious reason). A bit of a hidden gem, like most resort restaurants."
SCORE: 8.76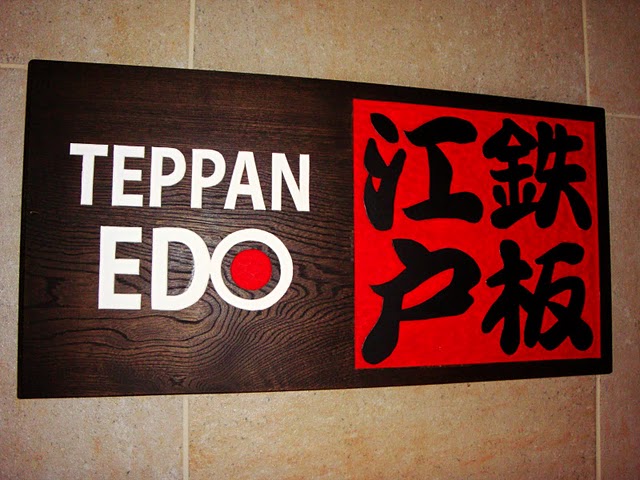 "I love Teppan Edo! It has always been a go-to for me and my family. I like how each entree comes with a salad and soup as well as rice (all are very delicious). You can do entree combinations like steak and shrimp, chicken and shrimp, and chicken and steak, as well as filet mignon and salmon. The desserts in my opinion are not appealing but I'm sure you'll be full after the entrees! Also, it is a hibachi-style restaurant, with a fun and entertaining chef for the kids and adults alike. Overall, this is an excellent restaurant in EPCOT!"
"We sampled the tempura and wafu ribs appetizers. The tempura was delicious and a great start to our meal. The wafu ribs didn't look appetizing but they were actually fall off the bone tender and tasty! For our entrees my boyfriend ordered the steak and shrimp and I ordered the hotate (scallops). Along with your main entree you also receive a salad, a side of white rice and noodles with vegetables. The meal also is served with yum yum sauce and ginger sauce. The scallops were a little over cooked for my liking but the portion was generous and the flavors spot on. Overall we both enjoyed our meals and would definitely come back. Another person at our table ordered the salmon and it looked delicious! For dessert we had the green tea ice cream and mango cake. Since I was celebrating my birthday they brought out the cake with a candle in it and also a chef's hat to wear. Super cute!"
"This used to be a must-do every trip. but when they changed to the sukiyaki rice a couple of years ago, we skipped it our last two trips. We decided to try it again, after I heard they still had steamed rice – all you had to do was ask for it. But I was pleasantly surprised to see that they brought back the steamed rice as the standard! I had the steak and chicken and both were cooked perfectly. My mom had the scallops, which she said were the best she's ever had, and my dad had the filet, which he also enjoyed. The veggies were great as well. This has now been added back to our "every trip" list."
SCORE: 8.88
"Romantic signature dining restaurant at Animal Kingdom Lodge. Hands down the best steak I've ever eaten in my life! Service was impeccable. Extensive wine list!"
"The filet with the mac and cheese was the best, they also bring you a little spoon from the Chef with a taste of one of his favorites. It think this one was the wild boar, it was good what ever it was. the desserts are unusual and fun to try. If we cant get a reservation we ask if there is room at the area where they make the flatbreads and salads (it is just the two of us). It is fun to watch them make the stuff and they talk to you while they make it."
"Wow, what an amazing experience. Our meal was at a very leisurely pace and so fantastic. We had the Taste of Africa, which was delicious. My husband had the Filet Mignon and I had the seafood curry. Both were great. We were here for the wine and it didn't disappoint. Our server was knowledgeable and friendly. Everything was above and beyond expectations and I would love to go here again."
SCORE: 8.95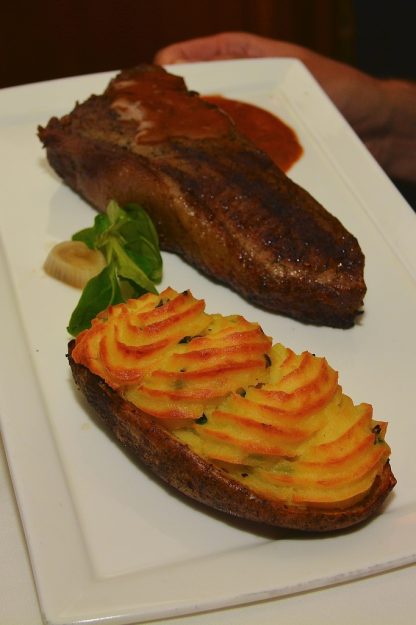 "My wife and I had our final day "Disney dinner" at the Yachtsman in October of 2019. We stayed at the Yacht club, so it was really easy to get there. We liked the ambiance and their main dining hall is very beautiful. Its about as classic steakhouse fare as you can think of, but VERY well prepared. My wife got a seafood cioppino and I got a ribeye. Our server, Bill, was incredibly well informed and was able to pair our wine with our meals perfectly. He made many suggestions and brought us a complimentary wine that worked well with our dessert. He was an absolute blast, ask for him! Everything we got at the Yachtsman was cooked to perfection, seasoned well, looked like a knockout, and we were both satisfied beyond explanation. While its not a black tie level restaurant, we were glad we dressed up a little prior to arriving because the ambiance definitely calls for it. Would definitely recommend if you are looking for a high-end classic steakhouse meal!"
"The best steak I have ever eaten in my life! The service was fabulous as well! This will be on mu dining list every time I visit. The Cesar salad was amazing as well as the creme brulee. I would recommend this restaurant to everyone!"
"My wife and I celebrated our 40th Anniversary at the Yachtsman and it was wonderful. They provided us with our personalized menu which said Happy Anniversary. The food was wonderful.
We started with the Lobster Bisque and then had the 32oz Porterhouse for two. It was the best steak I have eaten at Walt Disney World. For sides we had the Creamed Spinach, Sauteed Mushrooms, and The Summer Vegetable Fricassee. They were all good."
Which Disney World restaurant do you think has the best steak? Let us know in the comments!
Join the AllEars.net Newsletter to stay on top of ALL the breaking Disney News! You'll also get access to AllEars tips, reviews, trivia, and MORE! Click here to Subscribe!