It's been a FULL day at Avengers Campus as the new land officially opens to guests in Disney California Adventure.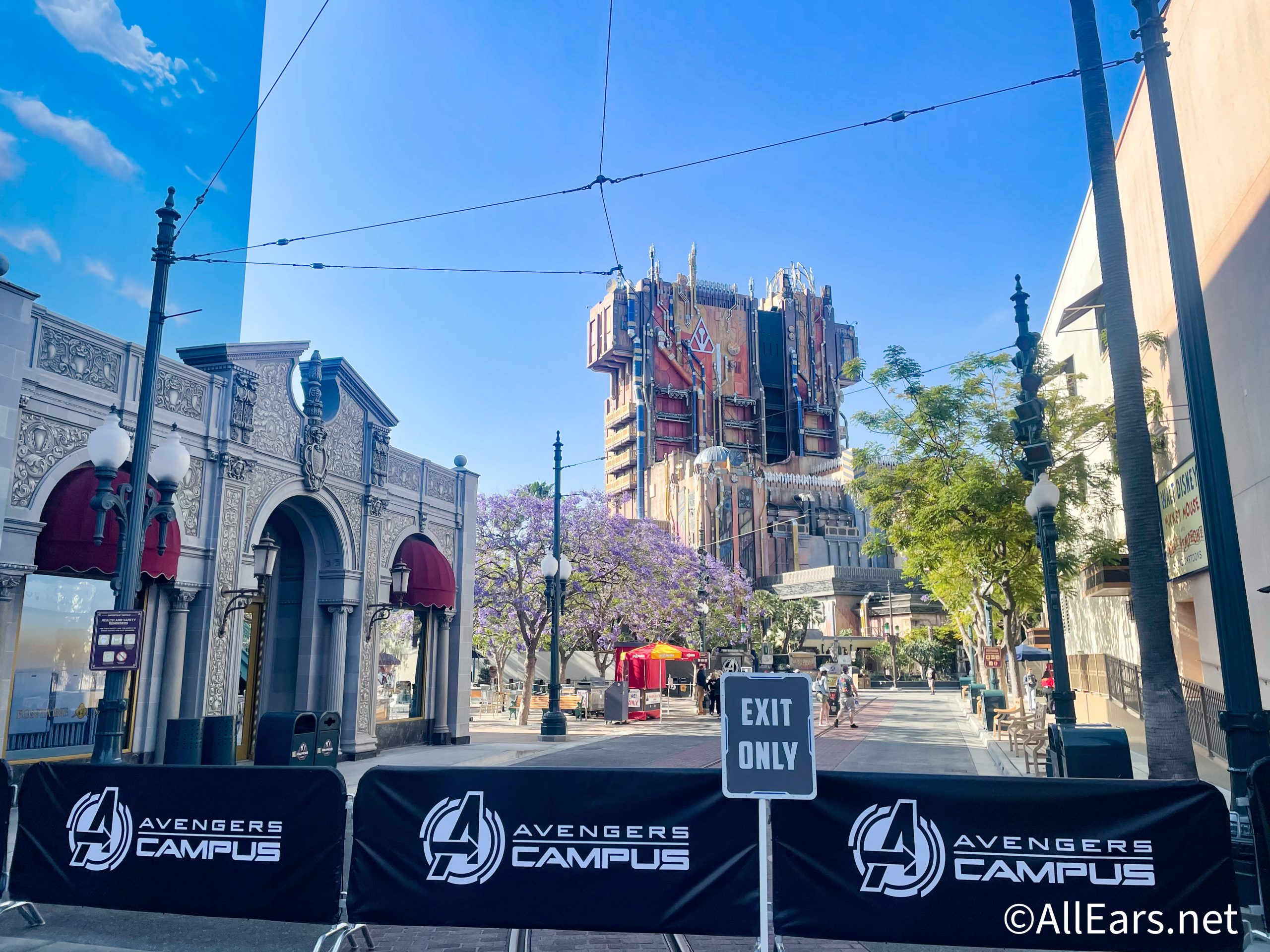 Although we've been exploring land-wide Easter eggs, eating $100 sandwiches, and watching stuntronics, we're also giving you a look at the crowds we saw during the grand opening of Avengers Campus!
We arrived hours early at Disney California Adventure, and there were already LOTS of people lined up outside.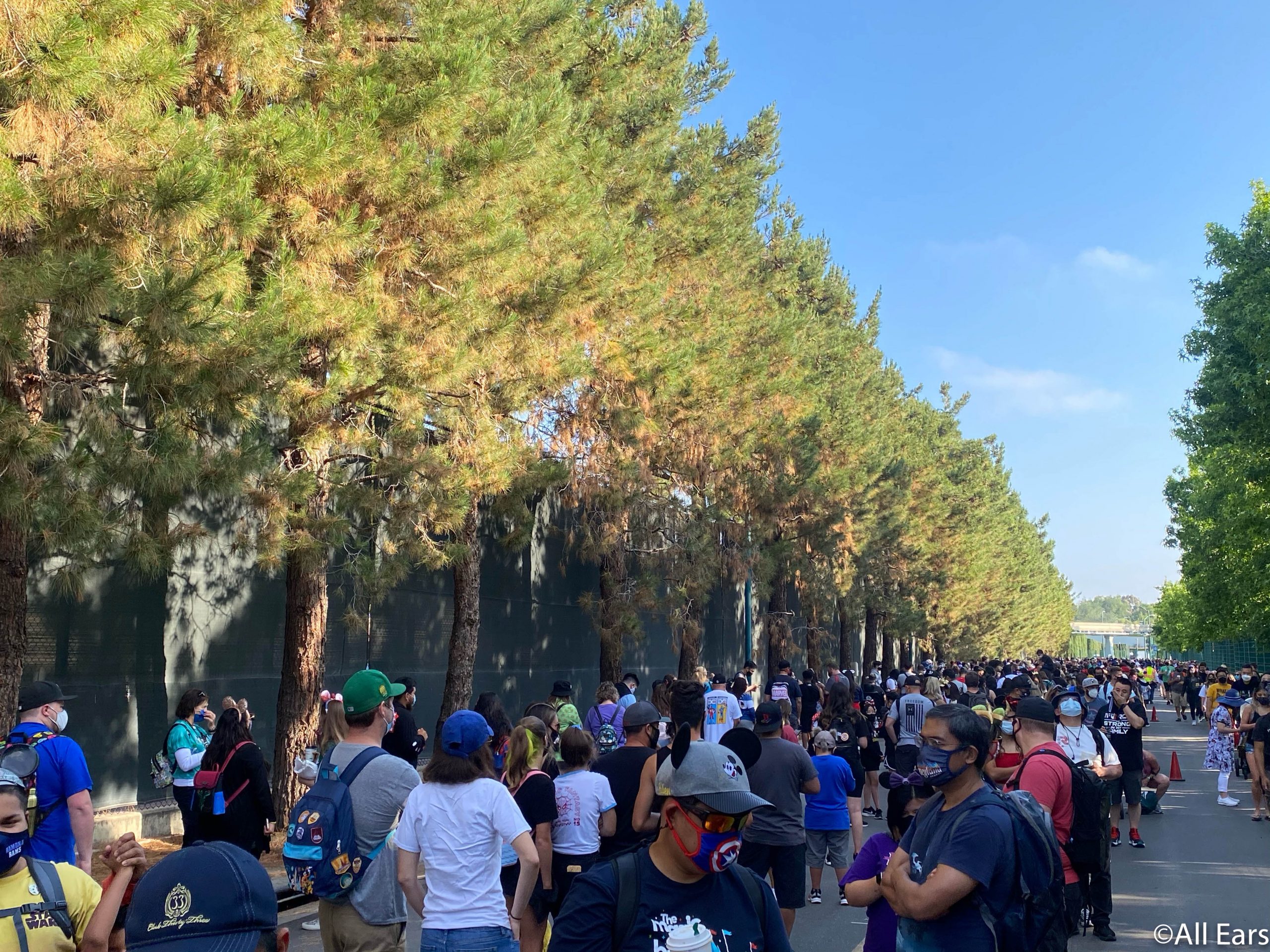 We heard from a few guests that many people had started lining up as early as 3AM this morning.
While Disney California Adventure hadn't opened its gates yet, we got in line to wait for the moment that we were able to head over to the Avengers Campus area.
A look at the crowds waiting for Avengers Campus to open today! pic.twitter.com/eOOWciAYGY

— AllEars.Net (@AllEarsNet) June 4, 2021
Prior to the parks opening, we found out that ALL of the Mobile Order pick-up slots for the day had been booked up as early as 6 AM.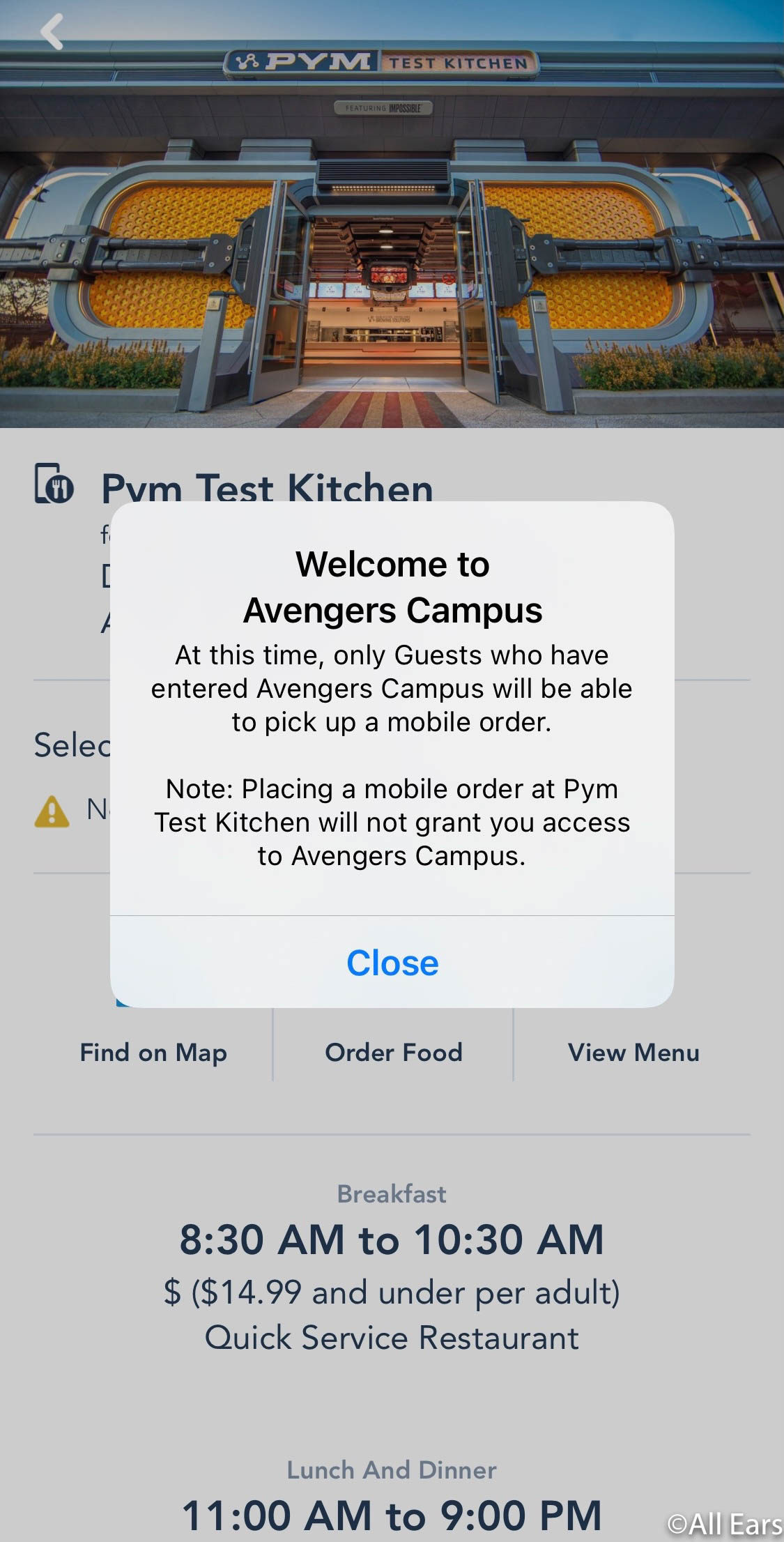 However, that doesn't mean that Mobile Orders guarantee guests access to Avengers Campus, as there still is a capacity limit in place.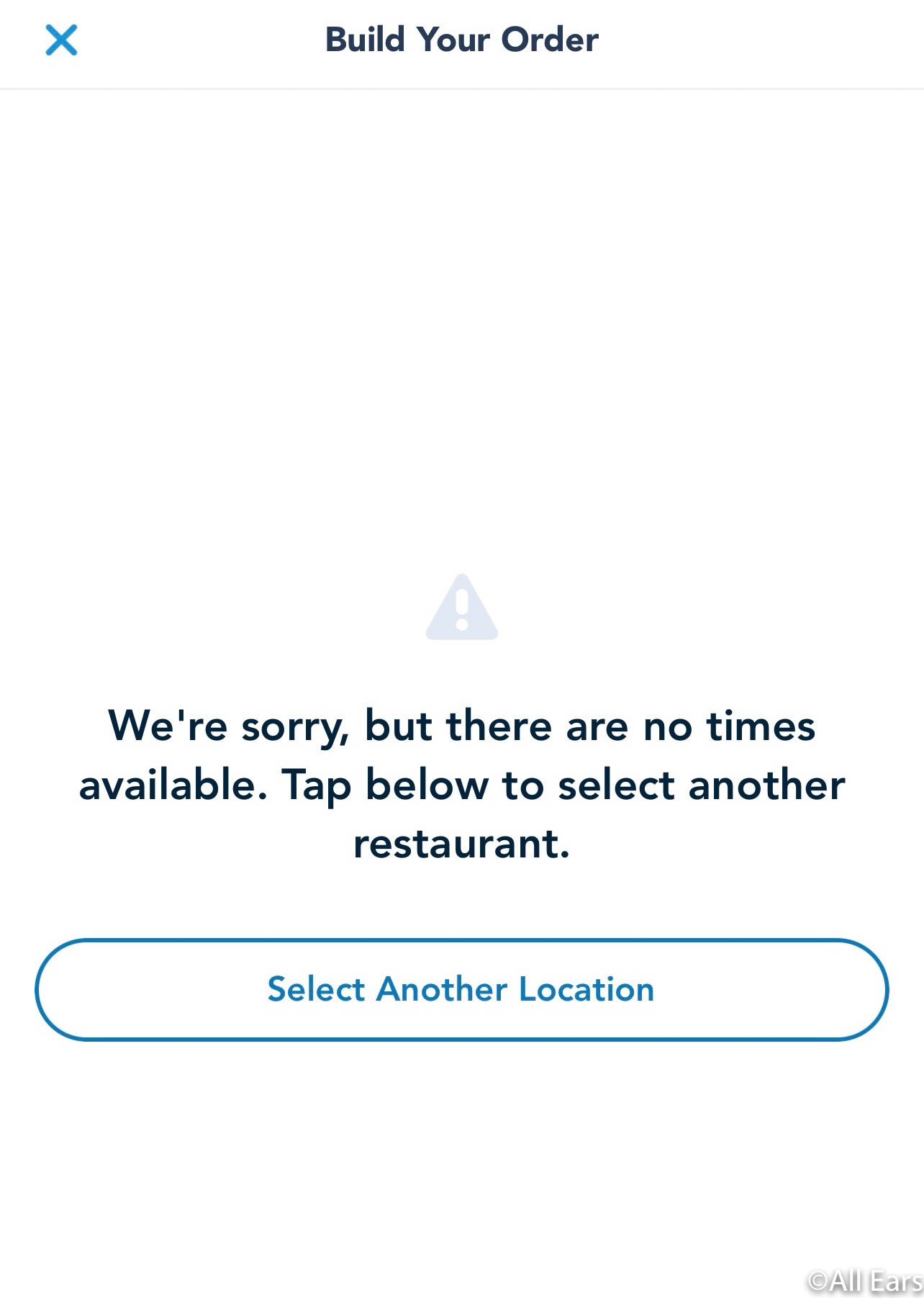 Even after the gates opened, the line to actually enter Avengers Campus stretched all the way back to the Golden Zephyr.
Once we neared the front, we noticed that barriers were surrounding the entrance so Cast Members could control the traffic flow and direct guests properly.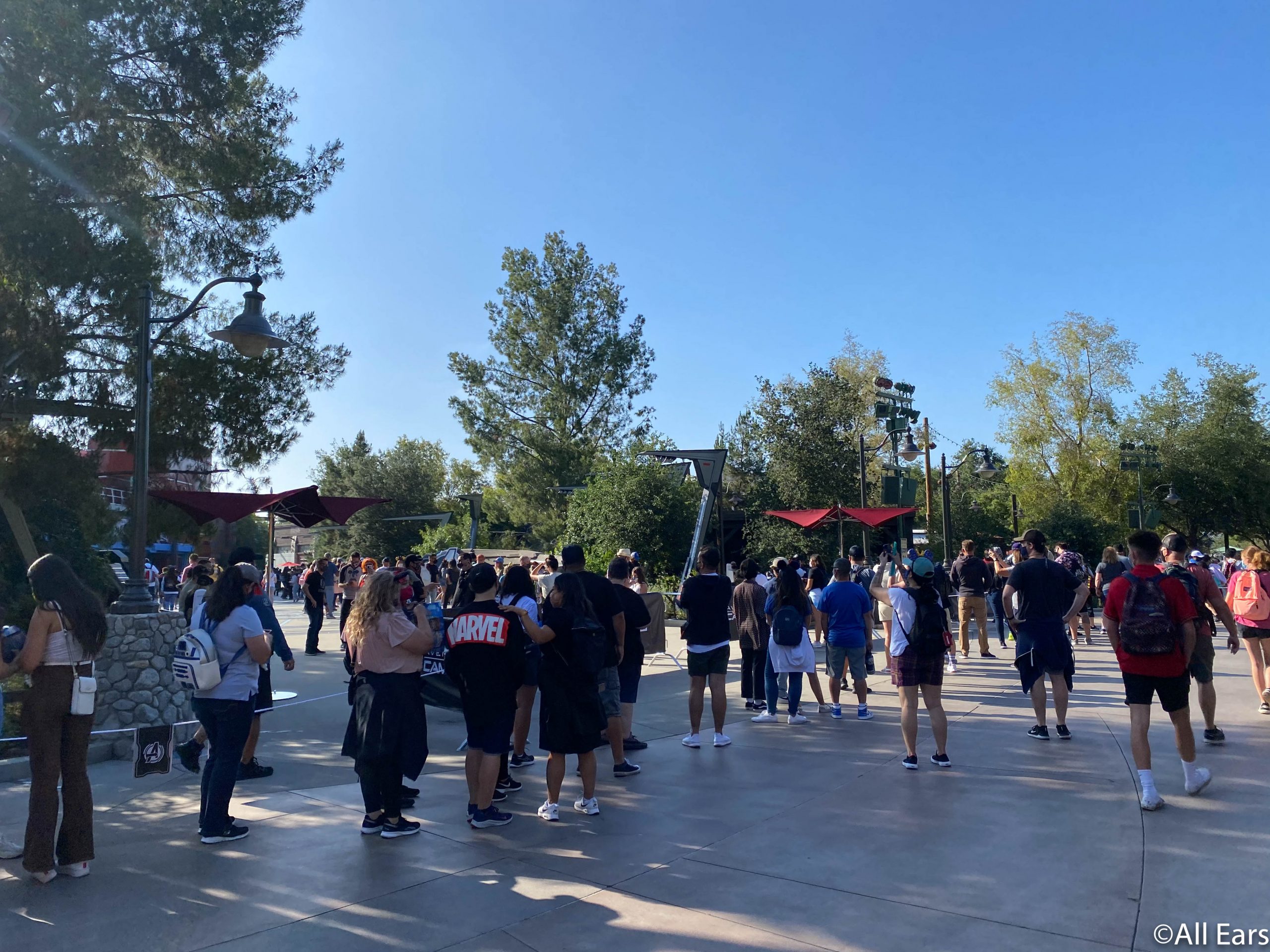 Avengers Campus brought in a LOT of people of all ages, making it possibly even busier than the moment when Disneyland and Disney California Adventure both officially reopened in April.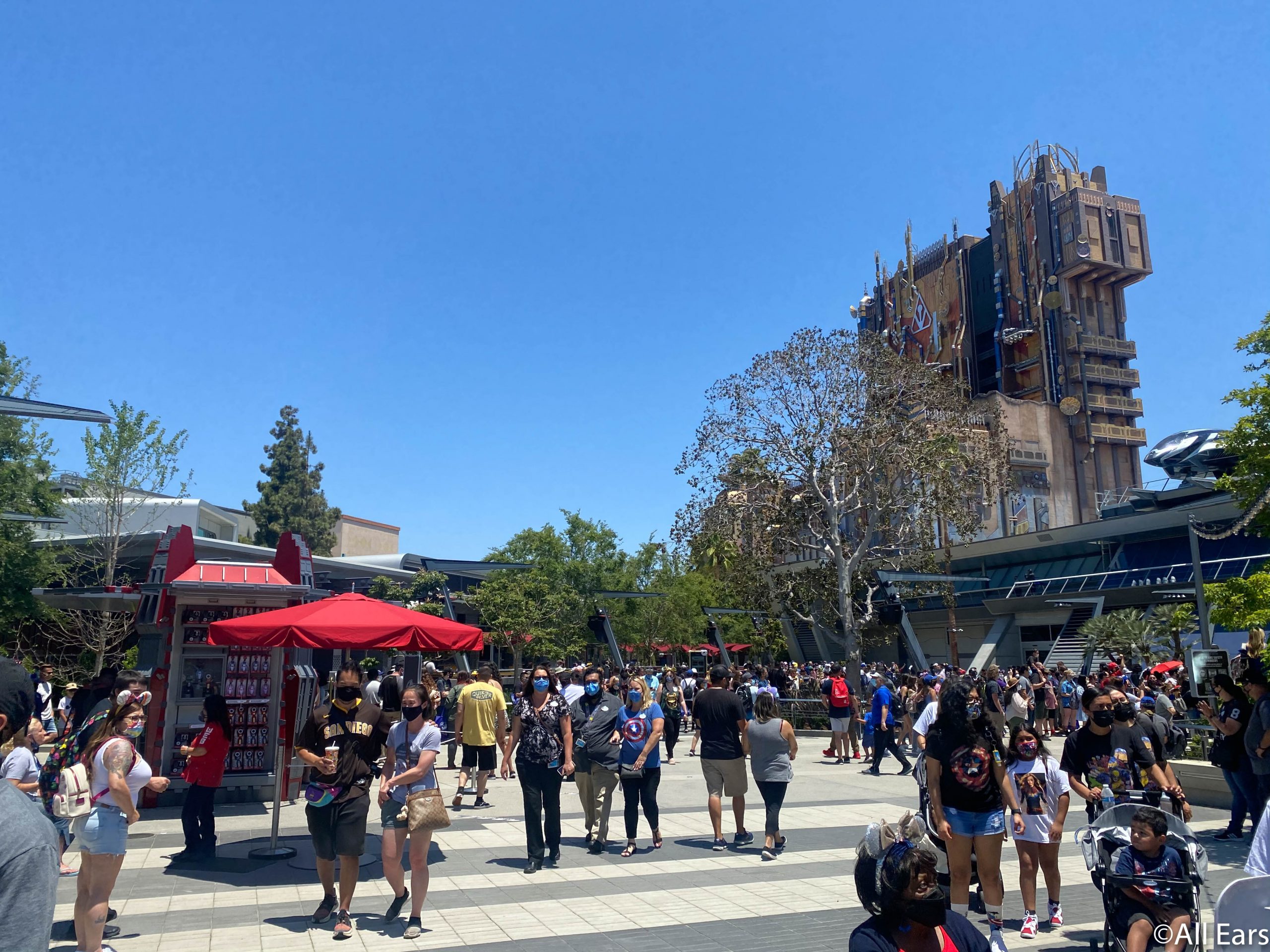 Since characters would be participating in a Rooftop Stunt Show, along with the various meet-and-greets around the parks, crowds were making their way to wave to their favorite heroes.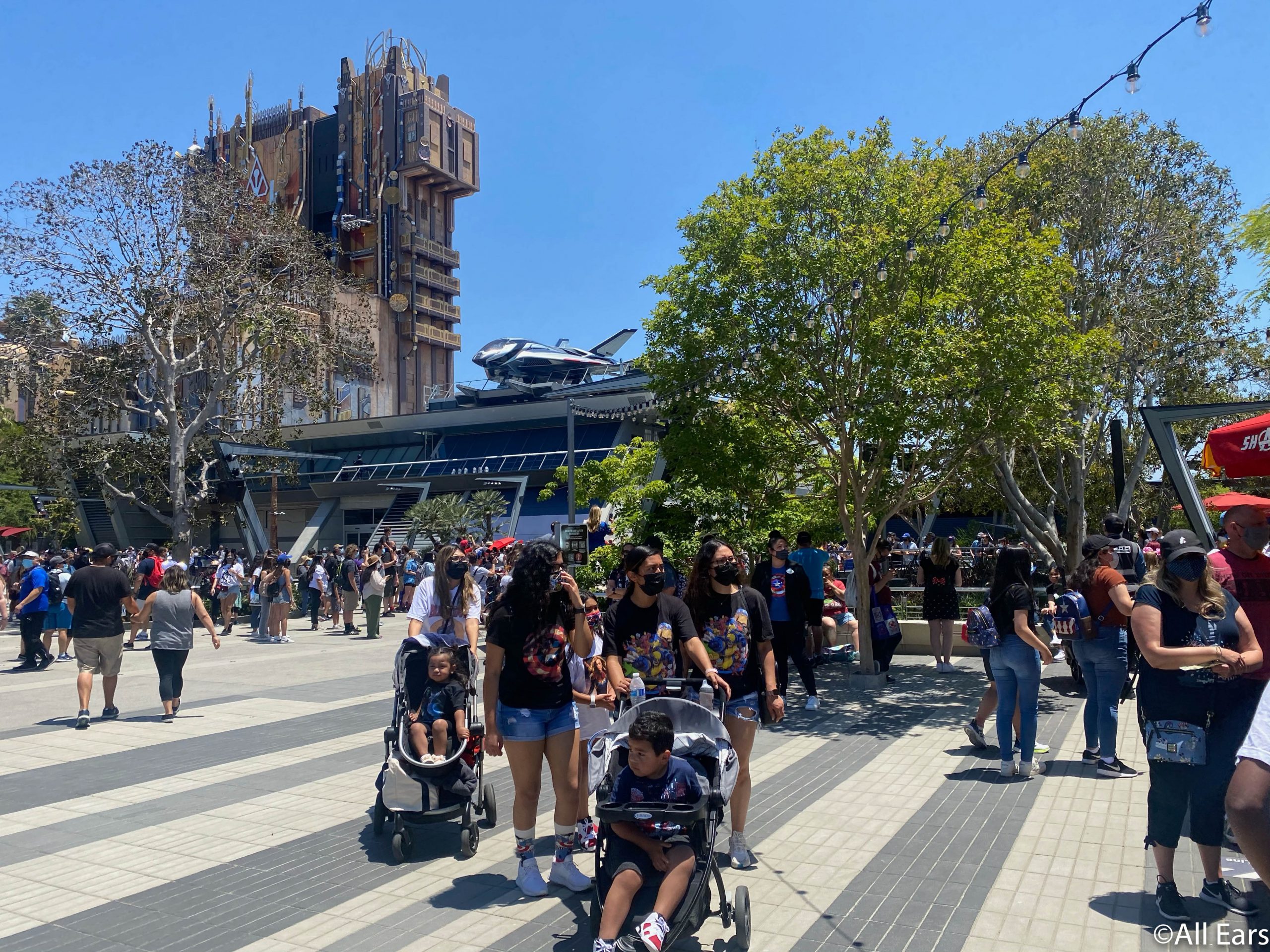 Plenty of guests were also heading over to the WEB Slingers: A Spider-Man Adventure to be able to interact with Spider-Bots and shoot webs!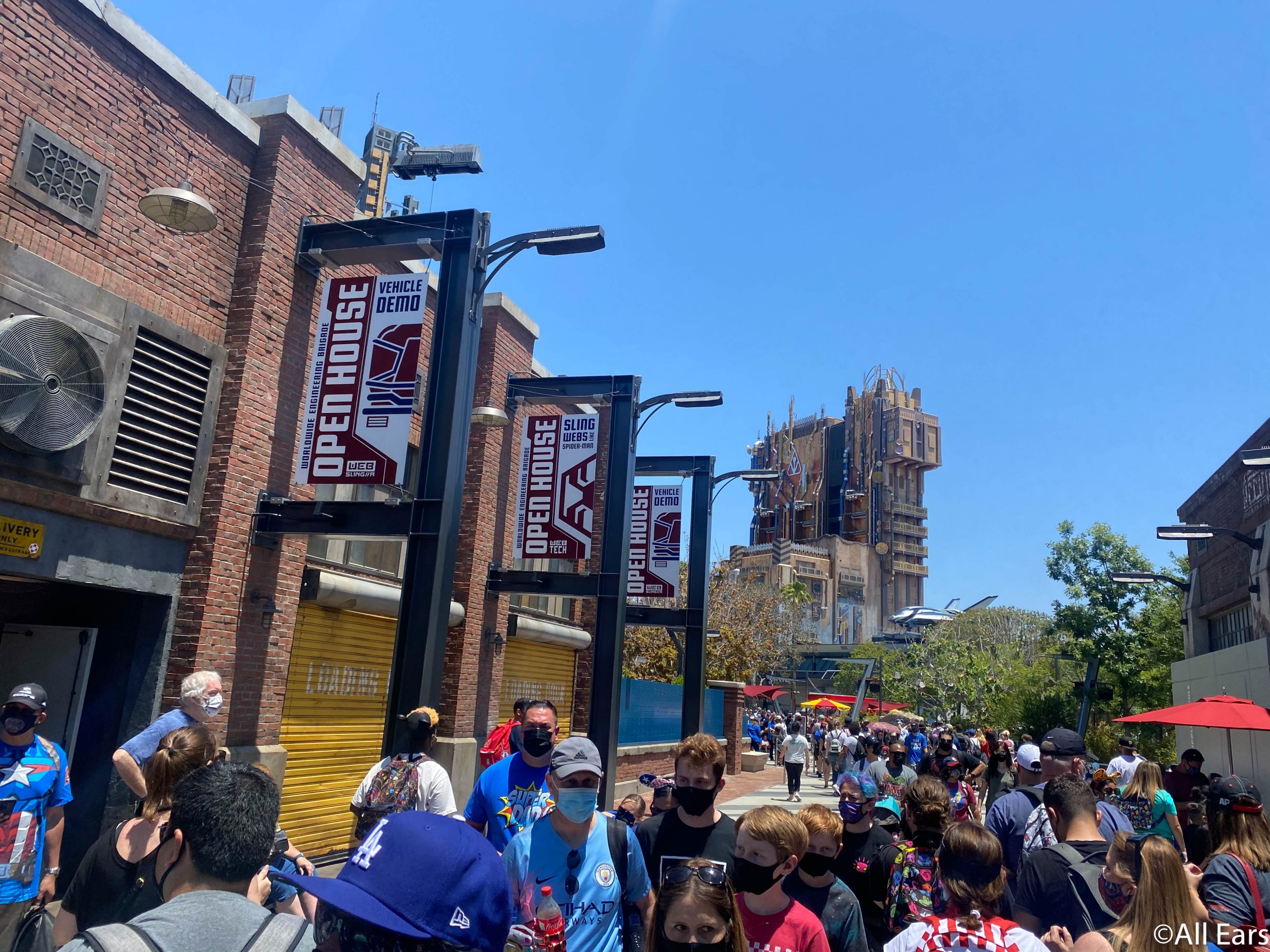 Part of the reason the area may have looked a bit more congested was the fact there was a separate line for people who had virtual queue passes. However, the slots for WEB Slingers: A Spider-Man Adventure's virtual queue filled up within seconds. So, if you want to score a spot in the virtual line, be sure to be on the attraction's mobile page prior to the 7 AM and 12 PM opening times for passes.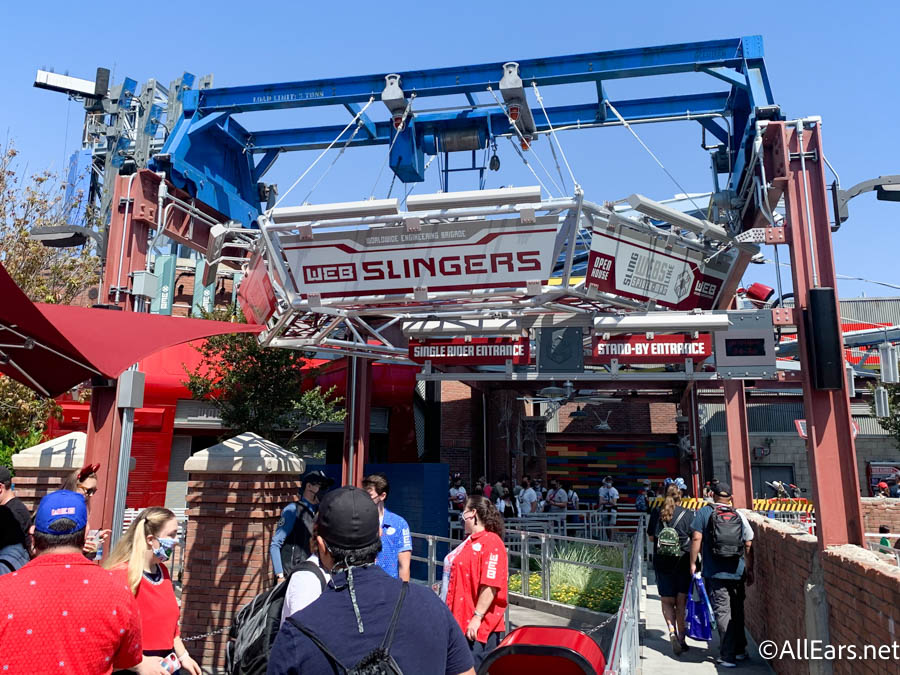 Right across the way, guests were also making their way into the WEB Suppliers store to pick up high-tech merchandise inspired by their favorite Marvel characters.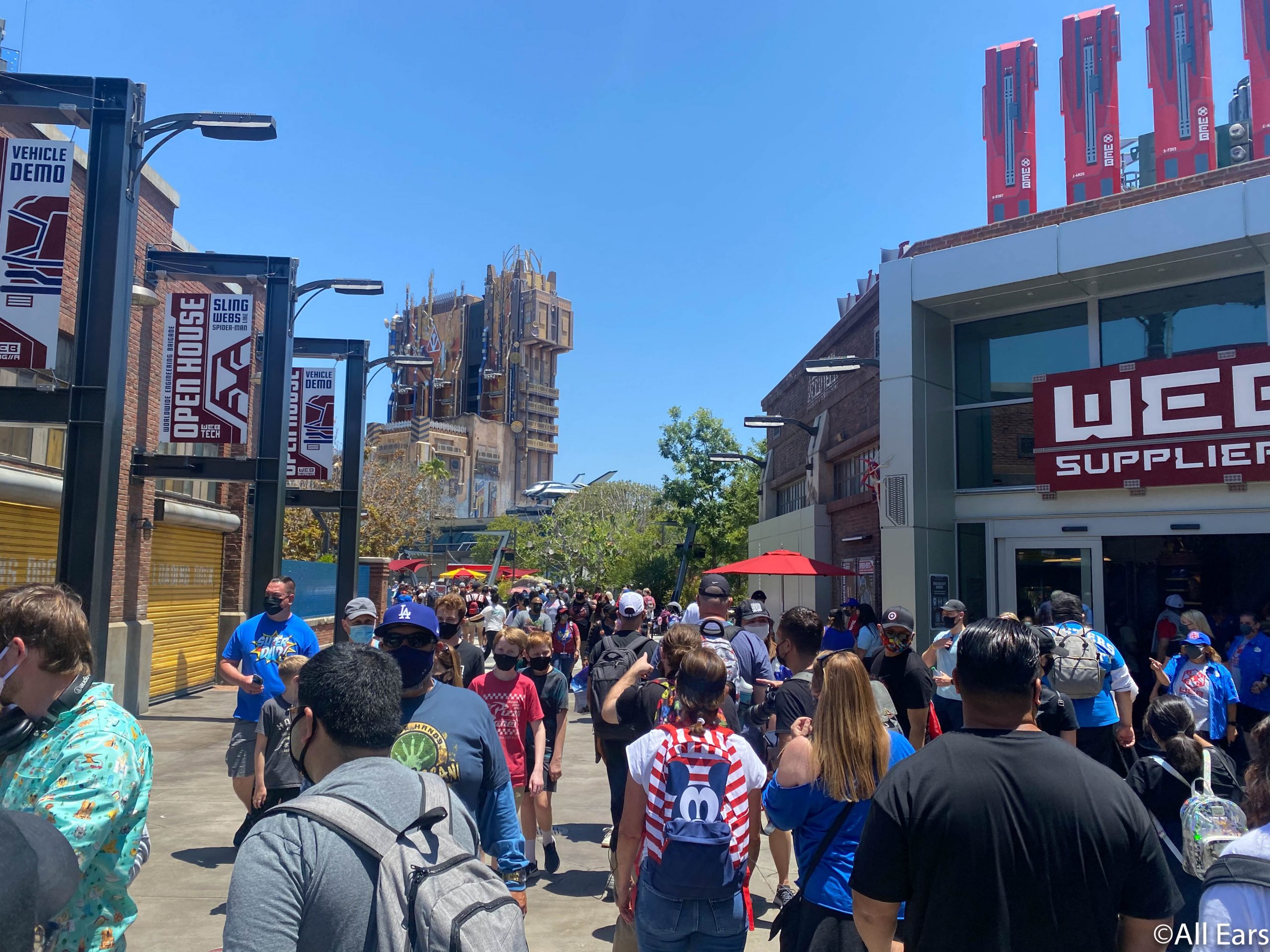 As everyone pops over to the PYM Test Kitchen or Shawarma Palace for a midday snack or meal, seating throughout Avengers Campus was sparse at the peak time of the day.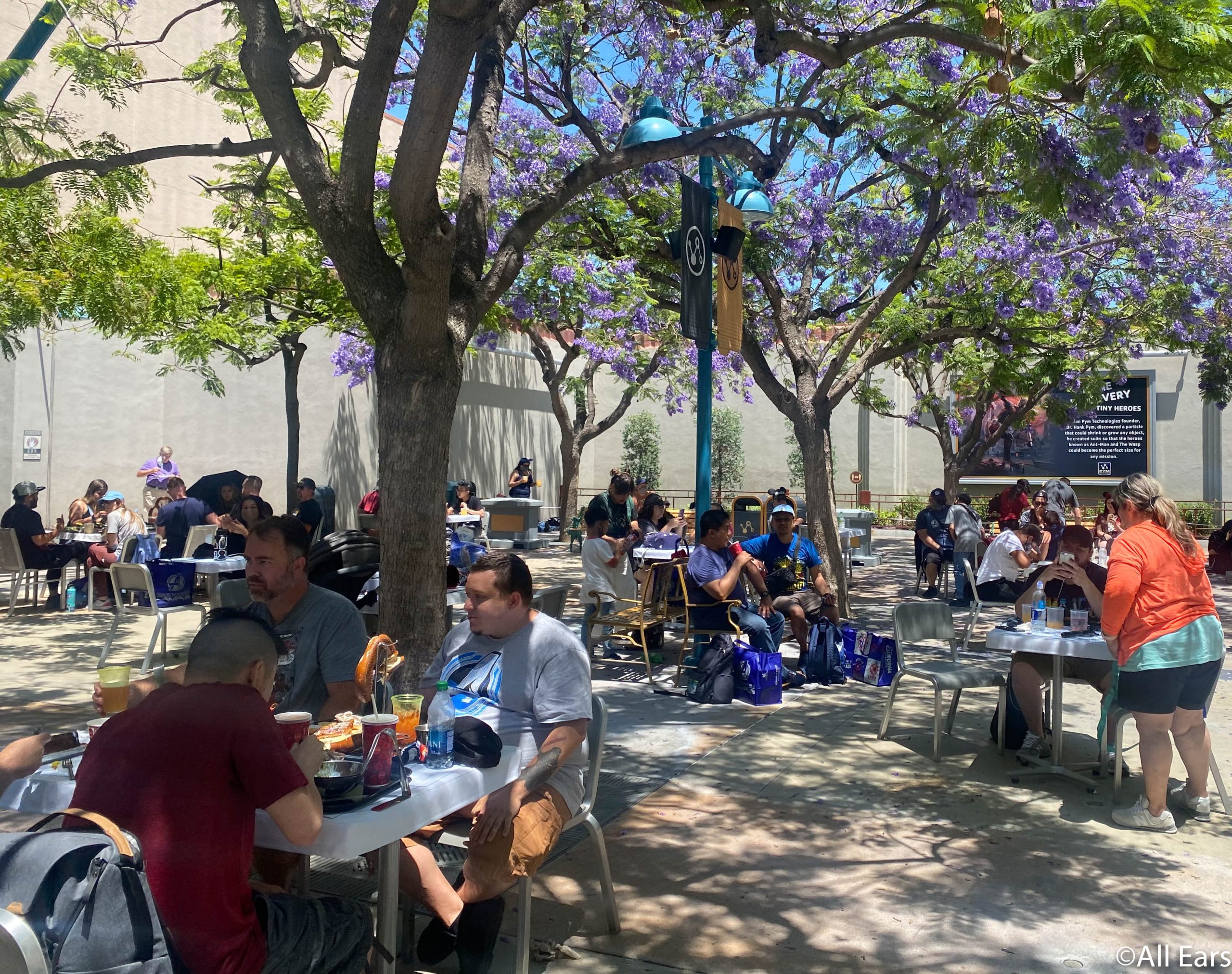 We'll keep you updated with the crowds that we see as Avengers Campus welcomes Marvel fans for its opening day! And, you can stay tuned with All Ears for the latest Disney entertainment and news!
Do you have plans to head to Avengers Campus soon? Let us know in the comments below!