If you're planning to visit Disney World, one of the first things you'll have to figure out is what hotel to stay in while you're there. You could stay at a Disney-owned hotel, other hotels on Disney property, or even off-property hotels. But what about staying at one of the Disney Vacation Club (DVC) Villas?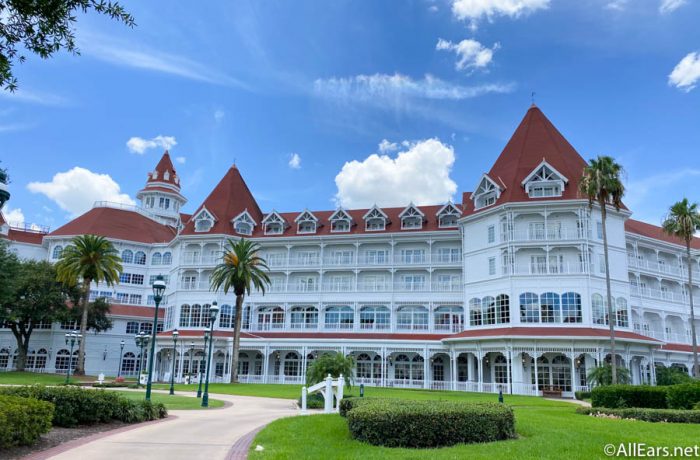 You could experience quite a few awesome perks by staying in a DVC studio or villa. And you DON'T even have to be a DVC member to stay there. Today, we're going to break down some DVC basics and show you one of the BEST ways to book your stay in a DVC villa (and potentially even saving money on your next trip)!
The Basics
Okay, let's do a quick run-down of the basics. The Disney Vacation Club is Disney's vacation ownership program. DVC actually works off a points system. When you buy into DVC, you purchase a set number of "vacation points." Points are then allocated on a yearly basis until your contract ends.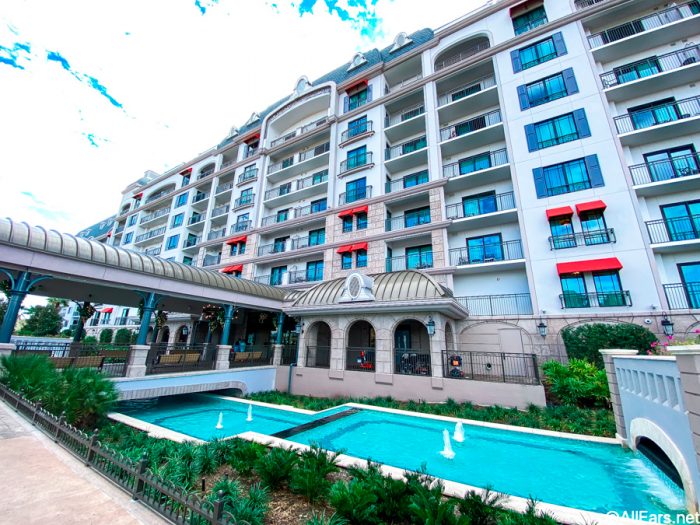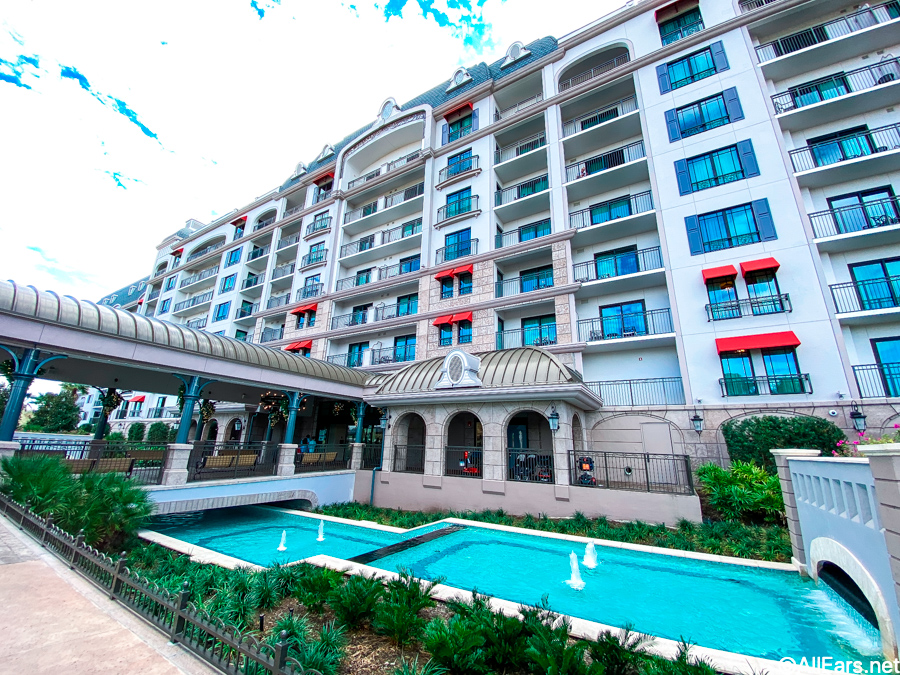 DVC Members use these points to reserve their rooms for upcoming trips. The points can be used to stay at DVC resorts, as well as Walt Disney World resorts, and other select locations. DVC members also pay an annual fee based on the amount of points owned.
But I'm Not a DVC Member!
Even if you're not a DVC member you can actually still stay in a DVC resort! Why might you want to stay in a DVC room rather than a standard Disney hotel room? Well, that could be it's own article entirely, but we'll briefly discuss this here. There are some unique features about DVC rooms that might fit your needs. There are a few different types of rooms available including studios, and 1-bedroom, 2-bedroom, and even 3-bedroom villas.
Particularly as you get to some of those bigger villas, you could sleep a much larger party — making that family vacation really feel like a never-ending family sleepover (in a good way, hopefully)! Some rooms even come with a fully equipped kitchen, a washer and dryer, and more awesome amenities that could be really helpful during your trip. And, depending on the price, it might be a good fit for your family.
How to Stay in DVC Rooms as a Non-Member
Okay, so you are interested in staying at a DVC resort, but how do you do it? Well, you could book available rooms at DVC resorts directly through Disney World. While this is a very straightforward way to do it, it can also be EXTREMELY expensive.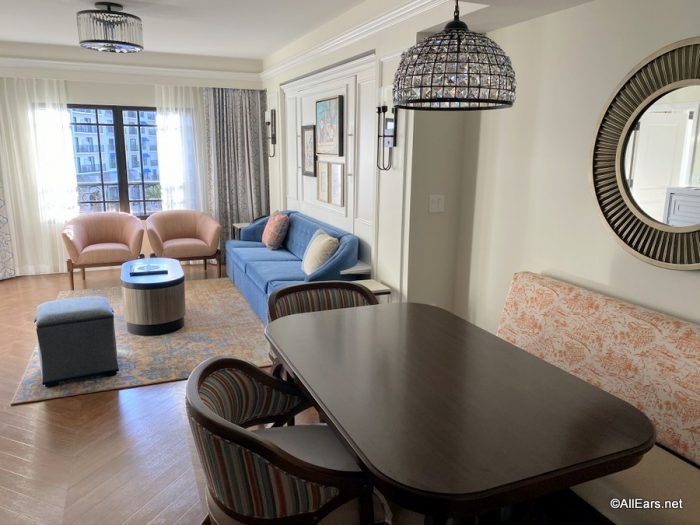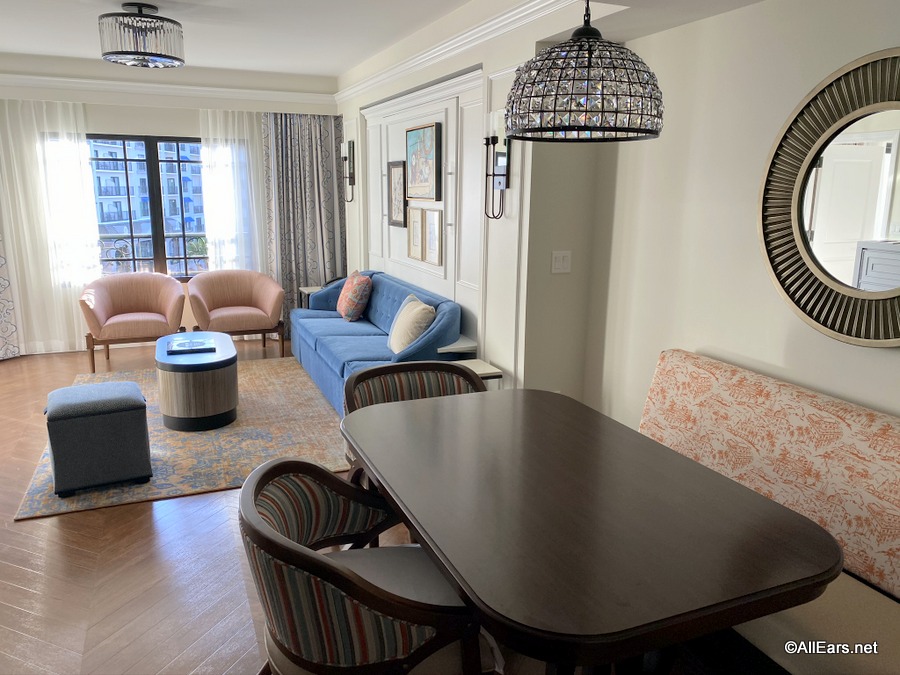 How can you stay at these DVC resorts without blowing your budget? Well, you could rent DVC points! If DVC members are unable to use their allotted points before they expire, they'll sometimes rent them out to others. There are a few different ways you could rent these points, but the way that we recommend is through David's Vacation Club Rentals!
David's Vacation Club Rentals is a service that enables you to rent DVC points from DVC members looking to rent them to others, and it could potentially save you HUNDREDS of dollars on DVC rooms when compared to regular rates.
Want to know what the process is like to rent DVC points through David's Vacation Club Rentals? Let's take it step by step.
Step 1: Decide Where You Want to Stay and How Early to Book
The first thing you want to do is decide where you'd like to stay and how far out you should book your reservation. Want to wake up every morning with a view of the animals at Disney's Animal Kingdom Lodge — Kidani Village? Or maybe you're looking to grab a room at Disney's BoardWalk Villas so you can run to BoardWalk Bakery every day for some yummy treats? The first step is to look at the DVC properties and decide which one (or ones) you're interested in staying in.
Different rooms at different hotels will vary in cost. You can use a cost calculator on the website for David's DVC Rentals to get an estimated cost for your stay. 
Let's say you decided you wanted to stay in a Standard View, 1-Bedroom villa at Kidani Village at Disney's Animal Kingdom Lodge for a one-night stay from April 9 to April 10. Your estimated cost to rent the points through David's Vacation Club Rentals would be $665.
But if you tried to book the exact same room directly through Disney, the cost is actually estimated to be $960! That's a difference of nearly $300. In fact, based on the estimated costs, you could potentially rent enough points through David's Rentals for a Savanna View room for CHEAPER than what it would cost to book a standard view room through Disney.
Of course, these are just estimated costs, but the potential savings here are pretty clear and pretty significant.
According to DVC rules, a DVC member can book a reservation at a DVC resort a maximum of 11 months in advance. If you rent points for an upcoming stay 7-11 months in advance, you may be subject to an additional $1 cost per point. There are specific recommendations on David's Vacation Club Rentals' website about when you should book your stay depending on the type of room you want.
If you want a Value 1 bedroom room at the Animal Kingdom Villas, they recommend you book 11 months in advance. If you want a standard view studio, however, they recommend you book 8 months in advance (or earlier).
Step 2: Complete the Online Reservation Form and Make Initial Payment
Once you've decided what room you want and you're ready to get booking, you'll want to complete the online reservation form. In the form, you'll need to put in the dates you want to travel, your room and resort choices, details for your traveling party, and other required info.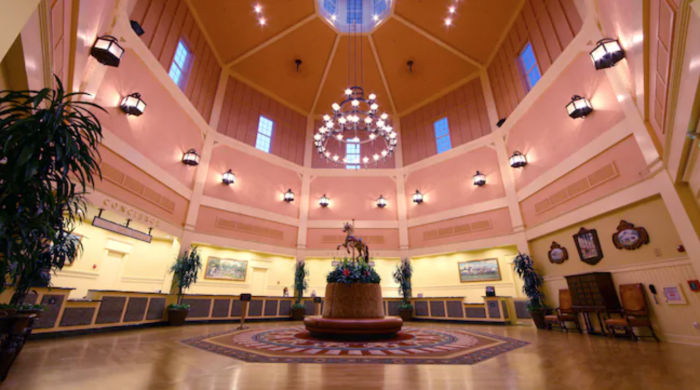 Then, you'll also pay a partial payment of $133. This is a partial payment, not a fee. If you ultimately are able to book your stay through David's Vacation Rentals services, it will be applied toward the total cost. The partial payment can be paid through a variety of methods. If your reservation can't be secured, this partial payment will be refunded.
The Room or Hotel You Want Isn't Available
If the room or hotel you want isn't available, then you'll actually get the opportunity to book other available rooms/resorts. A member of the AllEars team used David's Vacation Club Rentals' services recently. When they sent in their request, the rooms they initially requested weren't available. They received an email from David's Rentals indicating that their preferred rooms/resorts were not available.

Not to fear, other rooms/resorts during their stay were available! David's Vacation Rentals sent a list with some alternate options.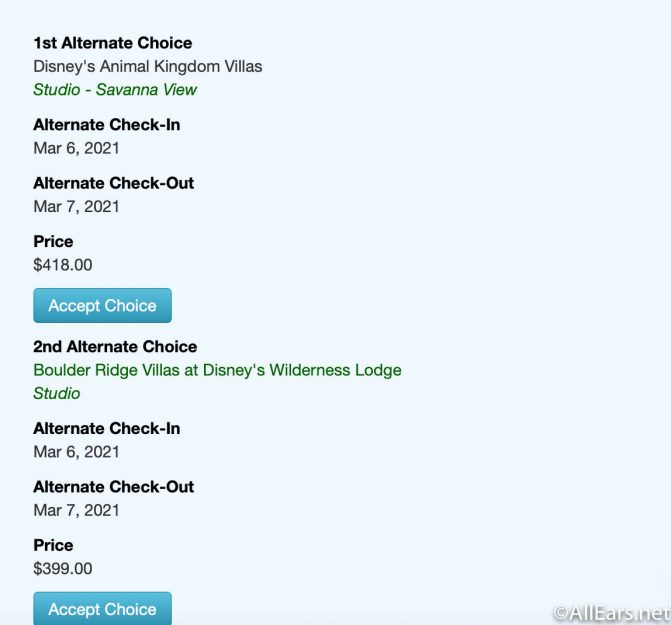 The emails also included the prices for these other rooms.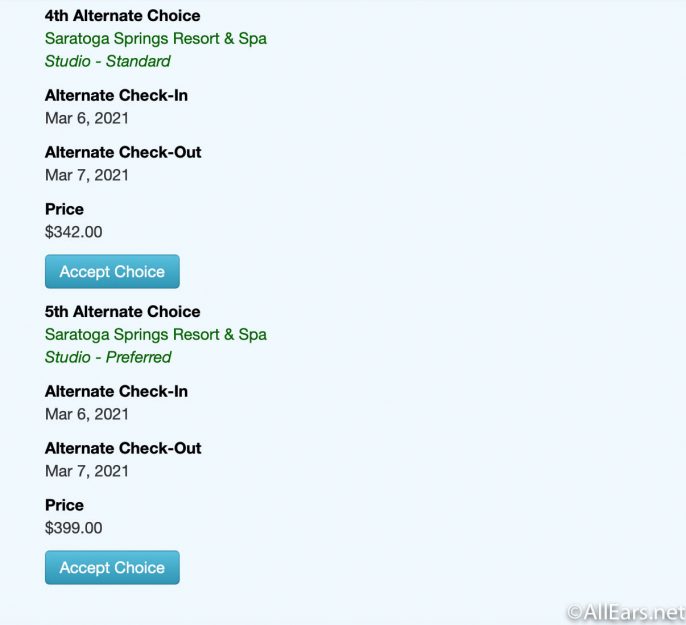 Our team member and David's Vacation Rentals continued to email back and forth about availability.

And then ultimately, our team member decided where they'd like to stay and took the next steps! But if you can't find any rooms that are satisfactory to you, your $133 partial payment will be refunded.
Your Request is Fulfilled!
If your reservation request is within 35 days of the check-in date, payment will generally be required first, as the email below indicates. Once payment is received, David's Vacation Rentals will reach out to the Member for booking. If the Member is successful, then you'll receive a confirmation number.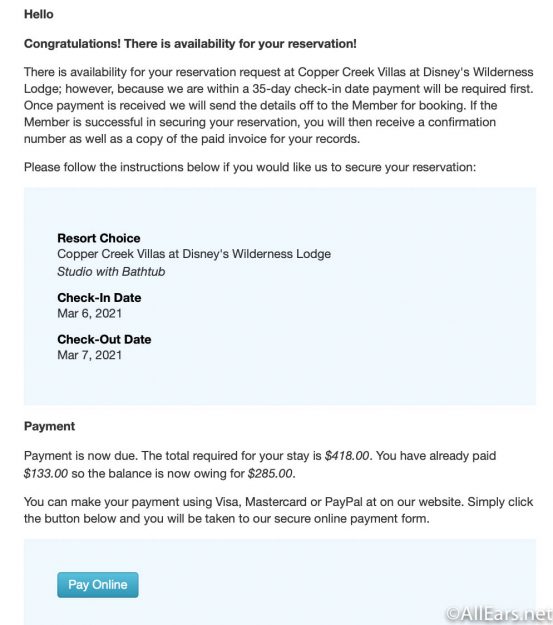 If your room request is ultimately fulfilled, you'll get an email confirmation. In that email, you'll see all of your reservation details, your confirmation number, and more.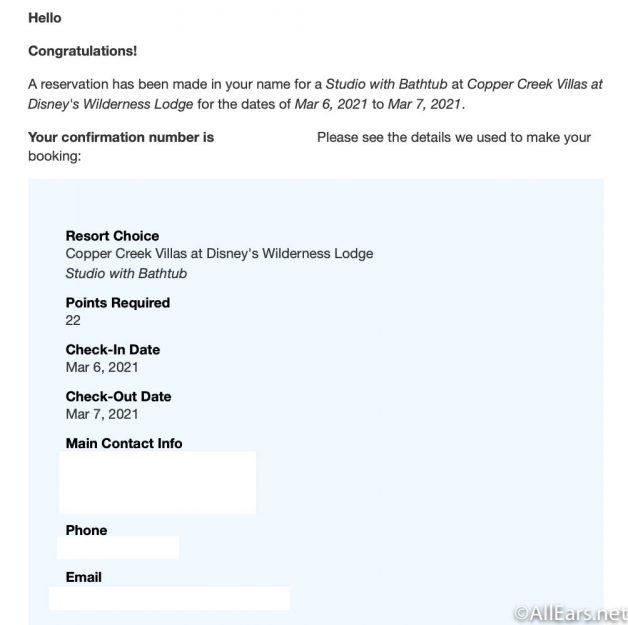 If you're outside of that 35-day check-in, then you'll generally complete the online payment form and process the balance of your payment after your request is fulfilled.
Just keep in mind that your $133 partial payment will NOT be refunded on any request that is fulfilled.
Final Invoice
If your request is fulfilled, a completed invoice, including the rental agreement, will be emailed to you. Your payment in full signifies your acceptance of the rental agreement. Wondering what terms are contained in the rental agreement? You can see a sample on the website for David's Vacation Club Rental.
My Disney Experience
And then you're all done! All you need to do next is link your confirmation number to your My Disney Experience account. Then you'll check-in for your room as you normally would, and you can use Disney's online check-in service.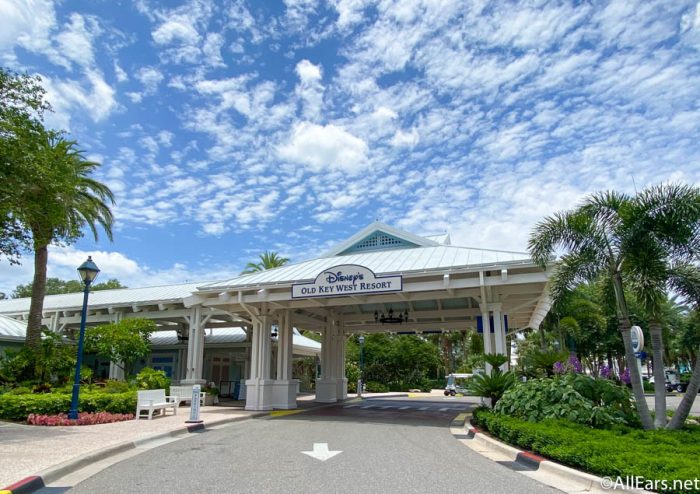 Just keep in mind that the names and email addresses you give to David's Rentals MUST exactly match the names and email addresses you have on My Disney Experience.
Cancellation and Changes
One important thing you need to know about David's Vacation Club Rentals is that cancellations, upgrades, and date modifications are NOT permitted. The David's Rentals site notes that you might want to consider adding travel insurance to your trip to protect against unexpected situations.
If you need to make changes or additions to your reservation in terms of adding another guest or updating your address information, David's Vacation Club Rentals does request notification at least 30 days prior to your check-in date since they'd need time to get in touch with the DVC member.
Special Deals!
Looking for an EXTRA special rate? David's Rentals notes that it doesn't happen frequently, but sometimes there will be times where availability coupled with points that will be expiring very soon may create the need to be creative with reservations.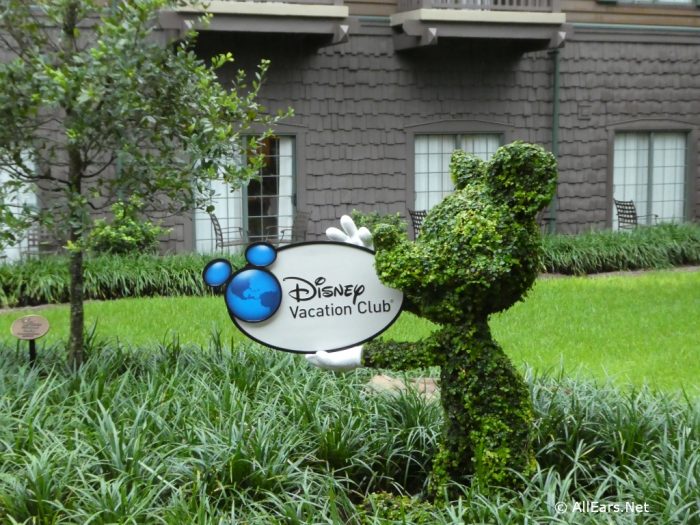 In these cases, you could actually rent some points at a reduced rate! You can subscribe to the David's Vacation Club Rentals Specials Newsletter to potentially take advantage of some of those deals.
Why Use David's Vacation Club Rentals?
You could rent DVC points through different methods, but we highly recommend David's Vacation Club Rentals. Why? Well, they've been in business since 2005, and they actually have an A+ rating from the Better Business Bureau.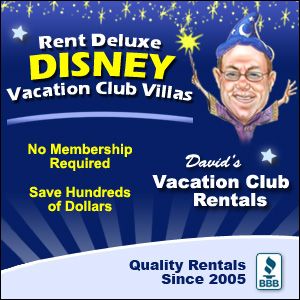 Using David's service can give you some serious peace of mind! You don't have to search for a DVC Member to rent your points from and wonder if they're legitimate. With David's Rentals, there's no concern that someone will rip you off.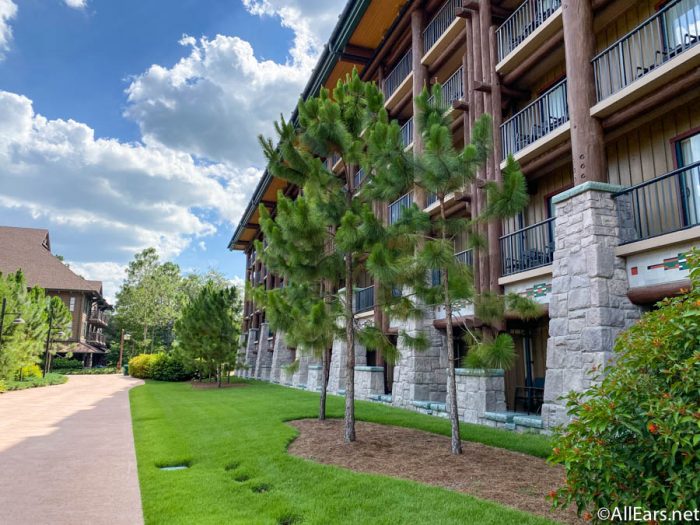 With the confirmation number that's provided to you through David's Rentals, you'll also be able to use Disney's online check-in which can be really helpful and convenient.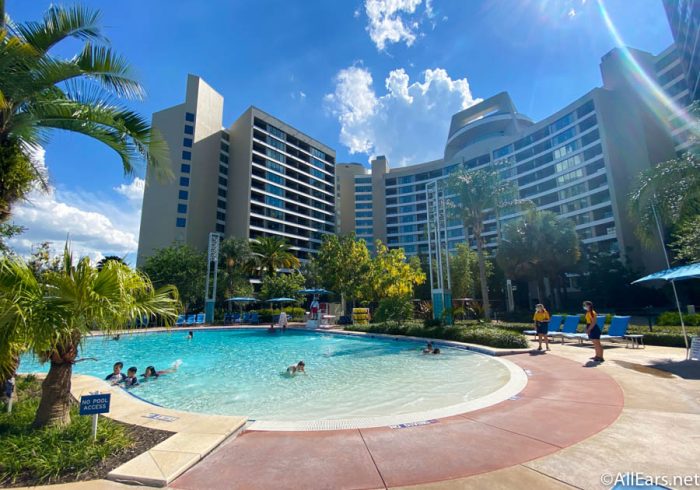 You could also save some BIG BUCKS on fantastic DVC rooms compared to the regular rack rates. 
If you're looking to potentially stay at a DVC resort, or are just generally looking for a hotel room to stay at during your next Disney trip, you might want to look at David's Vacation Club Rentals, see what your estimated cost might be if you decided to rent DVC points for your stay, and potentially use their services. You could save money and maybe even get to stay in the room of your dreams!
We'll keep an eye out for more great ways you can save and have fun during your next Disney trip. Stay tuned for more helpful tips and tricks from us here at AllEars.
Have you ever rented DVC points using David's Vacation Club Rentals? Tell us in the comments!
Join the AllEars.net Newsletter to stay on top of ALL the breaking Disney News! You'll also get access to AllEars tips, reviews, trivia, and MORE! Click here to Subscribe!