BoardWalk Villas Fact Sheet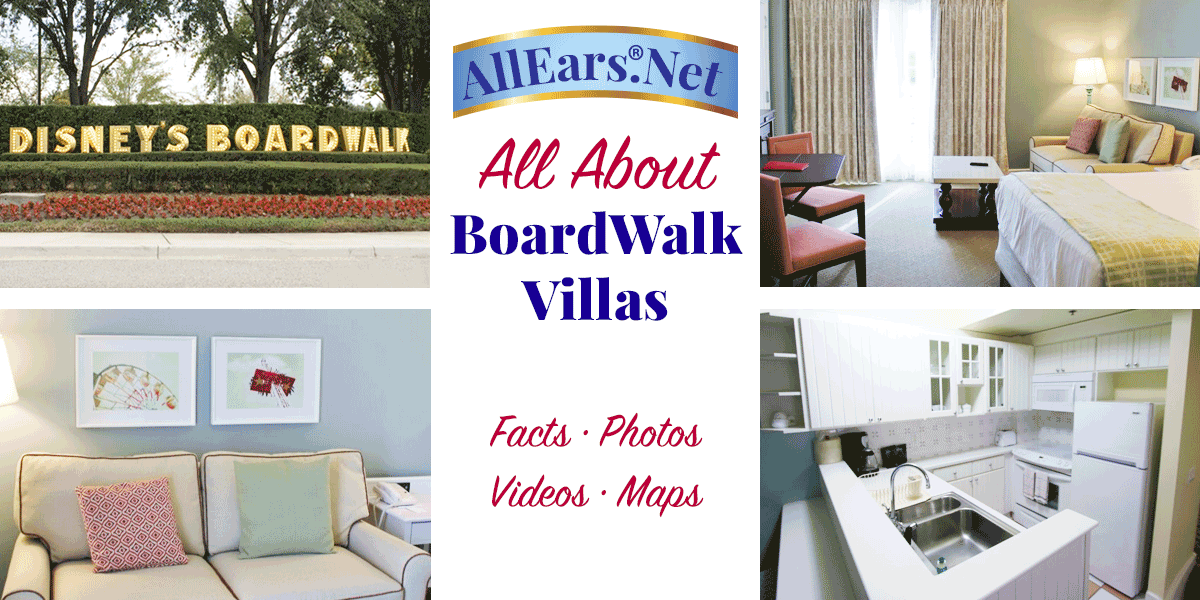 What is Disney's BoardWalk Villas Resort?
Disney's BoardWalk Villas Resort (BWV) is part of the Disney's BoardWalk complex that includes, in addition to the Villas, Disney's BoardWalk Inn, Disney's BoardWalk dining, shopping and entertainment area and a convention center. Disney's BoardWalk is styled after the Atlantic coast resorts of the 1930s.
What's the difference between the BoardWalk Villas and the BoardWalk Inn?
Disney's BoardWalk Villas are part of the timeshare resort that belongs to the Disney Vacation Club (DVC). Disney's BoardWalk Inn is a Disney hotel in the "Deluxe Resort" category.
Can I rent rooms in the BoardWalk Villas or do I have to be a member of Disney's Vacation Club?
As with all the Disney Vacation Club resorts on property, anyone can rent rooms or suites at the BoardWalk Villas, subject to availability of course. You do NOT have to be a member of the DVC.
NOTE: To help relieve the confusion about the availability of Disney Vacation Club accommodations as nightly rentals, Disney vacation planners are now using the term "Disney Deluxe Villa Resorts" in reference to the DVC properties for non-members.
Where are the BoardWalk Villas located?
The BoardWalk is located in the Epcot resort area. It is located just across Crescent Lake from Disney's Yacht and Beach Club Resorts and near the Dolphin and Swan hotels. You can walk to Epcot and the Disney's Hollywood Studios from the BoardWalk.
What are the different room options?
There are 383 Villas that range from Studios to Grand Villas, 29 are handicap-accessible.
Studios: These rooms are 359 square feet and come with one queen bed, a double sleeper sofa, small dining table and two chairs, armoire, TV, bathroom and a private balcony or patio which has two chairs and a small table. Also included are a microwave, coffee maker, toaster, mini-refrigerator, wet bar, hair dryer, iron, ironing board and vacuum cleaner. Outside the bathroom is a small area with vanity, large mirror and one sink. You will find coffee, paper plates, plastic utensils and "real" glasses and coffee cups in the room. Per Disney, this Studio will accommodate "four adults maximum, plus one child under the age of three in a crib". The Studio has very limited drawer space for clothes.
Studio with Daybed: Includes everything in the Studio room plus a five-foot daybed. Per Disney, this Studio with Daybed will accommodate "four adults maximum, plus one child who will fit in the daybed, plus one child under the age of three in a crib".
One-Bedroom Villa: The average one-bedroom Villa is 712 square feet and has one bedroom with a king-sized bed, TV, chair and armoire, plus a living room with queen-sized sleeper sofa, and TV, and dining area with a table and four chairs. The unit also has a fully equipped kitchen, complete with refrigerator, stove/oven, microwave, toaster, blender, and pans, dishes and utensils. One-bedroom units have one full bathroom with toilet, sink and shower, plus a separate connecting area with a whirlpool tub and a sink/vanity. Also included are a stacked washer and dryer, hair dryer, a nice walk-in closet as well as a smaller closet, and a private balcony or patio which includes two chairs and a small table. Click Here for A Listing of Supplies Provided in the Villa. Per Disney, this One-Bedroom Villa will accommodate "four adults maximum, plus one child under the age of 3 in a crib".
Two-Bedroom Villa: The average Two-Bedroom Villa is 1,071 square feet. This is basically a Studio Villa and a One-Bedroom Villa that are connected with a communicating door. (See description above of both rooms to see what's included.) Per Disney, this Two-Bedroom Villa will accommodate "eight adults, plus one child under the age of 3 in a crib".
Grand Villa: The average Grand Villa is 2,142 square feet. This is a three bedroom, three bath Villa, that has a master bedroom which includes a king-sized bed and private whirlpool tub, two other bedrooms which each include two queen-sized beds and a private bathroom, a living room area that has a queen-sized sleeper sofa, fully equipped kitchen, dining room, full-sized washer and dryer and a private balcony. There are both one- and two-story Grand Villas at the Boardwalk. Per Disney, this Grand Villa will accommodate "12 adults maximum, plus one child under the age of 3 in a crib".
Walt Disney World Resort made complimentary Wi-Fi service available in all of its hotels as of March 2012. See our Internet Access page for details.
How much will it cost for me to stay in one of these Villas if I pay cash?
Walt Disney World Resort rates vary by season (there are nine seasons now), and also by day of the week. The holiday season is the most expensive time of the year. It runs from mid-December to early January as well as during Easter Week.
The rates for a:
— Studio range from $441 – $573 (Holidays up to $692)
— 1 Bedroom range from $598 – $809 (Holidays up to $908)
— 2 Bedroom range from $897 – $1,424 (Holidays up to $1,565)
— 3 Bedroom range from $1,999 – $2,659 (Holidays up to $3,265)
Is there a fee to park at the BoardWalk Villas?
Disney Vacation Club Members – will not be charged for standard overnight self-parking when staying at a DVC Deluxe Villa, regardless of whether they use vacation points or another form of payment. Members also will not be charged to park when using vacation points to stay at a Walt Disney World Resort hotel.
Click HERE for current pricing and other parking-related information.
Are there nonsmoking rooms?
All Disney resorts and guest rooms are now smoke free. There are designated outdoor smoking areas. Check the resort map or with a Cast Member for locations. A $250-$500 room recovery fee, plus tax, will be charged for smoking in Guest Rooms, on balconies or patios.
I hear that there are no more room key cards at Disney resort hotels. How do I get into my room?
Walt Disney World has converted their room keys and admission tickets from plastic cards to MagicBands, flexible plastic wristbands, resembling a watch or bracelet, that use Radio Frequency (RF) technology. Your MagicBand is linked to your My Disney Experience (MDE) account and acts as your Disney resort room key. Simply touch the Mickey symbol on your MagicBand to the RFID reader near your room door to gain entry. Read about using MagicBands for park admission, FastPass+ and more here.
What time is Check-In and Check-Out?
Check-In for the Villas is 4 p.m. and Check-Out is 11 a.m. You will be allowed to check in earlier if your room is ready when you arrive, but based on my experience, don't count on it!
Upon arriving at the resort, if your room is not yet ready, you pre-check in. The Front Desk staff will issue you Magic Bands which you can use for charging. You will also receive a card with the BoardWalk's phone number. You can use any resort phone on Disney Property to call and inquire if your room is ready. If so, your Magic Band will automatically be updated to work on the room that has been assigned to you. There is no need to return to the Front Desk.
If your room is not ready when you check in, don't expect it before 4pm. For some reason, the rooms seem to be released from housekeeping in blocks, not as individual rooms become ready.
What's the difference between the different views?
Disney describes the views as "Standard", "Preferred", and Boardwalk. Standard villas cost less money/points but there are not many of them. The Preferred and Boardwalk cost is the same, but, again, not many Boardwalk Views.
From my observation, these are the main views:
view of Crescent Lake/BoardWalk entertainment area
view of the Main Entrance (looking out towards the BW Inn and in the direction of Epcot), parking lots
view of the Luna Park pool area
view of the quiet pool area
view of Dolphin/Swan hotels
view of tennis courts/parking lot
What's this I hear about having a long walk to the elevators?
True, depending on where your room is located you could have a very, very long walk to the elevators. If that's of concern to you then you need to request a room near the elevator when you book your room. There is only ONE bank of elevators (three actual elevators) on the Villa side of the resort. It goes from the first floor to fifth floor. There is also a separate Magic Band entry way on the ground floor next to the BoardWalk's Health Club.
Some villas actually require you to exit the resort and reenter — exit past the Fitness Club and walk across the path to the door. You will need your room card during off hours to enter.
Are the Villas noisy with all that activity outside?
Some guests staying in rooms that overlooked the main entrance found that area to be extremely quiet. However, others who have stayed in rooms overlooking the Boardwalk have said that noise can sometimes be an issue, depending on how much activity there is. I have overlooked the pool at Luna Park on several occasions and never heard noise from that area. I also recently had a Boardwalk View room on the 4th floor. With my balcony door closed, I didn't hear a thing inside the room, except for the nightly fireworks. With the door open, I was able to hear sounds from below. The lower the floor your room is on the more likely you will hear noise from below.
How do I get around Walt Disney World from the BoardWalk Villas?
Disney's BoardWalk Villas and Inn share the same transportation depot. Transportation to both Epcot and Disney's Hollywood Studios is via boat or walkway. The boats leave every 20 minutes from the dock that is located in the center of the Boardwalk. The boat that docks on the left side will take you to Disney's Hollywood Studios and the boat that docks on the right side will take you to Epcot. Since these boats also service the Yacht and Beach Club Resorts and the Dolphin and Swan hotels, the trip can take over 20 minutes. Epcot is within walking distance (5 minutes) and I would suggest taking that option over the boat.
There is a walkway between the BoardWalk and Disney's Hollywood Studios. It's about 3/4 – 1 mile long, and should take about 15 minutes at a comfortable walking pace. The path is lighted at night, and it's really a very pleasant walk along the waterway that connects the Epcot resort area with Disney's Hollywood Studios.
Transportation to the rest of WDW from the BoardWalk Villas is via bus. There is one bus stop located just outside the main entrance. Buses stop there approximately every 20 minutes. Buses will take you directly to the Magic Kingdom, Animal Kingdom, Typhoon Lagoon and Blizzard Beach. Buses will take you to the Disney Springs Area. From Disney Springs, or from the parks, you can catch buses to the other Disney resort hotels.
Where can I get a meal?
Big River Grille and Brewing Works (located on the Boardwalk): American cuisine. Specialties include beers, burgers and salads. Lunch and Dinner. Hours: 10 a.m. – 2 a.m.
ESPN Club (located on the Boardwalk): American cuisine. Specialties include burgers and hot dogs. Features TV monitors in the rest rooms. Lunch and Dinner. Hours: 11 a.m. – 2 a.m.
Flying Fish (located on the Boardwalk): American/seafood cuisine. Specialties include seafood, steaks, warm chocolate lava cake, and seasonal items. Dinner only. Hours: 5 – 11 p.m.
Trattoria al Forno (located on the Boardwalk on the site of the former Kouzzina): Italian cuisine. Serves the Bon Voyage Character Breakfast from 7:30 to 11 a.m. and a non-character dinner from 5 to 10 p.m.
What are Rapid Fill Mugs?
The Rapid Fill beverage program allows Disney Resort guests to buy (or receive as part of the Disney Dining Plan) a resort mug that can be refilled for a certain period of time as designated at time of purchase. These mugs are enhanced by an RFID bar code that enables the mug to deactivate when the designated time is complete. For complete details read our Rapid Fill Mug page.
How about a cup of coffee and/or an ice cream?
BoardWalk Bakery (located on the Boardwalk): Fresh baked goods, sandwiches, cappuccino and espresso to go. Hours: 7 a.m. – 11 p.m.
Ample Hills Creamery (located on the Boardwalk): A re-imagined take on the turn-of-the-century ice cream parlor.
There are several food stands on the Boardwalk where you can get specialty coffees, crepes on a stick, popcorn, etc.
Is there a lounge in the hotel where I can relax and have a drink?
The lounge is the Belle Vue Room located on the BoardWalk Inn side of the complex. There is a balcony that offers a view of Crescent Lake. Hours are 5pm until midnight.
On the BoardWalk itself is the AbracadaBar. As the story goes, this little lounge was a former stomping ground for the famous magicians, boardwalk illusionists, and lovely magician's assistants of the Golden Age.
What are the pools like?
There are two pool areas. The themed pool is called Luna Park. It's a 190,000 gallon pool that dates back to the days of the 1920's amusement parks. The slide is called Keister Coaster and is built like a wooden roller coaster. Nearby is the Leaping Horse Pool Bar (looks like a carousel) that serves alcoholic and non-alcoholic beverages in addition to burgers, hot dogs, fries and ice cream treats. The other pool is considered the 'quiet' pool and is much smaller.
What is the Community Hall?
Community Hall is a "recreation" area located near the quiet pool of the Villas. Bicycles, noodles, life jackets and tennis equipment are available for rent. Movie rentals are also available for $3/night (free for Disney Vacation Club members). There are daily activities for children, including face painting, sand art, necklace making, water balloon toss, fishing trips and more. Activities change daily, and some require a fee, so it's best to check with the Cast Member at Community Hall for a schedule and more information.
Is there a club for kids?
The Boardwalk's Harbor Club –a supervised activity center for children 4-12 — is closed indefinitely. Guests may use the Sandcastle Club at the Yacht and Beach Club on the other side of the lake. Visit our Childcare FAQ for more info.
A private sitting service, Kids' Night Out, also provides babysitting services at WDW. For rates and more information, they can be reached at (407) 827-5444.
Can I work out/exercise while I'm there?
Muscles and Bustles offers cybex equipment, life cycles, treadmills, stairmasters, dumbbells, coed steam room, coed sauna, tanning bed and massages. The health club is located adjacent to the Side Show Games Arcade, facing the court yard green, and is open from 6:00 am to 9:00 pm daily. Membership is free to guests at the Boardwalk resort for the length of your stay. Tanning sessions are 15 minutes long and are $10 per session. Massage therapy is available by appointment and ranges from $50+. You can call the Health Club directly at 939-2370.
The Front Desk also has jogging maps available for those who'd like to run around the property.
What other services do they offer?
There is a complete office environment, including personal computer, fax machines, copier and secretarial service available at the BoardWalk Conference Center. In addition, single copies can be made at the front desk as well as sending facsimiles (for a fee).
Where can I shop?
Dundy's Sundries (located just off the main lobby): There you can purchase some personal items, film and souvenirs.
Screen Door General Store (located on the Boardwalk): A much more complete selection of items for purchase, including groceries, snacks and beverages.
Thimbles and Threads (located on the Boardwalk): Sells resort apparel, swimwear and accessories for men and women.
Disney's Character Carnival (located on the Boardwalk): Sells all kinds of Disney merchandise.
What kind of clubs are there out on the Boardwalk?
Atlantic Dance Hall: Dance to a live band or DJ nightly. (Must be 21 or over to get in.)
ESPN Sports Bar: High-energy sports bar. Hours: 11 a.m. – 2 a.m.
Jellyrolls: Entertainment includes dueling pianos nightly from 7 p.m. to 2 a.m. Jellyrolls is very entertaining and interactive, but VERY loud. Go there for the show but not to talk. Cover charge, and you must be 21.
Visit our BoardWalk section for more details HERE.
What else is there to do on the Boardwalk?
There are a few midway games that you can play, an arcade, street performers, vendors, face painting, hand wax, and you can rent pedal-powered surrey bikes.
The Surrey Bikes are rented by the half-hour right on the Boardwalk. Prices vary. Available for rent 2-Seaters, 4-Seaters and Grand Surrey 6-seaters. The Rental Counter is open from approximately 11 a.m. to 9:30 p.m.
Tell me about meeting facilities at the BoardWalk.
The BoardWalk Inn and Villas has a 20,000 square foot Conference Center that contains a 10,500 square foot ballroom, 14 breakout rooms, business center, meeting conference planners' office and a registration area. Call (407) 828-3074 for additional information.
Is there any other information I may want to know about?
Lines at the Boardwalk Bakery for morning coffee/pastries can be quite long! You might want to make coffee in your room and get your baked goods the night before.
Packages sent to your resort from the Disney parks and shops will be left for you at the Screen Door General Store.
Valet Parking is $33 per day. Please remember to tip the valet when both dropping off and picking up.
There is a picnic area with tables and a grill down by the tennis courts on the Villa side of the complex.
There is a small jacuzzi at the quiet pool.
If you would like to see the fireworks from Epcot's IllumiNations (you won't be able to hear the music or see the water screens), either stand on the bridge that crosses to/from the BoardWalk area to the Beach Club/Epcot area; OR go out the back door at the Boardwalk Inn side and watch from the steps.
How do I contact the Boardwalk?
BoardWalk Inn and Villas
2101 Epcot Resorts Boulevard
Lake Buena Vista, FL 32830-1000
Phone: (407) 939-5100
Fax: (407) 939-5150
Note: To make a reservation call CRO at (407) 934-7639.