WOW! It's been a full few days of entertainment, merchandise, and a whole lot of fun here at the EPCOT Flower and Garden Festival!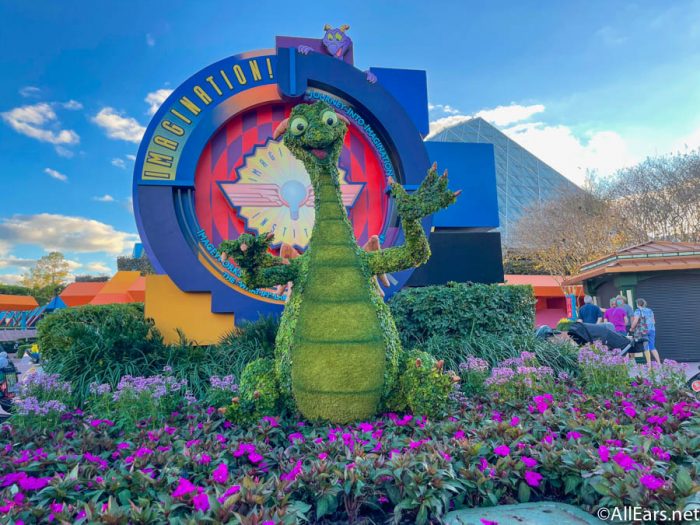 And, of course, it wouldn't be a visit to an EPCOT festival without plates upon plates of food, right? And since we've been doing lots of snacking, we've narrowed down the menus to our favorite eats, treats, and drinks! Here's our favorites.
Entrees
Crab and Cheese Wontons
The House-made Crab and Cheese Wontons from the China Pavilion's Lotus House are a returning favorite! But we've got a little hack to make them even better: throw some peanut sauce on there.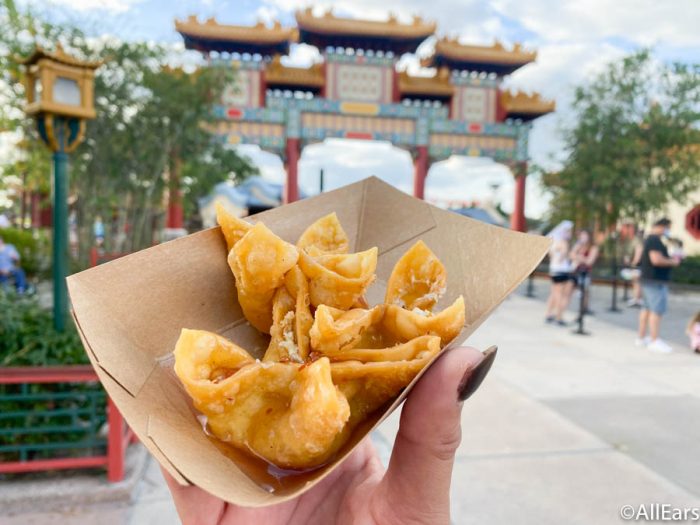 These are doughy, delightful, and most importantly, cheesy fried goodness. They're $6.95!
Tarte aux Oignons Caramélisés et Chèvre
In the France Pavilion, we grabbed the Tarte aux Oignon Caramélisé et Chèvre — or, in English, a goat cheese tart with caramelized onions. This flaky treat isn't new this year, either, but it remains one of our favorites!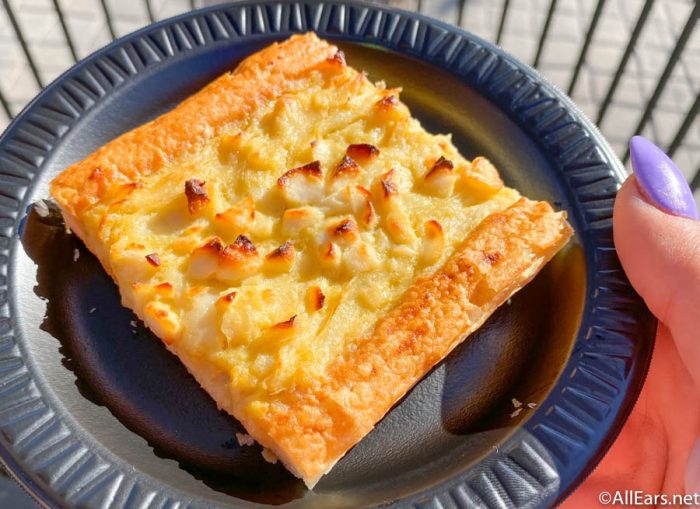 It's $5.50 at Fleur de Lys.
Beef Brisket Burnt Ends and Smoked Pork Belly Slider
Well, this booth is called Festival Favorites for a reason! It's located in the World Showplace and serves up classic dishes from festivals past. Our pick here is the Beef Brisket Burnt Ends and Smoked Pork Belly Slider with garlic sausage, chorizo, cheddar fondue, and house-made pickle.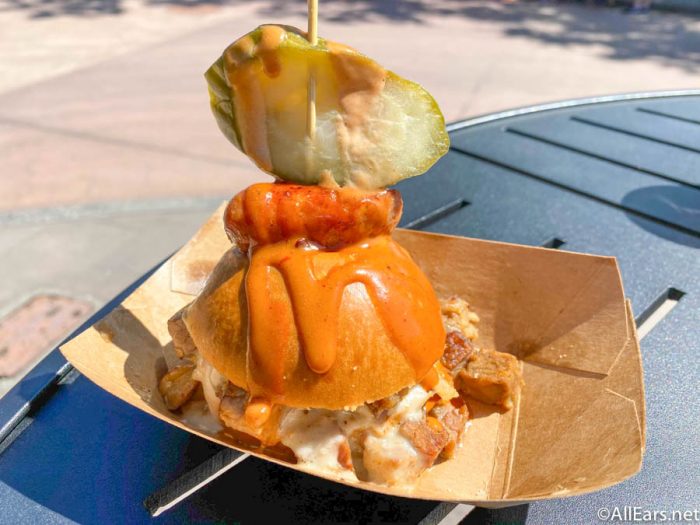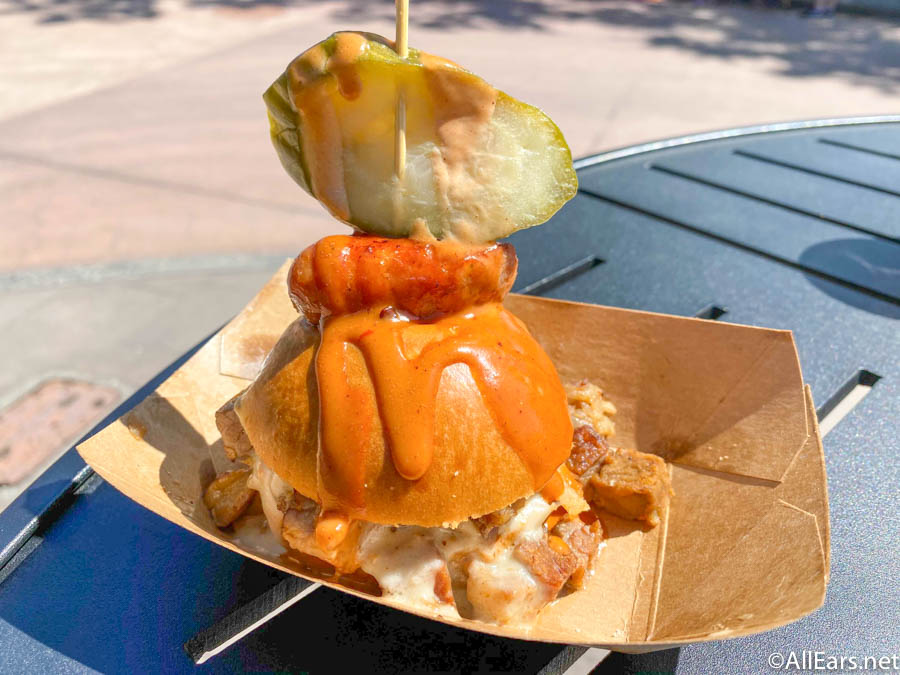 All of the elements in this dish are the perfect crunchy, meaty combo! It's $7.50.
Taco Vampiro
A vampire taco?! Sounds intriguing, right? This dish from Jardin de Fiestas in the Mexico Pavilion is braised beef on a corn tortilla with crispy grilled Monterey Jack cheese and salsa ranchera, and it costs $7.25.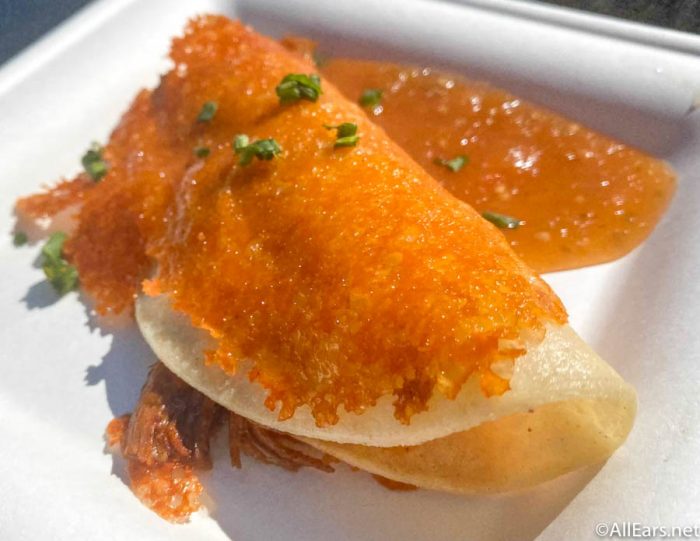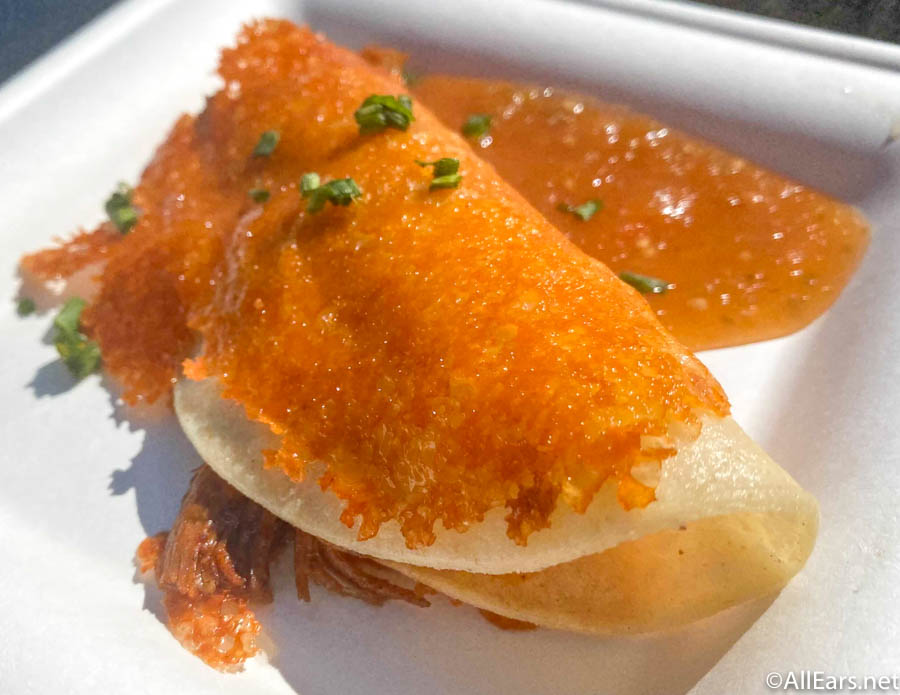 There's a great flavor profile in this, especially in that beef!
Frushi
The Frushi from Hanami is a classic Flower and Garden Festival eat! It consists of strawberry, pineapple, and cantaloupe wrapped in sweet rice and pink soy wrap. It's served with whipped cream, drizzled berry sauce, and toasted coconut!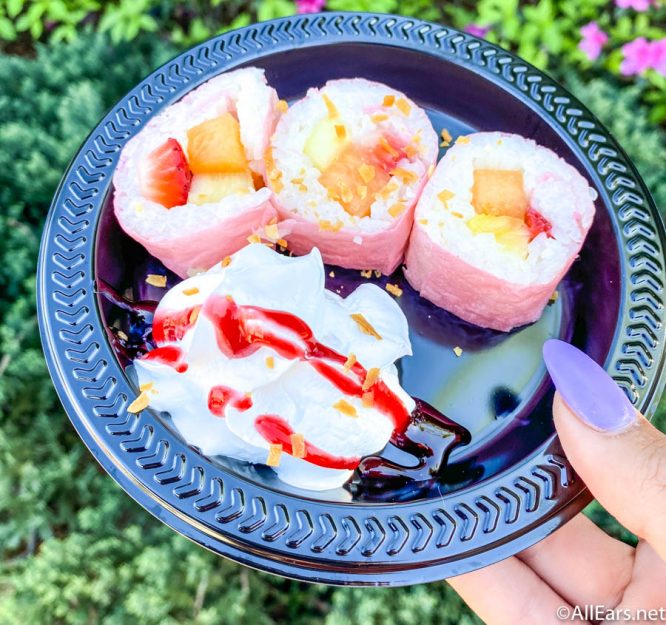 This snack is iconic for a reason. It's sweet, fruity, and comes in the perfect size! It costs $6, and you can find it in the Japan Pavilion!
Desserts
Lemon Blueberry Funnel
Yet again, the Funnel Cakes kiosk delivers some quality eats. We've got to talk about their Mini Funnel Cake this year!
It's topped with lemon cheesecake ice cream, blueberries, and powdered sugar, and for $8.50 you've got yourself a super sweet treat. It was our favorite dessert this year! You can find it in the American Adventure Pavilion.
Drinks
Frozen Desert Violet Lemonade
Another Flower and Garden Festival classic is the Violet Lemonade from Pineapple Promenade. We've been coming back for this drink year after year, and it stays good!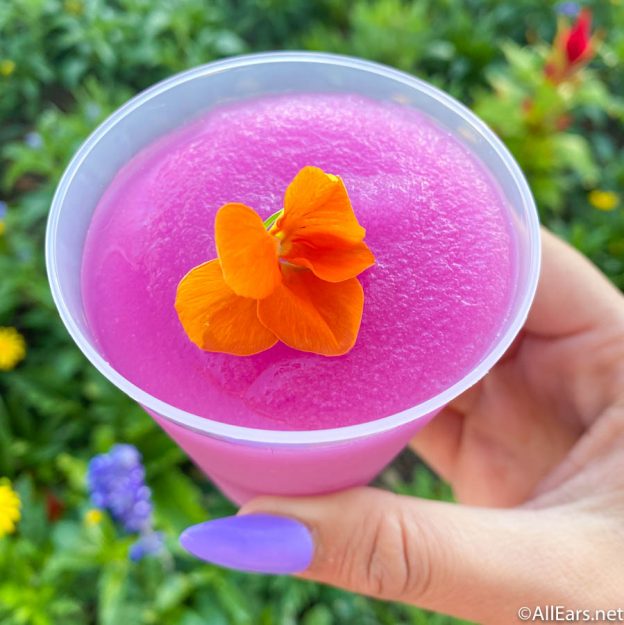 This non-alcoholic, frozen drink is the perfect photo-worthy sip. It's $4.50!
Hibiscus Lemonade Cocktail
Another floral drink made the top of our list! The Hibiscus Lemonade Cocktail is from EPCOT Farmers Feast, an all-new booth that more than exceeded our expectations.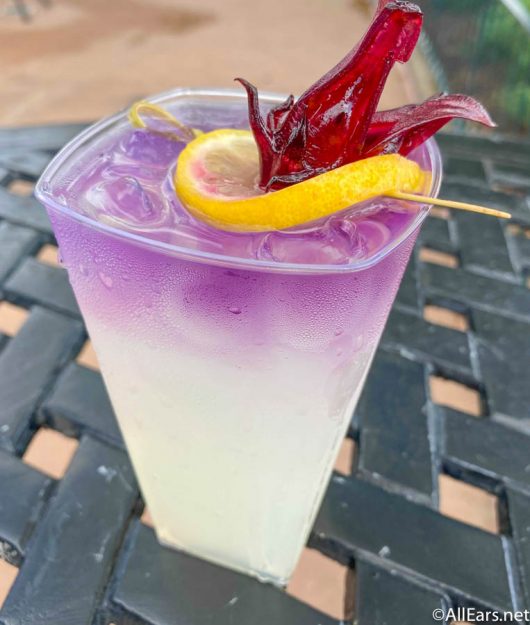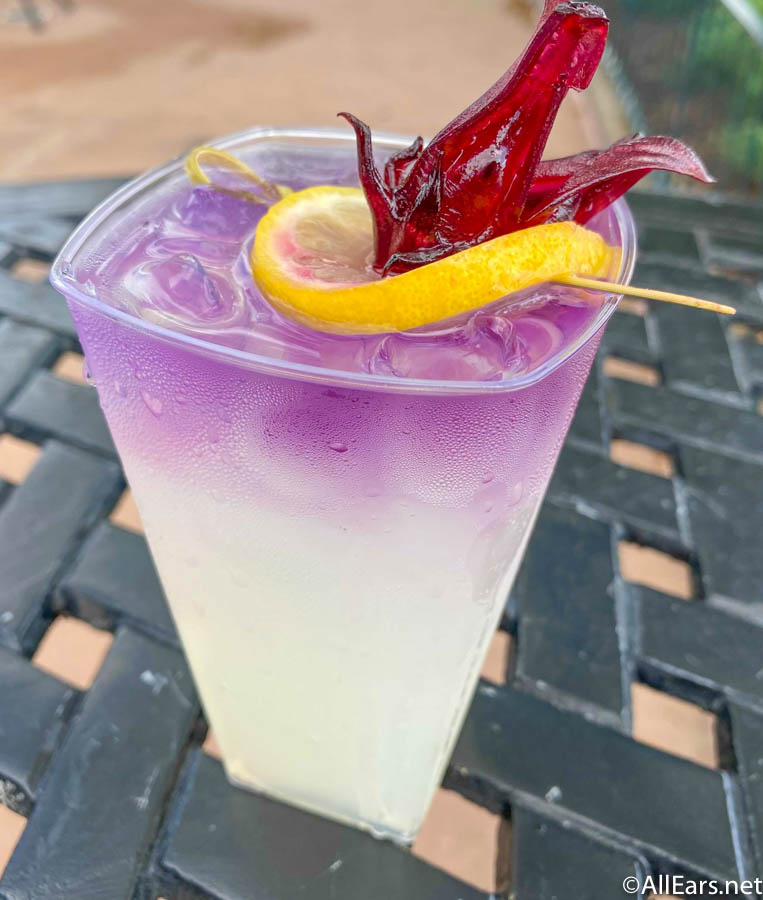 This gorgeous drink features Islamorada Brewery & Distillery Hibiscus Gin and costs $11. Like the Violet Lemonade, it's a great mix of fruity and sweet.
Best Beer
Honey Bee Citrus Blonde Ale
If you're going to grab one beer from the Flower and Garden Festival, make it the First Magnitude Brewing Co. Honey Bee Citrus Blonde Ale from The Honey Bee-stro Hosted by National Honey Board.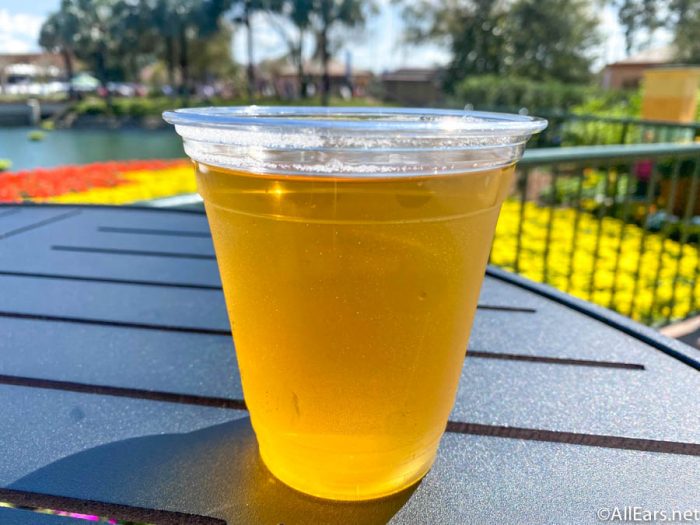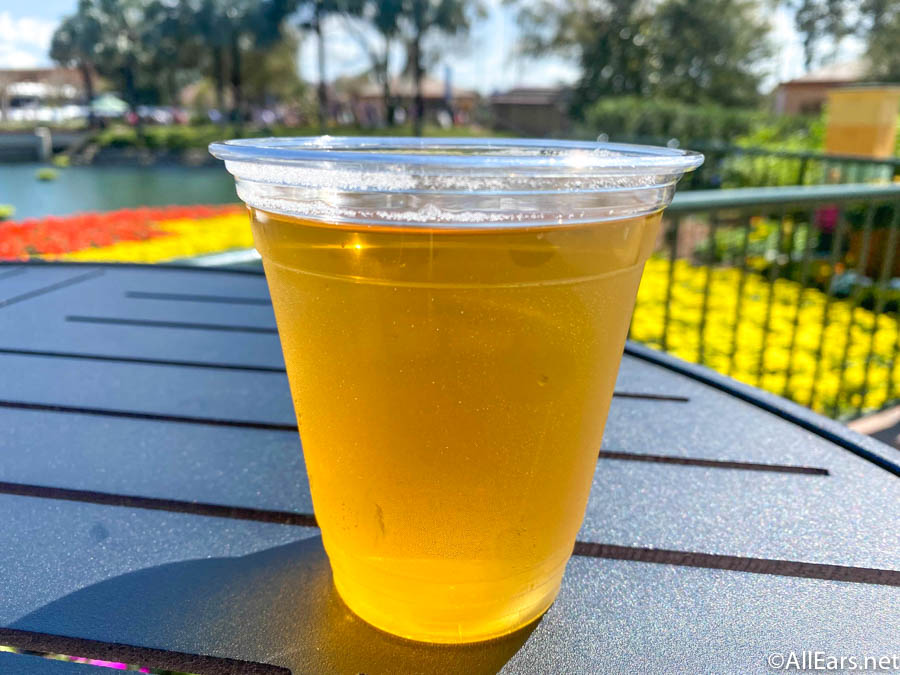 You can get a 6 oz pour for $4.50 or a 12 oz pour for $8.50. We loved the light honey notes.
Best of Garden Graze
Boneless Impossible Korean Short Rib
We completed the Garden Graze, which involves eating 5 foods and getting a stamp for each to fill up your festival passport! Our favorite eat out of those 5 stops was the Boneless Impossible Korean Short Rib from Trowel & Trellis.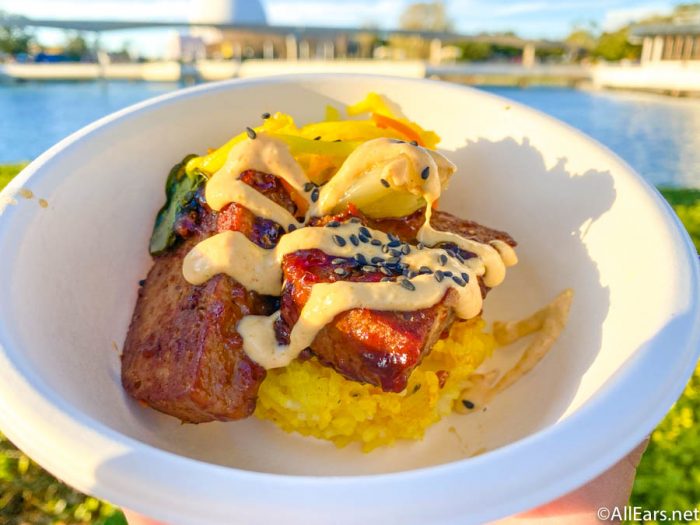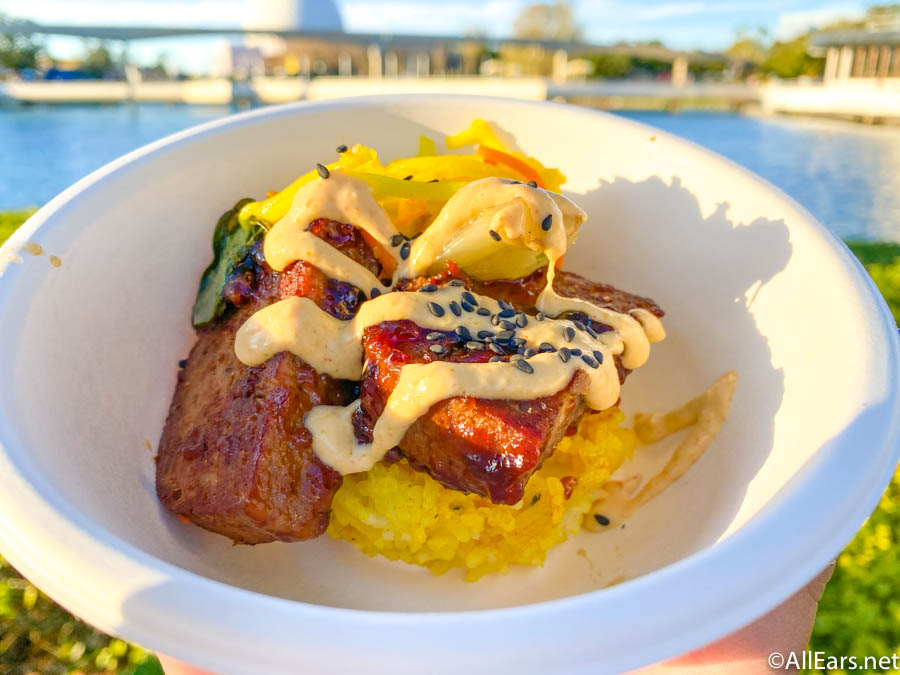 This booth is hosted by IMPOSSIBLE Foods, so everything is plant-based! This short rib is $6.75 and comes with cilantro-lime rice, Danmuji slaw, and Kimchee mayonnaise.
Best for Kids
Froot Loops Shake
The Sunshine Griddle is another new booth — and one of our new favorites! There were lots of colorful, sweet offerings, but our top choice was the Froot Loops Shake.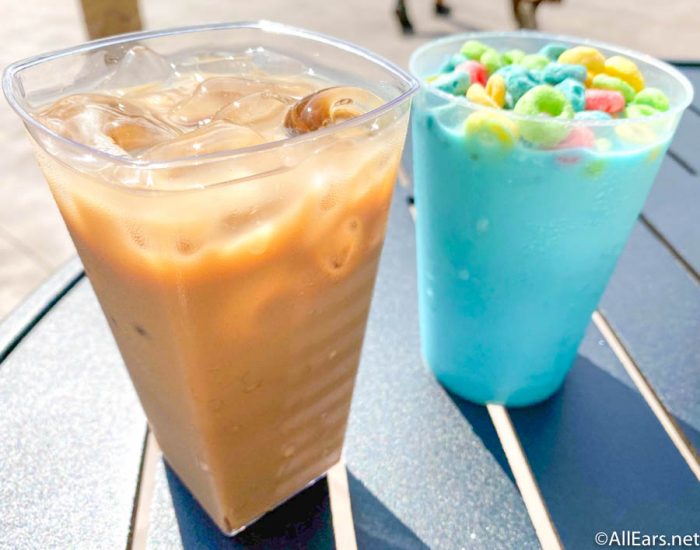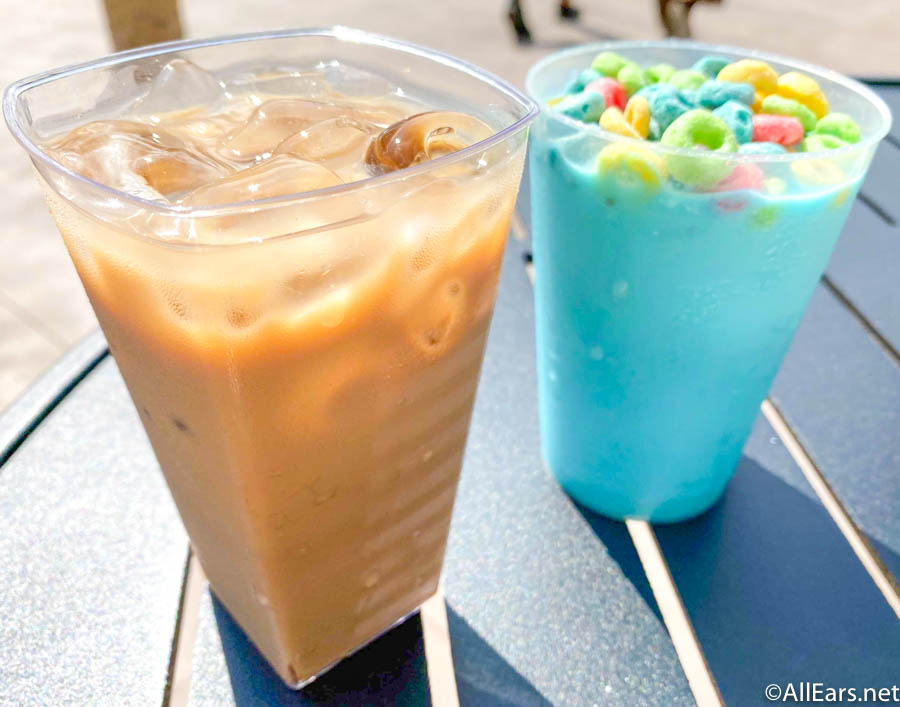 Yes, there are Froot Loops inside this thing. It tasted like childhood, and it's a great drink for kids. It costs $4.50!
You can grab all these items plus MORE at the EPCOT Flower and Garden Festival now through July 5th. And, we'll continue to give you a look at everything else happening at the festival during its run through the summer in Disney World!
What are your favorite food booths from the Flower and Garden Festival this year? Let us know in the comments below!