Well, well, well. Guess who it is.
It's me, Molly. And guess where we are? If you guessed the END of our 23 movie Marvel marathon. Can you believe it? I sure can't. When I started this, I barely knew who Peter Parker was, and now, I've cried 1000 tears over him.
I am excited and sad to watch this film all at the same time — excited because I really love Spider-Man, and sad because I assume we'll be reminded of Iron Man's death. (Ugh.) Also, sad because we're at the end of this journey, and I have no idea what to do with myself in the evenings now.
Alright — let's do it!!! Peter Parker here I come!
78 Thoughts I Had Watching Spider-man: Far From Home for the First Time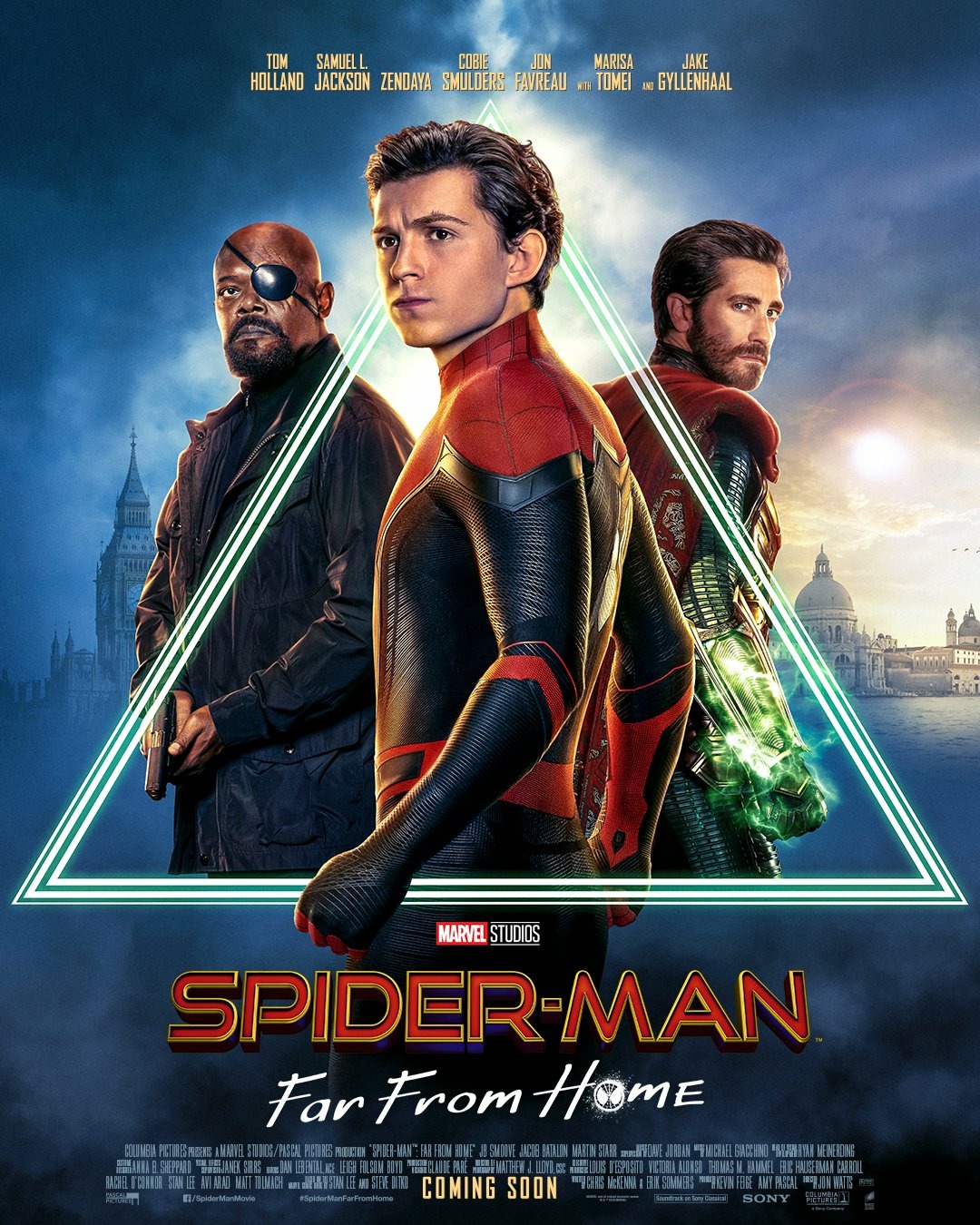 1. ROBIN SPARKLES AND NICK FURY!! Starting strong.
2. Jake Gyllenhaal???
3. "I Will Always Love You" is a punch to my heart.
4. An in-memoriam?!! Really???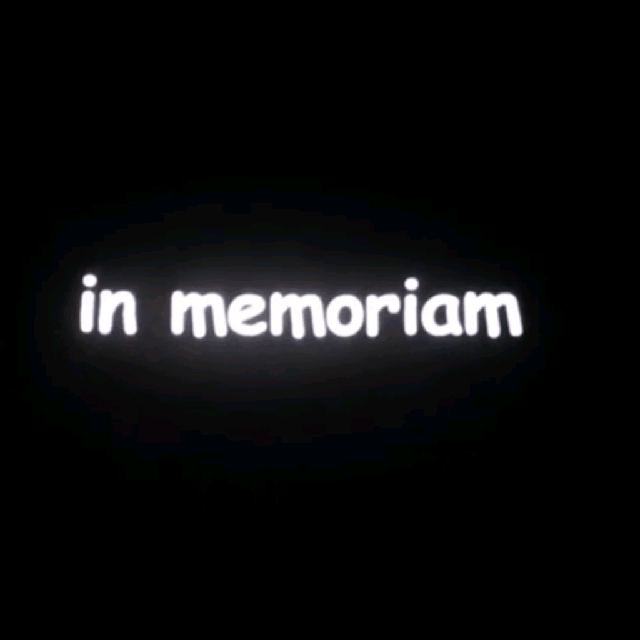 5. Wait….Cap didn't die. I guess it seemed like he did since he went back in time? Or did he die as an old man?
6. PETER PARKER I LOVE YOU SO MUCH.
7. I am glad Peter realized Zendaya is the one for him. She is the obvious queen.
8. HAPPY!!!!!!!!
9. "You sent Nick Fury to voicemail?!?!" LOL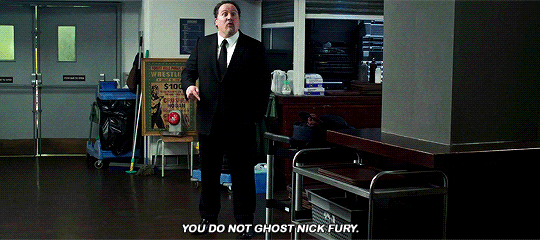 10. Poor baby Peter. He hasn't dealt with Tony. I want to give him a hug.
11. BRAD BETTER NOT MOVE IN ON MJ.
12. This flight is a nightmare.
13. Brad is probably a very nice boy but I hate him.
14. Zendaya is a treasure. "The anti-aloha" LOL.
15. Is it weird I hope it's sharks in the water? That's what the MCU is missing.
16.  Update, it is not sharks.
17. Is this the same monster from the beginning? He was rocks and now water? Or is this another monster?
18. Jake Gyllenhaal looks like Mega Mind.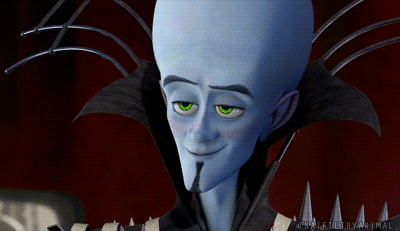 19. "I'm really strong, and I'm sticky." WHY IS PETER PARKER THE CUTEST??!
20. Happy and May…sitting in a tree….
21. Do they not realize Peter Parker IS Spider-Man??? Guess not.
22. Nick Fury, I love you so much.
23. PLOT DEVICE HOLOGRAM MACHINE.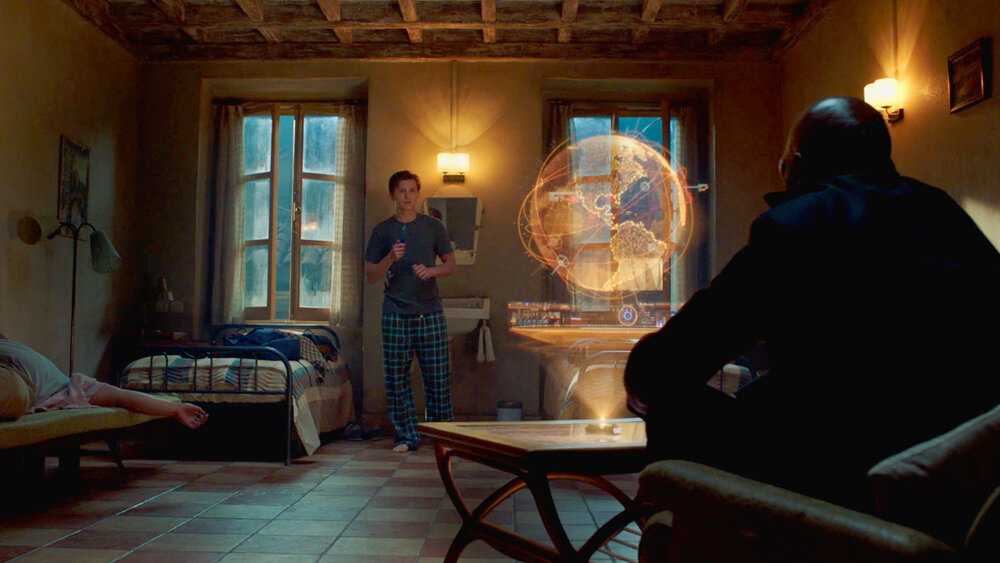 24. I am not sure I am emotionally equipped for Peter to be receiving gifts from Stark.
25. Multi-verse!!?? My brain is not ready for this one.
26. Robin Sparkles' face when Mysterio calls Peter the smartest one in the room: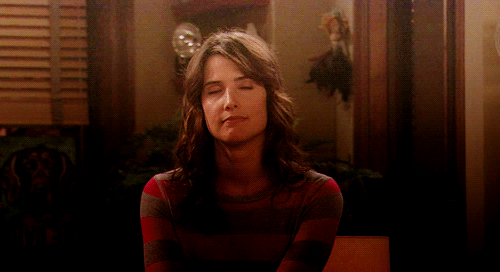 27. "B**** please, you've been to space." HAHAHHHAHAHAHAHAH
28. How CONVENIENT they got upgraded to go to Prague.
29. Peter, you are wearing the HECK outta those shades.
30. I adore how he always introduces himself. Aunt May raised him right!
31. Stupid Brad. I take back what I said about him being a nice boy.
32. That escalated quickly.
33. I kinda like Mysterio??? But that  stresses me out cause that probably means he's bad or gonna die.
34. Nick Fury, I love you, but how DARE YOU yell at bb Peter Parker.
35. Sees Zendaya in the opera house. Assumes this is next:
36. Why do 15% of the monsters in these movies look like the Balrog?
37. Night Monkey. Ned you really gonna do your bestie dirty like that?
38. NOOOOO JAKE GYLLENHAAL!!!!!
39. "Mr. Beck." WHY ARE YOU SO CUTE PETER.
40. Mr. Stark was NOT wrong! You got this Peter. But also, I know you just want to be a normal kid and ask your crush out. What a dilemma.
41. What is he talking about…Peter looks great in those glasses.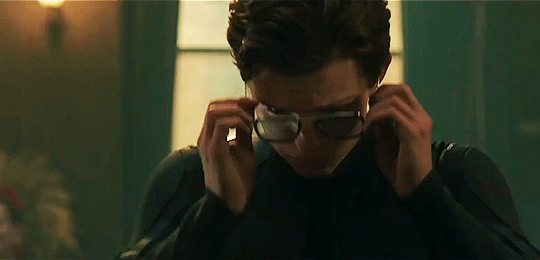 42. Mysterio is gonna be the next Iron Man???? This feels icky.
43.  WAIT HE IS BAD. I KNEW IT. Only a fool would think Peter looks bad in those glasses.
44. WHOAAAAAAA it's all disgruntled employees. This is why companies should host exit interviews.
45. Zendaya + Peter's awkward romance is giving me life.
46. "The news never lies." LOL.
47. WOWOWOW gotta give Mysterio credit for his dedication to the craft.
48. Now Zendaya and Peter can live happily ever after!!!! Once he saves the world and all…
49. NICK FURY!!!!!
50. Sparkles is acting weird?
51. OMG.
52. This is a very trippy false reality.
53. HOW DARE YOU TAUNT DEAD TONY AT HIM. Now you've gone too far.
54. NICK. FURY.
55. NOT NICK FURY. I hate you Jake Gyllenhaal for hurting this sweet angel.
56. HAPPY!!!!!!!!!
57. "The one thing he didn't second guess is picking you…" I'm not crying, you're crying.
58. THIS MUSIC.
59. Happy watching Peter make a suit, as the perfect encapsulation of Tony: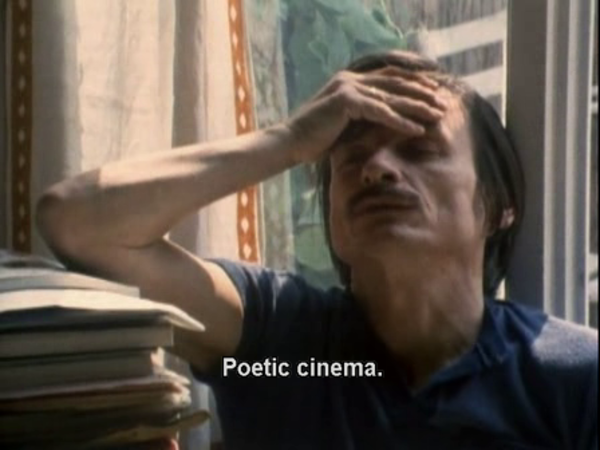 60. LOL @ Zendaya sassing stupid Brad.
61. PETER TINGLE.
62. HAHAHA Beck is like a bad actor auditioning for a play.
63. ROBIN SPARKLES!!!!!!
64. Poor Janice with the steamer.
65. YAS ZENDAYA.
66. Go Peter go! The action in this one is dope.
67. PUNCH HIM IN HIS DUMB FACE PETE.
68. PETER TINGLE!!!!!!
69. "You can't trick me anymore." SWEET ANGEL PETER!
70. Rut roh, that guy has the info. More to come I presume.
71. YES KISS HIS FACE!!!!!!!!!
72. Happy!!! Looking out for Peter. This is is so presh.
73. May is so great. I like her and Happy together.
74. MOST FUN DATE EVER.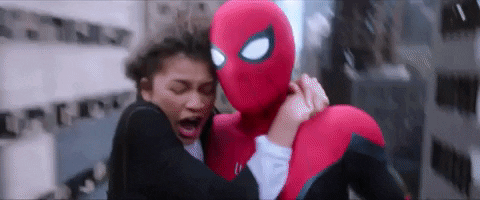 *skips credits*
75. How. Dare. You. Beck.
76. HOW DARE YOU BECK.
*skips more credits*
77. WHOA. A SKRULL. TWO SKRULLS.
78. HAHAHAHAHA if anyone deserves a vacation and a drink out of a coconut it's Fury.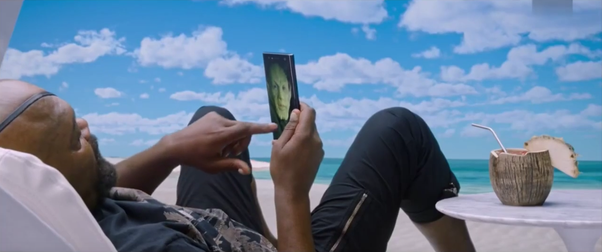 Well, we did it. We made it through every single Marvel film together.
I am glad we have more Spider-Man on our horizon, even if it's been pushed back to over a year from now. He is one of the few characters who I greatly enjoy their solo movies, as well as them being in the group. (The others the Guardians of the Galaxy and Black Panther.)
I really enjoyed Spider-man: Far From Home. Partly because I think it was a great tribute to Iron-man and his relationships he left behind. Partly because I enjoyed Happy, Nick Fury, and Zendaya. But mostly, because I adore Peter Parker. How can you not?
On a scale of 1 – 10, 1 being Iron Man dying and 10 being when Cap picks up the hammer, I award Spider-Man: Far From Home an 8!
Next up: NOTHING. Ouch.
Join the AllEars.net Newsletter to stay on top of ALL the breaking Disney News! You'll also get access to AllEars tips, reviews, trivia, and MORE! Click here to Subscribe!