Hello there! It's me, Molly! I have a confession to make…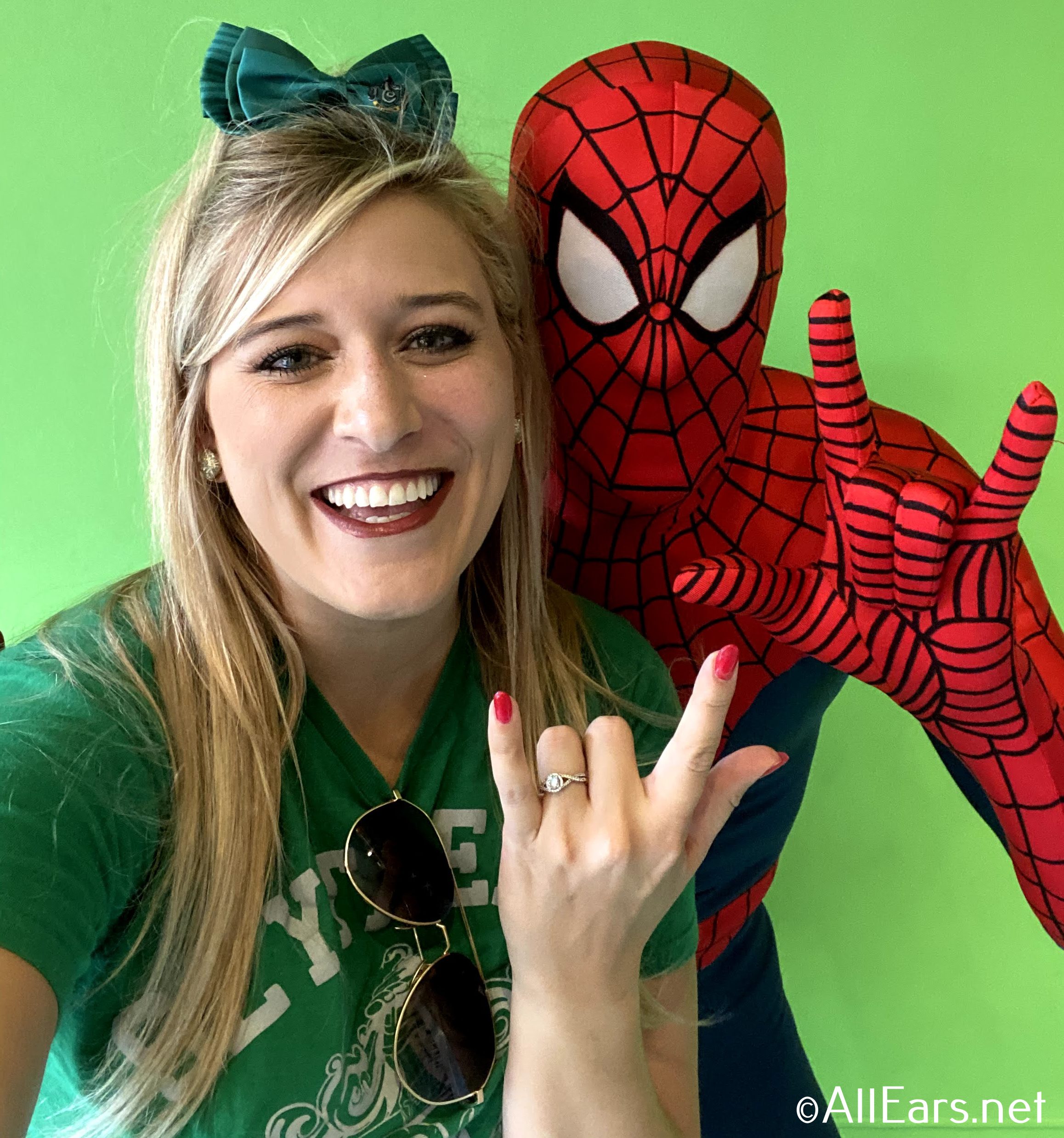 Despite having photos like this…I have never seen a Marvel movie.**
(**Technically I have seen Guardians of the Galaxy. I watched it because…Chris Pratt, but I had literally no idea what was happening other than the soundtrack was amazing and the raccoon was cute. I also fell asleep trying to watch Ant-man once.)
Shocking, I know. I have seen every Disney animated classic, every Pixar film, ever Episode of Star Wars…but for some reason I never got on the Marvel bandwagon. And then when the big ones were hitting the screen (Infinity War and Endgame), I asked a few friends if I'd understand them. They said yes — but I had to watch like 20 other movies first, and I got too overwhelmed.
For years, I've awkwardly nodded along in conversations and pretended to know what the infinity stones are or who Hawkeye is (literally no clue), and I have no idea which one the best Chris is (for now, it's Pratt IMO,  but…something tells me Hemsworth may be stiff competition). Once I met Captain America at Universal Orlando and he asked me about something called Hydra(???) and I just had to nod and laugh along. This ends now.
I am starting a cinematic adventure — 23 movies and 12 years in the making. I have no idea when I'm in for — but these movies have grossed over $22 billion dollars worldwide, so they must be pretty good right?
For the record — I am watching them in release order. I know there's debate about release order vs. chronological order, but everyone I asked said release order. Which brings me to Iron-man.
Here goes nothing!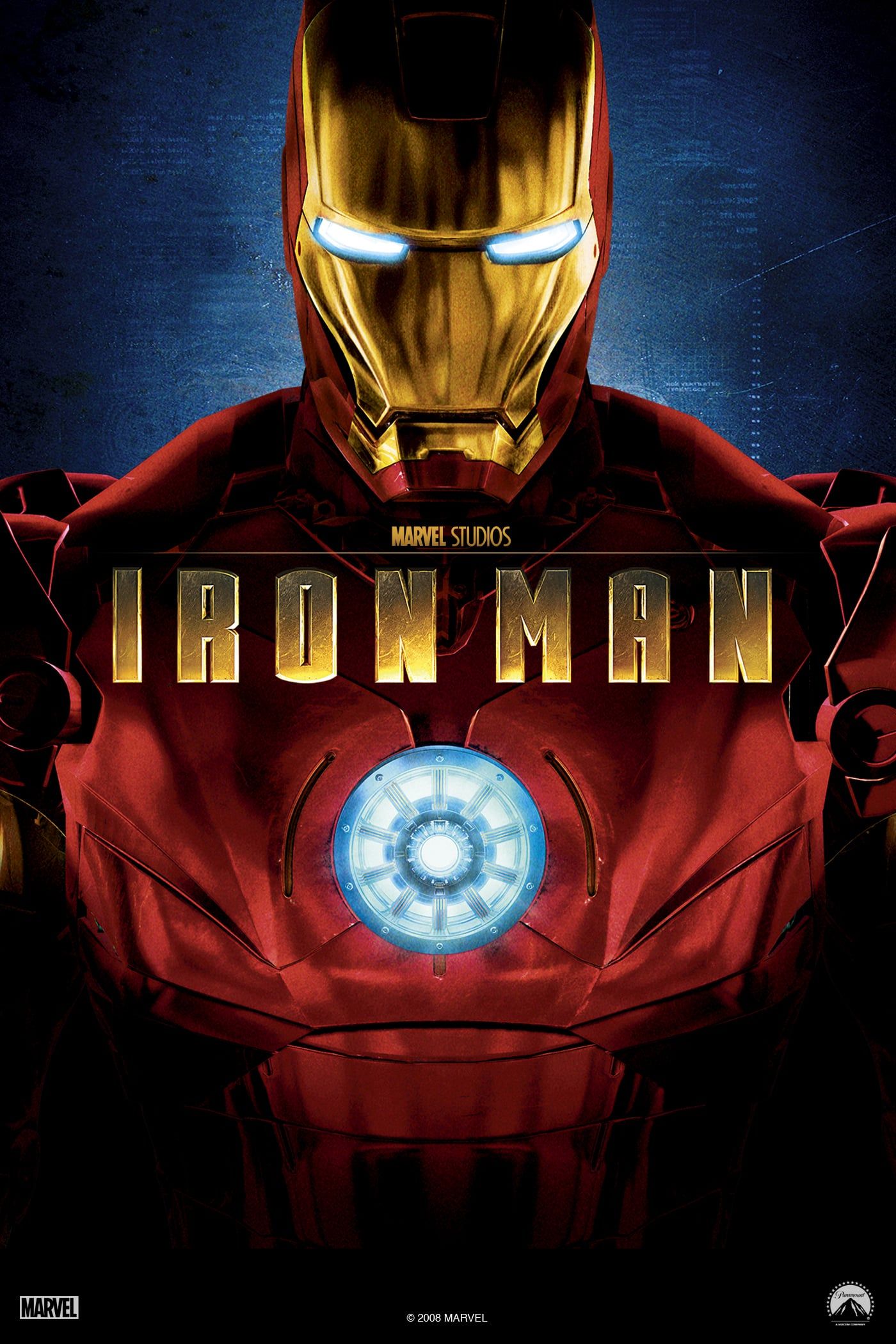 71 Thoughts I Had While Watching Iron Man for the First Time:
1. Starting with AC/DC, this is already great.
2. LOL @ Robert Downey Jr. just enjoying a cocktail. I already enjoy him and his zippy Barney Stinson energy.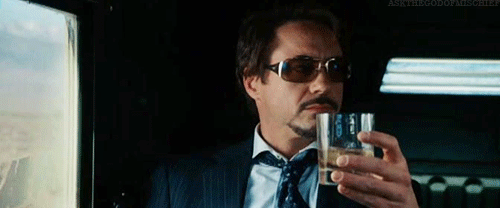 3. I am nervous things are going too casually and they are clearly in an active war zone.
4. Oh man, I hate being right. This is v stressful.
5. Oh the irony of being shot at by your own weapons. But he appears to also have been saved by his own weapons. Marvel is much deeper than I thought they would be, 4 minutes into the first film.
6. First impression  — immediately not trusting this Stane guy. I feel like he may try and murder Robert Downey Jr. because he took over the company. Maybe he killed Papa Stark? TBD.
7. Oh wow, didn't know Terrance Howard was in this. I feel like I'm going to be constantly shocked at how many super famous people are in these movies.
8. Is Stane Jeff Bridges? *pauses to check IMDB*  Wow shocked by another celeb appearance already.
9. Is that Jon Favreau?! I will always know him as the Pete Becker, Monica's rich boyfriend on Friends who wanted to be a UFC fighter. Didn't he direct this?! *checks IMDB again* HE DID! Wow gotta love a cameo.
10. Tony Stark's house, while not my style architecturally, is very baller.
11. OMG Gwyneth Paltrow?! Wow she is sassy with a smile and I am enjoying her, per usual.
12. The chemistry is palpable, obviously they love each other.
13. As a woman, I should hate Tony Stark. But…I love him.
14. LOL at watching this in 2020 and seeing the Motorola phone he has that's supposed to be cutting edge.
15. Did they…implant something in him?
16. Yes.
17. Ok, I like this underground scientist doctor man. I do not feel the same for the armed soldiers who just walked in.
18. Tony Stark is on to you man!! He knows you're lying!!
19. I feel like he's having doing a lot of reflecting and having an interpersonal crisis that can only lead to him hating war and becoming a superhero.
20. I also kinda think he's not really building a missile.
21. Nailed it.
22. Oh here I thought that the bearded bad guy was the in charge bad guy, but it's really the bald bad guy.
23. I think he was on Grey's Anatomy and Derek Shepherd had to take out his tumor. *checks IMDB yet again* He was. I am a little ashamed I knew that so quickly.
24. NOOO don't hurt Yinsen!!!! I love him so much. He's a precious angel.
25. Is there a gym at the Marvel Headquarters where all these guys just lift heavy things while smizing at each other? I hope so.
26. That bar is loading SO slow – it's like when you're trying to get a Rise of the Resistance boarding group and you're waiting for the friends and family screen to load.
27. I am really hoping Yinsen gets out of this…but it's not looking good.
28. He looks like The Iron Giant. Remember that movie? The eyes peaking out of the giant armour also reminds me of the Mountain on Game of Thrones.
29. YINSEN!!! He's alive!!!! Wait…
30. "Don't waste your life." *crying emoji*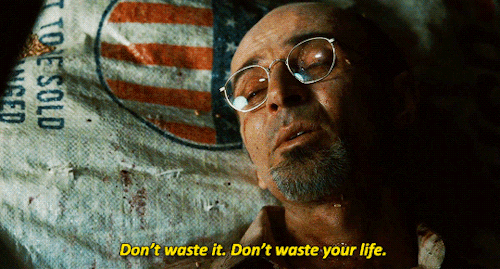 30. Are all of these movies going to be this stressful? I am going to need my blood pressure checked at the end of this.
31. Ok I don't care what that suit is made of, he'd be dead if he flew into the ground at that speed….. I should probably just suspend belief for these films.
32. Gwenyth loves him so much!!! I love their back and forth. I also love cheeseburgers and fully understand his demands.
33. Burger King though? I'd be going straight up Big Mac. I wonder how much Burger King paid to be the burger of Stark's choice.
34. It's hard to pull off mad on a segway but Jeff Bridges is doing it brilliantly. The cigar helps.
35. Shouldn't she wash her hands before this underground robot surgery? At least use a little hand sani?
36. Pepper, or Pepps as I like to call her, is gonna save the old heart machine thing I bet. I dunno why, but they made a big deal about if he should save it or not, and she looked at it longingly.
37. Ahhhh yes…the classic "bad guy spins slowly to reveal a scar/burn/injury he received in battle/identifying characteristic" move.
38. Cue the training montage. Jeff Bridges interrupted it but we're back.
39. "Yeah. I can fly." ICONIC.
40. He still looks like the Iron Giant, but no longer like the Mountain.
41. I like that he can fly and all that…but I still don't really see what his super hero schtick is yet. Like…is he gonna fight crime? Go back to the war and battle the bad guys?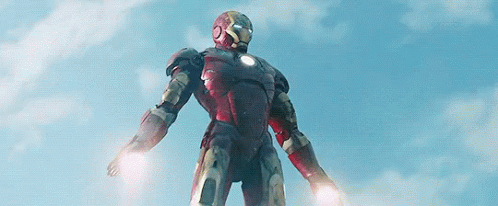 42. OMG SHE DID SAVE THE HEART THING FOR A LOVELY SHADOWBOX. Kewt.
43. I love the snark from the robot.
44. That's not Hef, that's Stan Lee!!!!!! I hear he makes cameos in the films. Into it.
45. JUST LOVE EACH OTHER ALREADY.
46. This guy with the long job title keeps popping up and I am pretty sure he's important since he's shown up twice now.
47. JEFF BRIDGES WHAT ARE YOU UP TO YOU SNEAKY BALD MAN.
48. Wait — why are all the bad guys bald in this movie? What statement is Marvel trying to make?
49. "Who, if anyone, will help?" *Tony Stark looks knowingly at his reflection.*
Me: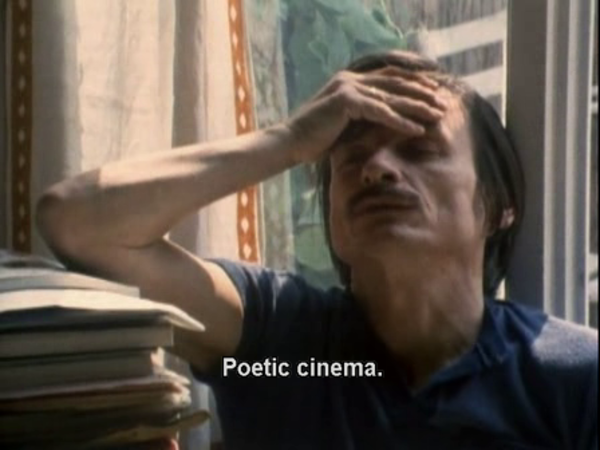 50. Iron Man is BACK and he means BUSINESS.
51. Cool guy walks away while something explodes in the background. Obvious, but always a winner.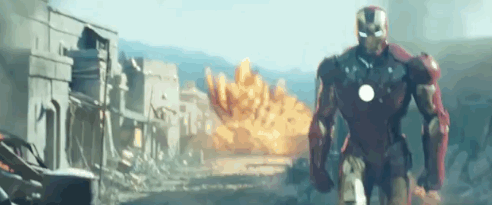 52. Oh man, how is Tony Stark not motion sick. I bet he rides Mission Space on the Orange side.
53. Jeff Bridges is really leaning into the supervillain stereotype with the robe and striped collar on the outside.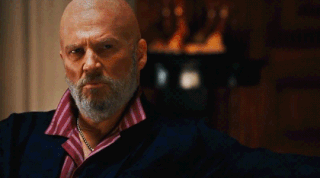 54. Well, well, well…one bad bald guy meets another bad bald guy.
55. Jeff Bridges proves he's the elite bad bald guy.
56. Pepps what are you doing!!! She's about to save the day isn't she.
57. I legit just jumped when Jeff Bridges walked in. HE BETTER NOT HURT PEPPS.
58. OH NO JEFF KNOWS SHE GOT THE FILES EVEN THOUGH PEPPS WAS SO SLICK. *starts stress eating popcorn*
59. Jeff is fessing up as he murders Tony but he doesn't realize PEPPS IS ON THE PHONE. (I need to keep repeating that to myself so I don't stress further.)
60. THE HEART FROM PEPPS IS GONNA SAVE HIM!!!! With an assist from the robot!!!! *slow clap*
61. I knew guy with long job title would return. Was his whole purpose to coincidentally be there for a meeting on the day Jeff Bridges was gonna attack? Convenient.
62. And I thought that ice all over the suit scene earlier was stupid and just for show. Silly me.
63. OF COURSE PEPPS IS GONNA DO IT. She's gonna save the day!
64. Nice touch being able to see both their faces in the final battle.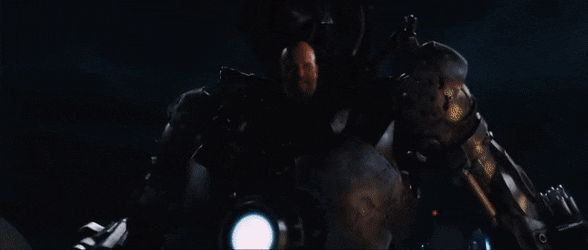 65. Pepps saved the day!! And long job title guy did have more purpose so that's good for him. Is he gonna come back? Should I learn his name?
66. OH HIS JOB IS WITH S.H.I.E.L.D?! That's a thing in the MCU I'm pretty sure. Guess I should learn his name.
67. "I am Iron Man." What a baller.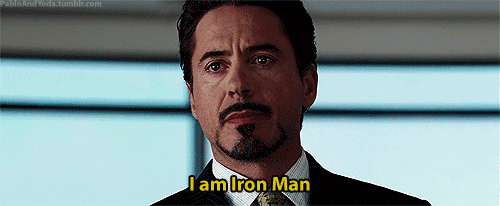 68. I was told by many friends I need to sit through all the credits????
69. Oh, that's why.
70. SAMMY L IN THE BUILDING.
72. HE SAID S.H.I.E.L.D!!!! AND AVENGER!!!!! AHHHHH!!!! (Is this how all of you felt for the last 12 years?!)
Final Thoughts:
Iron Man was good!! I enjoyed it more than I thought thanks to RDJ's wit and general demeanor, and the plot was easier to understand than I expected. (Guess that's what happens when you start at the beginning.) I also really enjoyed Gwenyth as Pepps, and hope she's back in the next Iron Mans. Plus, that end credits scene got me PUMPED for what's next, which I did not think would happen.
On a scale of 1 to 10, with 1 being Home on the Range and 10 being Beauty and the Beast, I award Iron Man a 7.
What's your favorite Marvel Movie? Let us know in the comments!
Join the AllEars.net Newsletter to stay on top of ALL the breaking Disney News! You'll also get access to AllEars tips, reviews, trivia, and MORE! Click here to Subscribe!

Photos and gifs are property of Marvel.