Universal Studios' parks pay tribute to all sorts of popular movies – classic and modern alike – so it's no surprise that King Kong has a long history with Universal, especially at its Orlando parks.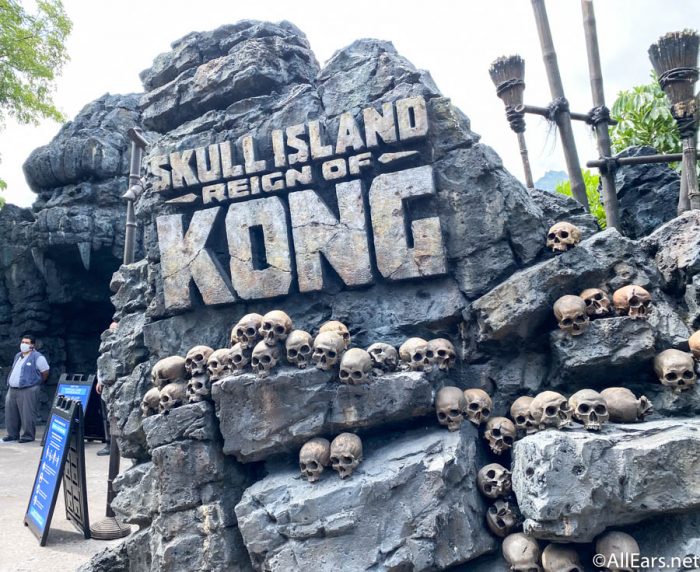 You might be most familiar with Islands of Adventure's current Skull Island: Reign of Kong ride, but Kong's history at Orlando goes back to the beginnings of Universal Studios Florida – and even further back.
Today, we're going on a wild adventure through King Kong's rich history at Universal Orlando.
Beginnings at Hollywood
It's important to note that before Universal Studios opened up parks in Orlando, Florida, they already had a studio park over in Hollywood, California – complete with its own King Kong attractions. Originally called Kongfrontation, King Kong Encounter opened at Universal Studios Hollywood in 1986 as an extension of the studio backlot tour. The signature ride of the park at the time, the studio tour would take tourists by tram through Universal's lots. Guests could see real studios at work, as well as view films come to life with live-action scenes, like King Kong.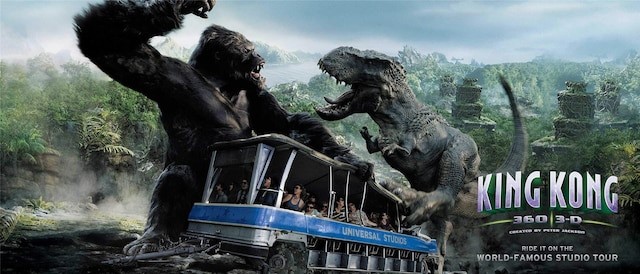 During the King Kong Encounter portion of the tour, riders traveled through a recreation of Kong's New York rampage from the 1976 film. The city was already in ruins when you arrived, and TV reports broadcasted Kong's ongoing attack. As events progressed, Kong got closer and closer to the tram. He hurled a helicopter close to the tram, for instance, and he even shook a suspension bridge the tram was crossing. Of course, you escaped in the end, but the whole experience was exhilarating.
Kong himself, the work of Disney Imagineer Bob Gurr, was especially incredible, being the biggest animatronic of the time at a whopping height of 30 feet. The complex animatronic even impressed Steven Spielberg, who viewed it under construction a few weeks before the attraction opened. King Kong Encounter proved very successful, boosting the tour numbers by one million people (to a total of 4.5 million). This success encouraged Universal to use a similar attraction at its soon-to-open park in Orlando and make the thrills even better.
Orlando's Kongfrontation
When Universal Studios Florida opened in 1990, Kongfrontation was one of the star attractions, taking the idea of a direct encounter with Kong to a whole new level. The previous success of King Kong Encounter showed Universal the potential of thrill rides, and this in part led to a different direction for the new park. Rather than integrate it into a studio tour like at Hollywood, this version would be its own, full-fledged attraction, reflecting the park's larger focus on movie-themed rides, like the popular Jaws.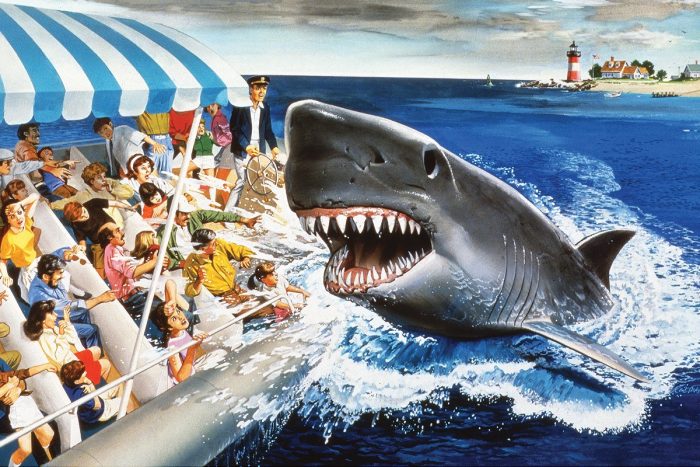 Like King Kong Encounter, the ride centered around you being trapped in New York City during Kong's 1976 adventures, but Kongfrontation expanded the entire experience. Even when you were in the wait queue, you were immersed in the rising terror of Kong's rampage. You started out in a recreation of New York's historical Pennsylvania Station subway. While you could enjoy the graffiti and other in-setting scenery, much of your attention would be captured by adjacent television screens, which would broadcast news on Kong's escape. Using clips from the 1976 film, the broadcasts became increasingly tense as Kong caused more and more destruction, setting the stage for the actual ride.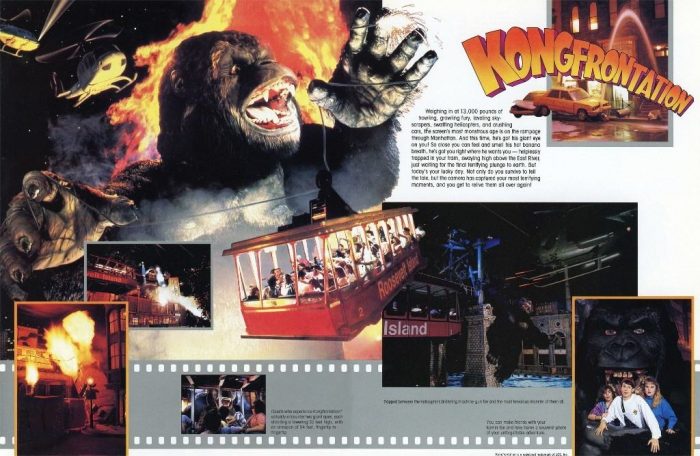 After boarding an aerial tram, guests were "evacuated" to Roosevelt Island to escape Kong, but it wasn't an easy journey. Throughout the ride, Kong wreaked havoc, with much of the destruction happening close to the tram. The gargantuan ape also directly grappled with and shook the tram on multiple occasions. Sometimes, he even got close enough for riders to smell his wretched banana breath. Thankfully, visitors ultimately escaped to Roosevelt Island, where news reports informed them that the tide had turned against Kong. Interestingly enough, despite being driven away from the city, Kong lived to fight another day – a sharp change from the movie's ending.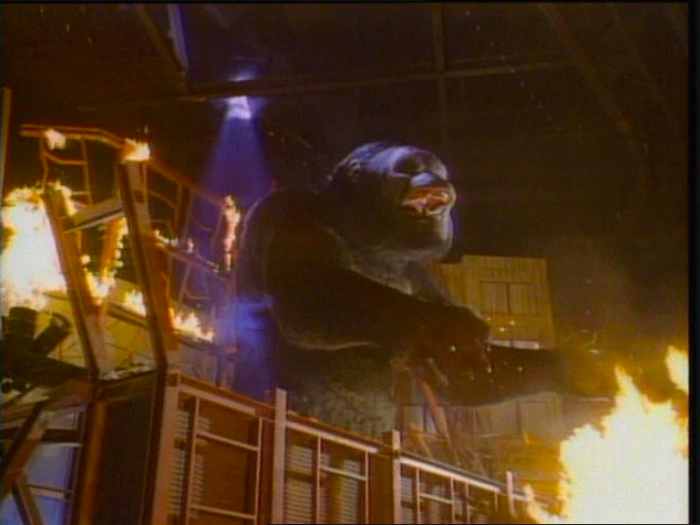 Like its predecessor attraction, Kongfrontation was a technological masterpiece, creating an immersive and intense experience for park guests. Instead of just one huge Kong animatronic, there were two – each at 40 feet tall and having arms stretching over 50 feet long. In addition, due to having both digital and analog functions, the animatronics could do over 60 different tasks, making them seem more realistic and alive. One especially cool marvel was the aerial trams, which could, in addition to moving forward and back, could also move up and down. This meant that riders actually felt like their tram was falling or shaking as Kong attacked. Unfortunately, these technical achievements had their flaws, too.
Technical Problems and Closure
While Kongfrontation was ambitious and amazing, its complex mechanical systems were prone to breaking down. Sometimes riders would get stuck midway through the adventure, maybe even in pitch-black darkness. This made the ride somewhat unreliable for guests, damaging its appeal. Furthermore, the ride's high-maintenance equipment, combined with extra staffing needed for tram operators, made the attraction costly for Universal. Furthermore, Universal was shifting toward attractions tied to more recent popular films, and Kongfrontation was on the way out.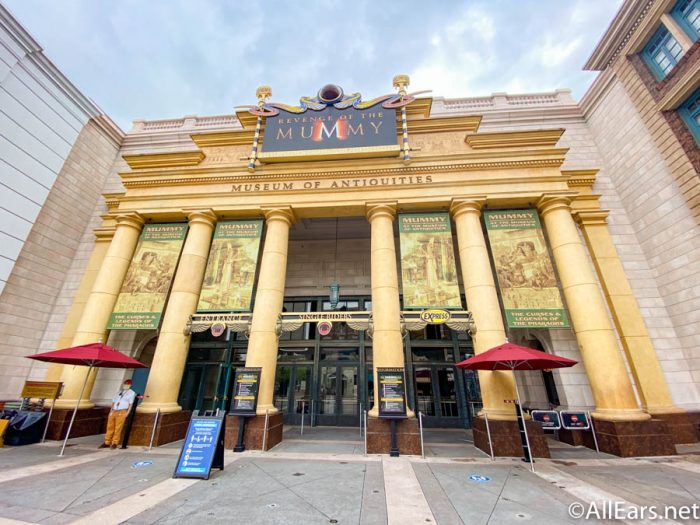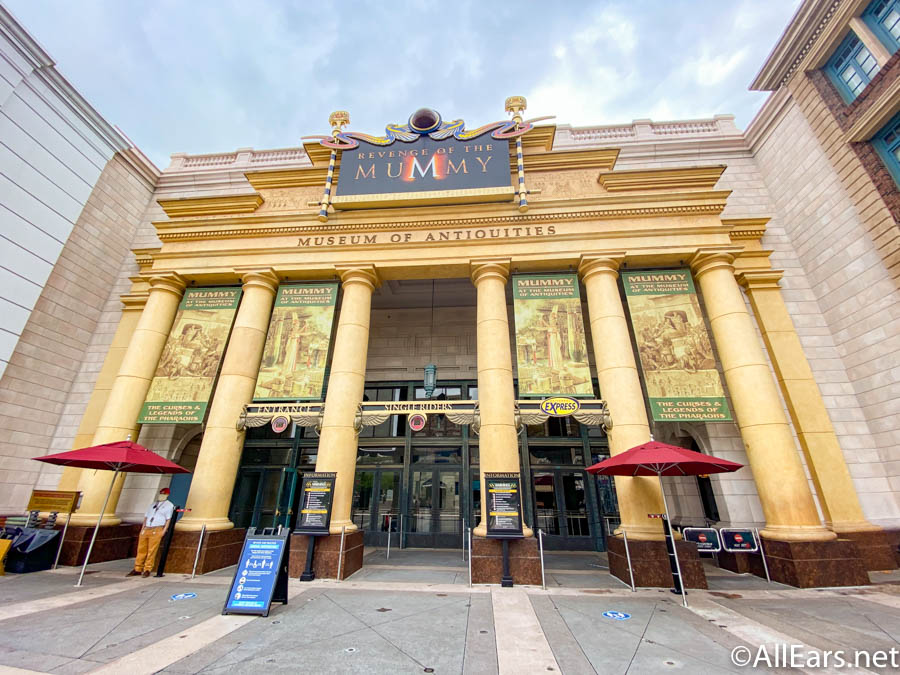 In 2002, Universal closed Kongfrontation, replacing it with the new Revenge of the Mummy (based on the recently released Mummy movies) roller coaster in 2004. It set a trend for the future replacement of classic Universal rides. Parts of the original King Kong ride are still found on the ceiling of the current attraction, and Revenge of the Mummy also pays tribute to Kongfrontation in a few other ways. For instance, part of the ride includes a golden Kong statue in the scenery. Though Kongfrontation is gone now, its legacy endures – not only at Revenge of the Mummy, but also in the current King Kong ride that would later appear at Islands of Adventure.
Reign of Kong
The Islands of Adventure park at Universal Orlando has added a new level of immersion to the theme park experience with amazing settings based on classic film franchises. King Kong-themed Skull Island, which first opened in 2016, is the latest island addition to the park. The island's sole attraction is the awesome Reign of Kong ride. While Reign of Kong takes inspiration from many different King Kong movies, it especially draws from Peter Jackson's 2005 production. In fact, Universal asked Peter Jackson for consultation assistance while developing the new ride. The end result was an immersive, thrilling, and spectacular ride.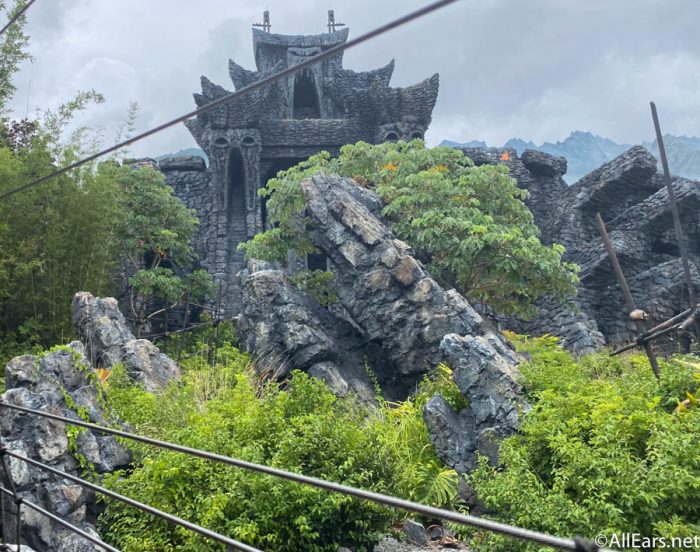 As you wait in line for Reign of Kong, you travel first through a temple, and then to a base camp for the expedition to the island. Along the way, natives jump out to surprise you and monstrous animatronics like giant worms lurk in the background, creating a suspenseful atmosphere. After boarding vehicles, you join the expedition toward a massive, 80-foot tall temple gate, only to be attacked by local wildlife. As guests travel through swamps and other dangerous environs of Skull Islands, more dinosaurs and other fierce creatures hound them at every turn. Then, in the grand finale, Kong himself enters the fray, fighting off humongous dinosaurs and even saving the expedition.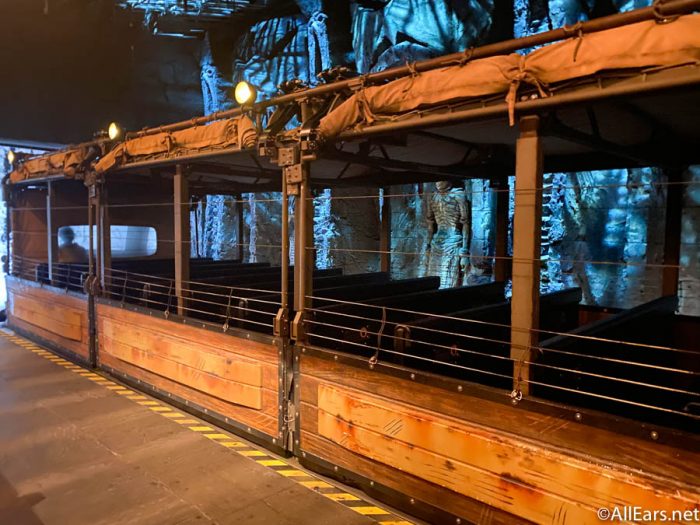 The ride uses some impressive features to immerse riders in the exciting experience. The line queue was designed by engineers of Universal's infamous Halloween Horror Nights, so even the wait time is engaging (and scary). One of the most impressive things about the ride are the 40-foot trackless vehicles – the first trackless vehicles in Universal's history. The vehicles seem to move naturally, as if you're really going into the wild. Plus, your adventure is led by lifelike animatronics of expedition members; each of the five members has their own unique dialogue and backstory, varying the ride experience each time. In addition, visitors wear 3D glasses for enhanced visuals on the 360-degree screens. All of this makes for a thrilling adventure.
Halloween with King Kong
As mentioned earlier, Halloween Horror Nights is a spooky, annual tradition at Universal Orlando. During those nights, the park is transformed into a frightening collection of haunted houses and other scary things.  And King Kong has played a role at some of these terrifying events over the years. Universal has produced a number of classic monster and horror films, and light shows and other performances have highlighted these classic movies by Universal and other companies, including King Kong. For instance, Sweet 16: The Director's Cut in 2006 featured the 2005 King Kong among the various horror movie clips projected for the show.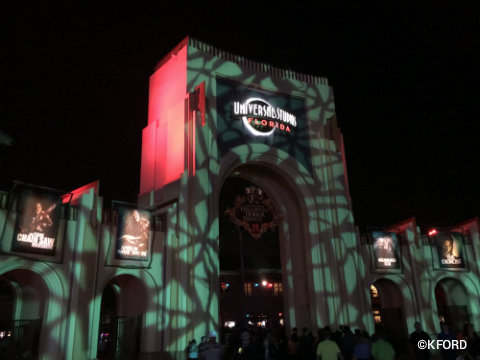 In addition, areas at the park are remade into scary alternate versions of their normal appearance. In 1992 for Halloween Horror Nights II, Kongfrontation became Tramway of Doom, riders now attempting to escape Darkman. Not only that, but you could also enter a haunted house below the actual ride. Halloween Horror Nights X (2000) turned the New York-themed attraction into a walkthrough scare zone, as you wandered a dangerous city inhabited by deadly mutants. Sadly, Skull Island was added after Universal stopped doing Halloween Horror Nights at Islands of Adventure, where the different islands often became immersive alternate worlds with intricate storylines. Maybe one day we'll see an even scarier version of Skull Island for Halloween.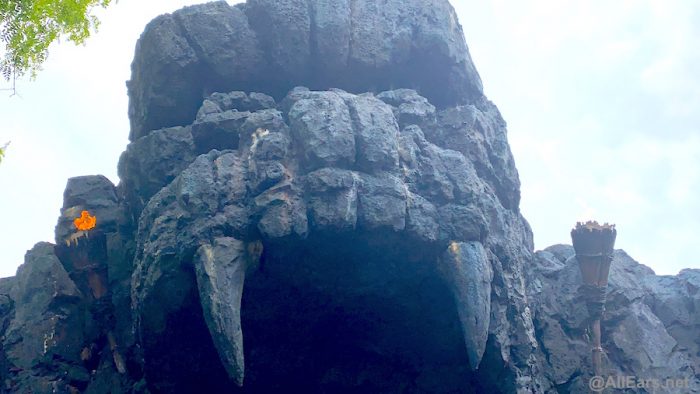 While the past and present King Kong rides are very different, they have all been thrilling and fun rides, and they've played an important role in Universal Orlando's history. Just as King Kong remains a popular movie franchise, we can expect its untamed reign of Universal to continue into the future.
Which ride have you liked more – Kongfrontation or Reign of Kong? Enter your vote in the comments.
Join the AllEars.net Newsletter to stay on top of ALL the breaking Disney News! You'll also get access to AllEars tips, reviews, trivia, and MORE! Click here to Subscribe!