Did you know it's estimated that 55% to 86% of people can experience an effect known as frisson?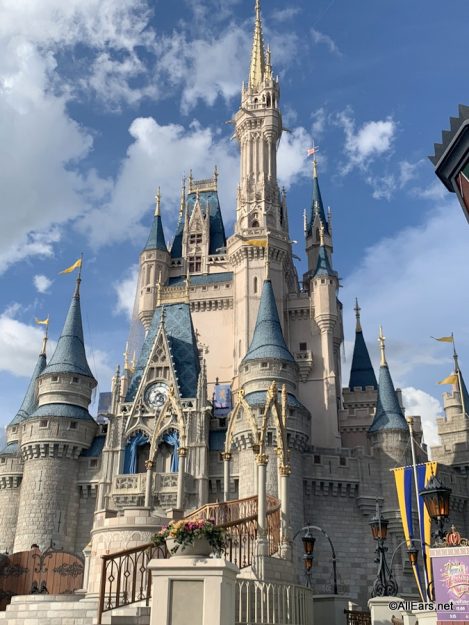 The term is French and literally means thrill. You know how, for many people, if you hear a moving piece of music, it can feel like a shiver up your spine and goosebumps all over? Yeah, that's a real thing with a name: frisson. And if there's one place you'll get all the frisson, it's Walt Disney World.
Let's look at some of the best Walt Disney World music that gives us all the frisson!
Happily Ever After
The hit firework spectacular in Magic Kingdom is loaded with great goosebump-inducing moments. Some of our favorites include Rapunzel's section, Moana, and Mulan's music moments.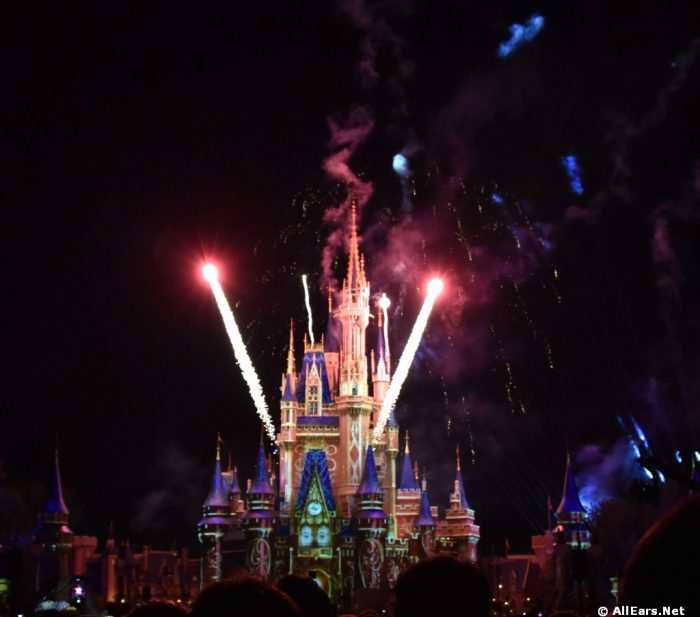 The best, though? Combined with the visual of her soaring off the castle HAS to be when the music swells, and the chorus all sings "You Can Fly" as Tinker Bell flies over the crowd. Frisson every time.
Soarin' Around the World
To be honest, we'd pick the original score of Soarin' Over California over the updated 2016 version. The original composer's version really stuck with us.
But both new version and old, this music is memorable and breathtaking, especially when combined with the visuals of the ride. The dun dun DUN of the changing music gets us every time!
Frozen Ever After
Frozen 2 may have been filled with goosebump-inducing musical moments, but it's still tough to hold a candle to the soaring sounds of Elsa belting out "Let it Go."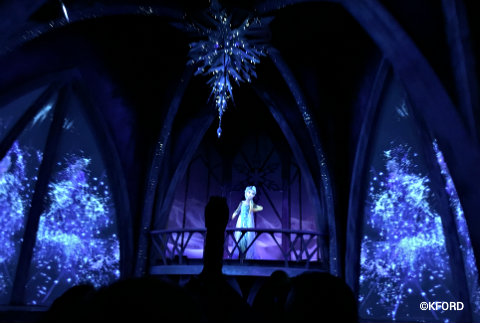 When your boat enters her ice palace and you see her standing there singing, it's impressive. Combined with the projection effects around you, the music rising, and then your boat rushing backward, it's a powerful moment.
Main Street, U.S.A.
There's a long loop of music that plays on Main Street that is memorable. It features classic American tunes as well as some Disney favorites all sounding like they're played by your favorite old-time band.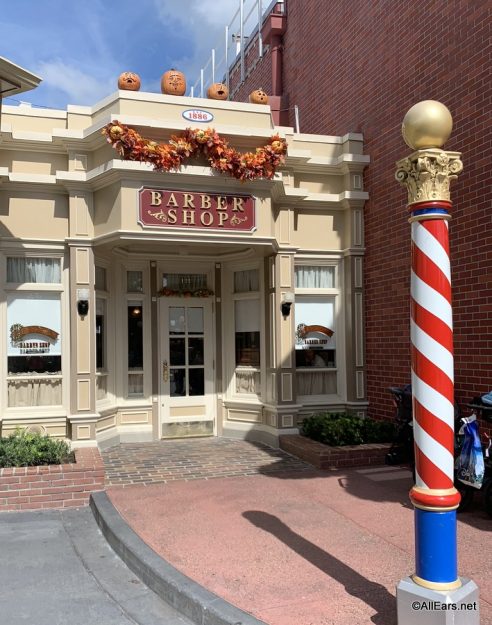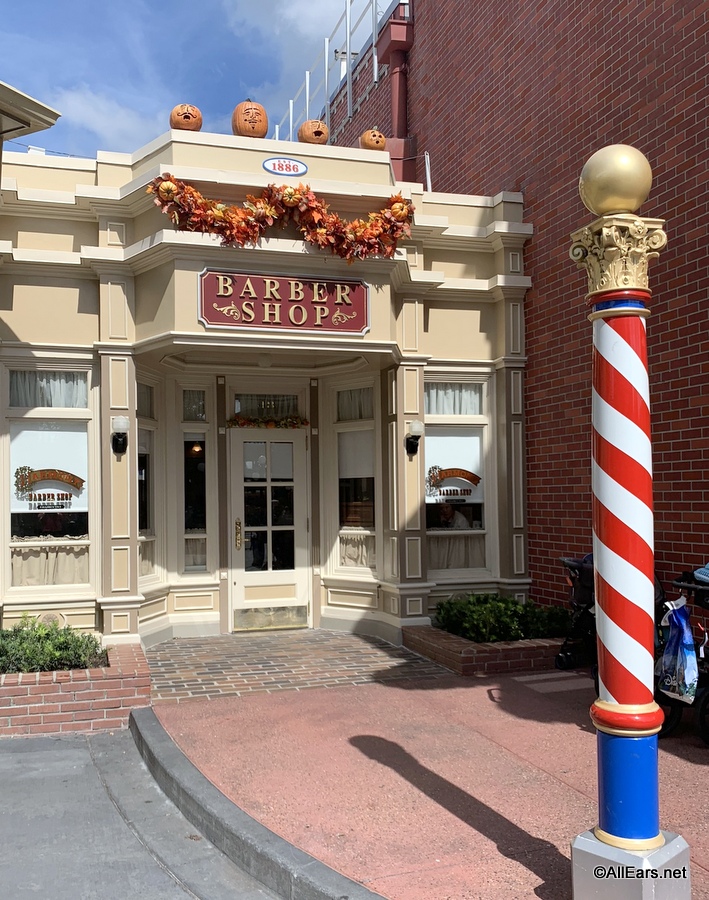 Once you hear it, you'll know — the music just sounds like "Disney." Combined with the smells of Main Street, the bustling sounds of the transportation, the steam horn of the train, and guests rushing to and fro, it's one of the first sounds many guests really take in when they enter Magic Kingdom.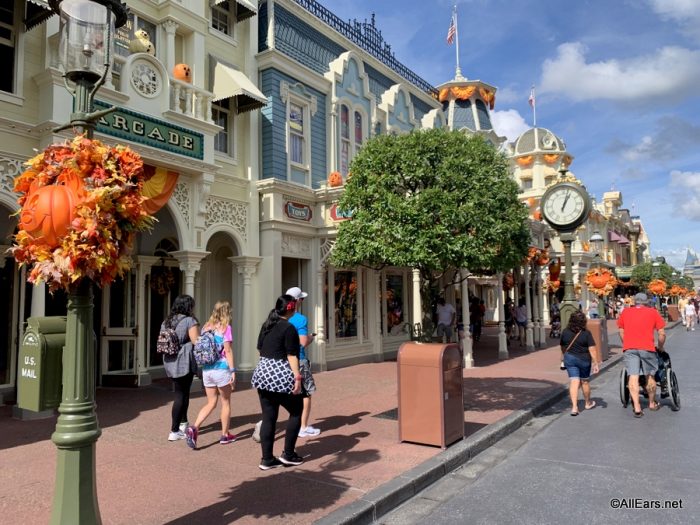 As you turn that corner of Main Street to see the castle, stop for a second and really take it all in. This is orchestrated to make you feel GOOD, and boy, does it ever. Enjoy the warm fuzzy feeling.
Festival of Fantasy Parade
The regal trumpets signaling the start of the Festival of Fantasy parade followed by the chorus booming those first words of "Away we go!" makes our heart skip a beat each time.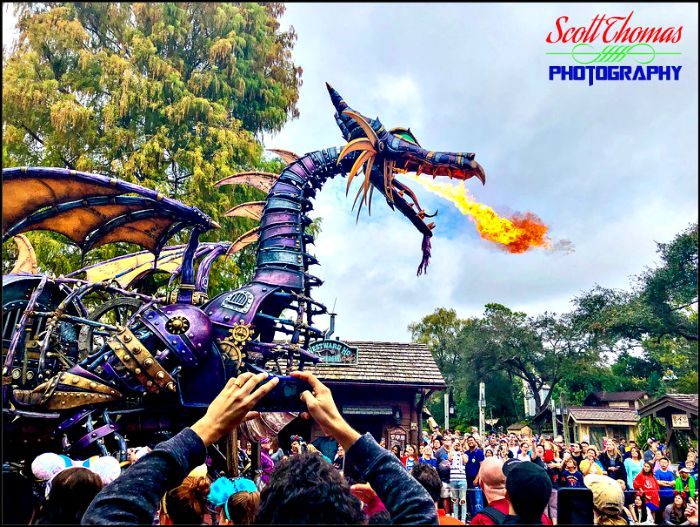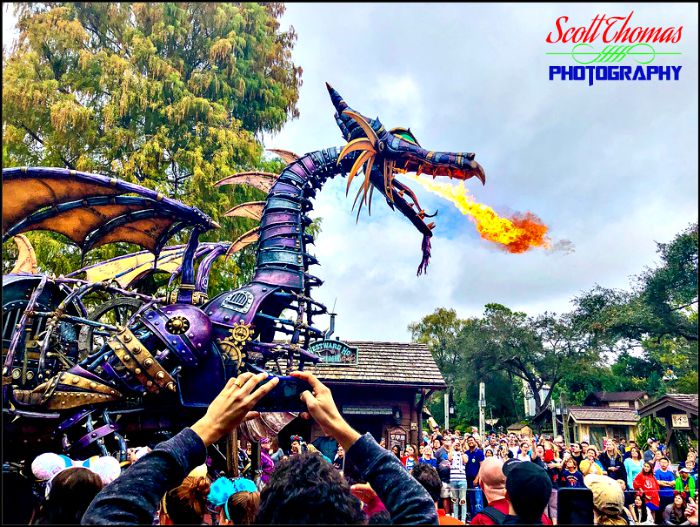 This parade is a feast for the eyes, and it's fun to hear each float's take on the main refrain. The Little Mermaid section features bubbling sounds, and the Peter Pan section has a rousing "Yo Ho!" belted out throughout. Ever since we first heard this parade roll by down Main Street and heard the deep, building, ominous sounds of the music as the Maleficent float rears up to blow fire, we were hooked.
Epcot's Entrance Music
Much like Magic Kingdom, Epcot has a memorable entrance loop of music. This time, futuristic electrical versions of many of the classic tunes from Epcot play.
As you approach Spaceship Earth and look up at how impressively huge it is, you can hear tunes like "Golden Dream," "One Little Spark," and many more. The effect of this, we find, is even better at night when Spaceship Earth is lit up in shades of pinks, oranges, and purples.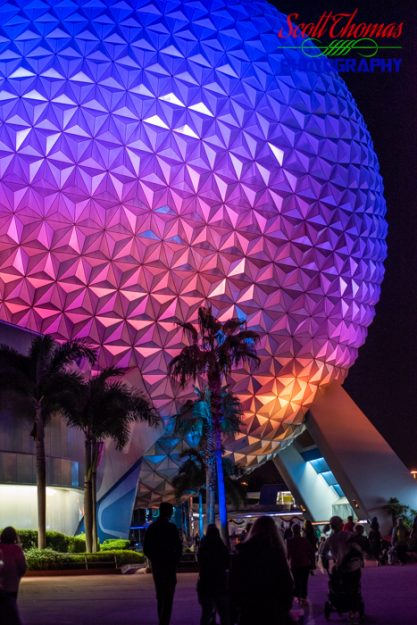 It can often be eerily quiet around Spaceship Earth at night and make for great opportunities to really take in the sounds.
Spaceship Earth Reveal
We won't have a ton of time left to experience this one possibly! While it's unclear what the reworking of Spaceship Earth will leave us with, one section that seems overdue for a rework is its climax, when your ride vehicle turns to reveal our "Grand and miraculous spaceship" called Earth.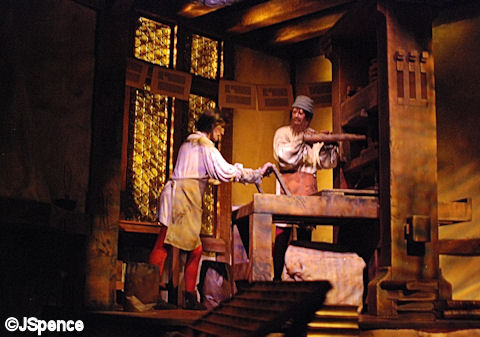 You're essentially wide open in the top, darkened area of the big geodesic sphere that is Spaceship Earth. In this practically pitch dark room, as your vehicle turns to face our planet, Earth (fuzzily projected across the way from you), the music rises in a deeply moving piece of music. The score inside Spaceship Earth manages to be whimsical and futuristic at the same time.
Twilight Zone Tower of Terror
Many of us know the iconic Twilight Zone theme, but what's almost more chill-inducing here is the eerie 1930s style music wafting through the grounds of the Tower of Terror.
It really does feel like you're wandering through an abandoned hotel, doomed forever in its heyday. The music is haunting in the lobby, the courtyards, and the boiler room. It builds the anticipation that, even though everything sounds soft and calm, strange things are afoot at the Hollywood Tower Hotel.
Fantasmic!
Right next door to the looming Tower of Terror is Fantasmic!. This whole show has a gorgeous soundtrack, but no part is quite as memorable as when Mickey first shows up.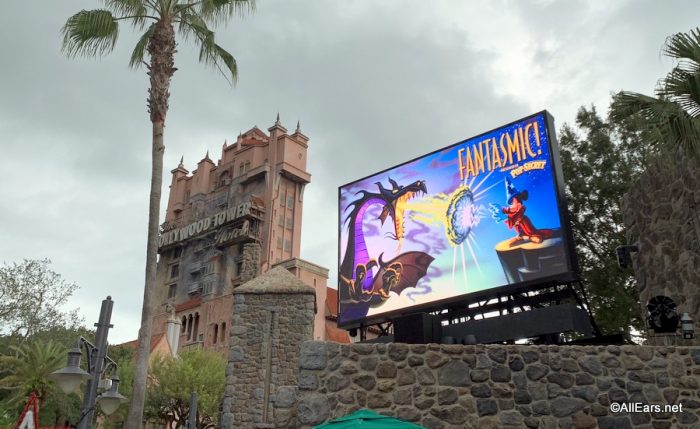 The music is fun, upbeat, and sticks with you. Many guests exiting the theatre will still be humming the tune, with its loud crisp woodwind instruments rising over a cheery Mickey's triumph over evil.
What do you think? Any of these make those little happy hairs on the back of your neck stand at attention? Any make you remember that feeling of warm and happy that Disney does so well?
Join the AllEars.net Newsletter to stay on top of ALL the breaking Disney News! You'll also get access to AllEars tips, reviews, trivia, and MORE! Click here to Subscribe!

What's the most influential Disney Music to you? Let us know in the comments!